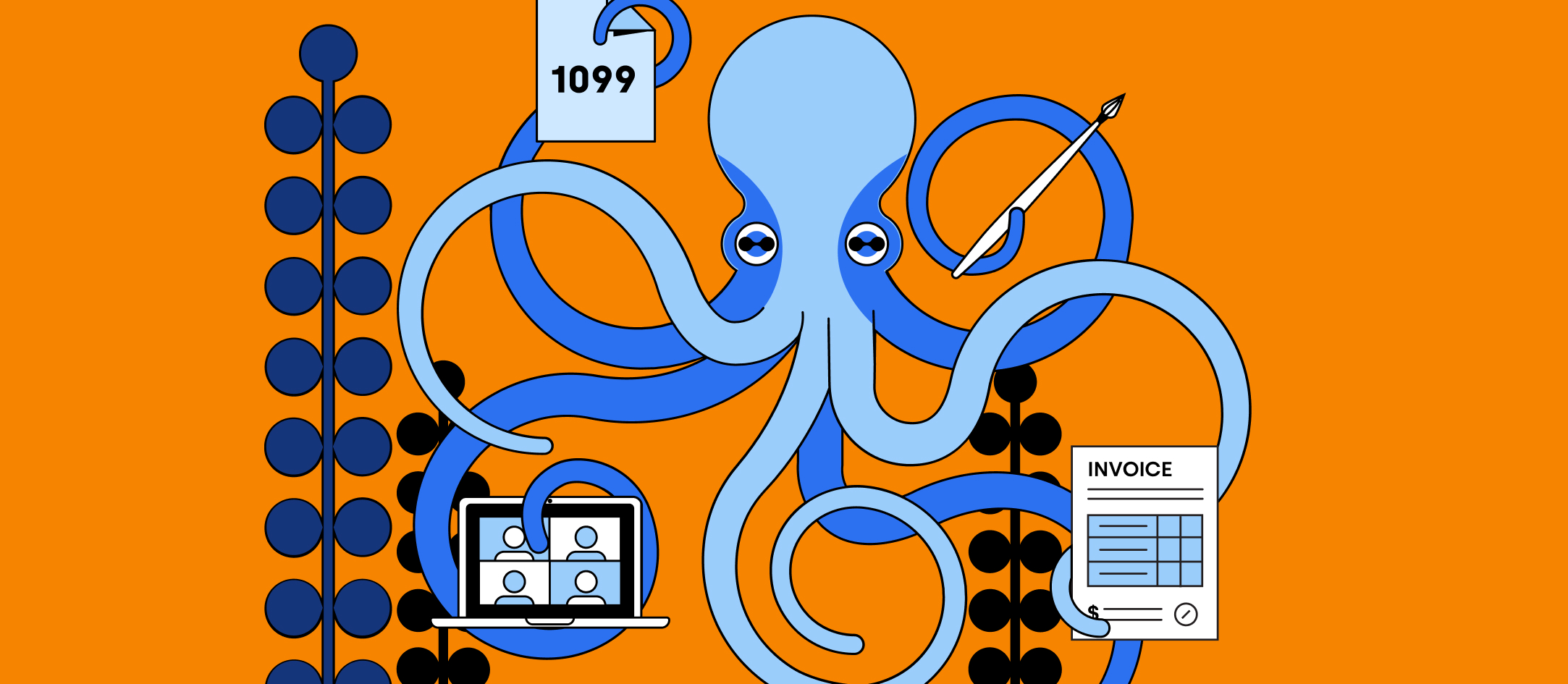 How to Convert an Independent Contractor into a Full-Time Employee
Want to turn your contractor into a permanent employee? Follow our guide to learn how to convert your contractors into full-time employees.
Written by Anja Simic
September 17, 2021
Contents
Need help onboarding international talent?

Try Deel
Do you have a contractor who's been knocking it out of the park? If a contractor has already proven themselves and possesses the exact skillset you're looking for, you may want to offer them a full-time job at your company.
Or, maybe you just got a budget increase and can now add a full-time hire to your team. Offering a contractor who already knows your business a permanent job is an easy decision.
The process of converting 1099 contractors to W-2 permanent employees is complex, and it's even more difficult for international hires. In this guide, we break down the process into simple steps to help you onboard your new full-time employee compliantly.
The (sometimes subtle) difference between independent contractors and employees
We've written in-depth about the difference between employees and independent contractors. Here's the snapshot distinction:
What is a W-2 employee?
A W-2 employee is a worker who works for an employee full time, on their fixed payroll for a fixed salary.
The employer has the authority to dictate the employee's day-to-day workload, schedule, and work location, and provides training, tools, and job security. Employees generally work for a single employer for a long period of time. The employer must cover the employee's mandatory benefits, such as healthcare, social security, and workers' compensation. Employees fill in and submit tax forms W-4 and W-2.
What is a 1099 independent contractor?
A 1099 independent contractor is a self-employed worker who provides services for companies as a non-employee. Independent contractors often with companies work on a short-term project basis.
Contractors aren't on a company's payroll and don't have the right to employee benefits, such as health insurance or sick pay. They also have their own workspace and tools, don't need onboarding and training to start working, and can organize their own work schedule. They use tax forms 1099-NEC and W-9 (for domestic contractors) and W-8BEN or W-8BEN-E (for foreign contractors).
Proper worker classification is essential
Take the difference between independent contractors and full-time employees seriously. Employment laws regarding employee misclassification are strict, and many companies face different legal and financial consequences for noncompliance.
If your contractor starts to resemble an employee, consider making the full legal transition. This is especially true if you give the contractor full-time responsibilities and ask them to follow specific company guidelines that only your employees are required to follow. For example, workers who must work during specific hours or with company-provided equipment are employees, not contractors.
Read more about employee misclassification and tests used to determine the worker's status.
How to convert independent contractors to full-time employees in 5 steps
Some independent contractors prefer the flexibility and independence of gig work, but 62% of independent contractors surveyed by McKinsey say they wish they had full-time employment. Another 74% would still like to have sick pay.
That means you still have a chance to win your contractor over and convince them to accept your full-time employment offer.
1. Make your contractor a compelling offer
Creating a compelling full-time offer is all about balancing the security of employment without sacrificing too much flexibility, which an independent contractor may be hesitant to give up.
First, try to match or exceed the contractor's current earnings, scaled to 40 hours per week. If they start working for you full time, they'll likely need to drop any other projects and clients, as the amount of time spent with your company will increase. That will affect their finances greatly, so offering a competitive annual salary is a must during these negotiations. Offering a performance bonus is also a good idea and may keep them motivated.
While creating the job offer, think about what you can provide for your contractor to keep that flexibility as much as possible. For example, investigate wellness budget, a budget for learning and career development, company-provided tools, sick pay, work-from-home stipends, and more.
Also, explore options for making full-time employment more flexible, so your contractor doesn't feel like accepting employment means giving up freedom. This could look like remote work, unlimited PTO, flexible working hours, etc. Your existing full-time employees will appreciate this flexibility, too.
Manage contractors with company-wide policies
Get a head start on contractor conversion with a free policy template built for growing international teams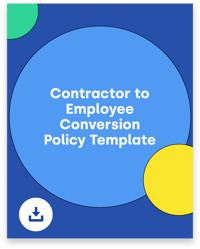 2. Understand your options for hiring a full-time international employee
Hiring employees overseas is completely different from hiring locally: you need to comply with labor laws in the foreign country and face financial and legal repercussions if you make a mistake.
So, when your international contract employee has decided to accept the permanent role on your team, it's time to consider your international hiring options and choose what works best for your business.
Opening a subsidiary
A foreign subsidiary is a legal entity under your company's control established in a foreign country that enables you to hire workers as local employees. Although a subsidiary needs to follow the company policy and business plans, it's a separate entity in terms of liability.
To open a subsidiary, you need to find someone on the ground who will complete the legal and financial work there. The contract you sign with your contractor-turned-employee needs to be compliant with the local labor law in terms of minimum wage, working hours, and mandatory employee benefits. All these procedures may take a long time and cost your company a lot of money.
Employer of record services
An employer of record is an organization that helps businesses hire and pay full-time employees in foreign countries without opening a subsidiary. They take on full legal responsibility for your workers and sign and terminate contracts, pay their salaries, manage their mandatory employee benefits and perks, collect tax documents, and more.
While the employer of record manages the technical aspects of your new business relationship, you are still in control of your employee's workload, working schedule, and similar decisions. Hiring through an EOR is faster and simpler, especially if you have multiple contractors from multiple countries to whom you want to offer permanent positions.
3. Collect employee information
Contractors will give you some information on their invoices, but you'll need to collect more details to fill out employment forms and documents.
Some employers prefer to do a thorough background check to confirm the employee's social security number, make sure they have no criminal record, or check their credit score.
Regarding tax forms, you'll no longer need the 1099–full-time employees submit the Forms W-2 and W-4 if they're from the US.
You may also need to collect information regarding employee benefits: if you provide childcare assistance, you need to know how many children your new hire has. If you offer student loan repayments, you'll need to know how much debt they have. If you provide private healthcare packages, you may need to know how many family members the employee has to ensure them all.
4. Welcome the new employee to your full-time team
As a contractor, your worker performed work in isolation and may not have had a chance to collaborate with other team members. Now that they officially joined the team, it may be time to introduce changes to your everyday processes.
First things first–to ensure total compliance, ask the contractor to fill in new tax forms and send any other necessary paperwork (for example, an ID scan, if applicable).
Even if they have some flexibility in their schedule, let your new employee know if they need to be available at specific times or if there are fixed meetings they need to attend.
Organize an orientation call with your onboarding specialist or hiring manager to help the contractor settle and get an idea of how things work in your day-to-day operations. During this call, give them access to their work email, Slack account, and any other communication and project management tools you may use.
Set up a meeting to introduce your employee to other team members and pick a dedicated mentor who will help them adjust and learn how things work for full-time employees. They can have daily 1:1 meetings until the new employee is fully onboarded.
Provide the employee with tutorials on any tools they didn't use before and provide them with equipment (for example, laptops) that all your full-time employees use.
Create an onboarding checklist of everything your ex-contractor needs to know now that they work for you full time. This document can include: knowledge base, important company documentation, video training, login info for different tools, workflow descriptions, and an employee benefits guide.
5. Add the new employee to the company payroll
Paying your contractor's invoice is different from paying a salary for a full-time employee–they're now on your direct payroll (instead of sending invoices), which means you need to pay payroll taxes for their earnings.
The first step is to add the employee's data to your payroll software, which you'll get from the tax forms they provided during the onboarding process.
Your HR department should also set up and calculate the corresponding employee benefits, depending on what country the employee is from, as well as the pay period you agreed upon with the employee. If your payroll software is self-service, provide access to your worker so they can withdraw funds at designated times.
Set up international payroll if applicable
International payroll introduces several complexities, including:
Local laws and regulations regarding taxes, minimum wages, maximum weekly working hours, employee classification, etc.
New mandatory employee benefits
Domestic and international tax laws and potential tax treaties between your country and the employee's
Bank transfer fees and exchange rates
Data security (especially if using a third-party payroll provider)
You can manage international payroll in several ways:
Using automated payroll software allows you to make payments, automate specific payroll tasks, keep records in one place, and reduce the possibility of manual error.
If you don't want to run it, you can outsource payroll to a global payroll provider. These companies make payments to your international employees, handle invoices, collect tax documentation, etc.
You can also outsource your payroll and other tasks of the hiring process to an EOR, which we described above.
Read more about international payroll in our complete guide.
Use Deel to hire your independent contractors and employees
Whether you need independent contractors or full-time employees, Deel's you all-in-one solution for international hires.
As an employer of record, Deel can take care of complete international employment, payroll, and compliance worldwide. This includes local support, customized full-time employment contracts compliant with local employment laws, international payments, and access to numerous benefits for both employers and employees who'd love to take a dip in the global hiring pool: salary advances, Deel card, one-click mass payments, and more.
Book a demo on our website today to learn more about the ways we can help.
Disclaimer: This article is informative only and doesn't constitute legal advice. For specific and individual cases, it is always best to seek legal help.