9 Deel Integrations: Make Payroll Easier for Your Startup
Looking for an effective way to streamline your HR and payroll functions? Discover Deel integrations to make payroll easier for your global startup.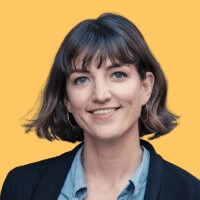 Written by Jemima Owen-Jones
July 11, 2023
Contents
Need help onboarding international talent?

Try Deel
Key takeaways
Deel streamlines global hiring, HR, and payroll in a robust and centralized platform
Deel users can connect their existing third-party software with the Deel platform to automate and streamline expenses, reimbursements, sync invoices, payments, documents, time-tracking, onboarding, PTO, invoices, timesheets, and more.
With Deel API, Deel users can connect their company's internal tools to the Deel platform to customize what data transfer happens and where for a smoother, personalized experience.
Technology helps to streamline businesses of various sizes, but standalone tools can have the opposite effect, making processes clunky and scattered. As a robust, centralized system, Deel offers a selection of integrations to make payroll, and associated administrative tasks easier for global startups.

Deel integrates with your favorite third-party software to make all HR and payroll processes easy and efficient. Integrating these tools with our payroll software makes global hiring and payments effortless.

While Deel offers an expansive list of integrations, we've chosen a few of the most popular to show you how Deel users can connect their software with the platform to streamline and automate specific processes so business owners can reduce human error and save time.
1. Expensify plugin
As an accounting and spending management software, businesses use Expensify to complete various financial recording tasks. For example, Expensify makes it easy to track expenses, scan receipts, pay bills, run payroll, collect payments, track mileage, and submit expense reports. Monitoring these tasks in a startup, where every penny counts toward growth, is essential.

With the Expensify plugin, managing various aspects of accounting becomes easier — from profitability management to general ledger tasks. The Expensify plugin can track and approve employee expenses, automate reimbursement workflows, and effortlessly reconcile financial data.

Integrating with Deel can reduce administrative burdens, minimize errors, and offer valuable insights into spending patterns. These benefits are crucial when starting a new company, allowing business owners to focus more energy on growth and expansion.

The Expensify plugin syncs with Deel to configure the team's expenses and determine which payroll entities to sync expenses for. The plugin can also be used for EOR employees and contractors, helping streamline the management of approved expenses for various employment contracts.

The Expensify plugin can be synced to the Deel dashboard by following these easy steps.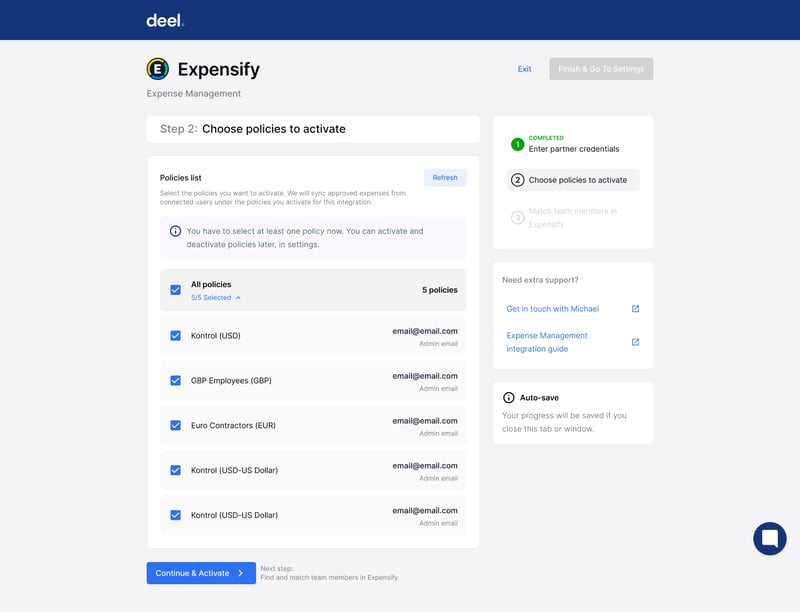 2. Expensify integration
Like the Expensify plugin, Expensify's integration software connects with Deel to sync approved expenses. Financial administration becomes seamless as you configure policies and sync expenses from Expensify to Deel for EOR employees and independent contractors.

As a startup, this integration provides an easy solution for expense management and payroll, allowing you to focus on what really matters — scaling your business. The Expensify-Deel combination enables startups to efficiently track and categorize expenses, automate reimbursement processes, and gain real-time insight into their financial health (which is especially useful for a growing company).

The process involves matching user profiles and expense policies to user profiles and policies in Deel through a one-way sync to pull expenses into the platform for reimbursement. Streamlining essential financial operations by combining two software solutions into a single platform can save valuable time and ensure compliance.

To complete the Expensify integration, follow these steps.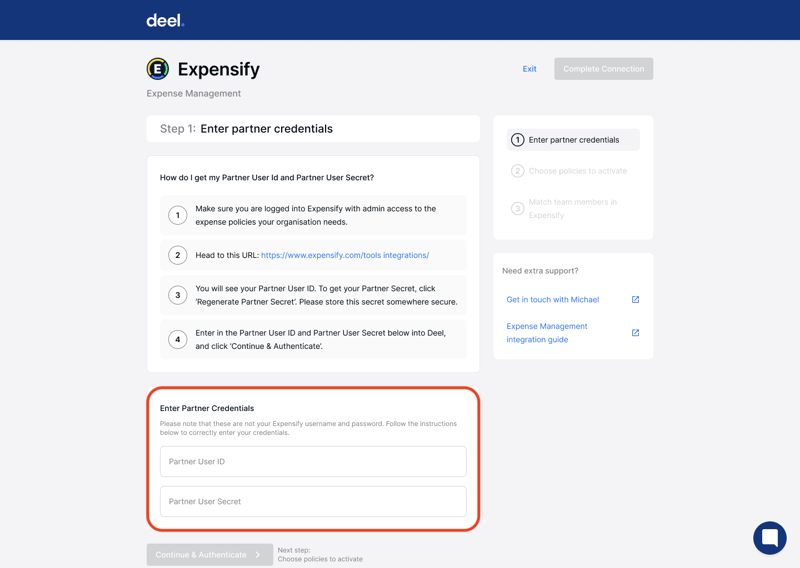 You go big. We go with you.
3. NetSuite and NetSuite Bookkeeping
NetSuite and NetSuite Bookkeeping are complimentary cloud-based business management platforms that assist with vendor management, creating custom expense categories, and custom field mappings.

NetSuite also offers a beta version of journal entries, a method of double-entry bookkeeping. Journal entries ensure accuracy in global payroll processes by posting approved changes to accounts and offsetting debits and credits. These entries need to be approved before being posted, leading to enhanced accuracy, reduced labor, and improved workflow.

The powerful integration allows startups to merge accounting, bookkeeping, and payroll processes into a unified system, enabling you to effortlessly track expenses, manage invoices, streamline payroll, and access current financial insights.

As an efficient enterprise resource planning solution, the integration removes the need for manual data entry, thereby reducing errors and boosting efficiency. As a startup, achieving accurate financial reporting and optimizing resource allocation to make strategic decisions is important — and the NetSuite-Deel integration allows for just that.
NetSuite works with secret token technology, which generates a random, encrypted number to act as user authentication information. Not only does access token management offer robust security, but it also allows businesses to scale with flexibility and efficiency.
To prepare your NetSuite account for Deel integration, first undergo these set-up steps, and then see our tutorial on how to install the NetSuite integration.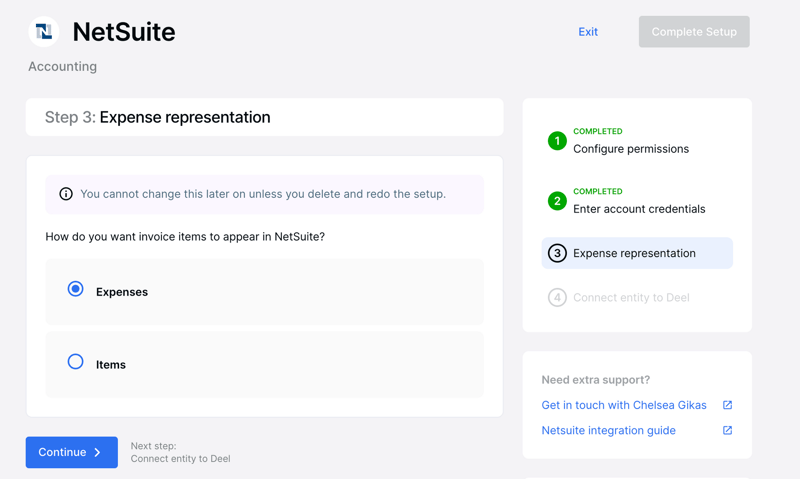 4. BambooHR
Effective human resources are key to attracting top talent, retaining valued employees, and creating a positive work environment. BambooHR is a hub for HR data management and insights, helping businesses find, hire, and onboard employees. Integrating BambooHR with Deel makes HR management easier through a centralized platform, allowing you to manage HR processes, employee data, and payroll all in one place.

BambooHR is a full-service HR tool that offers a range of functions that integrate with Deel. From faster and more accurate benefits management to easy employee time tracking and the option to change employee contracts from within Deel — the integration offers improved organizational visibility and accuracy.

When integrated with Deel, BambooHR connects job info, compensation details, documents, and employee benefits, such as paid time off (PTO) information. The robust applicant tracking system and proactive onboarding tasks help HR managers manage a global team — from full-time employees to EOR employees and contractors.

It's also possible to onboard global payroll employees, set up data mapping, sync payroll data, log reports, and more. The integration saves valuable time and resources by eliminating manual data entry, reducing errors, and enhancing compliance, giving you more time to nurture talent and accelerate growth.

Connect BambooHR and enjoy global payroll integration by following these steps.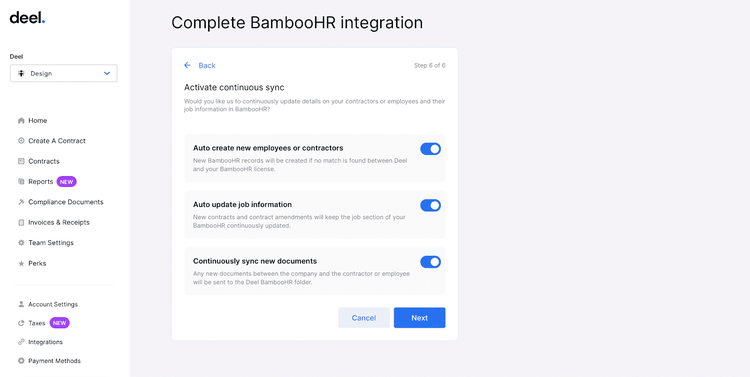 5. Skovik
Skovik empowers startups to supercharge their project management and streamline HR processes by automating expenses and making reimbursement an ordered process, intuitively putting expense management on autopilot.

The expense management software makes mundane and time-consuming tasks more efficient, freeing up valuable time for the payroll team (which may or may not be the organization's founder wearing multiple hats).

Connecting Skovik with Deel allows payroll and finance managers to sync approved expenses, such as mileage tracking and automatic allowances, and efficiently process payroll. These features also extend to reimbursing employees for out-of-pocket expenses, ensuring employee satisfaction.

The People Sync plugin helps to manage payroll by matching employee ID numbers with their payroll contract, while the Expense Sync plugin connects approved expense categories. The integration helps create an efficient reimbursement process, which ensures accurate compensation and enhanced collaboration between project management and payroll functions.

Follow a couple of simple steps to set up the Skovik integration.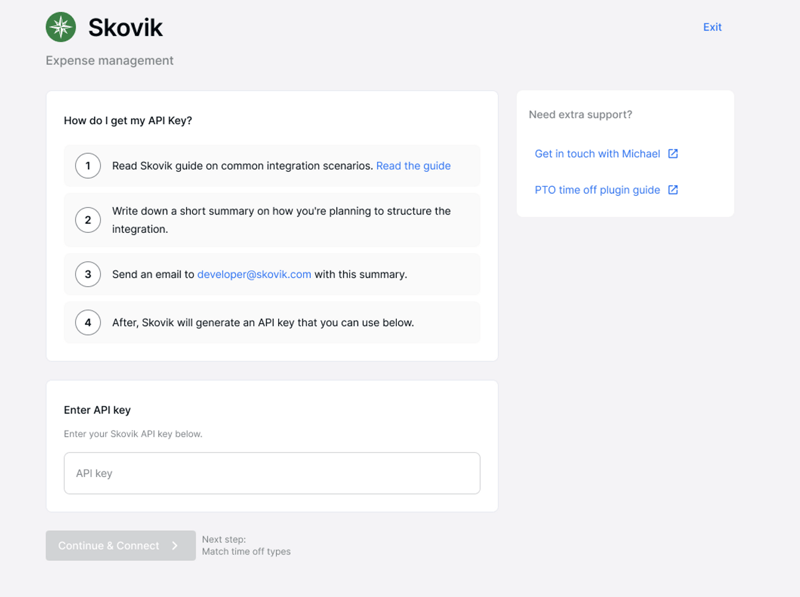 6. Workday
Workday is a cloud-based software that efficiently manages the payroll system, benefits, HR, and employee data entry. The open-source system uses AI to help organizations boost performance, leading to game-changing results in a fast-paced business climate by adapting quickly and as needed.

When integrated with Deel, startups can better manage HR operations and simplify payroll management by combining comprehensive HR functionalities with efficient payroll processes.

Integrating Workday into the Deel platform allows users to automate the onboarding process for direct and new employees on the global payroll. The integration syncs information such as employee data, job information, compensation, documents, and PTO, giving organizations information about their workforce (and availability) to pivot and meet business needs in changing circumstances.

Combining two software systems enhances HR efficiency, boosts productivity, and helps maintain compliance, laying a solid foundation for startup success.

Integrate Workday with Deel by following these easy steps.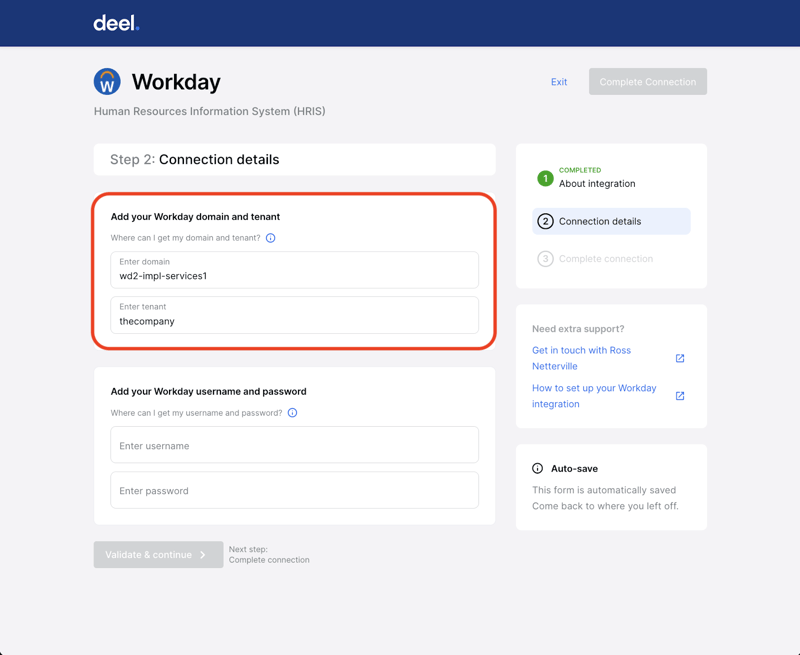 7. Xero integration
Xero is a reputable online accounting software that connects to the business bank, accountant, and bookkeeper to manage expenses and accounting. Managing your finances in real-time helps to stay on top of your accounting needs — and integrating with Deel streamlines the process further.

Merging accounting and payroll functionalities into Deel's unified system allows startups to effortlessly synchronize financial data, automate payroll calculations, and generate accurate financial reports. Each of these tasks can be laborious on their own, but the Xero-Deel integration saves valuable time and reduces error.

By integrating Xero with Deel, businesses can sync invoices, payments, payroll information, and documents while streamlining custom expense categories. Large organizations,small businesses, and global startups benefit from the efficient accounting processes connected with a centralized platform. The integration also offers real-time insights into financial health, helping startups optimize financial management.

Connecting Xero and Deel is made easy by following these steps.

It's also possible to set up tracker categories and configurations on a contractor level and fine-tune expense categories.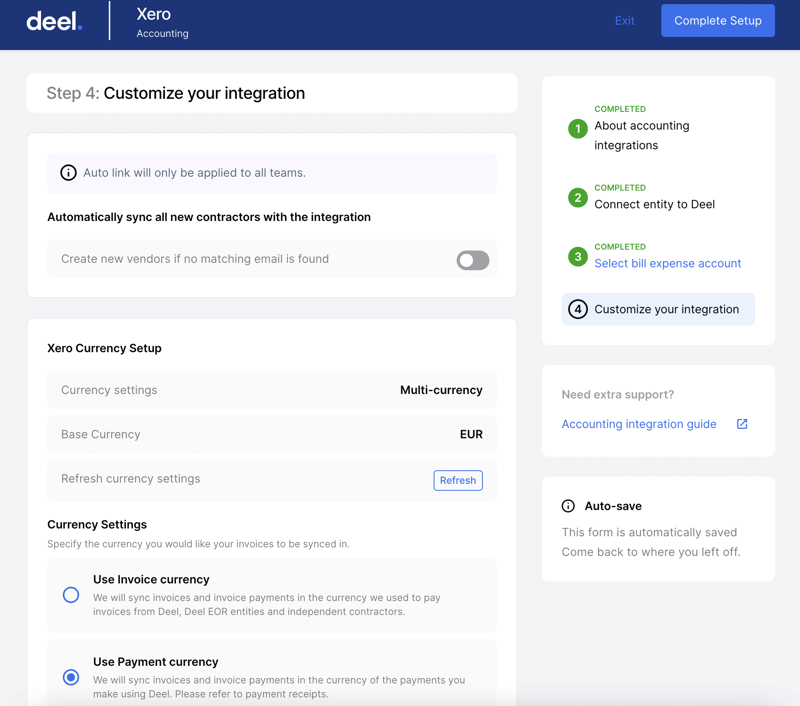 8. QuickBooks
QuickBooks is an accounting software and payroll provider that helps you take control of your business finances with its simple accounting software. QuickBooks online allows you to create invoices on the spot, sync your bank data, be cash flow confident, and let transactions sort themselves.

Integrating with Deel is the cherry on the top, helping businesses sync invoices, payments, and documents from a convenient platform. In addition, the integration allows for custom expense categories, custom field mappings, and bookkeeping modules for QuickBooks that allow you to automate the accounting process fully, tailored to your contract types.

Integrate QuickBooks with Deel by taking these steps.

You can also enable multi-currencies, making it easy to manage global payroll across different locations.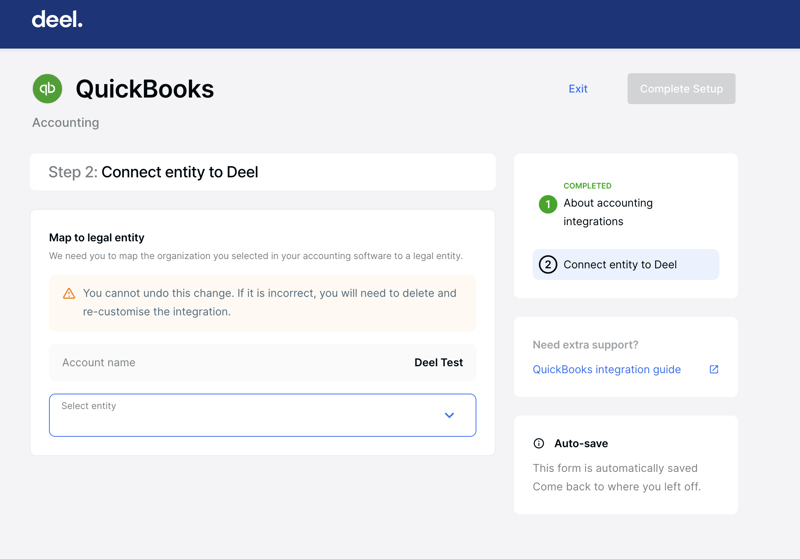 9. Zapier
Zapier provides automation for various aspects of business, from marketing and productivity tools and other web applications that automate workflows. By integrating Zapier with Deel, HR, administrative tasks, and payroll functions become more streamlined and efficient by automating data transfers, triggering actions, and incorporating customized workflows

Deel users benefit from the syncing of contract information, timesheets and timecards, and invoice adjustments, making the job of the HR manager easier and less laborious. The no-code integration is especially useful for Deel users without technical skills, as the integration doesn't require any coding knowledge.

You can create a customized integration between Zapier and Deel by following these steps.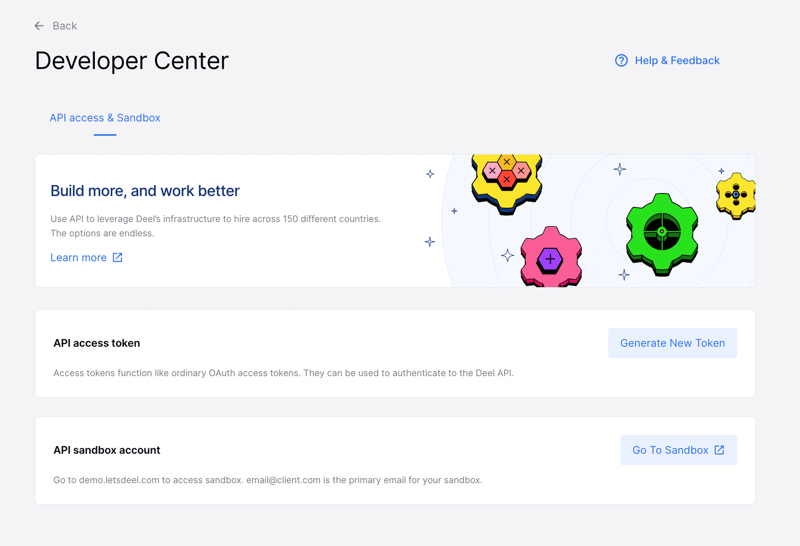 Deel API Integrations
Do you work with HR software solutions that don't appear on this shortlist?

With the Deel API, you can connect Deel to various tools beyond our pre-built software integrations to automate and sync data across your HR tech stack. From international hiring to reducing time on payroll, several integrations help to automate talent operations and save hours of admin.
Streamline global payroll, accounting, and HR with Deel
As an integrated payroll solution, Deel connects with various software to save employee time and boost efficiency.

Connect your company's tech stack with Deel to automate repetitive tasks. From creating contracts automatically to syncing timesheets for payouts, control the entire employee lifecycle your way and eliminate duplicate data entry.

Ready to get started? Book a demo with Deel today.