Save hours on logistics with Deel Equipment
Managing the equipment process in-house often leads to a poor employee experience, tax non-compliance, and thousands of wasted hours for People Ops and IT teams. That's where we come in.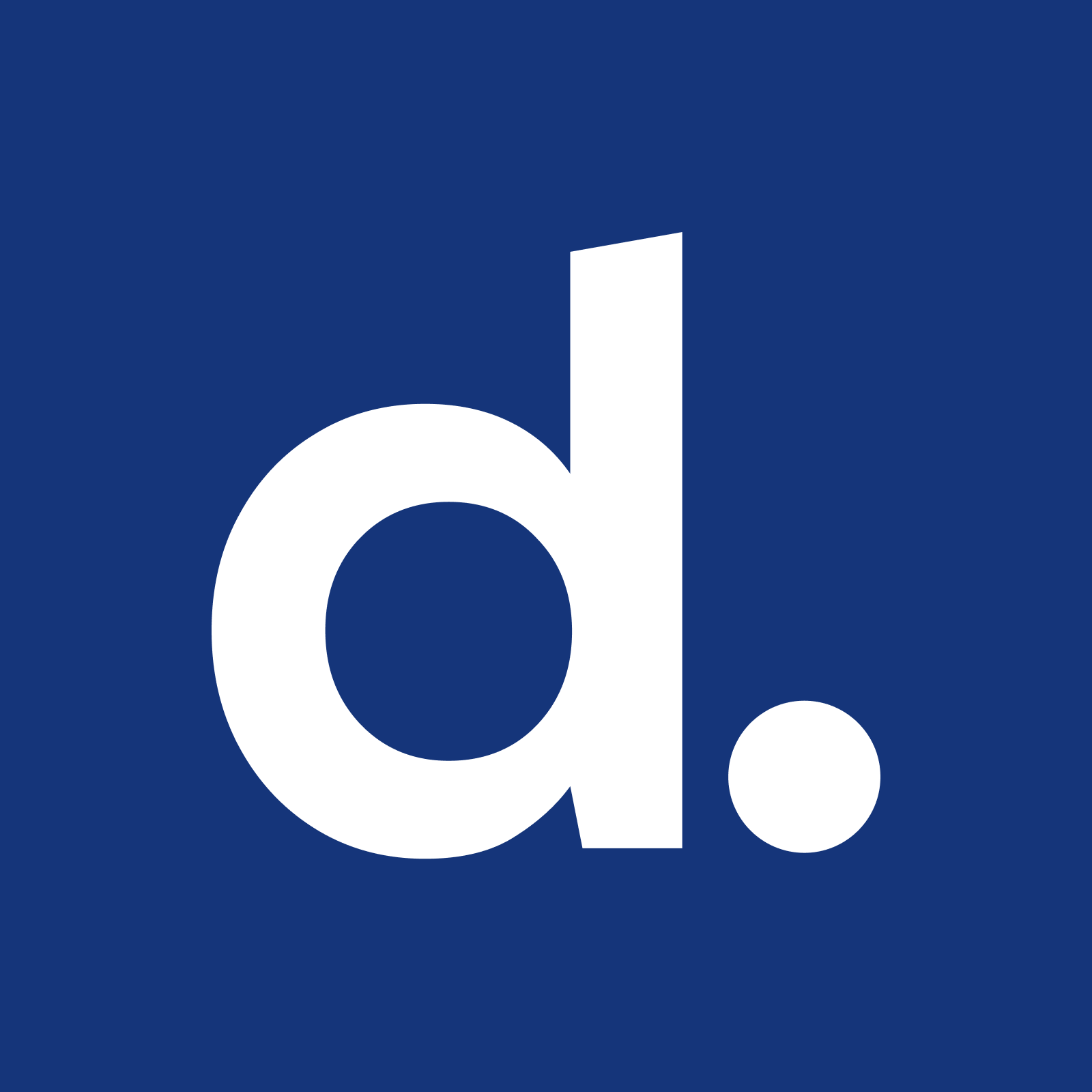 Written by Deel Team
September 15, 2022
Laptops, monitors, and headsets, oh my! Getting remote hires what they need can be a logistical nightmare—from finding a local supplier to filling out customs forms and tracking the delivery.
According to Hofy, a global equipment provider, it takes an average of over 1.5 hours for an employer to organize one international equipment delivery. And about 2-3 additional hours to sort out collection tasks like finding a courier and filling out international customs forms. It all adds up to days spent navigating this mundane process. IT demands won't slow down as your business grows, and 10 new hires could mean 30 devices to source, ship, and manage.

Managing the equipment process in-house often leads to a poor employee experience, tax non-compliance, and thousands of wasted hours for People Ops and IT teams. That's where we come in. Our latest product, Equipment, shortens the process to a few clicks. Select Equipment while creating a contract, and we'll take care of the rest. With our equipment rental, you'll:
Massively reduce time spent equipping new employees
Stay within your equipment budget no matter where your hire lives
Offer a consistent experience for your global team —from device selection to seamless delivery
Fix issues fast with around-the-clock IT support
Worldwide equipment rentals, made easier than ever
Reduce long hours of getting new hires what they need with just a couple of clicks. Now you can add equipment for your new hire in a couple of clicks during the contract creation process on Deel. We'll handle the rest with our partner Hofy, that will source it, do the shipping admin, and deliver the item(s) in under 5 days*. Equipment rented through Deel comes with a lifetime warranty and effortless management, so repairs and getting a loaner are no big deal.
Save up to 5 hours doing manual tasks when allocating team equipment

Stay within your equipment budget
Supplying and shipping home office equipment worldwide can add up to hundreds of dollars in courier and custom fees. With Equipment, you no longer need to account for customs fees, currency exchange fees, or additional charges. No matter where your hire lives—the UK or Brazil—you get transparent pricing and no hidden fees.
Deliver the same onboarding experience for your team anywhere
Provide your new hire with a seamless onboarding experience to make everyone feel welcomed—from receiving top-notch equipment to door-to-door delivery. With Hofy's 99% worldwide on time-delivery rate and protection, your new hire is set up for success ahead of their start date.
Fix issues fast with around-the-clock IT support
Even if you're a small company of 50, this can mean over 100 devices to manage. That's a small business with not-so-small IT demands. Fear not; Hofy provides on-demand lifetime device support, warranty, and loaner devices.

Is it worth trying our Equipment Rental? You decide.

How to get started
Equipment rental on Deel operates on a subscription basis. You pay a flat fee per piece of equipment, with pricing varying based on equipment item, location, and contract length.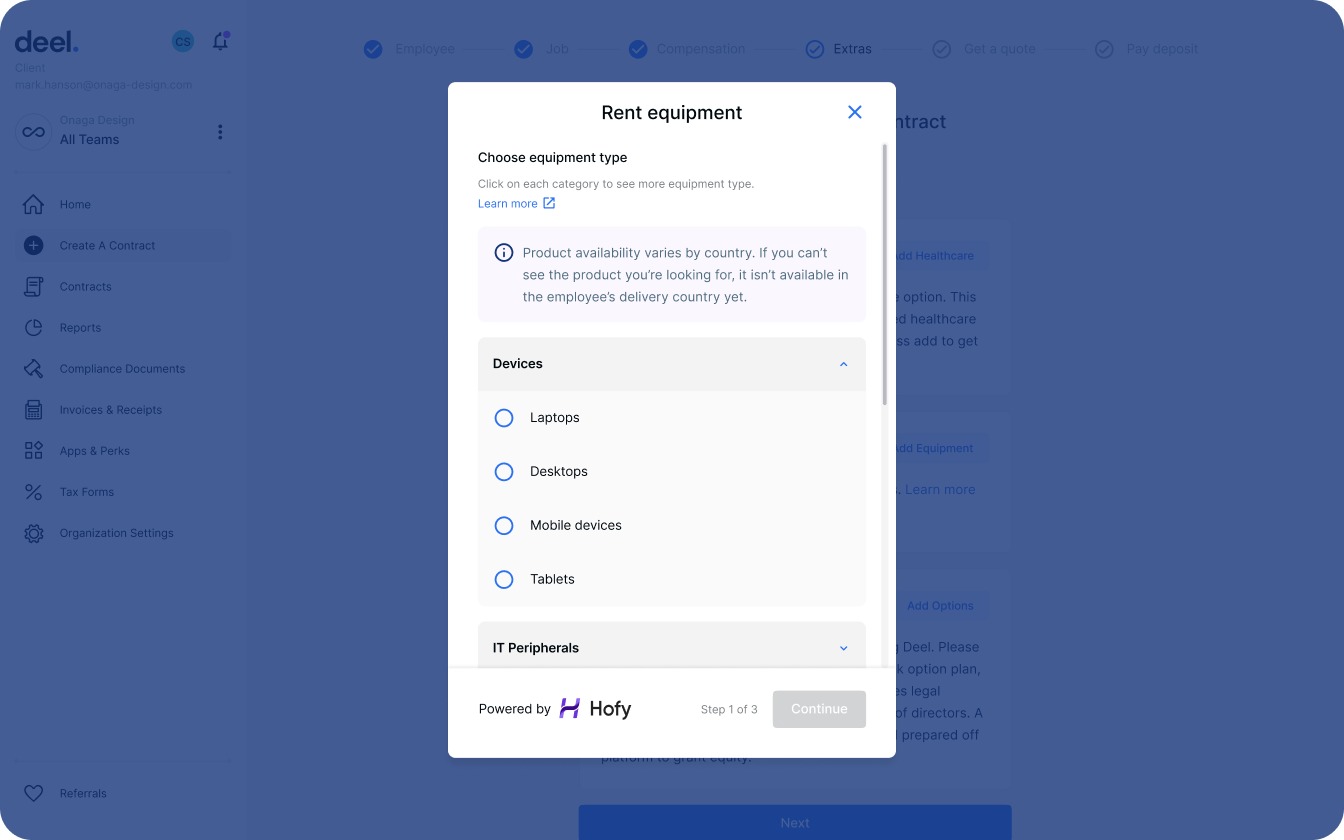 Equipment is now available for all new and existing contracts - employees and contractors.
If creating a new contract, choose "Equipment" in the Extra section. To add Equipment to an existing contract, navigate to the "Equipment" section in the Contracts overview.
Select equipment items (laptops, monitors, headsets, and more) that you'd like to add to the contract. Even choose a brand, keyboard layout, and the lease period.
Choose a lease period - up to 6 months for contractors, and up to 12 months for employees.
Review and confirm your selection. And that's it! Hofy will contact your new hire or current employee to confirm their delivery address.
Check the status of any delivery via Deel or by using the tracking number of your delivery.
Switch to a more seamless way to hire and onboard remote workers
Your questions answered
Do you have a list of the devices/ IT peripherals available for clients to rent?
Our catalog has over 400 equipment items, including cable adapters, desks, desk risers, laptops, desk tidy, docking stations, footrests, headphones, keyboards, laptop stands, monitors, mobile phones, mice, trackpads, printers, chairs, task light, webcams, wifi extenders. Availability varies slightly from country to country.
Does the client pay a security deposit for the equipment?
No, there is no deposit charged to rent equipment. However, we will request an upfront payment equal to 6 months of the lease to secure the sourcing and shipping of the equipment. Learn more about upfront payment here.
If the equipment is out of stock, can a replacement be ordered?
Out-of-stock orders get placed on backorder; when this occurs, we'll send an email to the team member with an expected shipping date. New hire laptops get marked as crucial, so if a computer is not in stock, Hofy Support will notify the team member's manager with a proposed solution and ensure the new hire receives their laptop. Once it's back in stock, the order will ship.
How can the employee/contractor track estimated delivery time? Is there a track & trace link?
Yes, a tracking link is provided for every order via email.
What happens if an equipment item is damaged, who is liable?
Hofy issues replacements for any products that arrive damaged or don't arrive. All equipment comes with a premium warranty that includes the manufacturer warranty coverage for the lease's lifetime. Loaner laptops are provided for items damaged after usage while an audit of the damage occurs. Once repaired, the team member will receive their device back, and the Deel customer will be responsible for repair costs.
Are there any options to purchase the equipment after the rental period?
Currently, renting is the only option. Members can reach out to Hofy directly to see about requesting an exception.