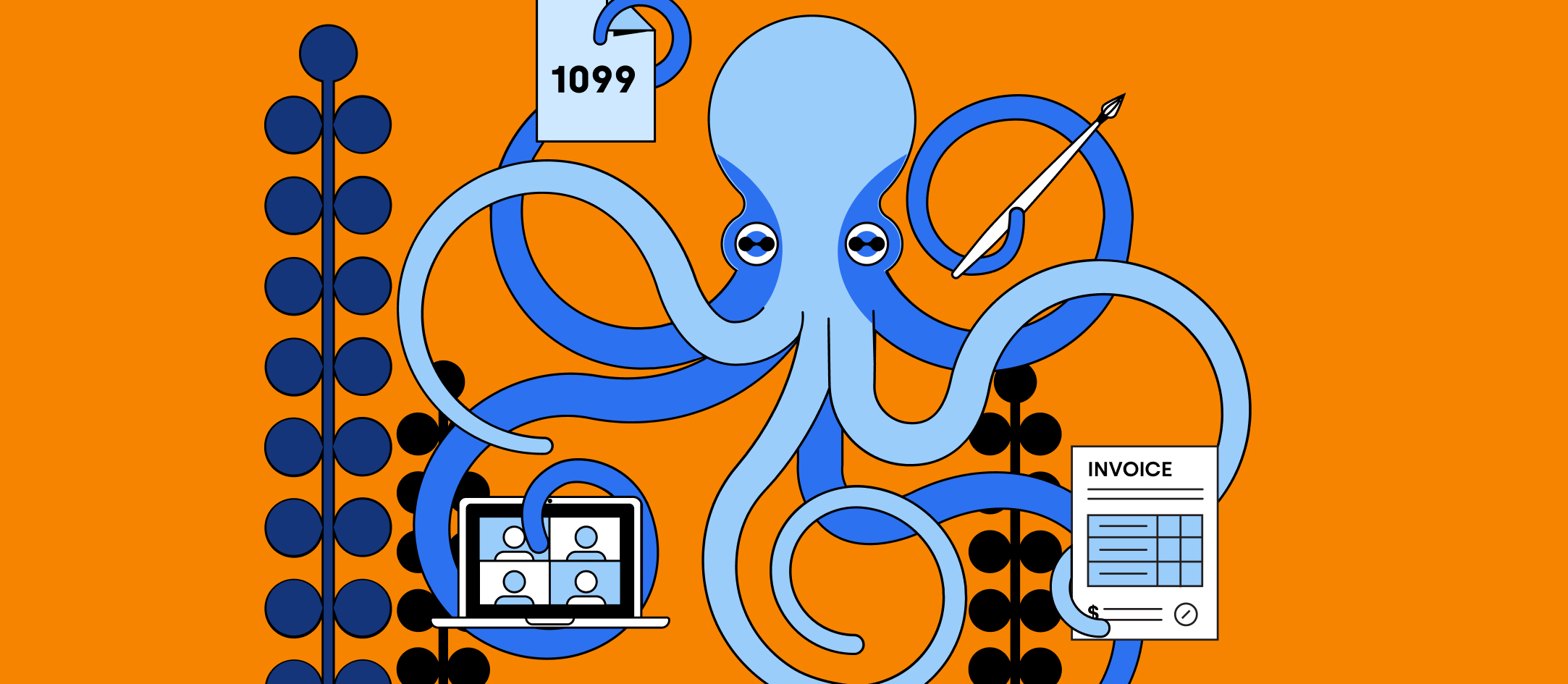 Get Paid as an Independent Contractor: A Guide Through Payment Methods
Learn how to get paid as an independent contractor, as well as your responsibilities regarding taxes, payment methods, invoicing, and reporting.
Written by Anja Simic
August 12, 2021
Contents
Need help onboarding international talent?

Try Deel
It has never been easier to land a job as an independent contractor since the whole world started working remotely in mid-March 2020.
And it doesn't seem like this wave is going to decrease any time soon. Job opportunities are everywhere, and working for foreign companies isn't so uncommon, on the contrary! Many have launched the self-employed era of their careers during the pandemic, enjoying the limitless possibilities of a global job market.
But, there are two sides to every story. As much as working as a freelancer can be rewarding, getting paid can be a complicated and lengthy process.
In addition to this, you are responsible for your own taxes, and that can seem daunting at first. Let's see what you can do to make it easier - on yourself and your clients.
Challenges of international payroll
There are several things to consider when you hire someone that isn't working in the same country as you.
From the employer's point of view, it is important to consider several factors: local labor laws, tax obligations in both countries, obligations towards the employee, necessary paperwork, different ways to pay contractors and avoid high bank charges, and the overall legality of the relationship.
And even when all of that is settled, the issue of payroll remains the most important one.
No matter which payment option you choose - whether you opt for the more traditional SWIFT or the newest cryptocurrency trend - you need to be ready to lose money in fees and exchange rates, whether you're a payer or the independent contractor receiving the payment.
There are many other things to consider - drafting a written contract, negotiating the total amount paid considering all the downsides, taking care of all the income tax obligations... It isn't particularly easy earning a living this way, but with independence comes responsibility.
Here are several things every business owner and their independent contractors need to have in mind.
Deciding on your payment terms
Another aspect of a business relationship an employer and a contractor need to define is the payment schedule. Some contract workers prefer to be paid by an hourly rate, while others receive payments when a milestone is reached.
Also, note that there may be a minimum wage the employer is required to pay to the contractor even though they're considered non-employees. Make sure you check the state laws to ensure you're fully compliant regarding this question.
Responsibilities of independent contractors in the US
If you have decided to work as a freelancer in the United States, you need to keep in mind that you will be losing many privileges you have when you are an employee. Or better said, you will be responsible for providing employee benefits to yourself. The issue of misclassification of employees as freelancers is very important to the IRS and the Department of Labor. Your clients can't be responsible for your social security, payroll taxes, or even business expenses. In addition, you can't work for them full time, nor can they determine your vacation and schedule, contribute to your pension plan, or workers' compensation. You also aren't protected under the employment law. You are your own boss, and you need to assume the obligations along with the privilege that comes with that.
Take a look at the differences between an employee and an independent contractor.
Self-employment tax is contributing to your health insurance
Your employee isn't paying the FICA tax on your behalf, but someone has to. Your tax payments are now your responsibility. The contribution you make covers both your Social Security and Medicare. The latter is up to 0,9% for high earners, but the former can be up to 15,3%. However, the SE tax can be reduced by half if you file the tax return.
There are other taxes you need to pay as well
SE tax is just the first one on your list. According to IRS, since there is no backup withholding done by the employee, you are also responsible for paying your income tax. Federal income tax in the US is progressive, which is an important factor for everyone looking to start their own business. You won't need to worry about high taxes while struggling to get your business off the ground. The more you earn, the more you will pay.
Since there are also state taxes and municipality taxes you may need to pay, check out our complete guide for independent contractor taxes.
Responsibilities of clients and companies hiring independent contractors
There are many benefits of hiring independent contractors for clients - you aren't required to pay medicare taxes, unemployment tax, withhold income, etc. However, according to IRS, you still have obligations and responsibilities.
The most important tax form you need to know all about is IRS Form 1099-NEC (previously reported in Box 7 of Form 1099-MISC). Since the beginning of 2020, Form 1099-MISC is no longer used for this purpose, and 1099-NEC Form is reintroduced. This form is vital for everyone who chooses to hire freelancers and independent contractors.
According to the IRS, the employer needs to report taxes for every payment of $600 and more made to an independent contractor using Form 1099-NEC. This is only done for freelances, nothing has changed for the employees, you are still required to file Form W-2 for them.
What do you need in order to file this form? Well, first, you need to have the necessary info from your contractors, starting with their TIN - Taxpayer identification number. You can obtain that by filing a Form W-9 form. This form is only used by US contractors. If you are working with an international contractor, they need to verify their country of residence by filling Form W-8BEN (for individuals) or W-8BEN-E Form (for entities).
Tax deductions for self-employed
As an independent contractor, you need to ensure you have all the required documentation when it's time to pay taxes. Although this may sound like a daunting task, there is a significant upside to being your own boss. IRS offers plenty of tax deductions to everyone who decides to launch their own small business.
All of the tax deductions are tied to your business expenses. That means that you can apply to reduce the taxes for:
Home office expenses
Office expenses
Commissions and fees
Legal, accounting, and tax professional services
And many more. For a detailed breakdown, make sure to check our in-depth article about the tax deductions for independent contractors. There you will find everything you need.
Keep in mind that there are several important taxes that can't be deducted, such as all federal income taxes, including self-employment tax, personal use property taxes, and sales taxes.
How to invoice a client
In order to make sure that you are being paid as an independent contractor, you need to be able to charge your clients. If you are not accustomed to this part of business ownership, here you will find a brief explanation. For a more detailed overview of the topic, take a look at our guide for invoicing clients.
In order to guarantee that your clients will comply with everything you talk about, it is preferable to sign an independent contractor agreement. But before you offer them this, decide how you want to invoice them. Start by deciding if you are going to be charging them by the hour or by work done. Afterward, choose how frequently you will be invoicing them and how you will organize and keep track of the payments. Then you can move on to creating an invoice.
Your invoice needs to contain all of the necessary information. Pay less attention to the design and more to the content itself. Include all the information about your business, as well as information about your client. Make sure your invoices are numbered and that they contain not only the amount but also the due date for when your client needs to pay the fee. Another important detail to note is the payment method—more on that below.
A guide to payment methods
If you choose to work with international clients, the payment method is definitely the biggest obstacle you will have to overcome. There is no perfect choice, just several options, each one having its pros and cons. Weigh them all in and decide what is the best one - for you and your clients.
Payoneer
Countries supported: 200+‍
Currencies supported: 150
Fees: check here
Payoneer seems to be one of the favorite options to get paid because of its availability and easy options to transfer funds to your bank account. In addition to this, Payoneer offers its own Master Card that can be used across the globe for credit card payments, as well as online shopping. The card can be shipped worldwide at their own expense, you just need to wait several weeks, depending on your location. Notably, their fees are higher than the average.
PayPal
Countries supported: 200+
Currencies supported: 25
Fees: 2.9% + $0.30 (typically, but varies on the country)
Deel users have a special reduced fee of 2.5% globally
When people think about online payments, they think about PayPal, which has dominated the market for a while. Its upside is that it is present in many countries, notably not all, very easy to use, and it offers some discounts and special deals for business users.
However, it comes with a few restrictions, one of them being that you can't get paid through the Friends & Family option, and you can read more about it here. In addition to this, PayPal isn't insured by FDCI, meaning that if it becomes insolvent, you will lose all of your money.
Wise
Fees: See calculator, or use this link for fee-free transfer
The biggest benefit of using Wise is the fee - it is significantly lower. They transfer money from their UK headquarters to one of their local partners, enabling you to receive the money in the currency of your choosing. You can also see the exchange rates and all of the fees before you send the money. However, they aren't present in that many countries, so it might not be so easy for you to use it if your client's country isn't on the list.
Revolut
Fees: $0 unless you make a cross-currency transfer, which is 0.5% on any amount exceeding the free foreign exchange allowance. Your client needs to have Revolt to pay you.
This option for digital payment is on the rise, being used by more than 12 million customers currently. One thing that sets it apart is that they use not only money but also gold and crypto payments. They have no hidden fees, can be used by both business and private customers, and they have a very user-friendly app. You can choose from one of the several subscription options and deals.
However, in order to get paid with Revolut, your client needs a Revolut Business account. They can open one if they are registered and have a physical presence within the European Economic Area (EEA) and Switzerland.
International bank transfer
Countries supported: all
Currencies supported: all (exchange rates apply)
Fee: for payments going through SWIFT, fees can be anywhere from $20-75$
When you are unable to get paid with the methods above, international wire transfer is often the only option. Processing money, in that case, often goes through SWIFT. In this case, the banks take a fee for providing this service.
Wiring money internationally is not a very cost-effective payment method because both the sending and receiving banks charge high fees. Banks also have different exchange rates, and a receiving contractor can lose money in the exchange rate.
Optimize for local payout and local currencies
Some payment methods support local payouts, such as TransferWise and Revolut. Although local payout partners exist, it's not always easy to find the best pay way and make it happen. On top of that, if you want to pay a contractor in local currencies (especially in Latin America), you need to partner up with payment providers, which isn't possible as an individual company.
Mix and match payment methods with Deel
Deel helps independent contractors and their clients manage payments with ease.
With Deel, you and your client can choose how you want to process payments. That means the two of you can have different payment methods.
For example, your client can pay with a wire transfer, and as soon as you have an available balance, you can choose how you want to withdraw. Moreover, you can choose how much you want to withdraw, in which currency and method (bank transfer, PayPal, Payoneer, and even crypto).
Deel users can now get Deel Card- for instant access to funds and global spending. Deel always tries to optimize for a local payout, which minimizes the fees and offers more choices (150) when it comes to withdrawing in local currencies. It makes the whole process favorable for both parties.
On top of that, Deel takes care of the documents, such as invoices, receipts, and even some US tax forms, which helps you navigate compliance. Want to learn more? Request a demo on our website today!