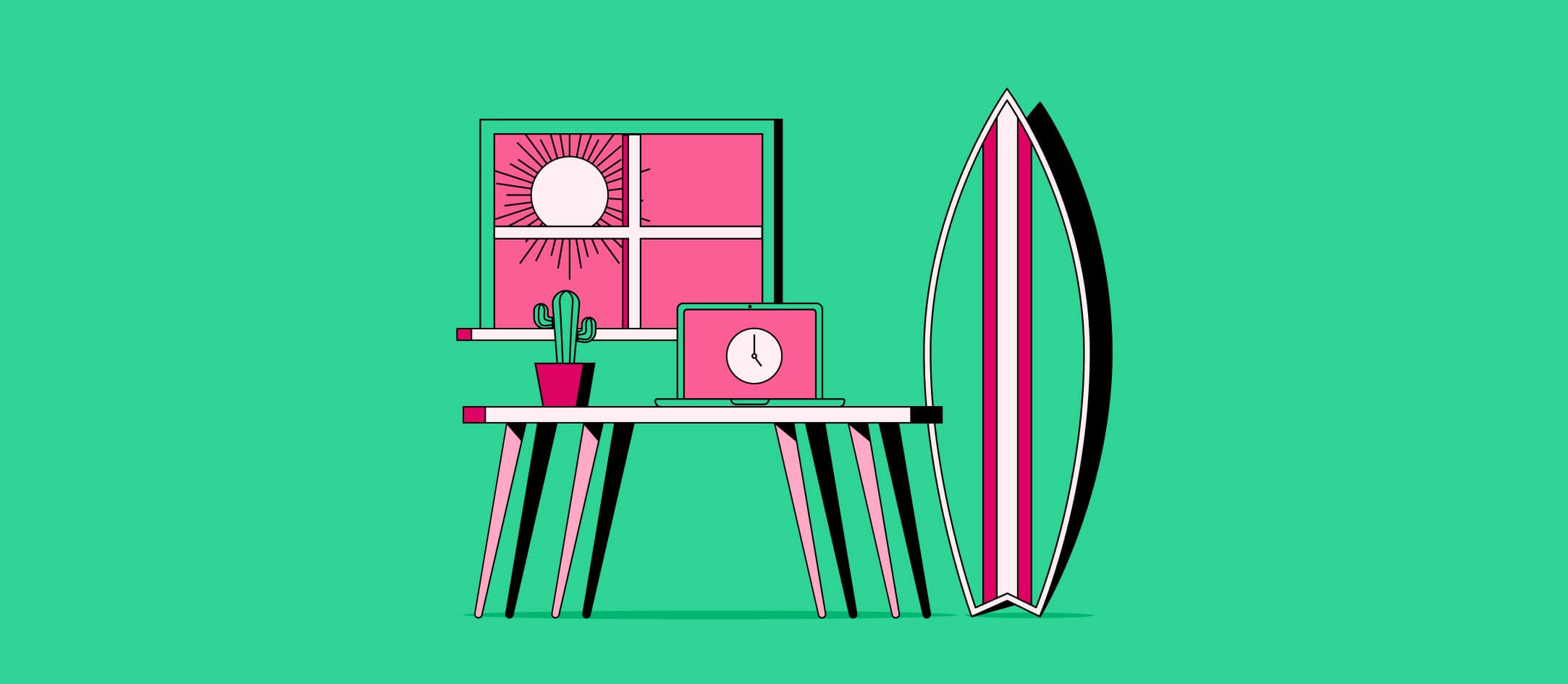 How to Be Productive at Home: Your Ultimate Productivity Guide
In the era of remote work, knowing how to be productive at home is a must. Check out our guide to improve your overall organizational skills for working from home.
Written by Anja Simic
August 24, 2021
Contents
Need help onboarding international talent?

Try Deel
Have you heard the news? Since the pandemic broke out and most of the business world started working from home, productivity has increased. And by a staggering 47%! Now that is something almost no one saw coming. We say almost because the home office has been present for decades now. However, work from home has never been as popular as it is now. And we have tips on how to keep it as productive as ever!
Of course, not everyone can easily achieve astonishing levels of productivity when they first start working from home. Regardless of if you are new to this or if remote work has been a part of your career for a while, in this article, we'll give you a detailed overview of how to be productive at home.
Are there benefits to working from home?
It doesn't matter if you are an employer or an employee - the answer is a resounding yes. WFH, or remote work in general, can significantly improve workers' experience and the company's future. Let's dive into details.
If you are an employee who chose to work from a home office, that can significantly impact both your personal and everyday work life. Your schedule will change, and so will your routine. Your mornings, especially, will look entirely different. Surely, it might be challenging to adjust to this change initially, especially if you've never had experience juggling your family, house chores, and long video calls. Being productive at home might look like a challenge you'll never overcome. But there is no better time to start adjusting than right now. So first, let's see what benefits you'll enjoy as soon as you first sign in from your home office are.
Increased productivity, improved performance, and goal meeting
More time for private life, family, hobbies, and other obligations
Better work-life balance and improved mental health
Relevant cost savings and improvement of your home life
Contribution to improving the environment
But working from home isn't only good for the workers. It has significant benefits for employers as well. From the standing point of a company, it isn't relevant whether someone is working from home, a coffee shop, a beach, or their kid's favorite playground. What makes a difference is that they aren't in the office and that they are staying productive. And like we've already seen, they are. However, there is more.
In addition to increased productivity, there are other benefits to WFH for companies that provide this opportunity to their employees.
Expanded talent pool with employees from all over the world
Cost-effective means of hiring employees
Improved employee engagement and satisfaction
What are the challenges of having a home office?
There are always two sides to every story, and working in a home office is not without its cons. Exchanging your desk job for the flexibility of spending your workday at home comes with its own set of challenges.
Developing your career can become more difficult
Collaborating on a project solely virtually can also mean isolation, less connection to your team members, fewer chances to communicate directly with your superiors, etc.
If your company has a physical office as well, your on-site counterparts may have better equipment, tools, and more advancement opportunities. It can also become trickier to stay focused and disciplined as days blend together and tasks become repetitive. Of course, you can improve all of this with time and effort, but it is a bigger challenge of this entire modus operandi.
Inability to separate professional and personal
If you are working remotely, but aren't working from home, you are most likely exempt from this issue. However, many remote workers have chosen to set up a home office, which can be a source of conflict. There are many distractions, and it is difficult to focus as your desk becomes your lunch table and vice versa. Or better yet, as you enter yet another video call, your child is in desperate need to get something from your room. Sounds familiar?
Setting boundaries is challenging, and sometimes the line between work and your free time can get blurry. The perceived normal life is impacted, and a new way of working has to take its place.
Diminished social life
If you spend your entire day on video calls, scrolling social media, and working on your laptop, your productivity will probably skyrocket. But your social life most likely won't. It is easy to focus on work-related challenges and continue practicing social distancing. But your free time shouldn't be spent logging overtime hours. Instead, you should enjoy the freedom of a more flexible schedule and spend some time away from the laptop, at least an hour every day.
How can I be productive at home?
Now that you understand this complex topic a bit more, let's see what you can do to be more productive when working from home. Each situation is different, but if you want to have a truly productive day, these tips can help you tremendously.
Organize your day - work and personal life
The best possible way to be productive when working from home is to plan it! Sounds simple, doesn't it? But planning can mean so many things, so how do you know that you are doing it right? Well, here are some tried-and-true tips for getting throughout the day and being as productive as you possibly can.
Don't diminish the importance of a good morning routine. Starting your day off right, with no commute and no traffic jams, is already a step in the right direction. If you can, extend that routine to the entire working day, not just the morning. Include your tasks, free time, break or more, and all of the projects you are working on. A structured workday leaves no space for a subpar result.
Find an organizational model that helps you stay focused and stick to it. You could try Urgent/Non-urgent matrix, Pomodoro system, or Pareto principle.
Make a plan not just for your work hours but for the time you have off as well. All the house chores that will stay there in plain sight will take a toll on your productivity.
Remind yourself to take many breaks and make them a part of your routine and a crucial part of your schedule. It is easy to get lost in the business of a working day, but taking breaks is necessary to keep you focused.
When you get bored, switch it up instead of turning to social media. Work on a different task, read a good article, or go for a walk. It will help you clear your head and continue working with fresh energy.
Work on your discipline every day - get started with small tasks, and gradually increase the stakes. There is no better productivity tip than investing in your discipline.
Incorporate learning in your day - subscribe to a podcast, or a blog, read articles and learn about the latest trends. Being out of the office doesn't mean you have to miss out on current events.
Use all the tools that have been designed to increase your productivity. There are many apps and software that can help you stay productive throughout the day. Keep track of your free time, get used to writing about your goals and ideas, and make the best out of all tools that are available to you, especially if they are free.
At the end of the day, plan for the day ahead. It will take you just a couple of minutes, but it will make sure your morning starts with a solid plan and a good routine.
Minimize any distractions and set clear boundaries (social media, TV, family members)
The inability to set clear boundaries - with others and with ourselves, is the reason why many dread working from home. It is incredibly difficult to stay productive when there are family members and roommates that need your attention. Or when you know your social media feed is buzzing with new content. So, what should you do? Avoid them!
Put up reminders on your phone when you've reached a designated time limit. Spend time doing all of this first thing in the morning, before your workday even starts. Explain to your loved ones how important it is for you to stay focused. Repeat all of these steps until you notice a significant change during your work hours. You need your breaks, your free time, and your social media viral trends. Just not while you are trying to have a productive day.
Separate working hours, as well as working space
This trick has been very well known since the ability to work from home first appeared. For today's employees to have such spikes in productivity working from their home office, the ones who did it first had to go through many failed attempts. As a result, they've learned a lot about how to have a productive day at home. And it all starts with clear division - the line between work and home shouldn't be blurry. It should be clear, visible, and always respected.
Make a habit of only working in a specific part of the house - don't carry your laptop everywhere you go. Instead, pick a work desk, organize it, make it easy to use, comfortable and call it your home office. Work only there and work only during your working hours. If you need to get something from your work laptop once the workday is finished - just don't. Leave it for tomorrow; it will still get done. But your work-life balance will be that much better because of it.
Interested in making the most out of your home office? We have an article that will give you all the information you might need!
Set clear expectations and rules
When you set up a good organizational model for working from home, morning routine and all, and you inform your loved ones about distracting you, and you avoid checking your social media... You will be as productive as you can possibly be! Well, probably not at first. But what will help you is setting expectations - from yourself, but most importantly from your superiors and coworkers. They are a crucial step in your journey towards solving the puzzle of how to be productive when working from home.
So, before you start working, take a break, take a deep breath and think about everything that you want to share with them. It can be about your tasks, tips you want to implement, your goals, or projects you are interested in. In addition to all of this, you should mention what you need to really have a productive day working from home. Finally, don't forget to put it all in writing!
Don't be shy about sharing your ideas - create a schedule, come up with a set of rules, and define your preferred way of working. Inform all relevant parties - and enjoy the boost in productivity and healthy work environment you've designed.
Incorporate fun activities and leisure
Have you ever considered making a habit out of something fun? Don't just take breaks but also do something during them. Your work hours are reserved for focus and achievement. When you work from home, they can be anything you want. Knitting, cooking, walking your dog, watching TV, playing darts... Even phone apps and games can help you take your mind off of your tasks and deadlines. Staying productive isn't endangered when you take time to relax, it is actually achievable way easier.
Is working from home here to stay?
While the conversation on the future of work is ongoing, there is hardly any business that can't be done remotely, or that hasn't gotten remote over time. If you've chosen to work from home, rest assured that you've made the right choice - since more and more of your colleagues are on track to joining you. In fact, a new way of working is gaining popularity - more and more hybrid teams are present on the market.
If you are struggling with some of the disadvantages of working from home, especially with your productivity, we hope this guide helps you resolve the challenges you face every day.