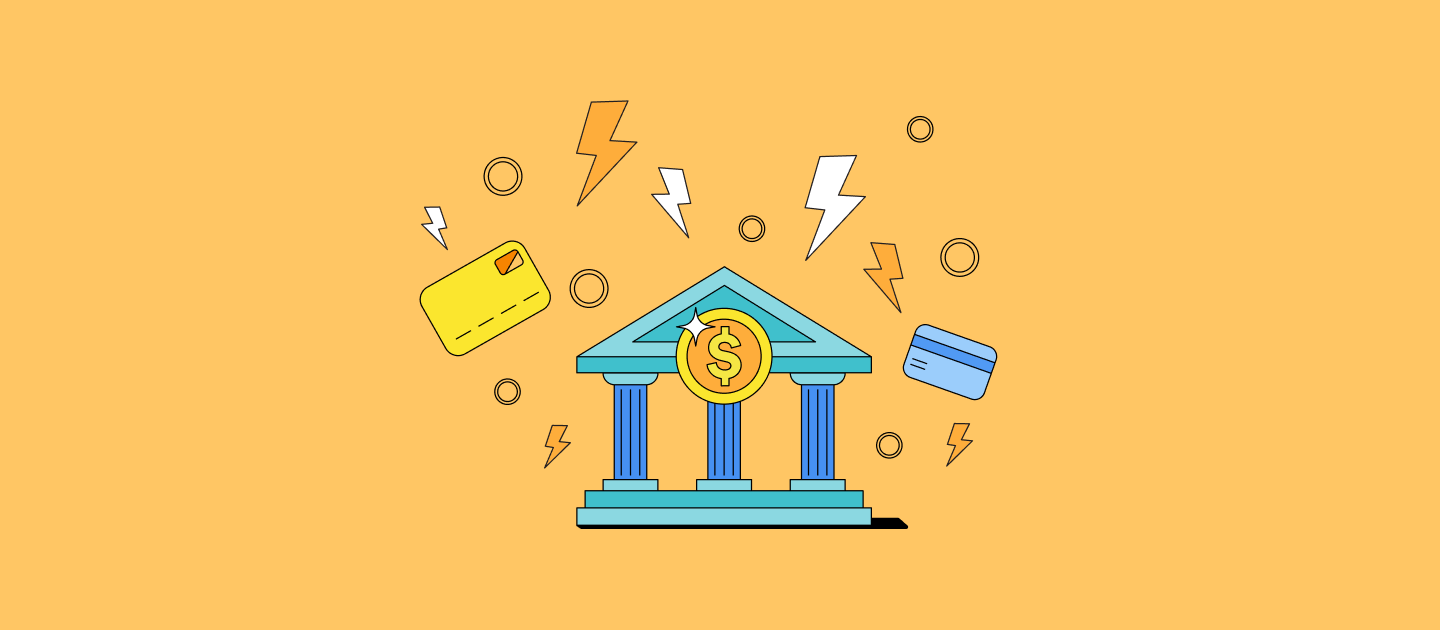 How to Control Payroll Costs as an International Enterprise
Looking to reduce your tech spend and admin overhead as a multi-national company? Here's how to control payroll costs in just a few steps with Deel.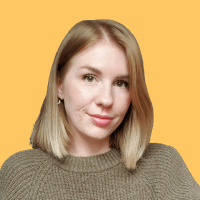 Written by Shannon Hodgen
August 22, 2023
Contents
Need help onboarding international talent?

Try Deel
Key takeaways
When businesses use Deel's all-in-one platform for payroll operations, they can build a more centralized and cost-effective tech stack.
Deel's end-to-end automation reduces unnecessary touchpoints, freeing up finance teams to concentrate on core business initiatives instead of manual work.
With Deel's network of legal specialists, local payroll managers, and customer support, companies can confidently hand off legal and tax requirements to reduce compliance risks.
Managing payroll operations is a complicated task for companies that use multiple payroll providers around the world.
Companies using six or more service providers are more than twice as likely to have difficulties with multi-jurisdictional payroll withholding and regulatory compliance changes. These challenges can often leave your finance team grappling with time-consuming processes and ballooning costs.
The solution: A consolidated global payroll provider that enables you to manage and run payroll for all of your owned entities in one platform. Deel's Global Payroll makes it easy, with a user-friendly interface, straightforward integrations, and automated workflows. Keep reading to see how you can use Deel to reduce your tech spend and administrative overhead.
Lower your tech spend
When each of your local payroll providers charges separate fees for their services, you quickly start incurring unnecessary expenses for duplicated functions.
Tracking and managing these expenses isn't easy. The task can quickly strain a company's payroll budget, as handling multiple contracts, payment schedules, and pricing structures creates additional administrative complexity and consumes valuable time. The decentralization may also lead to preventable payroll errors that can cost $1 million USD per year to fix.
See also: A Guide to Creating the Ideal HR Tech Stack
Coming from the HR practitioner standpoint, the requirements that we have looking at our HR tech stack are going to be around cost. As we have more companies who want to see their full workforce analytics, it's become critical to have that global approach—do I need to hire a consultant, or is my team able to do it ourselves because it's so user-friendly? Am I replacing three of my other vendors because now I can access everything in one consolidated place for my team?
Casey Bailey, Head of People, Deel (via Benefits News)
While some providers may offer low starting prices for payroll, this can result in unexpected fees when you need to add expenses or enroll employees in pension plans. Some providers may also only offer two or three integrations and fewer functionalities that are difficult to integrate with other HR tools. This can lead to non-standardized gross-to-net reporting and inconsistent experiences for you and your employees.
However, by outsourcing payroll to an all-in-one vendor like Deel, businesses can simplify their payment process and avoid these unnecessary operating costs. Deel's pricing model is simple and predictable, with no hidden costs or surprises. We offer tiered pricing based on the country and the number of employees, which makes it easy to understand and budget for business expenses.
See also: How to Reduce Payroll Expenses: The Hidden Costs of Multiple Platforms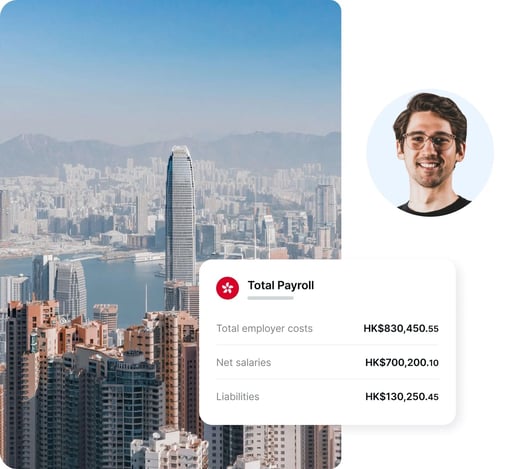 Reduce your team's administrative overhead
A major pain point for many enterprises is working with fragmented teams, each handling payroll in their respective regions. This approach often results in varying levels of expertise, non-standardized processes, and minimal communication between teams.
With Deel, you can streamline your payroll processing and empower your payroll managers to focus on more strategic tasks.
How EEG uses Deel to cut payroll admin time
Esports Entertainment Group (EEG) is a full-stack esports and online gambling company that manages a global team of remote employees in marketing, business development, and product.
Prior to using Deel, they had to manually work through Excel spreadsheets for days to pay their team. This process was already difficult to handle internally, and acquiring new employees only added more obstacles to the equation.

Deel helped facilitate EEG's onboarding of the entire team and provided a solution to centralize their global payroll. With locally compliant documents and flexible payment options, Deel transformed days of work into a few hours and made managing acquisitions a breeze.
Deel's Global Payroll reduces your payroll admin with:
Payroll review for all countries in one platform
Bulk edit payroll reports
Payslips created and sent for you
Salaries and taxes paid on your behalf (where possible)
Processing and setting up recurring deductions and benefits
Tax filing and remittances
Calculations of allowances, bonuses, expenses, and severance
Compliance documents needed by local governments
Declarations to the government
General ledger (were applicable)
Real-time reporting across locations and roles
Global standardized reporting (G2N)


What sets Deel apart is that all of these tasks are handled 100% in-house, with dedicated payroll managers stationed in over 90 countries. This means you no longer have to deal with the intricacies of coordinating various vendors or navigating multiple user interfaces.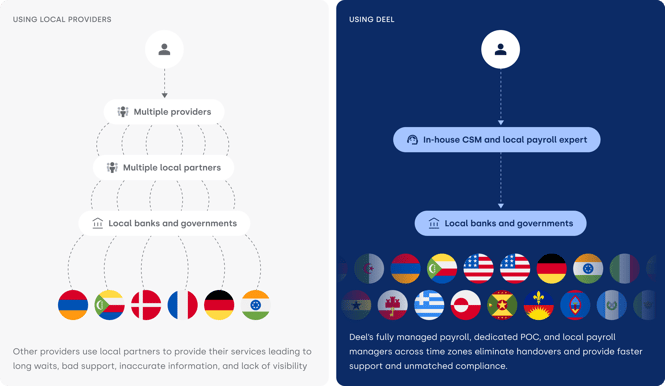 With Deel, you're supported by our team of local legal experts who work with us to ensure payroll and worker classification comply with global regulations. This not only reduces your risk of misclassification but also minimizes the potential for fines and penalties, with a cost savings of potentially hundreds of thousands of dollars.
Automate processes to reduce touchpoints
Deel integrates with over 20 different HRIS and accounting systems, making it a highly versatile and efficient tool for small businesses as well as enterprise organizations.
To easily migrate employee data, Deel automatically syncs details from other human resources platforms so all employee information is accurate and up-to-date from the very beginning. Creating a new employee contract is simple, too—watch the video below to see how it's done.
With Deel's centralized oversight, you can easily make quick and precise adjustments. For example, if you want to update items on your global payroll report, such as overtime pay, severance, or working hours, it only takes a few clicks:

When you need to handle currency conversions, Deel has you covered with automatic in-app conversions—which is especially useful for companies that operate across multiple countries. The mass payment feature adds an additional layer of ease, enabling clients to filter payees individually, by location, by entity, or other specific criteria, and pay them all in just seconds.
I can only imagine how annoying it would be to have to process the payments manually twice a month or have to remember the exact day that we have to pay each team. Thanks to Deel, I just need to go to the payments section, press the pay button, and that's it. It gives me the peace of mind that everyone is getting paid, on time, all over the world.
Daniel Aksioutine, COO, Divbrands
Depending on the country, Deel can facilitate payments on your behalf by sending paychecks to workers via direct deposit, or providing payment files to boost payment efficiency if you're responsible for the payments.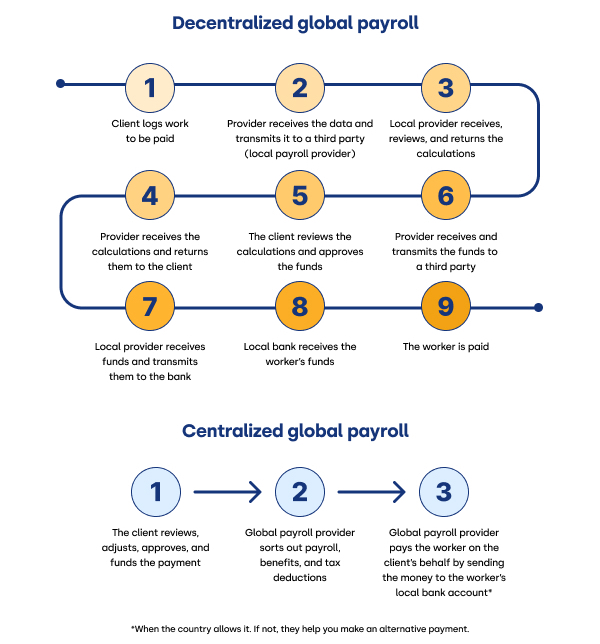 Improve data analysis and security
Every payroll vendor should provide clear and up-to-date reports so you can see where funds are going and how much you're spending on payroll expenses. But working with several smaller local partners worldwide means business owners lose out on a consolidated view of their team's data, since pulling data from multiple sources takes time and can outdate data before you have a chance to review it.
A global payroll solution, on the other hand, provides the most recent information to accurately forecast spending and growth. Reporting is standardized across countries and stored in the same platform, giving you a single source of truth from which to make confident decisions, resulting in:
Improved payroll processing accuracy and timeline accuracy
Real-time data and reporting
Comprehensive and detailed reporting of country costs
Transparent and standardized audit trails
Fewer security risks as sensitive data is held in one secure location
Get access to fast and reliable support
At Deel, you receive personalized support at every step of the global payroll process, providing you with consistent reporting and service levels, no matter where you expand your business.
Deel clients get access to a dedicated customer success manager (CSM) and in-app support available 24/7. On average, our support services have a 1.25-minute response time, providing you with fast and accurate help. This personalized support not only leads to more effective and efficient resolution of any issues, but also helps prevent potential issues from escalating.
See also: The Benefits of a Dedicated CSM: How Deel Sets You Up for Success
With ongoing support from a dedicated CSM, you can continually improve your processes and no longer need to deal with different external providers in various time zones. Instead, you get the support you need quickly and easily, with confidence in your global payroll management.
Centralize your global payroll services with Deel
For global teams with diverse workforces, formalizing a payroll strategy requires working with a provider that can grow with them, no matter who or where they hire. Deel is one of the first and only companies to unify independent contractor/freelancer payments, employer of record services, and full-time employee payroll management in one easy-to-use platform.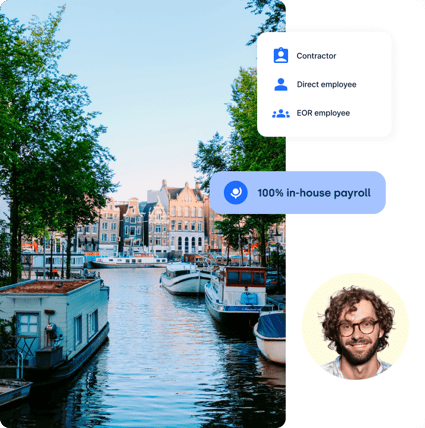 Our fully-managed service handles everything for you in 100+ countries:
Employee benefits and deductions (health insurance, social security, Medicare, and more)
Payslips created and sent for you
Salaries and payroll taxes paid on your behalf where possible
Declarations to the government
Tax filing and remittances
Onboarding new employees
Offboarding in compliance with local requirements
Global standardized reporting
24/7 in-app support
Dedicated customer success manager

Book a 30-minute product demo with an expert today to learn more.