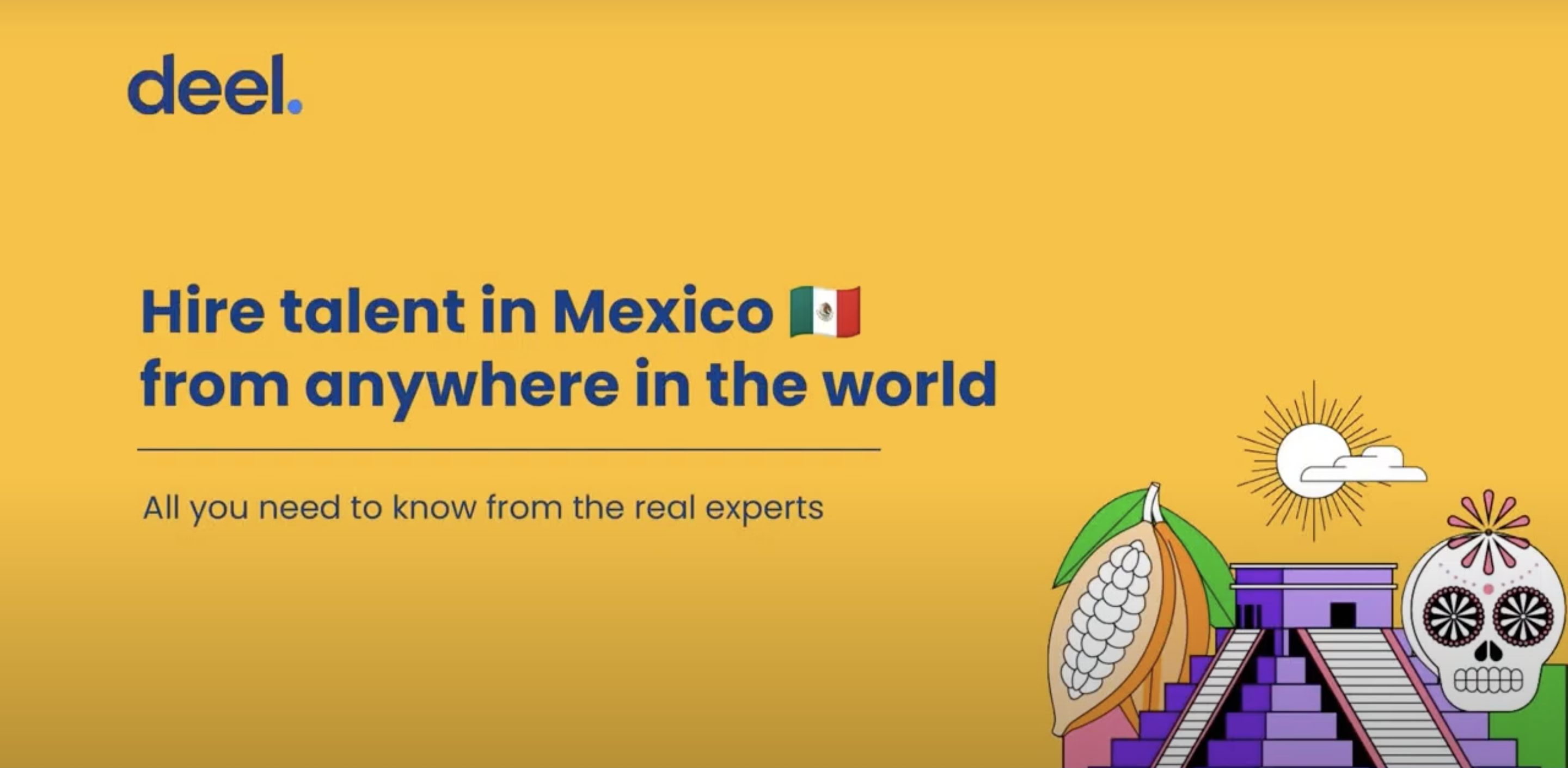 How to Hire Talent in Mexico From Anywhere: Webinar Recap
Global payroll and compliance provider, Deel, hosted a webinar with four experts to help businesses hire talent in Mexico. With a fast-growing and highly qualified generation of English-speaking talent, and over 100,000 software engineers graduating from top Mexican universities every year, the country should not be overlooked.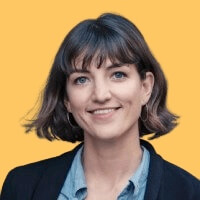 Written by Jemima Owen-Jones
April 20, 2022
Contents
Need help onboarding international talent?

Try Deel
Mexico is an exciting and thriving market, sharing proximity and many values and behaviors with the US. The combination of abundant talent and cultural likeness has resulted in many large US companies such as HP, Oracle, Netflix, and Lyft opening offices on Mexican soil.

So what talent are these companies looking for?

The most in-demand roles in Mexico include:
Senior Software Engineers
Auxiliary tech roles: Quality Assurance (QA) Manager, Customer Success Engineer, Sales Engineer, Data Analyst
Management roles: Vice President of Engineering (VPE), Chief Technology Officer (CTO), Director of Engineering


The most in-demand non-tech roles include:
Customer Service Representatives
Virtual Executive Assistants
Accounting roles
Recruiting roles


If you're a business owner seeking fresh talent but don't know where to start, watch the webinar or check out the recap to learn everything you need to know about hiring in the region.
Expert speakers
Georges Janin, Founder, Gringo Jobs
Alejandro Corona, Paredes, Guzman y Asociados
Pepe Villatoro, Head of Mexico, Central America, and the Caribbean, Deel
Thomas Dale, Director of Channel, Partnerships, Deel
Country overview
Population: 128.9 million (2020)
Capital city: Mexico City
Currency: Mexican Peso (MXN)
GDP per Capita: 8,346.70 USD (2020)
Official language: Spanish
English proficiency: "Very low" (Mexico ranked position 92 out of 112 countries on the EF English Proficiency Index)
Payroll cycle: Twice a month
Time zone: Central Standard Time (CST)
Why hire talent in Mexico?
The growth rate of hiring across Latin America, in general, has increased by 286% in the second half of 2021, mainly for software engineer and account executive positions. However, Mexico, specifically, is more internationally mobile than ever before, among other qualities:
1. Easy travel and visas for US companies
Talent in Mexico is very accessible, especially if your business is in the US. Since May 2021, the airlines operating between both countries have averaged more monthly passengers than they had in 2019, before the COVID-19 pandemic. So scheduling a team meet-up is both easy and fun!

The TN visa also grants Mexican Nationals easy access to work authorization in the US for individuals that receive employment offers from US businesses.

Compared to the US, Mexico also has a very simple immigration program that attracts skilled workers from outside Mexico. Should you decide to open an entity in the country and wish to sponsor a non-resident, the process of that worker acquiring Mexican residency and working papers is very straightforward.

Finally, since COVID-19, remote work has given companies and employees more versatility and has led to the implementation of more digitization. Companies can be more open in their recruiting as they acknowledge that the best employee could be anywhere globally. Equally, remote schemes allow employees to work from wherever they are located.
2. Keen workers
Mexican nationals genuinely desire to be part of a strong company culture.

Historically, through outsourcing and nearshoring, Mexican talent—particularly tech talent—has been relegated to undesirable jobs that other countries don't want to do. Georges Janin, Founder of Gringo Jobs, believes that Mexican people are looking for a more immersive workplace experience involving core business activities and team building.
3. Strong education
When seeking qualified candidates for international hiring, look for countries with a solid educational background. Mexico has a vast university system, including some internationally known private and public universities.

Top universities in Mexico include:
Tecnológico de Monterrey (3rd top STEM university in LATAM)
UNAM - Universidad Nacional Autónoma de México (2nd top STEM university in LATAM)
IPN - Instituto Politécnico Nacional
Universidad Autónoma Metropolitana


Rankings show that Tecnológico de Monterrey ranks 30th among private institutions worldwide, and reports indicate it is the best technology school to make its graduates employable.
How much does it cost to hire talent in Mexico?
Many businesses are drawn to Mexico and other Latin American countries because of lower employment costs. However, you shouldn't approach recruiting solely from this mindset.

Hiring abroad should not be a source of "cheap labor." Companies should always provide a salary or compensation that honors workers' qualifications and provides a high quality of life. If you're looking for the best talent to rival your local market, you should pay a competitive price.

A general rule of thumb is that salaries are one-third to one-half of high US metro salaries. These numbers are increasing rapidly in tech but are still lower than in the US.

The total cost depends on the workers' classification, statutory employee benefits, company perks, salary, and compensation.

An alternative to hiring full-time, salaried employees is to hire independent contractors. Employees are often more expensive than expected due to robust employment laws that stipulate mandatory employee benefits.

Hiring an independent contractor has fewer associated costs than an employee. The company does not have to pay mandatory employee benefits and shifts tax obligations onto the contractor.

Using Deel's cost calculator, you can determine how much it'll cost you to hire talent in Brazil. Enter the worker's position, country, currency, and salary to calculate the total employer costs.

Deel has also recently launched salary insights. This online tool enables every Deel client to generate the average pay rate within a particular profession. Businesses looking to hire in Mexico can use this tool to establish how much it will cost to hire a professional.

As an idea, some typical tech salaries are as follows:
Mid-level web developer: 70k pesos (3,488 USD) per month
Senior web dev: 90 to 100k pesos (4,484 to 4,982 USD) per month
Tech lead/ engineering manager: 140k pesos per month


Note: Payment in USD is becoming more popular among locals since local currency fluctuations do not impact the currency.
Securing global talent just
got easier

How to legally hire employees in Mexico
You have two options. Incorporate a company in Mexico or use an EOR.
Open a foreign subsidiary to establish a presence in Mexico

The traditional way to hire in Brazil, or anywhere internationally, is to open a local entity, or foreign subsidiary, in that country. However, this complex process requires corporate tax and Social Security Registration and Tax, labor, and Social Security inspections. Failure to comply can result in litigations.

Alternatively, businesses can opt for a faster and cheaper solution by using an EOR.
Use an employer of record (EOR) for hassle-free global hiring
An EOR is an organization that legally employs and pays full-time employees on behalf of another company.

With an EOR, you can quickly hire remote employees anywhere globally without setting up a foreign entity or subsidiary, sponsoring visas, relocating employees, or worrying about compliance with local tax and employment laws.

EORs can also reduce the strain on your HR departments and provide an improved employee experience.

An EOR will:
Take all legal responsibility for the company hiring talent
Ensure compliance with local laws and regulations
Manage employee onboarding and offboarding
Pay employees in their local currency into their local bank account and distribute payslips
Manage HR administration
Perform legal follow-up


While EORs are often the ideal solution for hiring and retaining global teams, they're not for every company at every point in time. It's always worth weighing up the pros and cons to ensure it's the right fit for your business.
Labor laws in Mexico (for employees)
Like many other Latin American countries, Mexico has a specific labor system resulting from many social issues that the government has fought to overcome in the past 100 years.
Mandatory benefits
Vacation: 6 days after the first year of service
Vacation premium: 25% of the vacation day's salaries
Christmas bonus: 15 days of base salary
Annual profit sharing: 10% of the employer's pre-tax annual profits
Social security: Work-accidents compensation, general disease and maternity insurance, life and disability insurance, retirement contributions, and other minor social benefits


Non-mandatory benefits
In addition to the mandatory benefits mentioned above, companies can provide additional non-mandatory benefits highly sought by local workers. These include:
Health and life insurance
Food vouchers
Gas coupons
Productivity bonus
Stock options
Higher aguinaldo (30 days)
Pension scheme
Wellness and learning opportunities


Note: Locals are less concerned with company benefits if they receive strong and more stable currency.
Probation and training periods
Employment agreements for an indefinite term or arrangements that last more than 180 days may be subject to either probation or training periods.
Probation: 30 days (or 180 days for managers, officers, administrators, or specialized positions)
Training: 90 days (or 180 days for managers, officers, administrators, or specialized positions)


At the end of the probation or training period, the employer may terminate the employment relationship without any responsibility.
Minimum wage 2022
The minimum wage in Mexico depends on the location of the employee. In the Free Zone of the northern frontier (NBFZ), the minimum wage is MXN 5,206.8 (261.21 USD) per month. The rest of the country's minimum wage is MXN 3,457.4 (173.45 USD) per month.
Taxation for employees
Income tax is calculated according to progressive rates.

Individual income tax ranges from 1% to 35%. The employer cost is generally estimated at 26% of the employee salary.
Termination of employees
Mexico doesn't have an unemployment law about termination. Instead, it has labor law principles that help employees retain their jobs.

An employment relationship can only be terminated by voluntary resignation. A resignation with more than 15 years of service grants accrued benefits to the employee.

Alternatively, employers may use "termination with cause" if, for example, the employee misses more than three days of work or is drunk on the job. In this scenario, the employee is entitled to accrued benefits.

Finally, you can use "termination without cause." You don't have to justify your reasoning for termination. However, you'll need to pay the full severance, which is a three months premium plus 20 days of salary.

Specific fixed-term employment agreements only require the employer to pay accrued benefits.
Employment agreements
All employment agreements must contain mandatory provisions including:
Employee's identification data
The type of agreement
Position
Work shift
Work center
Salary
Labor laws in Mexico (for independent contractors)
Mexico has some strict conditions for hiring contractors if you intend to open a local entity. However, if you're hiring a contractor and your business operates outside of Mexico, the following conditions do not apply.

As of April 24, 2021, the Mexican labor legislation prohibits the subcontracting of personnel, either by outsourcing or insourcing schemes. Therefore, If you want to open an entity in Mexico, you cannot subcontract your core businesses.

Companies operating from a local entity can only contract specialized services or tasks, as well as the provision of complementary or shared services between companies of the same corporate group, provided that:
The services are not part of the corporate purpose or the main economic activity of the beneficiary (i.e., the core business).
The contractor obtains its registration before the Registry for Specialized Services Providers (REPSE) of the Labor Ministry
The provision of services is formalized using a written contractor agreement indicating the number of workers that will render their services under the agreement
Suppose you don't have a specific reason not to hire someone under a fixed term or a particular project. In that case, you must always hire the individual as an indefinite term employee.

What counts as a specific reason?

Say you're building a house that will take six months. In that case, this project allows you to hire someone for six months. Once that project ends, the agreement ends, and you do not need to pay that worker any severance, only accrued benefits.

There is no minimum or maximum amount of time that should hire contractors.

Please note: Businesses must maintain the right relationship with the independent contractor to avoid worker misclassification. If the employer treats the contractor as an employee, the company could face a lawsuit for misclassification.
Taxation for contractors
The Mexican government launched a scheme to incentivize self-employed workers to register and adhere to tax obligations. As of January 2022, freelancers and contractors need only pay tax on 1% of their earnings.
Invoicing
Non-Mexican companies cannot use local invoices (CFDI invoices) created by the Mexican IRS. Instead, they should use an international invoice that resembles the US invoice. Contractors can use this to keep track of their income and create their CFDI invoices for tax purposes.

US companies must request that Mexican employees and contractors complete a W8 form to notify the US IRS that they are paying foreign workers to avoid taxation in the US. The most comprehensive EORs like Deel can automatically generate the filing of these forms on your behalf.

An EOR does not help you hire contractors, only employees. But some companies that offer EOR services also provide services to hire independent contractors worldwide, like Deel.
How do I hire employees and contractors through Deel?
Creating a compliant worker contract is easy with Deel. Once you've partnered with us, you'll gain access to the Deel online dashboard. From here, you take the following steps:
Click "create a contract"
Select the contract type (e.g., fixed-rate, pay as you go, milestone, full-time employee)
Add the independent contractor's details (name, residence, job title, seniority level, scope of work, and start date)
Define payment rate using Deel insights to gauge the appropriate pay for the contractor's level of experience in their country
Update the invoicing cycle to align the contractor's first payment with the rest of the company's invoicing
Add termination dates, notice period, and optional stock options
Attach any additional documents
Include special clauses (we recommend using Deel's contract as it includes locally approved and legally reviewed clauses regarding tax obligations and labor laws)
You can upgrade to Deel premium ($50 per month) if you want extra legal coverage in the case of a worker misclassification lawsuit. You will be covered up to $25000
Review and sign
Finally, invite the contractors to upload their compliance documentation and sign the contract (simply add the new prospect's email address, include a short message, and hit "send")
Voila! You have yourself an official reviewed and approved contract for hiring in Mexico.

For full-time employees, Deel can also handle sending out the offer letter to the candidate
How do I pay contractors and employees with Deel?
Deel pays over 1000,000 people in numerous currencies through its online dashboard.

Deel enables you to pay international workers effortlessly:
Deel automatically generates an invoice
You can then select the account you want to fund from
Confirm the payment
Businesses must pay all workers in their local currency. Our automated software exchanges currencies and allows contractors to withdraw money via several convenient payment methods.
Hire top talent in Mexico with Deel
Building an international team can be time-consuming, especially when compliance is involved. There are different local labor laws, taxes, and mandatory employee benefits for each country to keep up with. Luckily, Deel keeps up with it all for you.

Deel lets you hire anyone, anywhere in the world, within minutes. Plus, you can rest assured legal experts vet your contracts to be completely compliant, so your new hires are set up to work correctly in no time.

Want to learn how it all works? Book a demo today to find out.