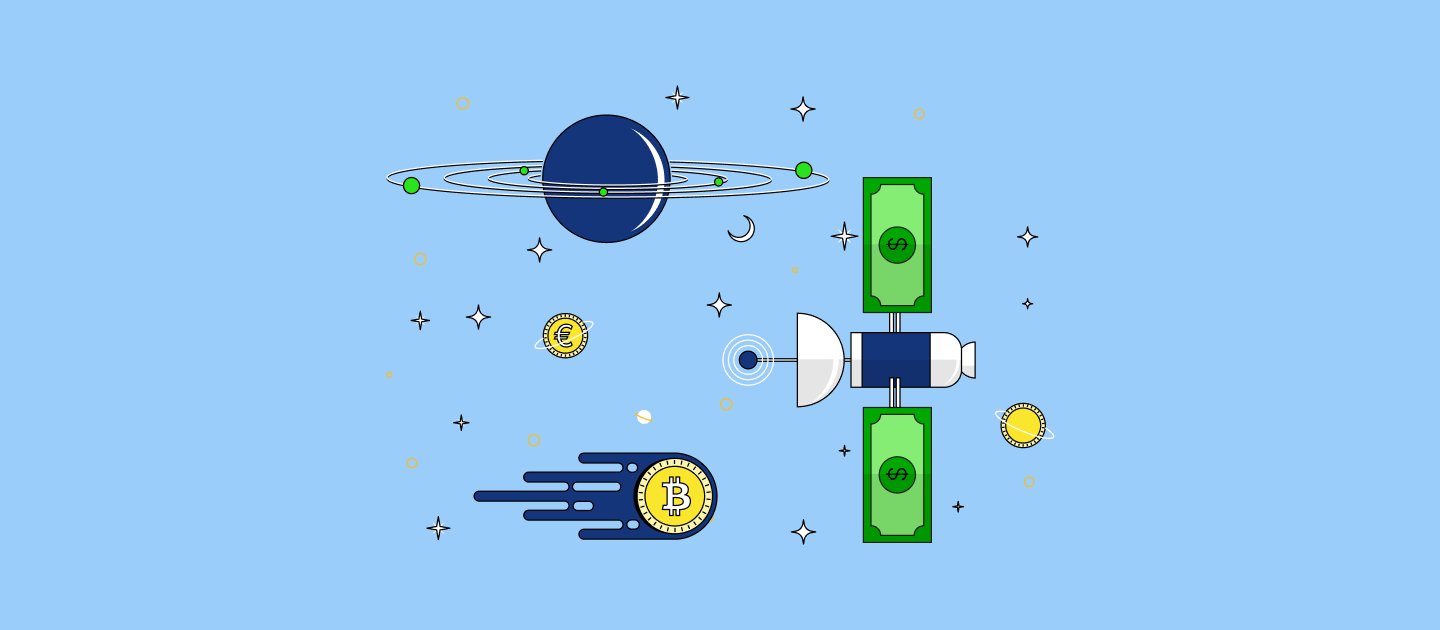 5 Tips To Quickly Improve Payroll Process for Remote Teams
Want to accelerate remote worker payments? Learn how to make the payroll process faster with Deel's automations, self-service functions, and more.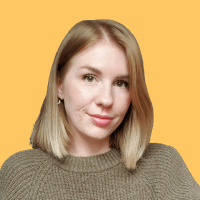 Written by Shannon Hodgen
June 7, 2023
Contents
Need help onboarding international talent?

Try Deel
Key takeaways
Business owners typically accelerate the payroll process by outsourcing payroll or using automated software.
With self-service functions, automations, and 20+ integrations, Deel's payroll software solution makes the payment process faster and easier for globally distributed teams.
While some payment methods can take a full business week to process, you can pay workers instantly with Deel Card and Deel Instant Card Transfer.
Paying employees on time is one of the top challenges for organizations, and is made even more complicated for teams running multi-country payroll. Many companies are still running payroll manually, which can often lead to delays, miscalculations, and frustrations for both employers and workers.
With Deel, you can streamline payroll management for your workforce, whether you're a small business with a domestic workforce or an enterprise with a globally distributed team. Read on to learn more.
Get new hires up and running quickly
Setting up a new hire's employee profile is a time-consuming task, as it requires migrating employee information and banking details in compliance with local requirements. With Deel, you can automatically sync employee details from your current HR platform for a seamless onboarding experience.
ThirstySprout saves time onboarding new hires by using DeelHR. Before Deel, ThirstySprout found that although the HRIS they were using was designed for startups, it didn't quite fit their distributed-company requirements.
With Deel's automated contract creation and contract signing, they decreased the amount of time spent onboarding workers from three to five hours to three to five minutes.
By leveraging automated payroll record management, streamlined digital contracts, and seamless compliance workflows, Deel cuts onboarding time by 31% to onboard workers in time for the next pay period. Deel's self-service model then guides employees and independent contractors through the onboarding process with a fast and easy-to-use checklist.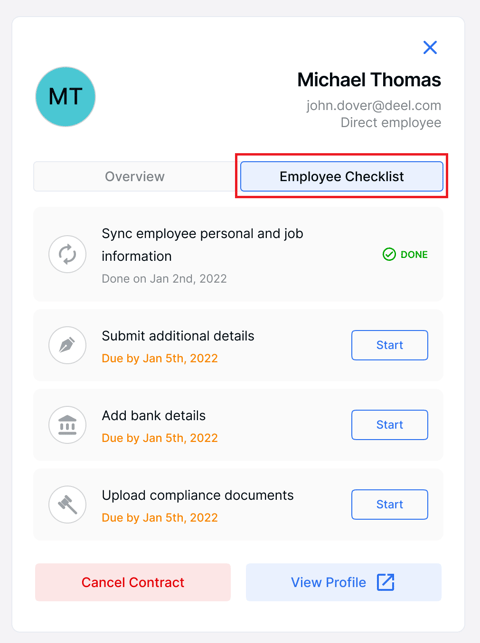 Automate payment processes
At Deel, we've automated the entire payment admin process to ensure payments are executed accurately, securely, and on time, eliminating the hassles and uncertainties associated with manual payroll providers. When paying independent contractors, you'll receive instant, compliant digital invoices for every contractor payment.
Manage payments in seconds with automated invoices

You can use Deel's mass payments option to pay your entire workforce in one click. Select all of your workers, or select the specific workers you want to pay—categorized by entity, team, country, and more—for a fully customizable experience.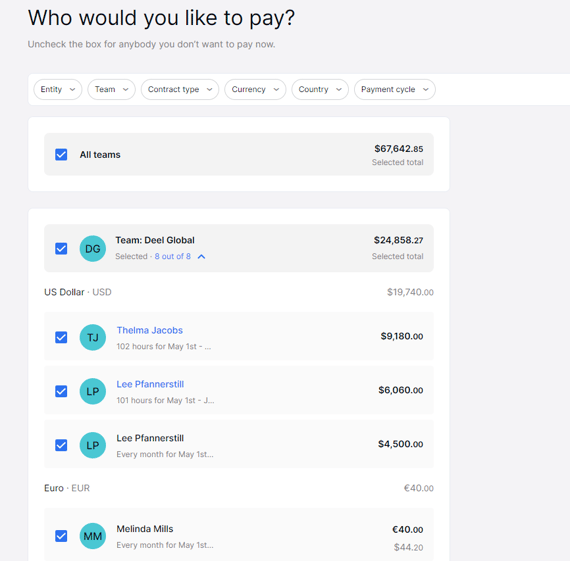 Deel automates the pay stub matching process by comparing the data on an employee's pay stub to the data on your company's payroll report. This ensures the right pay stub is shared with the right employee. Pay stubs (also known as pay slips) are then automatically distributed to your team on time, every month.
See also: 9 HR Processes to Automate Today (And How to Do It With Deel)
For Turing, Deel helped remove all the challenges they previously faced using other payroll systems.
Their old platform required a lot of manual work to make payments, which made paying everyone take several days. With Deel, the team can send payments in just a few hours after verifying the recipients' amounts, saving them a lot of time. They're also able to add bonuses and make payment adjustments with ease.
Offer flexible payroll schedules
While the standard pay schedules include bi-weekly, semi-monthly, and monthly payments, Deel provides the convenience of on-demand payroll, allowing you to process payments outside of those pay cycles. This provides your team members with the option to receive their earnings when they need them, instead of having to wait for payday.
Through these off-cycle payments, you can add a last-minute bonus or expense and pay employees their full salary up to a month early, enabling them to cover an unexpected cost with less stress.
See also: How On-Demand Pay Unlocks Higher Employee Productivity, Satisfaction, and Retention

Some payroll providers work with third parties that require you to submit salary adjustments two to three weeks before payday. Since Deel's payroll operations are entirely in-house, we can offer extended payroll cut-off dates for EOR employees, giving you more time and flexibility to approve expenses, input time off, add commissions or bonuses, and submit monthly salaries. After that, our team handles the payroll taxes, calculations, and more.
Divbrands is a digital direct-to-consumer e-commerce company that owns and operates multiple consumer brands across the globe with a fully remote team.
They have a team in the Philippines who must be paid bi-monthly, while the rest of the company is mostly paid monthly, and they use Deel to manage it all seamlessly.
"I can only imagine how annoying it would be to have to process the payments manually twice a month or have to remember the exact day that we have to pay each team. Thanks to Deel, I just need to go to the payments section, press the pay button, and that's it. It gives me the peace of mind that everyone is getting paid, on time, all over the world." — Daniel Aksioutine, COO, DivBrands
Enable multiple payment and withdrawal options
Deel offers 15+ funding and withdrawal options, enabling your international team members to choose the most convenient method to receive their earned wages—not just direct deposit or paper checks.
From bank transfers to digital wallets, Deel's payment methods are flexible and convenient to ensure workers are paid quickly. For example, independent contractors can choose from nine different withdrawal methods, including Deel Card or Deel Instant Card Transfer, which allows them to immediately access their funds.
See also: 9 of the Best Ways to Pay Independent Contractors Online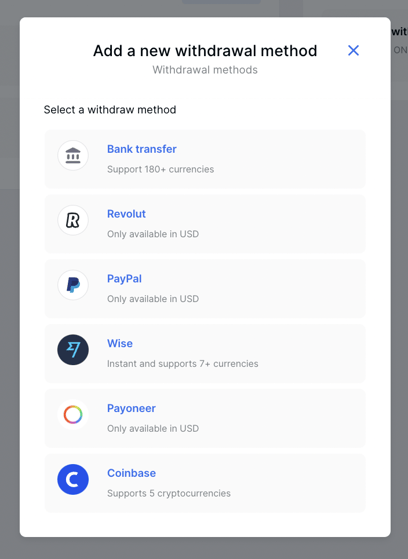 Providing multiple payment options caters to the diverse needs and preferences of your international workforce, enhancing their satisfaction and financial flexibility. In turn, you can increase employee retention and attract top talent, showcasing your commitment to accommodating individual financial preferences.
During the pandemic, mobile game company Yodo1 closed its Beijing headquarters and went fully remote. The problem was, all of their payments were handled manually—and their team was spread across 30+ countries.
As a technology company, they were drawn to Deel's easy-to-use platform. They were able to simplify payroll with Deel and save countless hours each month on repetitive paperwork and payroll processing.
Today, Yodo1 uses Deel to manage payments for one-third of its people.
"I hear all the time from our people that Deel is hands-down the fastest way they've ever been paid when working remotely. One of the comments I hear most often is how easy it is to receive and withdraw funds in so many currencies." — Flo Alcasas, Head of People and Remote
Use Deel, an all-in-one global payroll solution
With Deel, you can pay your team members quickly and accurately, no matter their employment type or location. Manage independent contractor payments, direct employee payroll, and EOR payroll for your international workforce, all in one centralized platform.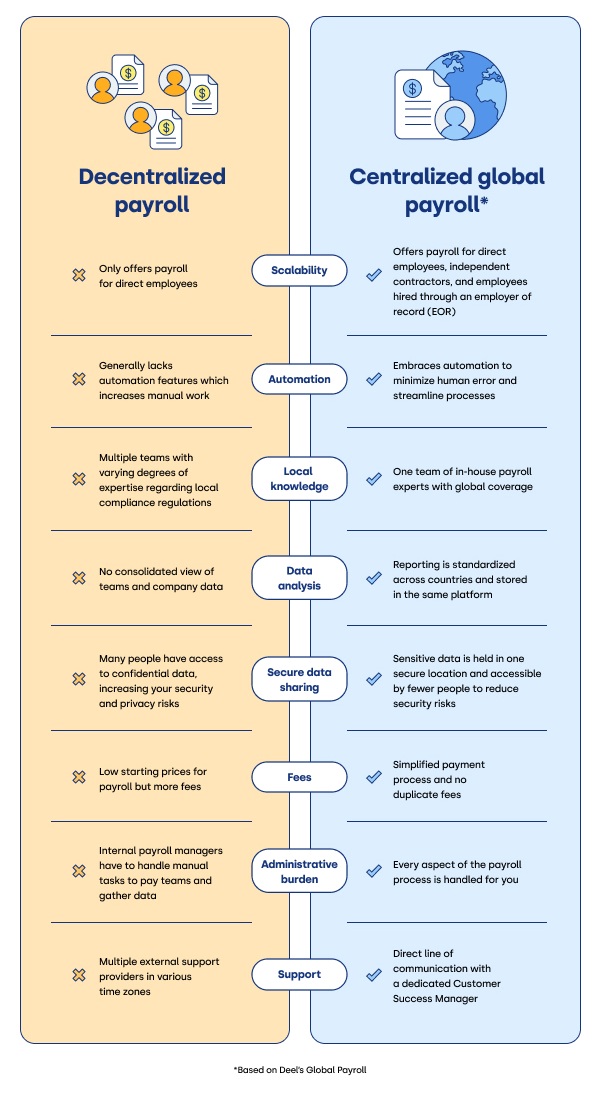 From onboarding and payroll management to immigration and equity, Deel provides a unified HR solution for global teams. Use Deel to consolidate your HR tech stack, reduce cross-border payment complexity, and enhance efficiency across your payroll processes. Watch the video below to see how it works.
With Deel, you can run payroll in 100+ countries with ease. You'll be supported by a local payroll expert, a dedicated customer success manager, and 24/7 chat support with a 1.25-minute response time. Explore Deel's Global Payroll to learn more or book a 30-minute product demo today to get started.