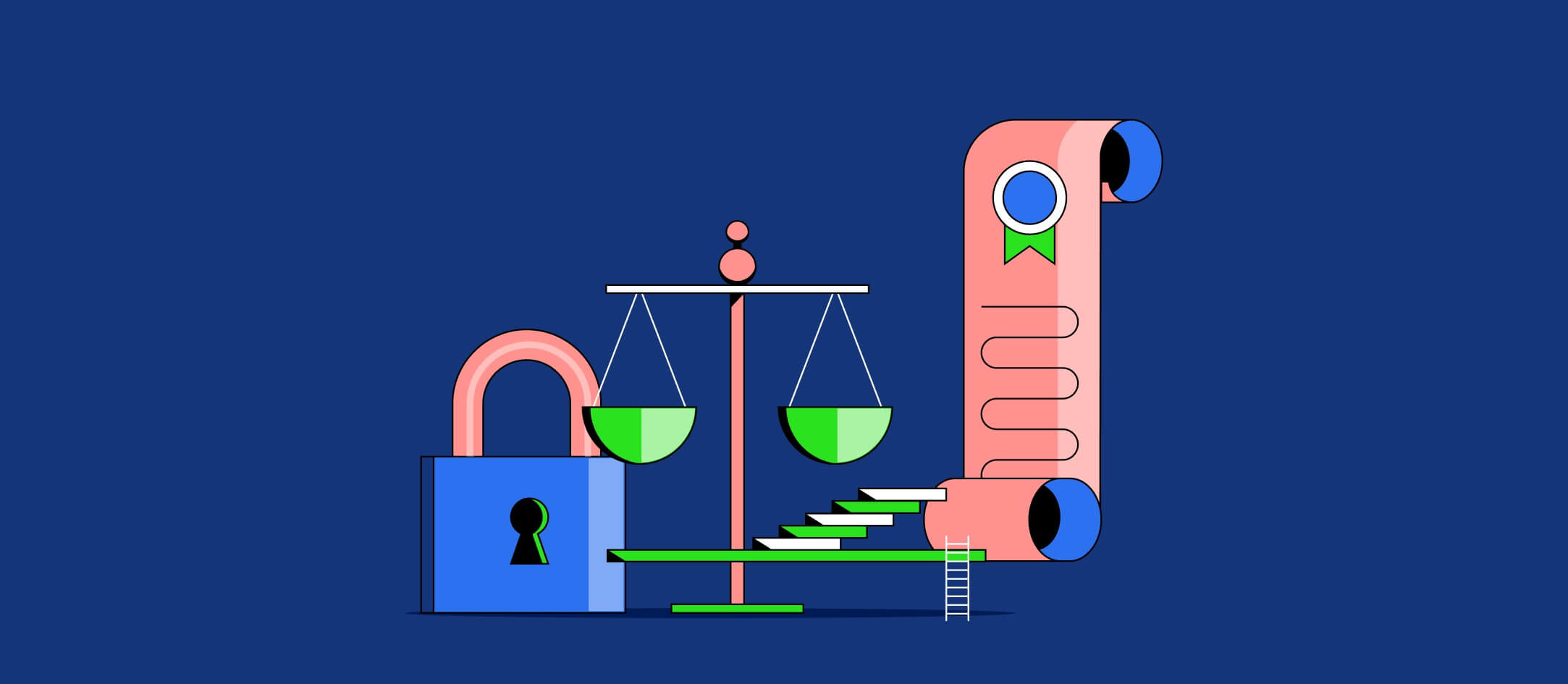 ITIN vs. SSN vs. EIN — What is the difference?
ITIN, SSN, and EIN are easy to mix up when filing taxes. This article simplifies it all, so you know what Tax Identification Number to use each time!
Written by Anja Simic
August 12, 2021
Contents
Need help onboarding international talent?

Try Deel
Individual Taxpayer Identification Number (ITIN), Social Security Number (SSN), and Employer Identification Number (EIN) are all different kinds of Tax Identification Numbers (TINs).
Tax Identification Numbers are used for tax purposes in the United States. The Internal Revenue Service requires you to apply and get these numbers to file your taxes, for a tax return, benefits, statements and reports; many other institutions, banks and businesses also request to see your TIN for multiple purposes.
In short — these serve as your tax ID.
However, different laws apply to various workers, individuals, entities, and enterprises, so you need to learn the exact purpose of these three numbers.
Here you'll get to know about ITIN, SSN, and EIN — a full explanation of each of those numbers, who needs to get which one, how to get them, and what their similarities and differences are.
To learn about TIN as a whole, including other types of TIN (ATIN and PTIN), take a look at our Tax Identification Numbers article.
‍
What is Individual Taxpayer Identification Number (ITIN)?
Individual Taxpayer Identification Number (ITIN) is a number IRS uses to denote non-residents for federal tax reporting. ITIN looks like the Social Security Number, but 9 is always the first digit (format: 9XX-XX-XXXX).
The IRS assigns ITIN to people who don't have the right to get the SSN but still need some U.S. taxpayer identification number. This relates to non-resident aliens, people with temporary visas, and in general all the people who "may have a U.S. filing or reporting requirement under the Internal Revenue Code".
To be more precise, the following categories:
People not eligible to obtain an SSN
People who need to have a TIN or file a federal tax return and are:
Non-resident aliens/ U.S. resident aliens
Spouses of U.S. citizens/ resident aliens/non-resident alien visa holders, or dependent on them
Non-resident aliens claiming tax treaty benefits
Non-resident alien professors, students, or researchers filing a U.S. tax return or claiming an exception
Keep in mind that having an ITIN doesn't automatically hand you permission to work in the U.S, get the Social Security benefits, grant you the SSN eligibility, or qualify a dependent for Earned Income Tax Credit purposes.
If your SSN application is pending, you won't be able to get the ITIN — as you can only have one of those.
What can businesses use ITINs for?
Like the SSN, companies ask for ITIN to pay the people working for them and withhold an appropriate amount for tax purposes. ITIN is for individuals (the ones that cannot obtain the SSN), not for companies to get.
How to get an ITIN?
To get ITIN, you need to file the IRS Form W-7 with the attached federal income tax return. Form W-7 is also used to renew the expired ITIN — ITINs issued starting 2013 expire five years after issuing (you can find more details about expiration here).
As it's quite easy to make a mistake filling the Form W-7, it is strongly advised you ask some of the accountants (preferably the IRS Acceptance Agents) for advice and help.
What is the Social Security Number (SSN)?
The Social Security Number (SSN) is a nine-digit number (format: XXX-XX-XXXX) assigned to all U.S. citizens and permanent residents. Each person working (or who has the right to work) in the U.S., regardless of the employment type, needs to apply for a SSN to receive their wages or self-employed payments.
Apart from getting a job, people need a SSN to:
Collect Social Security benefits
Apply for the Earned Income Tax Credit (EITC)
Register to vote
Register their motor vehicles
Open their individual bank accounts
Take loans
Use other government services
It's important to note that you can acquire the SSN no matter what your immigration status is, provided that you have a lawful alien status ("any non-U.S. citizen presently permitted by the Department of Homeland Security, one of its agencies, or the Department of Justice to remain in the United States").
Your SSN is written on the Social Security Card; while it's recommended you keep it safe, in most cases, it's enough to just know your number instead of presenting your card for inspection.
What can businesses use SSNs for?
Employers request SSNs from employees, freelancers, and independent contractors as a part of their payroll process, so they can:
Invoice the freelancers and independent contractors
Withhold a portion of employees' salaries for FICA Taxes (Social Security and Medicare)
Distribute the employee wages
Other than that, SSNs aren't intended for business entities, but for individuals.
How to get an SSN?
Social Security Administration (SSA) issues SSNs free of charge; it's also free to replace a lost/ stolen Social Security card.
To obtain a SSN, complete Form SS-5 (Application for a Social Security Card). You will need the following documents:
Evidence of age — birth certificate is the best, but SSA may also accept hospital record, passport, final adoption decree or religious record established before the age of five)
Evidence of identity — unexpired, with photo: it can be U.S. driver's license, state-issued non-driver identity card, passport, or a similar document with your legal name and biographical information; non-citizens need to provide current U.S. immigration documents and their passport
Evidence of citizenship and/or immigration status
Once your form is completed, bring it or mail it to your local Social Security Office. Individuals older than 12 who are getting the SSN for the first time need to appear in person.
What is an Employer Identification Number (EIN)?
Employer Identification Number (EIN)/ Federal Tax ID Number/ Federal Employer Identification Number (FEIN) is a nine-digit number (format: XX-XXXXXXX) issued by the IRS (the U.S. Internal Revenue Service) to identify a business entity and apply suitable tax laws. Think of it as Social Security Number, but for your business.
Acquiring EIN is mandatory for all entities operating within the U.S. Once the entity gets its EIN, it stays the same for good, except in these cases:
Sole Proprietors — if you incorporate, switch to a partnership, purchase/inherit an existing business that you operate as a sole proprietorship, and if you're subject to a bankruptcy proceeding
Corporations — upon receiving a new charter from the secretary of state, becoming a subsidiary of a corporation using the parent's EIN/a subsidiary of a corporation, after changing to a partnership/sole proprietorship, after a statutory merger creates a new corporation
LLCs — as the IRS never created a new tax classification for the LLCs, slightly different rules apply
Partnerships — if you incorporate, end an old partnership and begin a new one, or if one of the partners takes over the partnership and operates it as a sole proprietorship
Estates — if you represent an estate that operates a business after the owner's death, or if a trust is created with the estate funds
Trusts — if trust changes to an estate, a living/ inter-vivos trust shifts to a testamentary trust, a living trust terminates by distributing its property to a residual trust, or if one person is the grantor/ maker of "many trusts"
In addition to these, the following entities also can/ need to get the EIN:
Individuals filing for bankruptcy under Chapter 7 or Chapter 11 of the U.S. Bankruptcy Code
Real estate mortgage investment conduits (REMICs), as they're treated as partnerships by the IRS
Household employers (everybody hiring someone to help in their homes) and agents acting on their behalf
Personal service corporations: owners performing personal services in fields of health, law, accounting, consulting, engineering, architecture, actuarial science, the performing arts
Nonprofit organizations, to apply for tax-exemption; donors will report the nonprofits' EIN to the IRS when they make donations/ gifts so that the IRS can write some tax off
Employee benefit plans
Important note: If you hire third-party agencies to handle your taxes, those agencies also need to have their own identification number — PTIN (Preparer Tax Identification Number).
While useful, EIN is not legally required for sole proprietors. The same applies to single-member LLCs ("disregarded entities") because owners report the businesses' income and expenses on their own tax returns. Freelancers who don't employ other people also don't need the EIN.
To be sure you need an EIN, take a look at the official IRS guidelines.
Your EIN cannot ever expire, be canceled, or be assigned to someone else, even if the entity ceases to exist. You can only contact the IRS and close the business account associated with that EIN.
To do so, you need to send a letter containing the exact legal name, the EIN, the business address, and the reason you're closing the account. Include a copy of the EIN Assignment Notice if you've received it when first getting the EIN, and write to Internal Revenue Service; Cincinnati, Ohio 45999.
Publicly traded companies' EINs are available to the public, and you can search them here.
What can businesses use EINs for?
There's a lot of reasons you might want to get an EIN — including:
Opening a bank account
Seeking to obtain financing, capital, or a loan
Handling payroll taxes for your employees
Establishing a Keogh/ Solo 401(k) plan
Sole proprietors filing for bankruptcy or purchasing/ inheriting an existing business they wish to run as a sole proprietorship. Sole proprietors acting as independent contractors who wish to appear more professional and protect themselves by using EIN instead of their Social Security Number
How to get an EIN?
Getting an EIN is a free service, and you may apply online or by fax/ mail.
Online EIN application is the quickest way, and it's available for legal U.S. residents only. It needs to be completed within one session, and the session expires after 15 minutes of inactivity. Immediately after you fill in the application and it gets validated, you will receive the printable EIN form.
If you decide to apply by fax/ mail, you need to file the Form SS-4 (Application for Employer Identification Number).
When applying for EIN, the IRS will request you name the "responsible party" — an individual, not an entity, and list their Taxpayer Identification Number (TIN). A responsible party is a person who "controls, manages, or directs the applicant entity and the disposition of its funds and assets".
If anything regarding the responsible party changes, it needs to be reported to the IRS by using Form 8822-B (Change of Address or Responsible Party – Business).
How to get the EIN if you're not from the United States?
Non-U.S. residents/ international applicants are required to call 267-941-1099 (not a toll-free number) and answer the questions related to the Form SS-4. The applicant making the call needs to be authorized to answer and receive the EIN.
SSN vs. EIN vs. ITIN — Short summary
So, in a nutshell:
Social Security Number (SSN): all legal U.S. residents and lawful aliens need to have SSN to receive salaries, payments and use plenty of vital services; it's the only TIN issued by Social Security Administration. Use Form SS-5 to get it.
Employer Identification Number (EIN): EIN acts as a Social Security number, but for businesses; Sole Proprietors and single-member LLCs aren't legally required to get it, only the entities who hire additional staff. Fill Form SS-4 to obtain an EIN.
Individual Taxpayer Identification Number (ITIN): ITIN is issued by the IRS to people who cannot get SSN but need to report taxes; unlike SSN and EIN, it can expire and needs to be renewed. To get ITIN, file the Form W-7.
All of these are types of Taxpayer Identification Numbers (TINs) — an umbrella term, and consist of nine digits; you need to have one of those to deal with the IRS.
Need more precise comparisons? Let's get into details!
ITIN vs. SSN
SSN is for U.S. citizens/ permanent residents/ legal aliens, while ITIN is for non-residents.
ITIN and SSN are mutually exclusive. You can only have one — if you're not eligible to get SSN, then ITIN is the thing for you.
If you get the SSN while the ITIN application lasts, the ITIN application will be terminated.
ITIN vs. EIN
Other than both being TINs, these two don't have much in common. EIN is for businesses, while ITIN is for individuals.
ITIN (and SSN) are for personal taxes, and the EIN is for business taxes.
SSN vs. EIN
Both SSN and EIN last you a lifetime, and you don't need to renew them. EIN stays connected to your business even if the business ceases to exist. SSN is a part of your personal documentation.
They are a bit different: SSN is intended for personal use, while EIN is intended for individuals who employ/ pay people for business services.
You can get EIN without having SSN — by using the Form SS-4: just state whether or not you have an ITIN on the line 7b (write "ITIN" if you do/"Foreign" if you don't)
Can EIN be used instead of SSN?
Not only it can — in some cases, it's highly recommended to do so!
Single-member LLCs, sole proprietors, and freelancers who perform the work on their own and don't hire anyone else can use SSN for tax purposes.
However, EIN is public information, while SSN should be kept as private as possible, for safety purposes.
This is why you should consider getting a separate EIN in addition to your SSN:
Separating personal from business finances
Appearing more professional in the eyes of institutions and your clients
Guarding your privacy