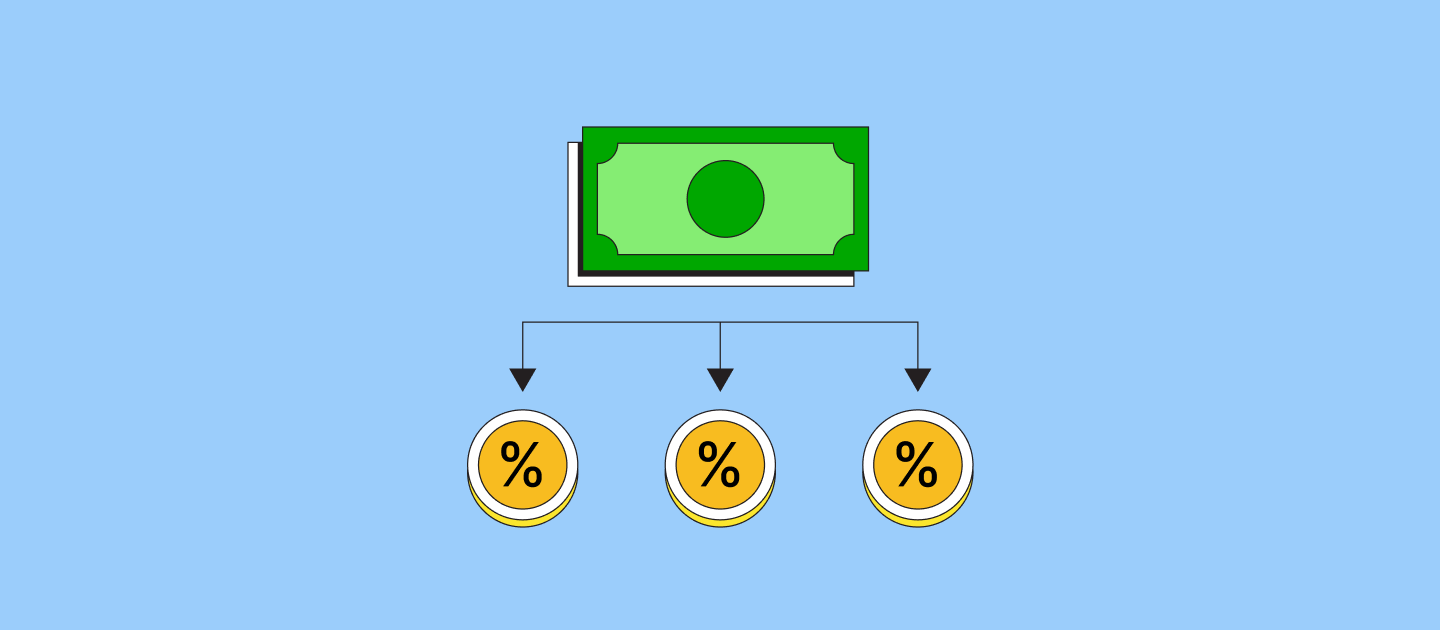 Mass Payment Solutions: How to Pay Your Entire Team in One Click with Deel
Learn how Deel's mass payment solution can help you streamline payments, strengthen payroll compliance, and eliminate administrative headaches.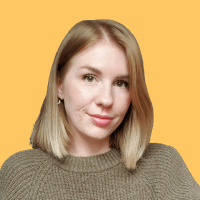 Written by Shannon Hodgen
June 9, 2023
Contents
Need help onboarding international talent?

Try Deel
Key takeaways
A mass payment (or mass payout) service enables companies to fund their payroll with one bulk payment.
With Deel's mass payment function, clients can effortlessly pay their entire international team—from independent contractors to full-time employees—in a single click.
To make payroll even easier, Deel's extended cut-off dates allow businesses to adjust payroll beyond the standard deadlines.
Managing payroll for global teams can be difficult and time-consuming. From navigating different currencies and tax compliance requirements to ensuring timely international payments, traditional payment providers often fall short in meeting the needs of modern businesses.
With Deel's mass payment solution, you can streamline cross-border payments to your workforce, no matter their location or employment type. In turn, your payroll team gains more time to focus on core business initiatives instead of repetitive manual tasks. Keep reading to learn how Deel facilitates one-click payroll.
How Deel simplifies payroll processing
Whether you're paying a team of local independent contractors, direct employees, or EOR employees in another country, Deel makes the entire process as easy and efficient as possible.
Customized mass payments
Deel's easy-to-use interface allows you to send mass payments, also known as mass payouts, to team members across the world simultaneously. With 15+ funding and payment methods—including international bank transfers, crypto, and localized payment options—Deel users can choose the payroll procedure that works best for them.
See also: How to Pay Foreign Independent Contractors: A Guide to International Payment Options and How to Pay International Employees: Payroll in Foreign Countries
Built-in compliance
Deel handles global payroll and tax compliance, so you don't have to. With legal and tax experts in each jurisdiction, Deel ensures adherence to local payroll regulations and employment laws, while automating processes such as tax withholding and social security contributions.
See also: Payroll Compliance Checklist and Tax Law Guide for 2023
Integrated currency conversion
Some governments require you to pay workers in their local currency, even if your business operates in a different country. Deel's mass payment services seamlessly handle currency conversions, providing real-time exchange rates and transparent fees. By centralizing currency conversion within the platform, you can avoid the hassle of dealing with multiple financial institutions or external foreign exchange services.
Manage payments in seconds with automated invoices

How to mass pay your workers with Deel
With Deel, you can make one bulk payment to fund your payroll, and our team will ensure your global team gets paid accurately and on time. Here's a look at the process.
Select the invoices you want to pay
Review the invoices that are ready for payment. You'll see the amount due and the currency on the Deel dashboard (invoices can be in multiple currencies).

You can:
Select 'All teams' to pay all the invoices at once or select which specific invoices you want to pay
Pay individual contracts, individual teams, or entire entities under your organization
Filter invoices based on contract type or make one large payment to cover every contract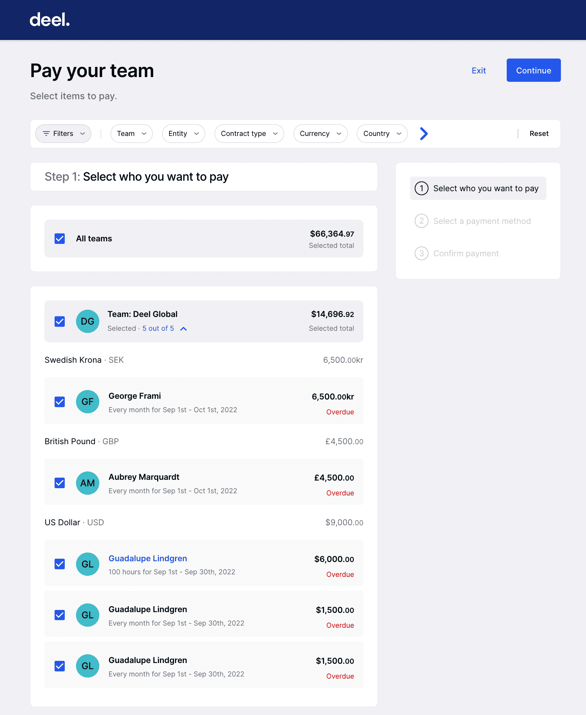 Select the payment method and currency
Choose your preferred payment type, whether it's a bank transfer, direct debit, Mercury, Transferwise, Revolut, or another available method. Choosing direct debit is typically the most streamlined process, as the workflow includes more automation compared to other methods.
Some payment methods allow you to select the currency you want to pay your workers in. We provide complete visibility of the costs associated with various methods to help you make the most cost-effective decision.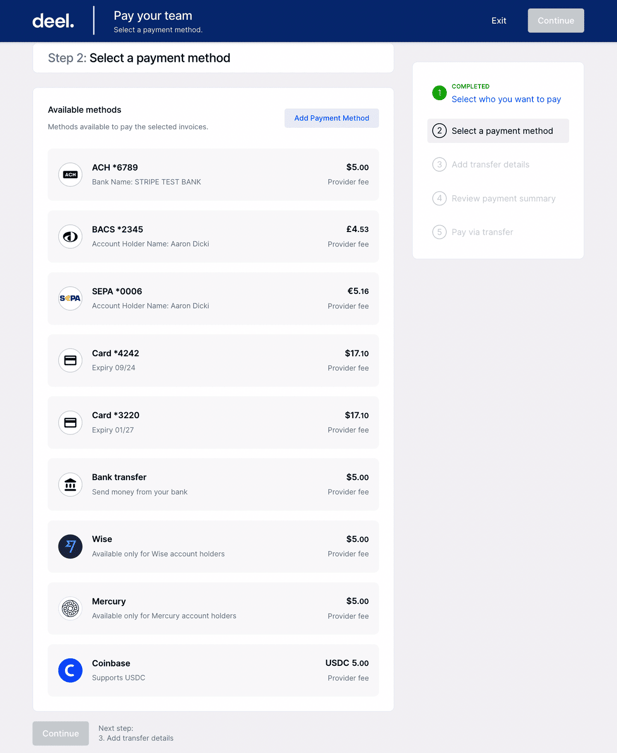 Your chosen payment method will determine the next step in the process. For example, if you select bank transfer, you'll input your banking details, whereas choosing Coinbase will require you to connect your Coinbase account to Deel.
Review and confirm payment
Review and confirm the payment summary, which details the total amount due, including salaries, payment processing fees, and more, depending on the type of workers you're paying. The payment processing fee is typically $5 USD, a flat fee whether you're paying 100 workers or one.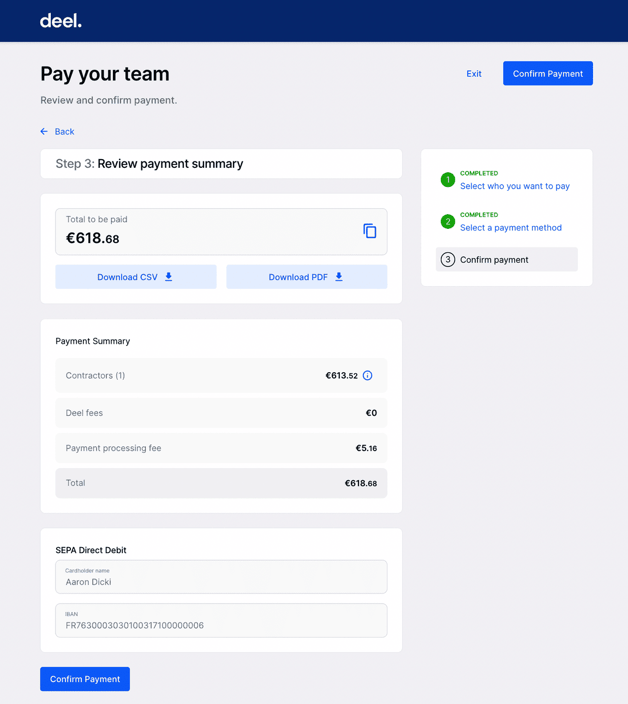 You can then download the summary or share the link to the page with your accounts payable team to process the payment.
Pay your invoice and distribute payments
After you make the invoice payment to Deel, our payroll team distributes the funds directly to your workers' Deel accounts. You can then track the payment status in the payments tab.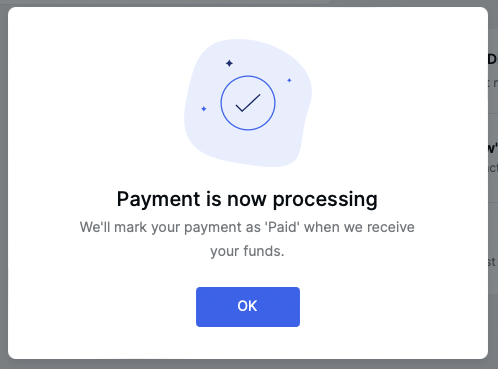 Note: The funding workflow for our Global Payroll product is separate from mass payments for EOR employees or independent contractors. Through Global Payroll, payment is carried out by Deel or your company, depending on local compliance requirements. Watch the video below to learn more.
Get more time to make payroll adjustments
Deel's industry-leading cut-off dates give EOR clients triple the amount of time to make payroll adjustments for their employees, whether you need to approve last-minute expenses, input time off, add commissions and bonuses, or submit monthly salaries.
Standard payroll service providers often have strict deadlines for adjusting payroll if they work with third parties. Since Deel processes payroll in-house, we can extend cut-off dates for payroll adjustments from the fifth of the month to the twentieth.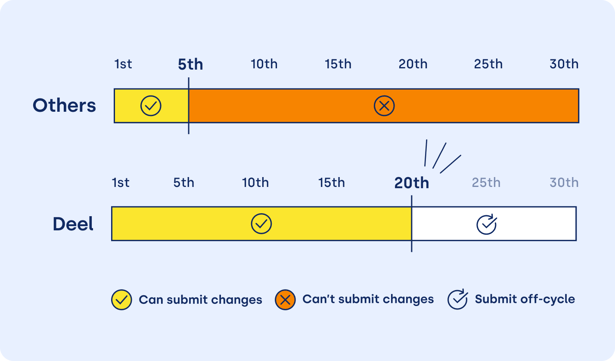 This flexibility allows you to make necessary modifications or additions to your payroll, ensuring accurate and timely payments without unnecessary stress.
See also: How On-Demand Pay Unlocks Higher Employee Productivity, Satisfaction, and Retention
Enjoy easier, more flexible payroll with Deel
With Deel's global payment platform, you can streamline payroll, ensure compliance, and simplify currency conversions for your entire team. One click, and payroll is done.
I can only imagine how annoying it would be to have to process the payments manually twice a month or have to remember the exact day that we have to pay each team. Thanks to Deel, I just need to go to the payments section, press the pay button, and that's it. It gives me the peace of mind that everyone is getting paid, on time, all over the world.
Daniel Aksioutine, COO, DivBrands
But that's not all you can do with Deel. Deel is an all-in-one global HR solution that enables you to hire and pay anyone, anywhere seamlessly. From hiring independent contractors to opening an entity to offering equity and immigration support, you can manage your entire international workforce in one centralized platform.
Learn more about making global payments with Deel or book a 30-minute product demo to explore the platform with an expert.
Disclaimer: This content is for informational purposes only and does not constitute financial or legal advice. Please consult with professionals for specific guidance related to your business needs.