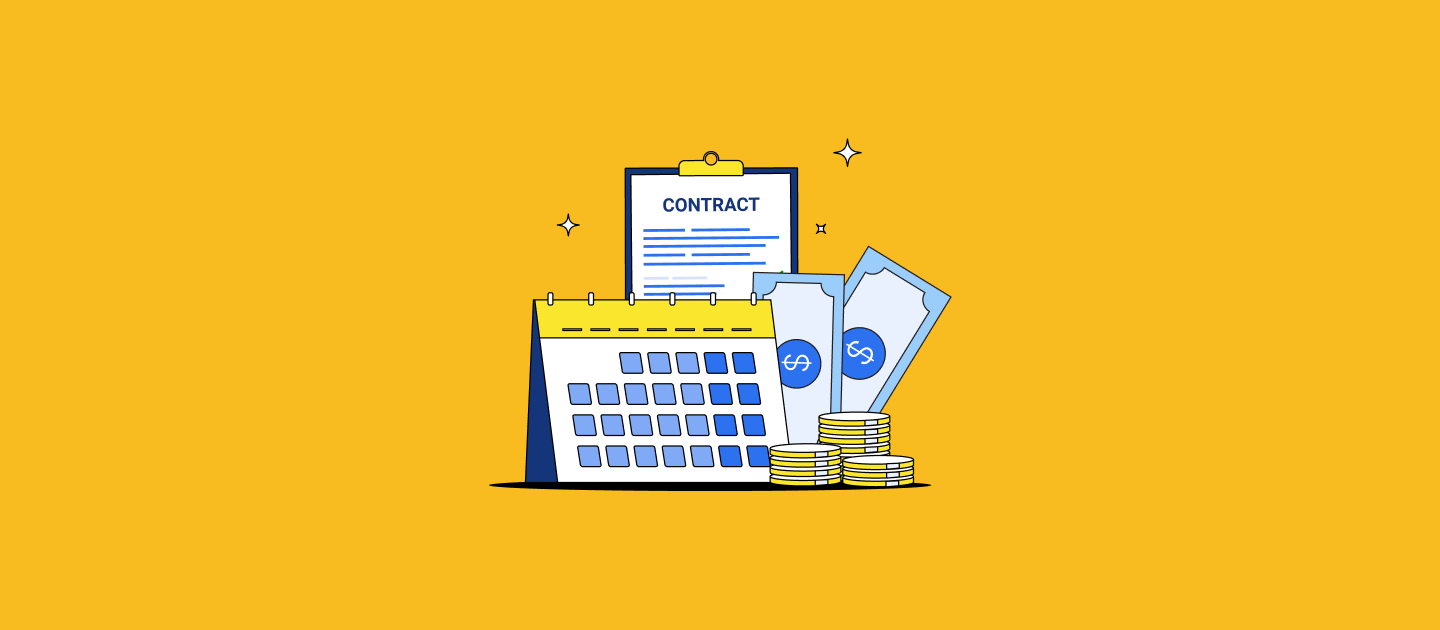 Learn How Deel Simplifies Startup Payroll
Comparing payroll for startups? See how Deel supports growing companies as they scale, from providing faster payments to stronger compliance and more.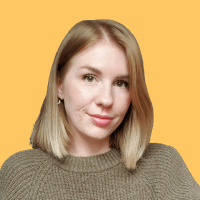 Written by Shannon Hodgen
June 20, 2023
Contents
Need help onboarding international talent?

Try Deel
Key takeaways
Startups searching for a payroll solution should seek out a platform that scales with their company as they grow in size and location.
Deel automates payment processes, such as generating invoices and making bulk payments, saving time and improving the payment experience for contractors and employees.
Using Deel helps startups save costs by outsourcing payroll management, ensuring compliance with tax and labor laws, and offering equity options to attract top talent.
Choosing the right payroll solution is vital for startup success, as it ensures legal compliance, financial stability, and employee satisfaction. But as startups scale from hiring independent contractors to hiring employees, payroll becomes more complex—especially if you're setting up an international business entity.
Deel enables startups to streamline their payroll operations and focus on their core business growth, with features that simplify administrative tasks, improve payment processes, and provide scalability.
Read on to learn how you can increase efficiency, maintain legal compliance, and provide a seamless payroll experience for your startup employees and contractors with Deel.
Scalability: Growing your company with Deel
Startups often experience rapid growth, and Deel is designed to scale alongside your business. Whether you need to hire independent contractors, utilize an employer of record (EOR), or set up entities, Deel adapts to your evolving needs. As your business expands from contractors to direct employees, you can seamlessly transition to using Deel's Global Payroll to pay employees efficiently and securely, irrespective of their location.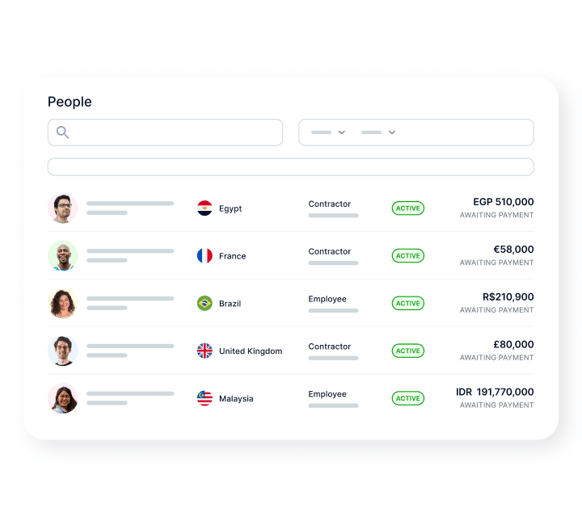 In addition to global payroll and contractor payments, Deel can support you with:
Build global teams in
record time.
These resources will help grow your understanding of global hiring so you can hit the ground running. Get the free Quickstart bundle.

Automated contractor invoices
Startups often hire independent contractors due to the cost-efficiency and flexibility of the employment arrangement. But creating and managing monthly invoices is time-consuming and repetitive. With Deel, you can automate that manual work (and more) and instantly generate compliant digital invoices for every payment.
See also: Guide to Contractor Invoices and Adjustments
With Deel, you can access 20+ integrations to seamlessly sync contractors' invoice data with your favorite bookkeeping or accounting software, such as Quickbooks and Xero, to streamline the process further.
Faster payment processes
Deel's intuitive platform empowers startups to fast-track their global payment processes for all workers, everywhere. Instead of managing multiple payment systems, you can consolidate payments by making one bulk payment to Deel in any of the 200 supported currencies. This feature allows you to review your entire team's salaries and process payroll for everyone in their local currency (where available) with a simple click.
See also: How to Pay Employees in a Startup Using Deel
I can only imagine how annoying it would be to have to process the payments manually twice a month or have to remember the exact day that we have to pay each team. Thanks to Deel, I just need to go to the payments section, press the pay button, and that's it. It gives me the peace of mind that everyone is getting paid, on time, all over the world.
Daniel Aksioutine, COO, Divbrands
Diverse payment methods for contractors and employees
Deel gives team members more choices when it comes to getting paid, with over 15 funding and withdrawal options, like bank transfers or digital wallets, to receive their wages quickly and conveniently.
Independent contractors have nine different ways to withdraw their earnings, including the Deel Card or Instant Card Transfer for instant access to their money. Additionally, Deel Advance allows contractors to receive their paychecks up to 30 days earlier, enhancing their financial experience.
"The thing I love most about Deel is the multiple options to withdraw your funds. It makes it really simple to have your money—providing multiple withdrawal methods, including crypto. Also, the withdrawals are seamless, and payments are on time." — Tifuh Cedric,
Turing
Offering these various payment options helps meet different needs and preferences of a growing workforce. Providing different payment methods beyond direct deposit can also attract new employees to your company, as it demonstrates care for their individual preferences and a forward-thinking approach to payroll.
See also: How On-Demand Pay Unlocks Higher Employee Productivity, Satisfaction, and Retention
Flexible payroll and extended cut-off dates
Deel goes beyond basic payroll management by providing features to manage expenses, bonuses, and allowances through one user-friendly dashboard. Whether you need to handle regular expenses or project-based bonuses, Deel's on-demand payroll and extended cut-off dates offer the flexibility to accommodate your unique payroll needs.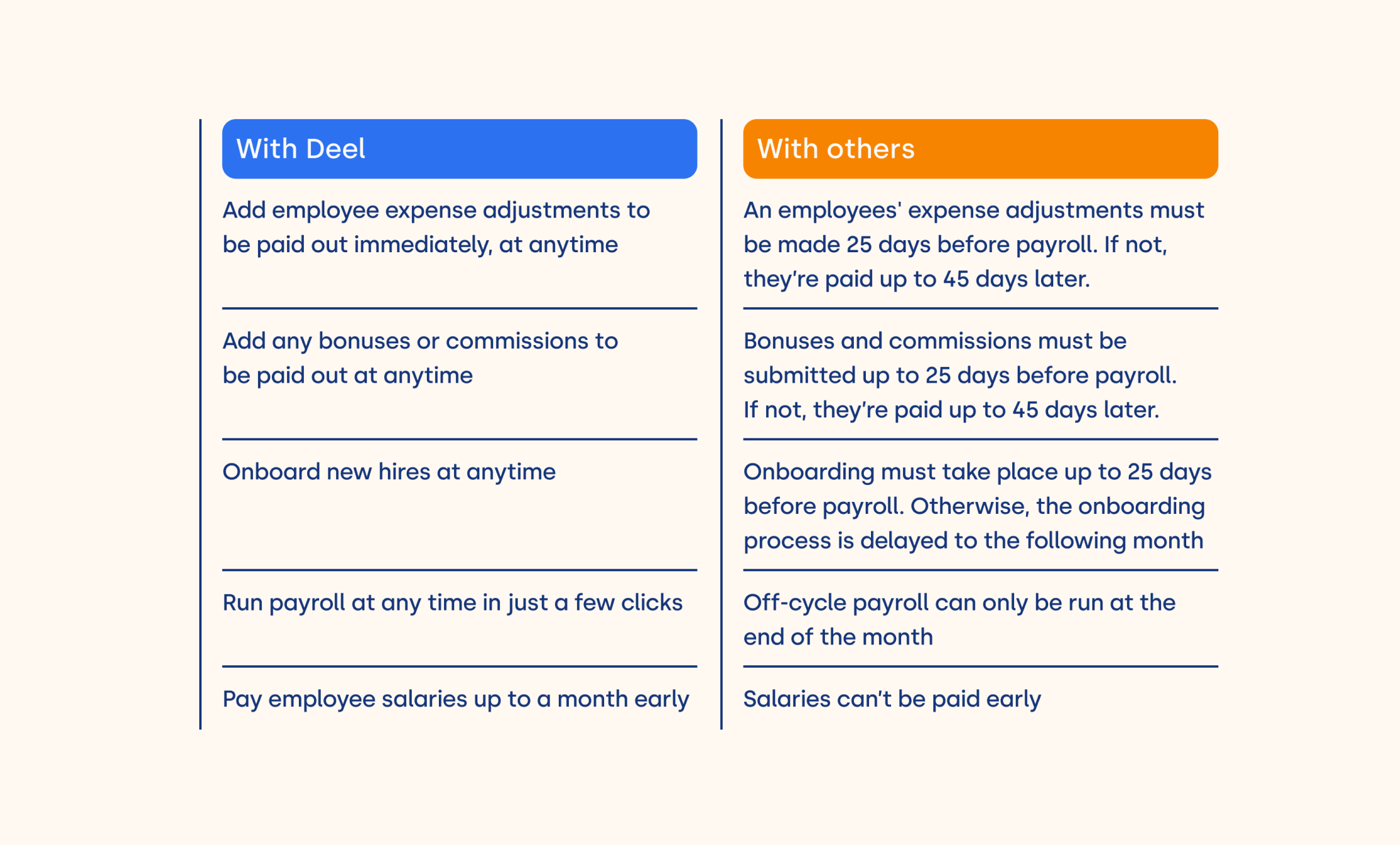 See also: Introducing Faster, More Flexible Payroll
Consolidated payroll processes and costs
To run payroll as a startup, you can hire an in-house team, hire local vendors on a case-by-case basis, or outsource the function altogether.
An in-house payroll team must have expertise in local, state, federal, and international tax and labor laws. You'll likely pay for payroll software to automate manual work, ensure accurate payments and calculations, and reduce costly mistakes.
Hiring local vendors for complex countries ensures all payments are accurate and timely and that all your payroll paperwork is in place. However, splitting your payroll systems like this can introduce the challenges of decentralized employee information. Your in-house payroll management system and tools may be incompatible with what your local vendors use, leading to inconsistencies and errors in your payroll.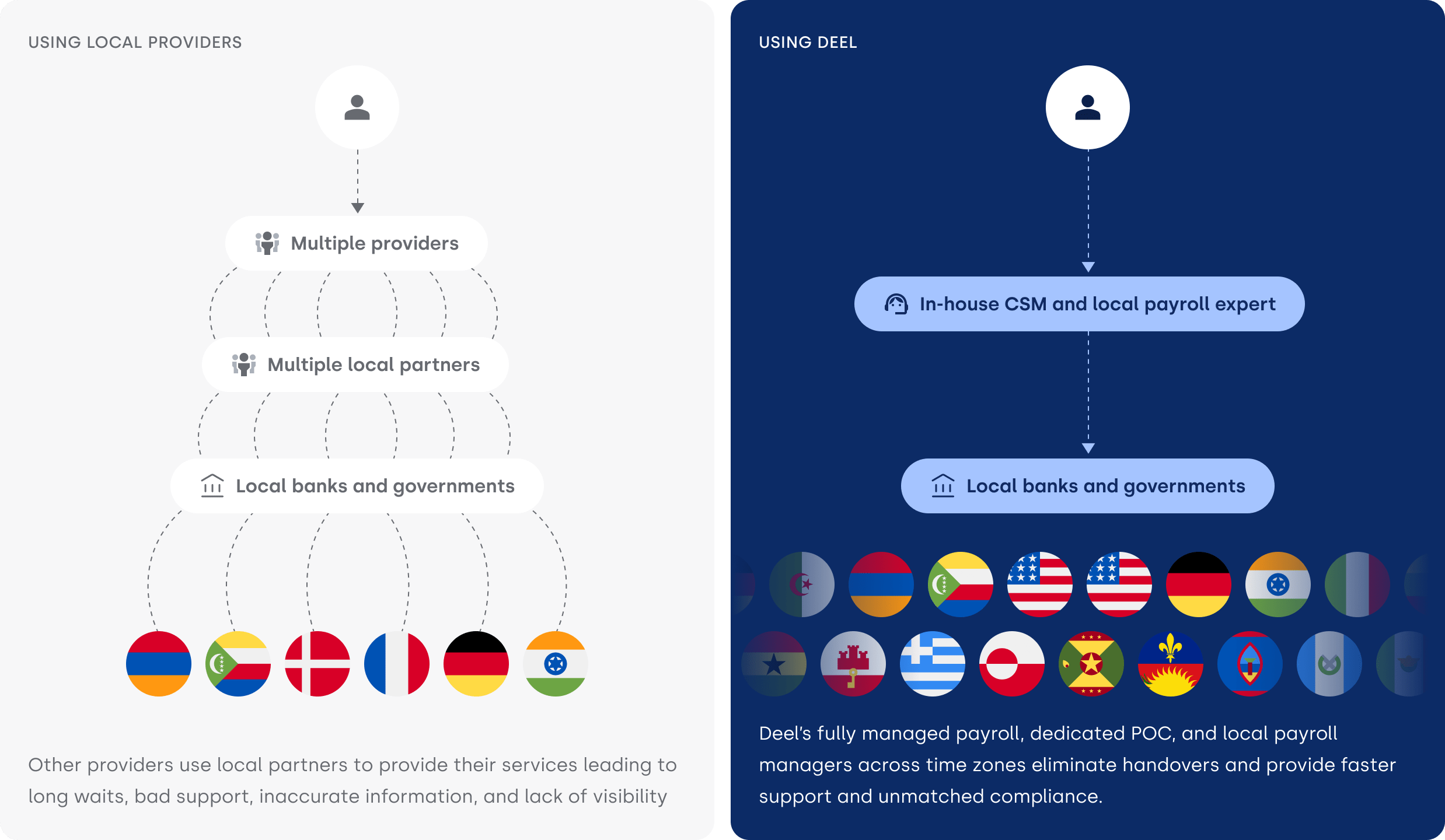 Global payroll providers like Deel have payroll teams in countries where your workers reside. Managing payroll through these teams means a hands-off global payroll process, consistent real-time reporting, a single payroll data source, and a trusted partner to work with.
By choosing Deel as your full-service payroll partner, you can save on in-house costs while benefiting from expert support. Deel offers competitive pricing plans tailored to meet the needs of startups. Our in-house team consists of worldwide experts well-versed in payroll management, ensuring you receive fast and flexible payroll services.
How EMF Media cut their time spent on payroll by 50%
EMF Media operates like a growth incubator for startups and brand-builders across Europe.
At one point, EMF Media was using five different platforms in order to accommodate the different payment requirements for each contractor. Payroll was messy, and the team would spend hours on end working to get everyone paid on time.
With Deel's contract templates, and flexibility to hire pay-as-you-go, milestone-based, or full-time contractors, EMF Media has no problem onboarding new team members. Since bringing Deel to EMF Media, the team has cut 50% of the time spent navigating different platforms and manual processes for payroll.
Built-in payroll and benefits compliance
Deel combines global payroll, contractor payments, HR software, and more to simplify human resources for startups. Deel's team of in-house advisors are experts in local jurisdictions around the world and handle the intricacies of compliance for you, from payroll taxes and government declarations to processing payments on your behalf in eligible countries.
Deel's services also include ensuring compliance with employee benefits administration requirements, such as health insurance, social security, workers' compensation, and more.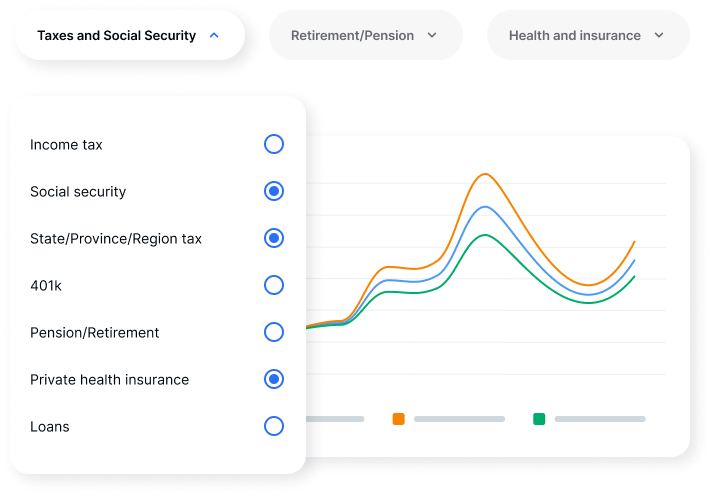 Simple and compliant contract creation
With Deel, startups can generate customizable contracts that meet local requirements and comply with international employment laws. This ensures startups maintain legal compliance while hiring independent contractors or employees.
Deel's contracts are regularly reviewed by legal experts to stay up to date with current employment terms and legal obligations. Contract options include milestone, fixed-rate, and pay-as-you-go contracts, providing you with more control over your payment schedules and workloads.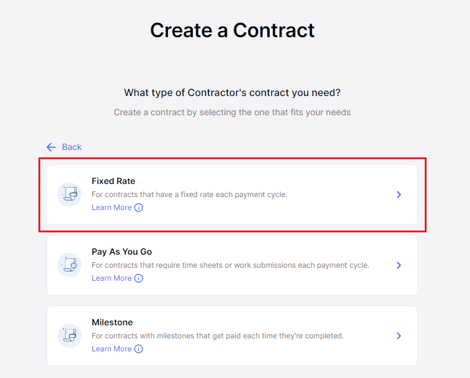 Deel's expertise in contract management provides startup founders with peace of mind knowing they are providing workers with clear, legally compliant agreements. This not only protects the interests of both parties but also helps establish a foundation of trust and transparency between startups and their workers.
Automate your compliance needs
Deel automatically collects and stores your compliance documents so you can focus on growing your business.



Equity opportunities
By leveraging stock options and equity-based compensation, startups can attract and incentivize top talent, fostering a culture of ownership and aligning the interests of employees with the company's success.
Through Deel, you can grant equity to new employees, EOR employees, and independent contractors.
Our cloud-based platform provides a holistic overview of all your equity grants. You can generate reports for active plans, view compensation schedules, and customize user permissions to control who can access equity data. You can select the currency, number of shares, and additional details such as when the worker can start selling the shares.
See also: How Deel Simplifies Granting Equity to Your Global Team
Future-proof your startup payroll with Deel
With Deel, business owners can focus on core business growth while maintaining efficient payroll management globally, whether you're hiring contractors, EOR employees, or direct employees under owned entities.
As a founder, worrying about compliance and payments is the last thing you want to do. You just want to start working and get the best people you can very quickly... We can help you hire anyone anywhere as a contractor or as a full-time employee where we have our own entities—and that's in over a hundred countries.
Alex Bouaziz, Co-founder and CEO, Deel
As a truly global HR solution, Deel enables you to manage everything in one place—from onboarding new hires and payroll tax filing, to immigration, PTO, and equity, with 24/7 customer support. Learn more about how Deel supports startups or book a 30-minute product demo to explore the payroll platform with an expert.
Disclaimer: This content is for informational purposes only and does not constitute financial or legal advice. Please consult with professionals for specific guidance related to your business needs.