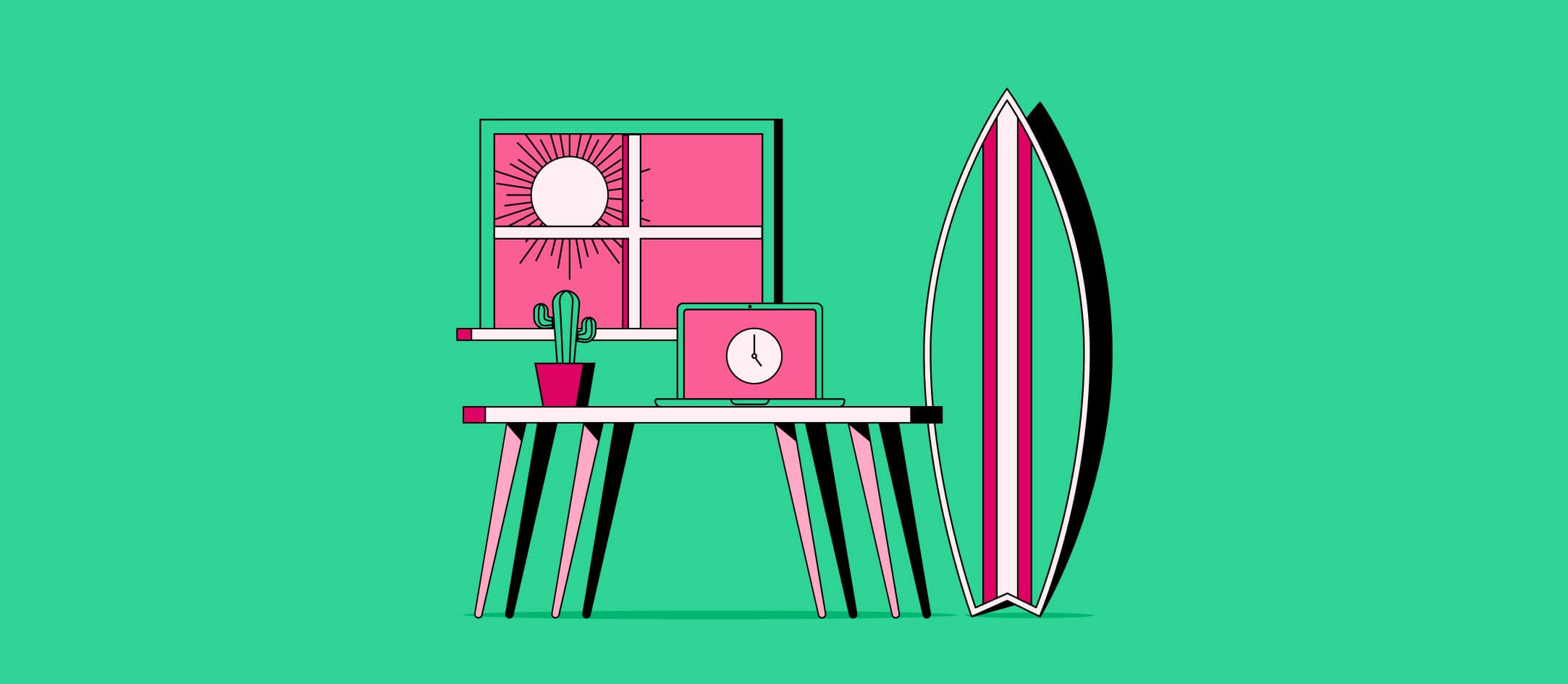 12 Great Perks and Benefits For Remote Employees and Virtual Teams
Ideas of perks and benefits your company can offer to remote workers. Motivate your employees and increase their loyalty with these benefits ideas.
Written by Anja Simic
September 28, 2021
Contents
Need help onboarding international talent?

Try Deel
With remote work rising to the mainstream,productivity and isolation are two major factors that will determine whether distributed work can be successful for a company. A remote company that's able to motivate remote workers, retain them, and build a thriving company culture will be set up for success.
How perks and benefits motivate remote employees
It has long been a trend, especially in tech companies and startups, to go beyond salaries when attracting and retaining top talent. In the modern world, where the workforce is increasingly global, offering just a good paycheck will not be enough.
A good employee benefits package means investing in your employees, their quality of life, work-life balance, and financial stability is seen (and rightly so) as a shift towards realizing that a happy employee is a productive one. With workers not worrying about a potential medical emergency or even paying for their commute, they can dedicate their work hours to doing their best and maximizing their impact on the company's profits.
Office workers often have perks such as company-catered lunches, covered commute expenses, or great health insurance plans as parts of their employment deals. However, remote workers are sometimes, by nature of their work, excluded from these benefits, especially if they are tied to their presence in the office. All of these perks help build a human-centered company culture and increase employee retention.
With the coronavirus pandemic, the corporate world was pressed to shift to remote work hastily and quickly. Many companies are just now starting to consider motivating their remote teams and making the transition to remote work easier.
Here are some ideas about what to include in the perks and benefits package for remote workers:
A home office stipend
If you start thinking about remote work from the start, an employee needs to work from somewhere. If they'll work from home, don't assume all of them have a home office set up and ready to roll. Many tech companies provide stipends for equipping and setting up home offices.
One approach is to approve a one-time sum to cover the desk, chair, computer, headphones, speakers, and any other office supplies your team may need in their day-to-day work. We are assuming many remote workers worldwide would use this opportunity to get themselves standing desks to improve their posture. That's already a win-win situation.
Another way is to offer a monthly stipend that allows your employees to cover expenses such as internet, printer, or upgrading their existing amenities with new ones. Some companies opt to do both, giving out an initial sum to set up the office and then covering monthly expenses with smaller allowances.
Apart from giving teams the possibility to do their best work, the home office can be a great topic for chat groups and team bonding. Some teams have dedicated channels for discussing their interior design and decorating proficiency and giving ideas to other colleagues.
A co-working space membership
Remote employees may benefit from a membership to a coworking space of their choosing. Not everyone has space for a home office or can't work efficiently from home without being distracted, and some people simply enjoy having human contact in the workspace.
In these cases, companies can opt to cover the membership costs, which are usually not hefty, yet they cover their teams with a good place to work and reliable internet connection. Most coworking spaces are even pet-friendly, making them the ideal choice for many remote employees who love spending more time with their pets.
New: Deel's platform now integrates directly with WeWork, allowing companies to seamlessly provide co-working memberships directly from the Deel platform
Wellness programs for remote teams
One of the best employee benefits you can offer to your remote team members is wellness and health programs. For all the positive effects remote work has, its main downside remains the lack of face-to-face interactions, followed by burnout. Setting up boundaries about availability and not working overtime or all the time is hard for remote employees. Companies should support them by showing care for their mental health, wellness, and overall wellbeing.
There is a plethora of options to choose from: a gym membership, fitness program allowance, reimbursement for exercise equipment, or a nutritionist. If you have team members working outside of the US, this money can come in handy towards their private health insurance.
Flexible working hours
Apart from the lack of commuting, one of the biggest benefits of remote work is flexibility. The issue of flexible work hours requires a paradigm shift coming from the executives and managers. Emphasizing trust in your team's relationship is key in making such a transition, and it is usually accompanied by written communication. Setting up tasks and deliverables instead of the number of hours worked makes flexible work hours a logical choice.
On the employee side, they will organize their days better, take frequent breaks, stay focused on their work output, and be more productive. This is one of the most sought after employee perks and, for many workers, the essence of remote jobs. Of course, integrating flexible work hours means coordinating everyone's work schedule and making sure crucial team members still overlap, at least partially.
Unlimited time off
Offering PTO (paid time off) has become the norm. Companies striving to get the best talent go a step further, though, by offering unlimited time off. And while many readers will immediately think this sounds ludicrous, it's actually quite a good idea.
Of course, don't take the phrase literally and think anyone would be able to work for only half a year. This policy intends to ensure employees don't need to think about whether they have 7 or 9 days of vacation time left. As long as work gets done well and on time, and teams coordinate well, this policy makes sure workers can get a long weekend getaway whenever they need one.
Encouraging time off is crucial with remote teams - it prevents burnout, keeps productivity high, and emphasizes the wellness we mentioned earlier.
Childcare benefits for a remote workforce
Another employee benefit to consider strongly for remote workers is the topic of childcare benefits. A good way to start is to offer paid parental leave, as you would for your office-based employees.
While parental leave is significant for new mothers, make sure to have the option for fathers to take the leave too. Spending time with a newborn without the laptop pinging in the background is vital for new parents, probably desperate for a good night's sleep. Companies who decide to go the extra mile offer allowances or subsidies for childcare expenses, whether it's babysitting, kindergarten, or preschool.
Relieving the parents from one part of their childcare expenses will be very much appreciated by the team members and, therefore, likely increase their company loyalty (and those magical hours of sleep!).
Health insurance
Health insurance plans may differ according to where your team members live. In most countries, it is mandatory and universal, even if only for basic coverage.
In the US, however, it's a different story. If your remote team is located in the US, make sure to offer generous health insurance coverage. It will provide peace and security for the employees and even encourage them to check their health more often.
If your company has international team members as well, you can offer allowances for private insurance or extended coverage with their national plans.
Delivery services and subscriptions
Some employee benefits can be costly, while others come with a small price tag but mean a lot. This is the space where your human resources managers can get really creative and maybe even get to tailor an individual experience for each employee. Think anything from covering subscriptions to delivering Christmas gifts through Amazon - the possibilities are endless.
Some companies make sure to provide meals delivered to employees' doorsteps at least once a week, while others send books or dog toys each month. You can give allowances for this too, but it's more exciting to have actual items delivered if possible. Providing your team with goodies or paying for their Netflix account is guaranteed to make them smile and enjoy their time off.
A bonus tip: if you order food or coffee for your employees, you can do so by supporting small businesses - it's always good to give back to the local community.
Company retreats
Another perk to be saved for the post-Covid era, company retreats are incredibly important for building and strengthening company culture. Getting your remote team to gather in a different place once or twice every year helps team building and makes great memories for each team member.
Interacting face to face with coworkers we only see on screen is a great experience that improves work relationships and employee engagement year-round. Retreats are also a great opportunity to tackle challenging projects or start new ones, since tackling stepping stones is always easier face to face.
Online team building
When company retreats are not possible or during the time between two retreats, distributed teams need to have time and space to bond, even online.
Without an office space and a watercooler, keeping the casual chat going is essential. Most remote companies have Slack channels made for team chats, some of which are dedicated to topics like hot TV shows or photos of everyone's pets. Others organize Friday happy hours on Slack, where everyone can join in, sip a drink, and enjoy the chat. You can also organize a movie watching party, an online pub quiz, or any other activity your teammates would enjoy. With good ideas, your team will be bonding through the screen in no time.
Education allowance
Top tier professionals, whether office-based or remote, always work on honing their skills even further. For employers, this is a good thing since their talent should always be on top of their game.
This is why companies with remote teams should invest in their employees' professional development. You can do this by establishing a monthly budget for books and publications, covering the fees of attending conferences and seminars, or even pay for courses that expand their skills. This is another way to increase employee retention and loyalty since most people appreciate the chance to grow and develop without financial implications.
Donations and other ways to impact the community
When someone's basic needs are met, they usually pay more attention to the world around them and have an increased need to give back to their community or support a cause that is near and dear to their hearts. Companies worldwide have started making donation matching plans for their employees, where they match each donation by a team member for a particular cause or organization.
This is an absolutely amazing way to support your employees' engagement in their communities and increase your CSR efforts across the board. Don't forget the sabbatical, where some companies offer their employees a paid year off after five or event years working at the company. This time is usually used for volunteering and charitable activities and is often an incredible experience for workers, who come back to work completely refocused and enlightened after the sabbatical is over.
A dedicated onboarding experience for remote workers
While most of this article is focused on the employees already working in your company, don't forget the new additions to your team. If you have a coworker joining the company remotely, especially full-time, make sure they have a dedicated onboarding plan that conveys the company culture even before they join the company.
Joining a new team is already a stressful experience, so make sure to ease the worries job-seekers may have by making a solid plan. Whether you assign a buddy to show them around and or organize a chat with their colleagues on their first day, make sure to have a list of things prepared so nothing gets missed and the new hires feel welcomed to their remote teams right away.
Long story short - be creative
Coming up with perks and benefits for remote employees requires some creativity, some budget, and a bit of effort. Still, it's worthwhile if you aim to establish a rock-solid remote team that overcomes challenges and barriers easily. Making remote workers happy, especially if they work halfway across the world, requires a dedicated HR professional or even a whole department. If you want to expand your remote team, consider using Deel.
Deel lets you hire independent contractors and employees globally, stay compliant with local labor laws, and handle global payments. Instead of focusing on the logistics and paperwork, you can get down to providing the best possible perks for your globally distributed team. Schedule a demo to find out more.