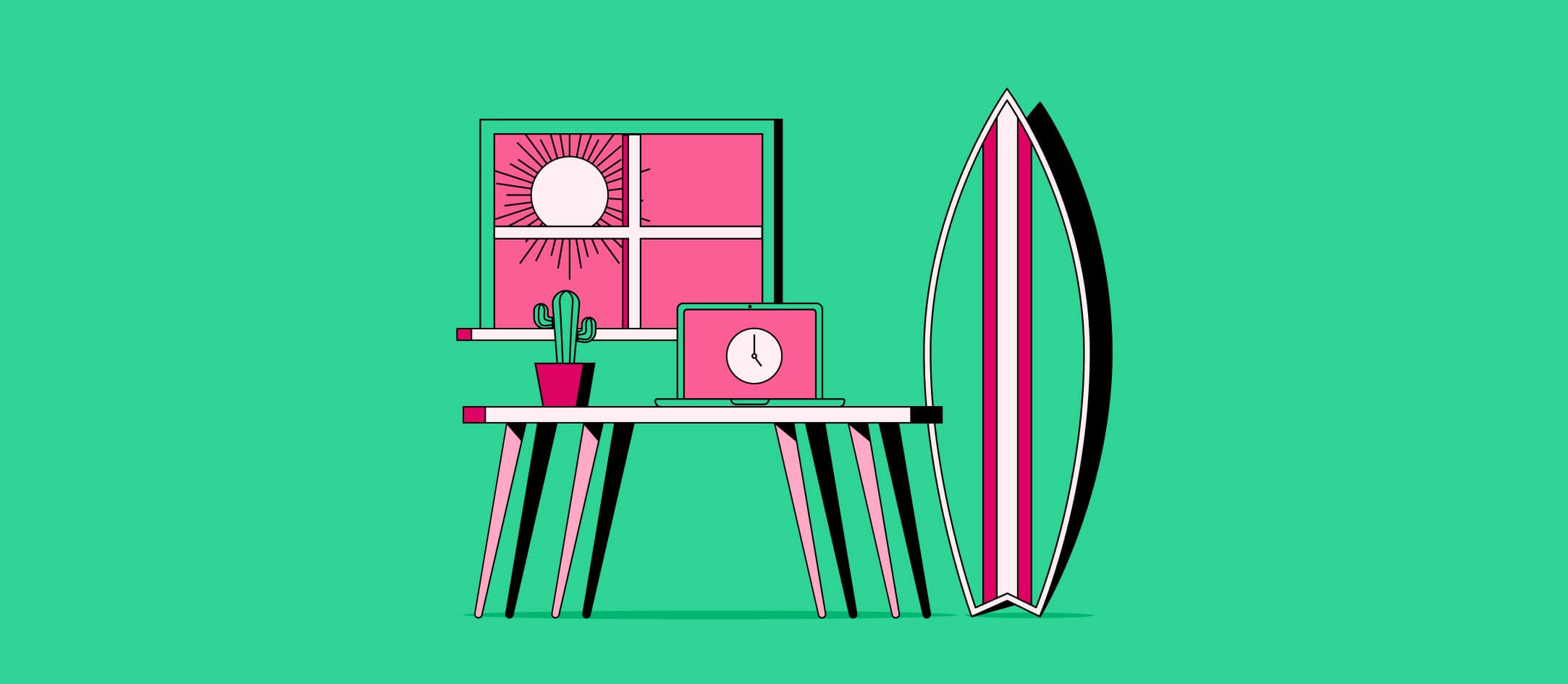 Remote-First vs. Remote-Friendly: What's the Difference?
How are companies handling this new remote working environment? Learn more about remote-friendly vs. remote-first set-ups in this article.
Written by Anja Simic
February 2, 2022
Contents
Need help onboarding international talent?

Try Deel
As companies across the post-pandemic world decide whether to go back to the office, many companies have embraced remote work as a long-term solution. An Upwork survey showed that by 2028, 73% of all work departments expect to have remote workers.
Many employees view continued remote work as non-negotiable: a 2021 Owl labs study revealed 1 in 3 Americans would quit if they could no longer work remotely. That suggests offering remote work is key to attracting top talent and employee retention.
In the past, companies either did or didn't allow remote work. But as remote work becomes more commonplace, we have a new distinction: remote-friendly and remote-first companies. Let's look at the differences between these two set-ups and their respective benefits and challenges for companies and employees.
What does remote-first mean?
Remote-first companies treat remote work as the default. With a remote-first approach, the company may have centralized office space or encourage coworking spaces, but they do not expect employees to work in person. Remote-first companies can employ globally distributed teams, using virtual tools to collaborate rather than a physical office and asynchronous work to bridge timezones.
Many remote-first companies started as entirely remote, and since the pandemic, other companies have embraced a remote-first culture.
Examples of remote-first companies
Slack's headquarters are in San Francisco, with 11 offices globally, including London and Melbourne. Most slack employees have the option to work from home, and executives are actively encouraged to spend less than three days per week in the office
Zapier is a 100% remote-first team working from 24+ countries
Bandcamp allows its employees to work from anywhere as long as they have at least four hours of overlap with Bandcamp's HQ time zone
What does remote-friendly mean?
Remote-friendly (aka hybrid) companies allow employees to work from home sometimes but expect their employees to come into the office at least some of the time.
Policies vary between companies: some companies may only allow employees to work from home once a week, whereas others may ask their employees to work four days at home and one day at the office. Companies might also expect certain employees to work in the office more or less, depending on their role.
Remote-friendly geographically restricts hiring since all employees must come into the office regularly.
Examples of remote-friendly companies
Amazon's 50,000 have the option to work from home indefinitely but must still commute to the Seattle office occasionally
Adobe's employees have the option to split their time 50-50 between the office and home
Microsoft employees can choose a 50-50 split between the office and home, but management can authorize full-time remote work for the staff
Overview of the main differences
The primary differences between remote-first vs. remote-friendly companies are location, systems, communication, productivity tracking, opportunities for advancement, and working styles. Let's dive into each.
Location
Remote-friendly companies require all employees to work from (and therefore live near) a physical office. In contrast, remote-first companies let employees live and travel wherever they please, like an AirBnB or a home office.
Location affects everything from team culture to hiring considerations. If you lead a remote-first team, prioritize hiring people who have the right attitude for remote work and the skills to self-manage. Remote-friendly teams must also hire people within reasonable proximity of the office.
Build global teams in
record time.
These resources will help grow your understanding of global hiring so you can hit the ground running. Get the free Quickstart bundle.

Systems
Remote-first organizations build systems around remote work, whereas remote-friendly companies usually adapt in-person systems to accommodate remote work.
Meetings are a great example of this distinction. Remote-friendly teams often meet in a conference room in a physical location and set up a webcam for remote employees to dial in. These hybrid meetings are technically inclusive, but physically present people have a better experience. Remote-first teams will instead rely solely on digital tools so everyone–including a remote workforce–has an equitable experience.
At the top of the pyramid, the head office defines leadership and decision-making for remote-friendly companies. Management is often obliged to work from the office, giving them lopsided exposure to in-office staff. Remote workers find themselves at the bottom of the pyramid with fewer opportunities, influence, and recognition than their office-based peers.
Remote-first leaders will focus on leadership skills specific to virtual work. It will be less about strict delegation of tasks and more about openness and empowerment of the team.
A remote setup affects how the company is structured, with workflow not always coming from the top but an exchange between team members as everyone has equal access to company work tools.
Communication
Remote-first teams use asynchronous communication (like email and Slack) to accommodate international workers spread across timezones. In contrast, remote-friendly teams tend to communicate synchronously (phone calls and Zoom video conferencing) because they are all in the same time zone. Remote-friendly teams also have more water cooler chats because they spend time in the same office.
This distinction is generally, though not always, true: innovative remote-friendly teams favor asynchronous communication teams because it's more efficient. Likewise, some remote-first teams over-rely on synchronous communication out of habit.
Productivity tracking
Productivity in remote-first teams is tracked by apps so that teams are accountable when working remotely. Companies use Google Docs and hive for project management and project collaboration. These apps track changes to documents and new projects so that teams get a better picture of how productive they are day-to-day.
Remote-friendly staff availability on-site means companies can utilize more frequent team-building meetings replacing remote-first teams' reliance on digital tools for scheduling and delivering work.
Overall, there is a need for more productivity tracking in remote-first teams as they lack the traditional measurements of hours worked at the office and team meeting attendance.
Opportunities for development
Remote workers in remote-friendly organizations miss out on in-office opportunities such as important meetings where they can be a part of critical decisions or equal opportunity for promotion. These opportunities may be readily available to office employees who have a greater chance to impress and contribute to the organization.
Remote-first teams receive equitable training and advancement opportunities as company influence disseminates more evenly.
Employee working styles
Employees in remote-first companies generally have much more autonomy and independence. They are:
Not phased by working independently for long periods
Well acquainted and proficient in asynchronous communication
Able to manage their time effectively
Patient with new tools
Employees in remote-friendly companies must be comfortable bouncing between the two environments. They are:
Flexible in balancing work from home and work from the office
Adept at communicating in-person and virtually
Organizational skills to plan their hybrid schedule
Benefits of being remote-first vs. remote-friendly?
Companies with either setup benefit from (at least some) remote work flexibility. However, each format has its unique advantages.
Benefits of remote-first work
Remote-first companies have access to a global talent pool: they can get the best talent for the job, not the closest talent to the office
Remote-first companies have vastly lower overhead costs because they don't have to pay for real estate. A report by

The Business Case for Remote Work in 2021

found the average annual office cost for American employees was $7,440, and by reducing office space by 25% for each employee, they would save nearly $2k per remote worker annually
Remote environments are more focused and productive since a physical office can be distracting
Employees prefer remote work because of work-life balance: an

Owl Labs

study claims 77% of survey respondents agree that working from home makes them happier
Employees no longer have to worry about commuting to work, saving time and money. A study by

Upwork

in America found that those working remotely due to COVID-19 saved an average of 49.6 minutes each day
Benefits of remote-friendly work
Remote-friendly companies feature a "best-of-both-worlds" setup: employees get the benefits of remote work as well as the structure of an in-person environment.
Teams get face-to-face interactions, which feel more familiar to most employees and facilitate immediate collaboration
Employers check-in with their employees frequently, which improves accountability
In-person companies have more opportunities for team bonding
What are some challenges of remote-first and remote-friendly companies?
Likewise, both types of companies should anticipate a handful of challenges.
Remote-friendly challenges
Remote-friendly employees may miss significant opportunities and decisions that happen at the office
Office socials, meetings, and gatherings mean remote employees don't feel connected to the company's work culture
An overreliance on hours worked at the office as a productivity measure rather than a results-driven system of remote-first teams
A remote-friendly position may be more about offering employees a couple of days of remote work as a perk rather than a significant change in how the company operates
Remote-friendly companies have a limited talent pool to draw from, as living close to the office becomes an essential requirement for candidates
Remote-first challenges
When employees share the same workspace, they can quickly exchange information and have non-verbal understandings
The lack of face-to-face communication may impact the strength of the team's bond; not seeing your colleagues every day could cause a disconnect. A

Gitlab

study showed

33%

of remote workers say their companies use virtual coffee or tea breaks to try and foster a sense of community

Colleagues working in different time zones will affect the quality of time teams spend together
There is less accountability when your team is working from home. When you work alongside colleagues and see you are a physical part of the work, it pushes you to take more responsibility for your work
Employers spend more time and resources showing employees how to use remote working tools; this reliance on digital tools may become a problem if employees encounter a power outage or network trouble
How do you become a remote-first company?
Most companies adopted remote work because of the pandemic. Some companies have gone back to the office at least part of the time. Other companies await the day it's indisputably safe to do so. But companies like Shopify, Upwork, and Pinterest are permanently switching to a remote-first model to expand their talent pool and provide employees ultimate flexibility.
To set yourself up as a remote-first company, you need to implement changes to everything from recruitment to establishing a remote culture that will sustain your business in the future.
Recruitment: When hiring a team from different countries, you will need to establish

legal contracts that comply

with each of your employee's local laws. This is true whether you hire across the US, which has slightly different rules in each state, or the globe, with vastly different laws in each county.
Productivity: Remote-first teams thrive on asynchronous communication and documentation. At Deel, Slack and

Notion

as our "HQ" to stay connected and organized.
Tools: a remote-first work environment is collaborative, so everyone should have equal access to tools and information. Public channels take priority over private chats to maximize knowledge sharing across the entire company.
Remote company culture: An

inclusive company culture

frames remote work around honesty, trust in each other, and the systems and tools. This kind of culture empowers employees to feel valued and included.
How to onboard remote employees?
Remote joining or remote onboarding is the initial introduction of your new employee to the company. Employees learn how you operate remotely, receive job-related training, and meet the rest of the team.
If you are a remote-first company and your employee will be fully remote, you must carefully curate their onboarding experience. It's helpful to consider the following:
Set expectations early with a virtual employee handbook: your new hire needs to know what to expect in the role, especially if this is their first fully remote position
Be welcoming: employees who haven't worked in a fully remote environment might feel isolated. Send a welcome package, set regular meetings during onboarding, and make yourself available in their first few months to avoid feelings of isolation
Take advantage of digital paperwork: use tools like Rippling, Zenefits, and DocuSign to automate and organize all of the necessary onboarding paperwork
Find out more about how to onboard remote employees here.
How does remote work impact team dynamics?
With office-based teams, interaction is a given, and leadership can easily oversee how their team works together and meets specific targets. However, virtual teams should track everything and use systems to ensure teams interact effectively.
Open communication in the workplace becomes essential for teams spanning different time zones. Avoid falling into the trap of siloed work with your remote team members. Siloed work is when teams or departments of the company become stuck in a communication bubble separate from the rest of the organization, ultimately creating less transparency throughout your organization and a loss of productivity.
If utilized effectively, digital tools with your remote teams help streamline communication and keep everyone on the same page with increased documentation of all team members' actions, contributing to an easier workflow.
Create a positive company culture
Now you know how remote-friendly and remote-first companies work and how switching to them could benefit you and your employees.
It's a unique opportunity for you to consider whether you are encouraging a remote culture where employees know each other, and share your values and vision regardless of their location.
Keep in mind that building an inclusive company culture within your remote team and offering flexibility in a diverse workplace is what your future employees want most.