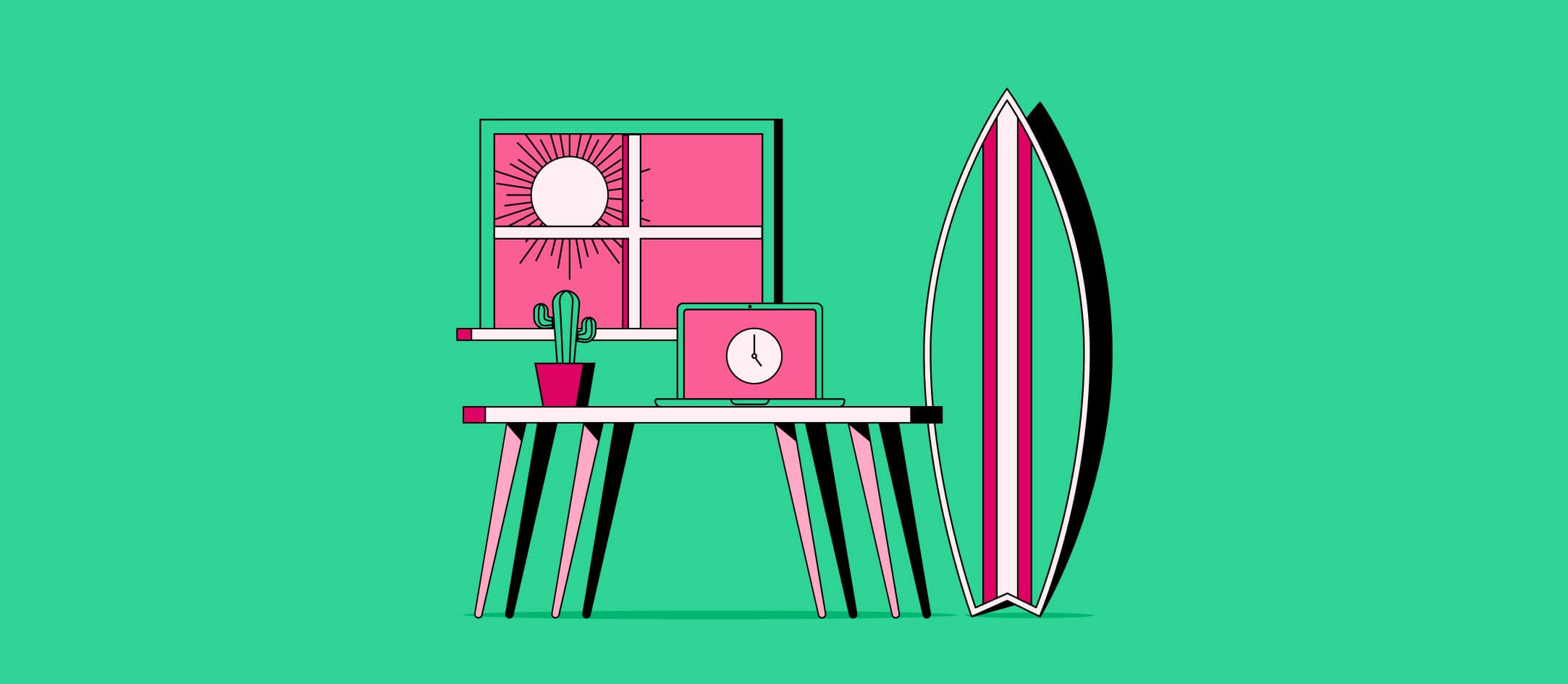 The Ultimate WFH Guide: Set Up Your Remote Workspace for Success
It's in everybody's best interest to transition from the traditional office environment to working from home as smoothly as possible. Fortunately, there are many things you can do to ensure everyone benefits from remote work. Use this WFH checklist to avoid in-house turbulences that may affect your focus and productivity.
Written by Anja Simic
September 27, 2021
Contents
Need help onboarding international talent?

Try Deel
In 2020, the number of people who transitioned to remote work drastically increased. Even though the pandemic had a significant impact on the latest statistics, this trend is no news. Over the last decade, the number of remote workers has grown by 91%, which is quite impressive.
If your word of the year was "remotely," you're not alone. Whether you've transitioned from an office to your home or have new responsibilities as a team leader managing a remote team, this work from the home checklist may be precisely what you need.
It'll walk you through the most popular types of work you can do from home, industries with the most remote work opportunities, and most common concerns companies have during the transition. You'll also learn how to ensure maximum productivity while working from home and how to deal with potential challenges that come with this type of work.
Do you dream of working
from anywhere?

Transitioning from office to home office
It's in everybody's best interest to transition from the traditional office environment to working from home as smoothly as possible. Employers don't want their clients to feel any in-house turbulences, while employees wonder how the new workplace will affect their focus and productivity. Fortunately, there are many things you can do to ensure everyone benefits from remote work.
Set Expectations
Not having a supervisor around doesn't mean people don't need at least some ground rules. Employees need to have precise schedules and follow straightforward guidelines, although flexibility may help them adjust to the new work environment.
A work from home checklist can help teams collaborate, meet deadlines, and stay on top of their game during the period they're not together in the office. The key is that everyone knows what they're expected to do daily, weekly, and monthly.
Also, decide how you're going to communicate, hold meetings, assign and submit projects. There are plenty of popular tools such as Microsoft Teams, Slack, Asana, and others that allow you to manage your projects seamlessly. Everyone should know the expected response time or how often they need to check their inboxes.
However, working from home can sometimes lead to overworking since it's challenging to set clear boundaries between work hours and leisure. Remote workers should know that they don't need to be available 24 hours a day just because they're working from the comfort of their home.
Don't forget the security aspect, either. If the employees working from home need to handle confidential information about the company, they need to ensure they're the only ones using their computers. An alternative is to protect all the company data with strong passwords, a VPN, and two-factor authentication.
Safety and health concerns
When at the office, you're covered by the Occupational Health and Safety Administration (OSHA) regulations. The rules don't apply when you work from home, although the employer can still be accountable for their remote workers' safety.
An employer needs to make sure the equipment and materials provided to the remote worker are malfunction-free and represent no health risk. If the employee hasn't been using a piece of equipment before, they need to receive clear instructions on handling a specific device or machine. It's also the employer's responsibility to ensure that their workers can do their jobs in optimal conditions, including lighting, room temperature, potential fall or fire hazards, and more.
On the other hand, mental health in the workplace has been tackled multiple times over the past 12 months. To avoid the downsides of being isolated from their teams, employees who work from home should be provided with enough support and opportunities to video chat with their colleagues and maintain regular communication.
Setting up a home office
Setting up a home office should be a joint effort of the employee and the company they're working for. To ensure the best possible outcome, condition number one is to have a motivating and comfortable workspace.
Read more about how to set up a home office.
A stable internet connection is a critical prerequisite since it enables you to have Zoom conference calls without interruptions and collaborate seamlessly in real-time. You can perform a speed test before moving to your home office if you're not sure your internet can handle it. A quality headset will also ensure undistracted telecommuting when you need absolute focus for video conferencing. Your webcam should provide a good enough image so you can see people's faces clearly.
In case you use two monitors or more robust or demanding equipment in your office, the employer should provide them for you during the work from home period.
Another thing on your work from home checklist should be the ergonomics of your home office. It might seem irrelevant, but can you tell for sure how long you'll be working from home? It may be months, so it's essential to have a desk and an office chair with good back support. You may also want to think about an ergonomic mouse and keyboard.
Your home office should have enough natural light, a strong internet signal, and available outlets for you to plug in different gadgets and devices. Also, try to minimize the number of potential distractors in the room you choose for working. Bear in mind that you'll often have video chats with your colleagues or clients, so make sure you have an appropriate background for your Zoom calls.
Enhance your productivity when working from home with these tips & tricks
Eliminate distractors
It'll surprise you that even dust on the countertop can be a distractor. Try to finish up the chores before you start working and make sure no devices, such as your TV, are within sight while you're working. Disable your social media notifications and use different techniques to maintain focus. Time-blocking or the Pomodoro technique may help.
Make sure you "leave work"
When you're at home the whole day, the line between work and free time may get blurry. Make sure you introduce a ritual that will mark the end of your working hours. That way, you'll know your workday has ended. Close your laptop, turn off the monitors, shut down your computer, play some music, change into more comfortable, sporty clothes – anything that helps your brain relax and get out of work mode.
Get out of your pajamas
Taking care of your mental health is as crucial as staying on top of your work-related tasks. It's easy to spend the entire day in your pajamas, but due to the lack of social interaction you'd typically have at work, you should find a way to make up for it. Schedule regular meetings and coffee dates with your friends, spend time with your family, go out, and dress up for work as if you were going to the office every day.
Beware of procrastination
It may seem to you that you have more time than before to do the work, but you can end up missing your deadlines if you don't fight procrastination. The time goes by quickly, and you may not even notice, so make sure you stick to your schedule and work during working hours, even if they're flexible.
Get reliable equipment
Unreliable equipment doesn't only mess up your plans and projects, but it can also be a potential hazard and a health risk. Work together with your employer to ensure the equipment they've provided is working well and is safe to use. Learn how to use any new machines before you get started on your own. If there are any signs of malfunction, let your employer know immediately.
Take care of your health
Ensure you have a private and comfortable environment to work in. That way, you'll avoid stress, and you won't suffer from back pain and other physical issues that may arise when you spend the whole day sitting.
Ensure your family respects your working hours and doesn't interrupt your focus or meetings, and dedicate enough time to bond with them because that'll give you the energy to give your best at work.
How to manage a remote team efficiently
Maintain discipline
Since you're not there to monitor your team, you should ensure that the work discipline is on point. That doesn't mean your employees need to let you know every time they leave their desks to go to the bathroom, but check in once in a while to see how the projects are going and if your employees need advice or help. Set up a clear remote work policy that everyone will be able to follow.
Provide enough support and trust your team members
In the same way your co-workers need discipline, they may also need support. Note that not everyone will be thrilled about working from home. Some remote workers may feel too isolated, while others work better when they have someone around to ask for a tip or two when they get stuck.
Make it very clear to your team that they can reach out whenever they encounter an issue they can't solve independently. You may also try to refrain from micromanaging and show the team members you trust their skills even when you can't see them.
Don't stop building your remote team
Not being able to throw a party doesn't mean you can't do online team-building activities. There are many ways to hold team building online if you let your imagination run free. You already know that "all work and no play" usually doesn't have optimal results, and your remote team needs to wind down, too. A little fun won't hurt, so make sure it finds its way to your work from home checklist.
Take a look at some of the best virtual team-building ideas to spice things up.
Make sure your messaging is clear
When you're deprived of seeing someone else's face while communicating with them, misunderstandings can happen more often than usual. That's why there's no such thing as over-communicating when you're working from home. Don't read between the lines or assume anyone's tone – ask questions when you don't understand what an employee is trying to say. Encourage your team to do the same. Even emojis will do when you're not able to see the facial expressions and gestures of another person.
The bottom line of remote work
Remote work gives you opportunities you may have not even dreamed of a couple of years back. There are plenty of ways to build your career WFH-style, and more and more companies every day recognize the benefits of hiring remote workers and allowing their employees to work from home. Statistics have shown that people who work from home can reach higher productivity levels and feel happier in their workplace.
Whether it's a small business or a huge corporation, a company can only thrive if the employees feel content and safe.
Hopefully, this work from home checklist will serve you as a guide to a successful transition to remote work and help you reach your goals along the way.