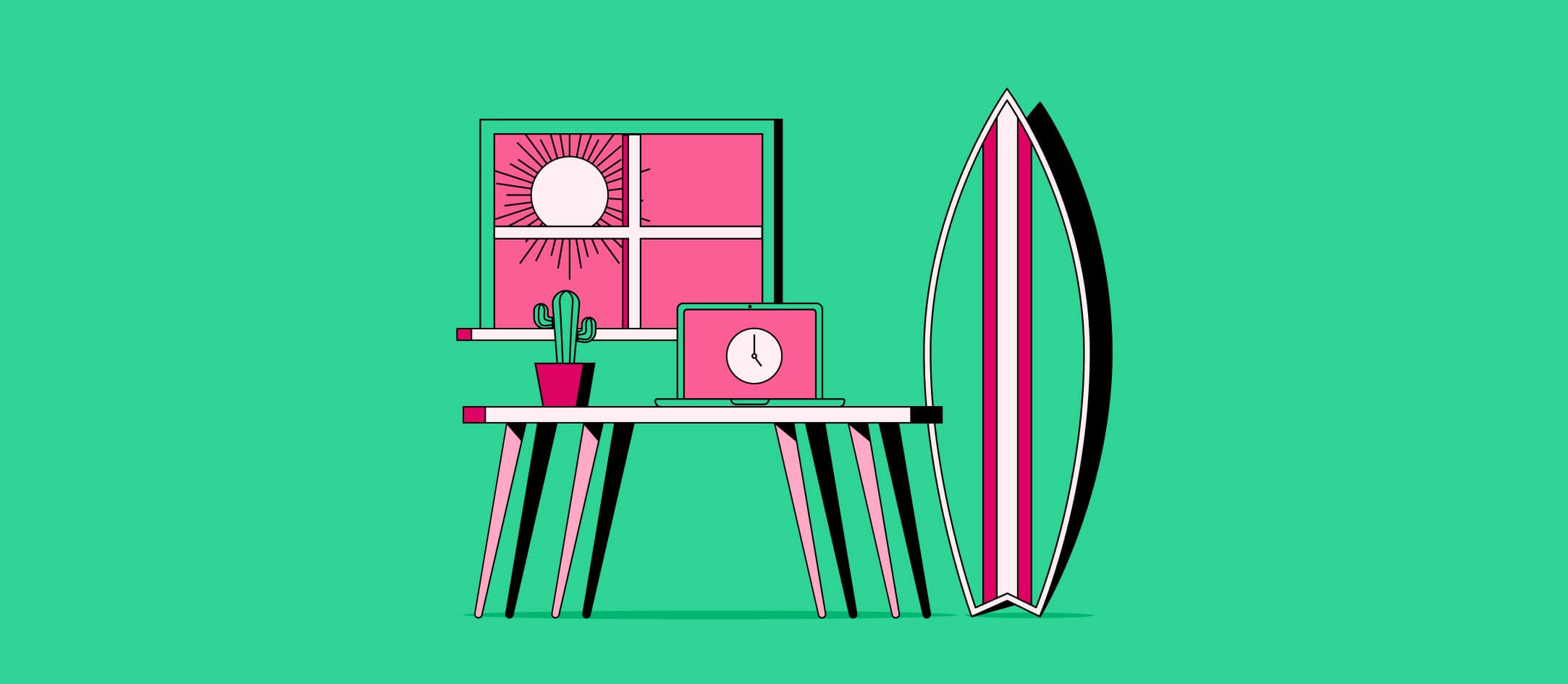 Remote Workers 101: A Guide to Managing a Successful Virtual Team
A complete manager's guide to developing, implementing, and managing a remote workforce. Hire a remote team, overcome the challenges and wfind solutions for a productive team.
Written by Anja Simic
September 28, 2021
Contents
Need help onboarding international talent?

Try Deel
Remote working (or "telecommuting" as some call it) has been rising and becoming desirable way before 2020. For decades, we have been associating physical presence in the office with work, and that association shaped much of our daily lives and habits.
Even though it's easier for some companies than others, COVID-19 forced many of them to try remote work, at least temporarily. Fortunately, the paradigm shift is slowly taking place, and even tech giants like Apple and Twitter think the changes we have seen this year will remain in place permanently. So what are the upsides of working from home that so many people are talking about?
The benefits of a remote work
When thinking about going remote, managers often start by focusing on the challenges. Even though they do exist (and we'll talk about them later), it is not beneficial to begin the remote work transformation by focusing on the negative. Instead, consider all the strong suits remote work boasts, and which remote work best practices your company can implement.
Increased productivity of remote workers
Think about it this way: when you have flexibility in working hours and sync your workday with the rest of your day, you are focused on getting things done. If you want to grab lunch or go for a mid-day jog before your next video call, you can do it and come back with a clear head and improved concentration. You can also change your location and work from a nearby coffee shop for a few hours. You can pretty much work from anywhere anytime, as long as you have a good internet connection, a plug, and a noise-canceling headset.
Cost savings of remote working
When you work from home, you have fewer physical meetings and more time to get your work done. You save time (and money) on commuting because you can start working whenever you feel ready to slip out of your pajamas (or not - that's okay too). You even have a positive impact on the environment.
Remote working talent pool
A remote workforce, especially if you consider hiring in different time zones, gives you and your company access to a talent pool that is way broader and richer than locally possible. Once you transition to a remote or hybrid company, you will access top talent worldwide and fill specific roles with ease. Fantastic employees are found all around the globe, and your business can only benefit from hiring based on skills and value, not the place of residence. On top of that, globally distributed teams are more diverse and inclusive, which is not always easy to achieve locally.
How to recruit remote workers
Let's say your company is one of those that are just now considering or starting to transition to a virtual workspace, maybe due to the coronavirus outbreak. There are some tips on how to bridge the knowledge and habit gaps you will encounter on the way. First of all, adjusting to an entirely new work environment and methods is challenging. If you are doing it without being adequately prepared, it can be quite stressful.
Let's start with hiring remote talent. When you are hiring distributed team members, whether the pool is restricted to a country, a continent, or the entire world, the process will need to be different than the one you are used to in the office space. You are aiming to recruit people who may not have worked with renowned companies but are able to prove their skills, value, and fit with your team. Rather than a particular experience, you are looking for good communicators.
Structure an interview in a way that showcases the candidate's communication style, responsiveness, and behavior. A test or an assignment is another good way to assess whether your candidate is the right fit for your company culture, how fast they work, and how suitable they are for the role. Once you solve the challenges of remote hiring, you need to start structuring your company to function remote-first.
Here is a good ice-breaker: take good ideas from experienced remote companies. Do some research and find businesses that have successfully implemented the remote workforce model. There are quite a lot of them, and they are usually proud of their achievements. Read the blogs and careers pages on their websites and see how they are making the best of digital transformation.
Implementing a remote workforce requires some creative thinking as well. The co-founders of Brex, for example, recently shared a memo with their team, explaining the path their company is taking while becoming remote-first. One of the things they have come up with is to stop emulating the office space online. Instead, they will start thinking about remote work as "internet work" and deliver information (such as all-hands meetings) like content - because it is just that.
It is always a good idea to focus on best practices and adapt them to your company's needs, business model, circumstances, and, in particular, your team. The next step in implementing a remote workforce is solving the specific challenges it brings.
Global first is the future
Deel's global experts provide the best world-class experience for your global team of employees and contractors. Book a demo to see how.



A guide to managing remote workers
Even experienced managers can encounter stress and blockages when managing remote team members. The reason for this is that most managers don't know how to adapt their processes to remote employees and the specific challenges that arise.
There are some vital things to implement in this new management format, the first of which is emphasizing communication. Intentionally prioritizing dialogue enhances the functionality and brings satisfaction to the whole team, which is particularly important with physical distance. Reinforcing and doubling down on the company culture and values is critical in terms of letting your remote team members know that they are part of your team no matter where they are. Recognizing your team's contribution and letting them know they are seen and heard is the best thing you can do as a manager of a remote team.
In the end, as a manager, you face the same challenges your people do - and then some more. Think about what you need to do your best work and apply it to your team. It is difficult and stressful at first, but there is no doubt you will love the transition once you settle into it.
Common challenges of remote work
The office space as a medium and tool has been around for decades, and it still has its challenges and downsides. Keep in mind that remote work is still a fresh concept and that no industry giants (as of yet) were founded remote-first. This novelty means that challenges exist, some of them more complex than others.
In an office, team members access information from supervisors and colleagues in real-time; sometimes, they'll casually walk to someone's desk and get the input they need face-to-face. This input is lacking in an online setting, and many people feel cut off from the information flow. There is also an issue regarding direct supervision and feedback, leaving workers with a feeling that the management is distant and worrying about their performance. When faced with a screen instead of a room full of people, they can lose track of the deadlines and KPIs, which can become vague or lost in countless emails.
On the other hand, the satisfaction and wellbeing of remote workers may suffer too. Social isolation is prevalent in people transitioning to remote work; the feeling of community we get from being surrounded by others is easy to miss. The oh-so-dreaded water cooler chats start looking good when you don't get to interact with your colleagues.
By now, we all know that people do their best work when they feel like they belong in a company and share its culture and values. This sense of belonging could also take a hit because of social isolation. It is one of the most critical challenges to overcome. Finally, employees' health and wellbeing are essential aspects of their work, both for office and remote workers. Whether you are at home or in the office, you are still chair-bound for a considerable number of hours each day. On top of all that, distractions at home can play a significant role in how productive you are.
These challenges are not unsolvable - they are only different from those we have grown accustomed to. That is precisely why the key to a successful digital transformation is directly proportional to how well we solve them.
Employee engagement and productivity
Here are some tips on how to overcome the barriers to productivity and engagement in a remote working setting:
Training employees for remote work
Transitioning or founding your business in a remote work environment requires a framework. You need to onboard your employees with the remote work policy that consists of concepts, rules, and practices that will enable them to do their work seamlessly, despite working remotely. This is an intentional effort, and you should communicate it. The best way to do it is to provide them with specific training and resources.
Establish a culture of written communication
With a lack of physical office and proximity, it's crucial to switch your team's minds to written communication. To maximize the information flow, use one of many project management or collaboration tools to track your team's tasks and refer back to them as needed. It saves time and emphasizes roles and responsibilities clearly and effectively. Come up with guides and protocols and switch all communication to writing. This will also decrease the need for countless conference calls and unnecessary virtual meetings.
Supporting and supervising remote workers
When your team cannot simply walk into your office and ask a question, many things can be left unanswered, and room for mistakes becomes bigger. Keeping this in mind, introduce regular talks or 1:1 check-ins with the team members. Whether it is a quick Zoom/Hangouts call or just a message on Slack, people need to get feedback and feel like their managers have their back. Be proactive about this and schedule check-ins with team members into your day.
Organize face-to-face time
Once the travel ban caused by the pandemic goes away and the world goes back to normal, you will be in the clear to assemble your team in a physical location. Having regular team retreats (or off-sites, as some call them) has numerous benefits, as it fosters building and enhances developing personal connections. A well-connected team will eventually perform better, minimizing the communication challenges that might occur while working in a virtual setting. Organize team retreats once or twice a year and you will see the team bonds grow before your eyes.
Employee happiness and wellbeing
Apart from productivity, you need to make sure your employees are happy and empowered to do their best work. It has become the norm for companies to take special care of their office-based employees, so here is how you can introduce support for remote employees.
Make room for informal communication
While it is necessary to have clear protocols for task-related communication, you shouldn't forget the importance of casual talk with your team. The easiest way to build trust within remote teams is to dedicate time and space for informal topics and non-work-related chats. For example, you can set aside the first 15 minutes of your Zoom calls for the team to chat and check-in, or have Slack channels dedicated to off-work topics. Pick a format that fits your team best and incorporate everyday life matters and topics into the virtual workspace.
Help your employees set up their home office
Not everyone has the ideal conditions for remote work, as some people live in small spaces and don't have separate rooms they can work from. Others live with families, little children, pets, or roommates who may also be working remotely. Ensure that everyone can make the best of their space by giving your employees a home office setup budget. This way, everyone will get the equipment they need most to be productive and comfortable. You can even encourage your team to share pictures of their home office equipment and share their decor tips.
Encourage health and fitness
Sitting behind a desk all day is a health issue whether your chair is in the office or at home. Incorporate health and fitness discussions in your team conversations and, if possible, provide your team with a monthly allowance for health and fitness. Some folks are into gym exercise or jogging, while others love yoga or hiking. Whatever gets your team out and active, give them the means to do it.
Work-life balance for remote employees
Our everyday lives are often stress-packed, and we worry about a multitude of personal things. Add a stressful work environment to the mix, and our mental health starts to suffer. According to a 2017 report from the United Nations International Labour Organization, remote teams can be more prone to work-home interference and working longer hours.
To make sure this doesn't happen to your team, make a conscious effort to promote their wellbeing and work-life balance. Start nurturing a culture that prevents burnout and make sure to encourage your team to have boundaries when it comes to working. Incorporate wellness checks into your all-hands meetings and make room for team members to talk about how they spend their time off and how they feel about their work overall.
Technology for remote work
Tools for remote work range from project management to collaboration software and instant messaging platforms. Companies should invest in technology that enables the productivity of their remote workforce. There is a whole remote work industry comprising startups and successful companies creating tools for distributed teams. However, there is no magic stack or one-size-fits-all solution. You and your team should try and learn what fits your needs best.
Try out different options and pick those that your remote team would work with easily. Then create protocols and structure your technology usage so your team knows exactly which tool to use in what situation.
Advantages and disadvantages of a remote workforce
A fully remote workforce has a unique set of benefits and challenges that arise daily. Both managers and teams need to open their minds to a new way of understanding their work and the impact it has. Remote teams can experience social isolation or difficulty in understanding roles and responsibilities. They can turn their flexible work hours into non-stop working and burnout. They can even lose touch with their purpose in the role and their performance on the job.
All these challenges, however, can be counteracted by intentional practices and setting remote teams up for success. Whether it's a home office setup budget or a wellbeing check-in, structured access to information, or regular feedback, companies can achieve great results with some effort.
A remote workforce can turn out to be the most versatile, diverse, and productive team you have ever had. You just have to give it a try.
Further reading: