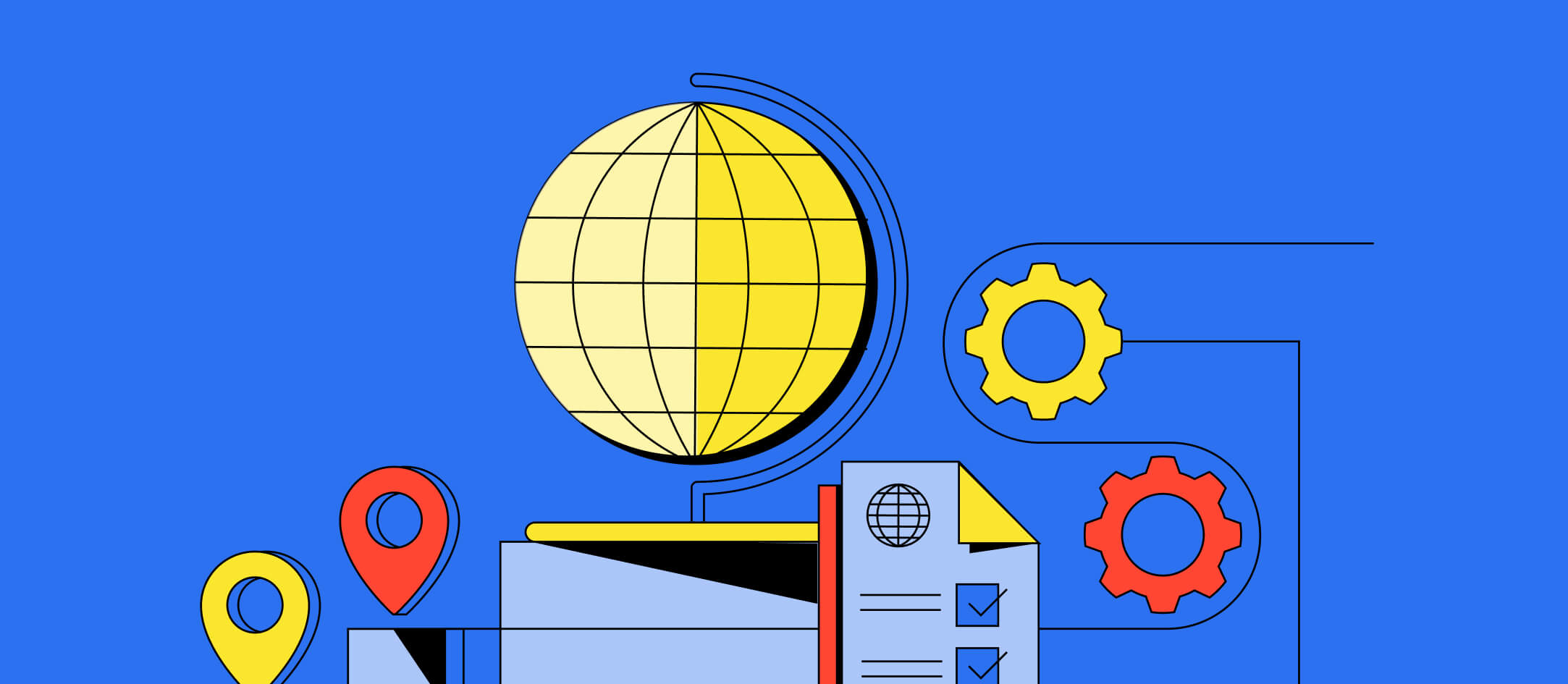 Virtual Recruitment Guide: Process, Tips, and Strategies
Want to recruit quality candidates to your remote team? Read our article to uncover virtual recruitment strategies that will attract the top global talent.
Written by Shannon Hodgen
May 11, 2022
Contents
Need help onboarding international talent?

Try Deel
A few years ago, companies did everything they could to avoid virtual recruitment. Many saw virtual recruiting as a last resort to attracting talent when they could not find a qualified candidate close enough to interview in the office. But when the pandemic hit, in-person recruiting was no longer a safe or efficient hiring method, and companies had to adapt.

Now, 70% of companies say at least half their recruitment process is virtual. Still, virtual recruiting takes time to get used to and even more effort to get right. Instead of working out the bumps in front of prospective candidates, this article will teach you how to build a forward-thinking virtual recruitment strategy, deliver an engaging candidate experience, and bring better remote talent to your team.
What is virtual recruitment?
Virtual recruitment is an online talent acquisition strategy used to attract and vet job candidates without meeting face-to-face. The virtual recruitment process opens your recruiting strategy to a much larger, more diverse candidate pool, especially if you recruit globally.

Download our guide to learn more about remote developer recruiting.
Benefits of virtual recruitment
You can streamline your talent acquisition process and improve the candidate experience by expanding your hiring strategy to include virtual recruiting.

Shorter time-to-hire: Recruiters can vet multiple candidates at the same time by sending out digital assessments or requesting pre-recorded video interviews.

Less human resources work: Most virtual recruitment platforms include digital document management and e-signing functions to reduce paperwork for HR teams. Common automation features can also send update emails to candidates on behalf of the company when they get rejected or move forward.

Lower expenses: Your team can save money by hosting virtual recruiting events instead of in-person events. You don't have to pay fees for venue rentals, staffing, parking, and event insurance. vFairs, a virtual events platform, estimates a physical career fair costs $27,715 (USD) while using a virtual events platform costs $9,000 (USD).

Reduced bias: Use software like PinPoint to redact identifying information from resumes, anonymize candidates, and hire based on experience and skill and reduce the risk of unconscious or unconscious bias.

More diverse talent pool: You can hire virtual employees from anywhere in the world and gain a competitive advantage from their background, education, and culture. Companies that are more diverse out-innovate and out-perform companies that lack diversity.

See more benefits of recruiting an international team.
Challenges of virtual recruitment
If you don't prepare for the challenges of virtual recruitment, you can derail your hiring process and deter qualified candidates.

Tech issues: If a candidate has a poor internet connection, equipment malfunction, or isn't familiar with the platforms you use, they'll have a negative candidate experience. Avoid wasted time by proactively troubleshooting and coming up with backup plans for tech problems.

Timezone differences: If you're hiring internationally, your working hours and candidates' working hours may not align. Finding a time that works for everyone can be frustrating and delay progress.

Limited communication: 55% of communication is nonverbal—eye contact, space, posture, and touch communicate what we think and feel. Those methods of communication are eliminated or greatly reduced in virtual settings, which makes connecting with candidates more difficult.

Cultural differences: If your team hasn't been properly trained on cultural inclusion, equity, and diversity, encountering cultural differences could exacerbate bias when hiring globally.
How to build a strong virtual recruitment strategy
According to Aptitude Research, one in four companies won't reach their hiring goals this year. To get back on track, recruitment teams are trying to find more candidates in less time. Here's what talent acquisition teams can do to improve their virtual recruitment strategy and reach their hiring goals.
1. Know your legal requirements
In the US, employers must comply with the Equal Employment Opportunity Commission (EOCC) laws. Under the EEOC guidelines, it's illegal for employers to recruit workers in a way that discriminates against:


Race
Color
Religion
Sex (including gender identity, sexual orientation, and pregnancy)
National origin
Age (40 or older)
Disability
Genetic information

Recruitment laws get complex when you hire workers in another country, or even in another state. For example, you need an Employment Agency License to recruit candidates from some states like Alaska and Connecticut.

If you're recruiting independent contractors, you must comply with your candidate's local labor laws to avoid worker misclassification. Worker misclassification refers to wrongfully hiring and compensating a worker as a contractor instead of an employee.

Learn more about how to recruit and hire overseas talent.
2. Impress candidates with a strong employer brand
An employer brand is your company's culture, mission, personality, and values. Over three-quarters of adults consider a company's culture, mission, and values before applying to work for them, so you need to communicate yours effectively.

Having a clear employer brand gives you an advantage over your competitors. If a job seeker visited your website, would they quickly understand your team values? If they see their values align with yours, you could win their application.

Social media is the most effective tool for growing an employer brand, followed by websites and in-person/virtual recruiting events. Here's what you should be sharing online:


Photos and videos from team gatherings
Employee reviews from crowdsourcing websites like Glassdoor
Employee interviews (written or verbal)
A website page dedicated to your company culture (photos, videos, written content about perks and benefits)
A website page outlining your mission statement and core values
Website and social media content with brand-appropriate personality (casual, humorous, inclusive, aggressive)


3. Offer benefits that attract remote talent
Companies had to rethink their benefits coverage after the rise of remote work. After surveying 1,549 Americans, Staples found that 62% of employees would accept a lower salary for better workplace perks. Some of the most desirable perks and benefits for remote employees include:


Home office stipend (laptop, headphones, ergonomic chair, standing desk)
Health insurance
Mental health and wellness coverage (therapy coverage, home exercise equipment)
Caregiver support
Learning and development allowance
Flex hours
Coworking membership

See more perks and benefits for remote teams.
Securing global talent just
got easier


4. Screen candidates with skill-testing surveys
Skill-testing surveys demonstrate how a candidate would perform on your team. Since the surveys are digital, you can send them out to multiple candidates at once, streamlining your online recruiting.

Send tests early on in the recruitment process—between the initial candidate screening and before virtual interviews. To show candidates you respect their time and effort, keep tests under three hours long and consider paying participants for their work.

You can use skill tests to assess candidates' technical or role-related skills. The team at Adaface has developed a variety of coding and aptitude tests specifically designed to assess candidates vying for tech and software roles. To make sure a candidate is a good culture fit, use a platform like Plum to survey candidates' personalities, problem-solving, and social intelligence.
5. Host a virtual recruiting event
A virtual recruiting event is an online event where candidates and hiring managers can connect. Women, students of color, and neurodiverse students find virtual career events and interviews less anxiety-inducing, easier to balance, and more accessible than meeting potential employers in person.

Virtual hiring events are like open houses for your company. Your event should include informational webinars about the business, available roles, team culture, and a Q&A session. Candidates should be able to participate in discussions through a live messaging function.

Companies often host virtual career fairs when they have a lot of roles to fill. Some virtual career fairs are multi-day events, while others are only a few hours long. Include breakout sessions for group interviews or one-to-one video interviews where hiring managers can screen candidates.

Here are a few best practices to follow:


Promote your virtual recruiting event on social media, your website, event websites, and job board postings
Host a mock event with your internal team to test out the platform and get familiar with the layout and functions
Create a schedule for the event and share the document with registrants at least 24 hours before the event
Send a follow-up email or survey to attendees requesting their feedback on the event


6. Anticipate timezone challenges when scheduling interviews
Virtual recruitment allows you to hire top talent from around the world. But scheduling interviews can get messy when you're dealing with different timezones—especially if you have a large pool of international candidates.

Stop timezone differences from stalling your recruiting process by bookmarking an easy-to-use timezone conversion tool (or app). Whenever you need to schedule a meeting, input your city and the candidate's city to calculate the time difference. If you and a candidate have a substantial time difference, see where your standard working hours overlap and book a time that fits both schedules.

You can also use scheduling software like Calendly to create a more collaborative experience. Calendly auto-detects users' time zones and adjusts their schedules accordingly, so you don't have to make any timezone calculations. Set your schedule, share your link with candidates, and let them choose the timeslot.
7. Replace cover letters with one-way video interviews
Some recruiters don't read cover letters because the content is usually the same as the candidate's resume. Other recruiters say they don't have time to read all the cover letters they receive. If you're looking for a faster, more insightful way to learn about candidates in the recruiting process, try replacing cover letters with one-way video interviews.

Here's how to conduct a one-way interview:


Create a list of interview questions that aren't typically answered on resumes to avoid receiving duplicate information
Share the list of questions with candidates and ask them to record their answers in a short video
Provide tips on successful video recording (record in good lighting, reduce background noise, look at the camera, talk slowly and clearly)

One-way interviews work especially well for recruiters hiring several people at once. The method allows candidates to show more of their personality and gives hiring managers a look into their verbal communication skills.
8. Communicate often to deliver great candidate experiences
Treat candidates like new hires during the virtual recruitment process. Communicate proactively with them and maintain a positive attitude—remember, they're evaluating your company just like you're evaluating them.

At the beginning of the recruitment process, send candidates a schedule that outlines how they'll progress through each stage. Include who they'll meet from the team and when. Have a backup plan for when technology problems occur and share those plans with candidates. For example, if their internet goes out before a video interview and they can't reconnect, give them a phone number to call.

By the end of their recruitment experience, candidates should positively perceive your company, even if they don't get hired. When they have a great experience, they're more likely to re-apply for a role in the future or recommend your company to someone in their network.
9. Upgrade your recruitment tech stack
According to 68% of recruiting professionals, the best way to improve recruitment performance is to invest in new recruitment technology. Consider using recruiting tools like chatbots, applicant tracking systems, virtual onboarding, and document e-signing.

Recruitment software like Greenhouse includes automated candidate communication, reports, and data organization. Candidates can also pre-record their correct name pronunciation and preferred pronouns for hiring managers on the platform, which creates a more comfortable and inclusive recruiting experience.

Social media is still a great way to recruit top talent. The most-used social media platforms for recruitment are Facebook and LinkedIn. These channels also source the highest quality candidates.

Learn more about using technology to hire remote teams.
10. Track and assess your recruitment process
Companies need data to make decisions about talent, but 57% of companies don't have the necessary information because they're not tracking it. When you gather and assess virtual recruitment data, you can make informed decisions and identify areas of improvement more easily. Plus, when you approach leadership for more resources or support, you have the information you need to justify your requests.

Here are a few metrics to track:


Where you're sourcing the highest number of candidates
Where you're sourcing the highest quality candidates
Number of event registrations
Number of event attendees
Rate of accepted job offers
Rate of declined job offers
Where candidates drop out of the process
Use Deel to make virtual recruitment and hiring a breeze
Virtual recruiting gets complicated when you're drawing from an international talent pool. With Deel, you can hire talent from countries over the world in minutes, cost-effectively, and with minimal effort on your end. The entire recruitment experience gets handled by local hiring experts, so you can focus on developing your team's talent.

Read more about how Deel works or book a demo to see how we can help you and your team grow.