How 1840 & Company aided their distributed workforce in the aftermath of Super Typhoon Rai with Deel.
On Deel Since
November 2020
Meet 1840 & Company 👋
1840 & Company is a global marketplace for companies to scale and accelerate growth with vetted freelancers and outsourcing services. Their mission is to deliver their global, on-demand expert resource offering to the most ambitious growth companies. With hubs in the US, Philippines, India, Ukraine, South Africa and Argentina, 1840 & Company can deploy expert resources from 150 countries.
Super Typhoon Rai makes landfall
Just days before Christmas, Super Typhoon Rai hit Cebu City in the Philippines on December 16th, 2021. It's one of the most powerful storms to hit the southern Philippines on record, displacing more than 481,000 people. The loss of life, property, and infrastructure was devastating for the region, resulting in over $794 million in damages—the third costliest natural disaster in Philippine history. Rai's destruction directly impacted an integral portion of 1840 & Company's workforce, tearing off roofs and limiting basic supplies like water and electricity. Bryan DiGiorgio, CEO & founder of 1840 & Company, swiftly took action to assist his workforce.
Getting back on track using Deel's Pay Early feature
A portion of 1840 & Company's Philippine workforce needed immediate help, so DiGiorgio sent advanced payments in a few clicks. Aiding DiGiorgio's workforce was simple: he calculated the numbers, uploaded them to the Deel platform, and hit the "pay early" button. Now the team could withdraw their funds in their preferred method and currency.

"Without Deel, our desire and capability to help would have taken several days or more; a lifetime for those impacted," said DiGiorgio.
The team instantly received 70% of their pay ten days before their typical payday. Additionally, the company approved and processed emergency funds in just five minutes, allowing near-instant accessibility for those in need, including a woman expecting her fourth child. This peace of mind allowed people to purchase supplies sooner, jumpstart house repairs, get back to work, and—more importantly—their everyday lives.

"It was very fulfilling on a personal basis to make these humanitarian decisions and have it provide immediate help—halfway across the world. While this doesn't help the broader population, there is a large multiplier effect with those who we help," said DiGiorgio.
Deel feature they Love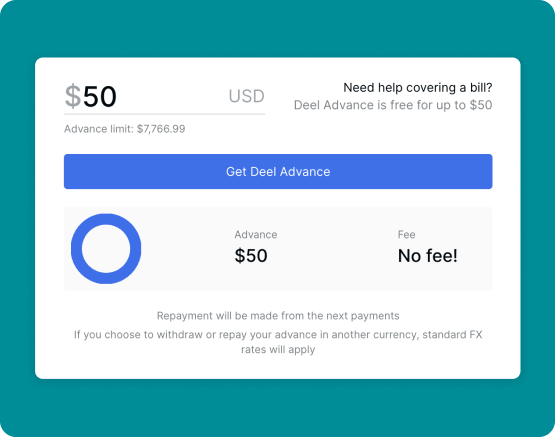 Deel Advance
With Deel Advance you can readily access your next payment up to 30 days early, giving you added financial flexibility over emergencies or unexpected costs.
Deel makes growing remote and international teams effortless. Ready to get started?