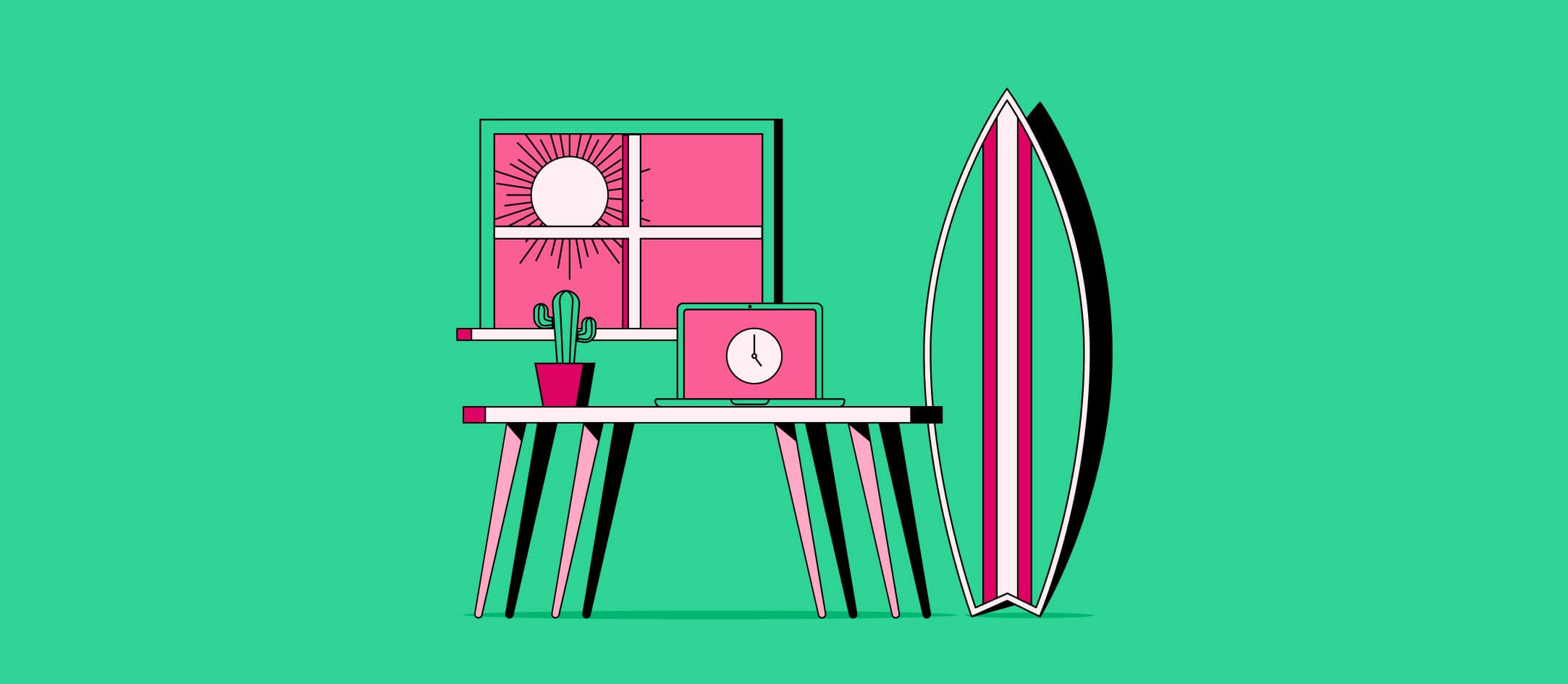 How to Manage a Hybrid Team
Somewhere between fully remote teams and a 9 to 5 onsite presence lies a compromise - hybrid teams.
Written by Anja Simic
August 17, 2021
Contents
Need help onboarding international talent?

Try Deel
The post-pandemic world has brought a new normal to all aspects of our lives. And the business world is no different. After almost two years of remote work, many aren't ready to go back to being office employees, at least not just yet. It isn't easy maintaining both operational capacity and employee satisfaction.
This is why a new way of working has been slowly gaining traction - the hybrid model.
Hybrid teams are slowly taking over. They are offering the best of both worlds and easing the transition back to the office. Are you interested in learning more about the hybrid work model? Why are remote employees are big fans of hybrid work? How can you implement it in your work environment? What are the possible downsides? This guide will answer all of your questions, even the ones you didn't know you should ask.
What is a hybrid team?
The hybrid team is an umbrella term; there is no clear definition. It is used to describe every type of team that lies somewhere between a fully onsite team and a remote one. That means that some team members can work only remotely, while others are always located onsite.
However, it can also mean that the same team members enjoy flexibility. They are present in the company office space on some days, while they can work from anywhere on others. Unlike remote teams, for hybrid teams, an office does exist. It's just a question of how many team members actually use it.
One of the main challenges with managing hybrid teams is precisely that flexibility. It provides many possible scenarios and variations.
Creating a model for leading a hybrid team is quite difficult. There are some guidelines, best practices, and tried-and-true advice, collected through experience. That can help anyone responsible for managing a team in a hybrid work environment.
Read here more about the hybrid work model and how it can benefit you or your company.
How do hybrid teams work?
Well, this depends entirely on the type of hybrid working model a team is implementing. Although there are many variations, two are the most popular ones.
A very frequent hybrid team is the one where some team members are located in the office, while others become remote staff. In that case, all of the meetings, tasks, and other obligations that are assigned to everyone are done remotely. It required a lot of video conferencing, and it sometimes feels like it's a virtual team and not a hybrid one.
Nevertheless, these kinds of teams can show very promising results. Later in the article, we will talk more about ways to achieve this.
On the other hand, you could be part of a hybrid team that has chosen to sometimes work remotely and sometimes come to the office. Due to limited capacity, the schedules are being created ahead of time.
That way everyone is aware of the availability of both colleagues and spaces. In this setup, the entire team enjoys the best of both worlds. There are fewer Zoom video calls, but there is still some commute and accompanying expenses.
What are the pros of working in a hybrid team?
Both remote working and working in the office have their good and bad sides. The idea behind the popularity of the hybrid work model is mostly due to the premise that an employee can get the best of both worlds. Regardless of which variety a company chooses to implement, any employee can enjoy the perks and thus foster a better work-life balance.
It is also important to notice that flexible work is now a crucial benefit a company has to offer. The world after Covid 19 has definitely been changed. Employees now have to worry much more about child care, online schools, their own health conditions, or taking care of sick loved ones. Their stress levels are alarmingly high before they even began working. All of these impacts team culture, and ultimately impact performance.
Employes that are being offered a working model that suits their needs best are shown to have much higher employee engagement rates. It does not matter whether they've chosen remote work or onsite offices. What matters is that they have a choice. Simply put, they are invested much more in the company that shows empathy towards their employees, and they reward it with loyalty.
Many remote work benefits can easily be applied here. Cost savings? Wider talent pool? Increase in output? All of that, and much more are also benefits of hybrid work.
To sum up, here are the most important benefits of hybrid teams:
Flexible working conditions
Improved work-life balance
Higher employee engagement
Wider talent pool
Cost-effective model of working
What are the cons of a hybrid team?
There is no working model that is absolutely perfect with no downsides. The hybrid model is no exception. Hybrid teams don't have to deal with the same obstacles as remote workers do, but they do face their own set of challenges.
Remote employees vs onsite team members
One of the most important cons of a hybrid team is inequality. It isn't impossible to achieve fairness amongst remote team members, and the ones that have chosen to stay in the office. However, it is pretty difficult. The biggest issues are almost always with offered benefits, as well as with opportunities for promotion and development.
Communication challenges and information sharing
Another notable downside is communication. With some team members only present on Slack and others sharing the same workspace, a lot can get lost in translation. Even when policies and procedures have been implemented in terms of information sharing. It's quite easy for important data to fall through the cracks. It requires a lot of teamwork to diminish the consequences of a hybrid working model.
Hybrid team culture
When you have employees whose workdays seem so different, it is challenging to build a strong culture. This is another potential downside of a hybrid team. With a team whose some members are present, while others always participate through video conferences, forming strong bonds doesn't seem feasible. We won't downplay it, it is a mighty difficult achievement. Read on to learn how your hybrid team-buildings effort can lead to your desired outcome.
To sum up, the three biggest disadvantages of a hybrid team are:
Fair treatment and resolving inequality
Communication challenges and information sharing
Building a strong hybrid team and culture
How to successfully manage a hybrid team?
Hybrid teams don't simply copy the leadership techniques of their remote and in-office counterparts. Their uniqueness also means they come with their own set of benefits, challenges, and instructions. Luckily, most of the issues faced when working in a hybrid work environment are entirely solvable.
Establish a remote-first policy
When you work in a hybrid team and everyone has their own perspective, it is difficult to set a norm. Too much flexibility can make it difficult for tasks to be done on time. This is why some structures, rules, and regulations can benefit your hybrid working model. To being with, let remote-first be your team's policy. What does this mean?
Well, remote-first means that everything your team needs to do can be done remotely. Tasks, project management, team meetings, procedure workflows, etc. This will probably entail a lot of practice in virtual meetings, screen sharing, Slack messaging, and project management kanban boards. But it is the best way for operations to run smoothly even if employees are frequently changing their choices.
Work on your empathy and inclusion
According to an article about hybrid teams published in Harvard Business Review, the stress that employees are now facing is at an all-time high. Having in mind what has happened during the last two years, it definitely isn't a surprise. Business leaders need to show more than just business acumen. At the end of the day, they work with people, and those people need empathy.
This is especially true in situations such as the one that often happens in a hybrid team - someone feels left out. It is a manager's job to take care of their employees, regardless of where they work. This issue can also be seen as an opportunity - to improve employee engagement, work on employee mental health, and improve work-life balance.
It doesn't have to be anything too complicated nor pricy. Start with work-related tasks and issues, and move on to more fun ones. A virtual happy hour, Hogwarts sorting tournament, trivia quiz… All of those are bonding activities that can foster collaboration, bonding, and inclusion. At the end of the day, a team that is closer will work better, no matter where they work from.
Set clear expectations for everyone
The best remedy to issues caused by flexibility and perceived inequality is to set expectations. Every employee needs to know and to be frequently reminded, what is the psychological, or literal agreement, reward or consequence.
Make sure that all of these expectations are available to every team member. You should also frequently go back to them, especially in times of crisis and misunderstandings. Include your employees in this expectation setting, and take into consideration all of their concerns or wishes.
Do frequent check-ins and feedback sessions
We've already mentioned that a lot can be overlooked when working in a hybrid team. It is a leader's role to stay on top of it all and to keep track of how their employees are feeling, in real-time.
This is why it is necessary to implement not only team-wide feedback sessions but also to work one on one with your team members. This is a challenge many face in remote work as well.
The best way to overcome it is to make sure it never happens in the first place.
Modify team members' performance evaluations
Handling communication struggles and inequality often present in hybrid teams can be done through real-time constructive feedback and leadership meetings. But the best way to ensure it doesn't even happen is to modify the way you evaluate performance.
Post-pandemic, it has become painfully obvious that metrics we've used so far have to be retired. New ones need to be implemented, the ones that will have a better grasp on employee loyalty, productiveness, contribution, and innovational capacity.
Hybrid work has the potential to introduce many crucial improvements - for entire teams, first and foremost, but also to wider work environments, markets, and the business world in general.
How to work in a hybrid workplace
Now that you're aware of what companies can do to implement a hybrid working model, we can discuss this topic from the employee's point of view as well. If you are one of many workers who, according to the Gallup survey, are not interested in going back to the office full time, then you will probably need these tips. The hybrid model can significantly improve your workday, but let's make sure you are really putting it to good use.
These are some of the necessary tips for anyone becoming a part of the hybrid model:
Choose a hybrid working model that works best for you - regardless of your environment
Improve your tech skills and knowledge about various communicational tools and programs (Microsoft's Team, Zoom, Slack...)
Practice separating your working time and your time off the clock in order to sharpen your focus if you opt for remote working
Don't assume anything when working with your team members and double-check when you are unsure
Communicate your needs frequently, clearly, and in real-time - to both your coworkers and your superiors
Hybrid teams can very well be the future of work, but there is still so much more we have to learn about them.
We believe we've summed up all of the crucial information anyone interested in a hybrid working model might need. As more and more companies turn to hybrid work environments, we will be able to learn more and continue implementing best case practices and improving this methodology.