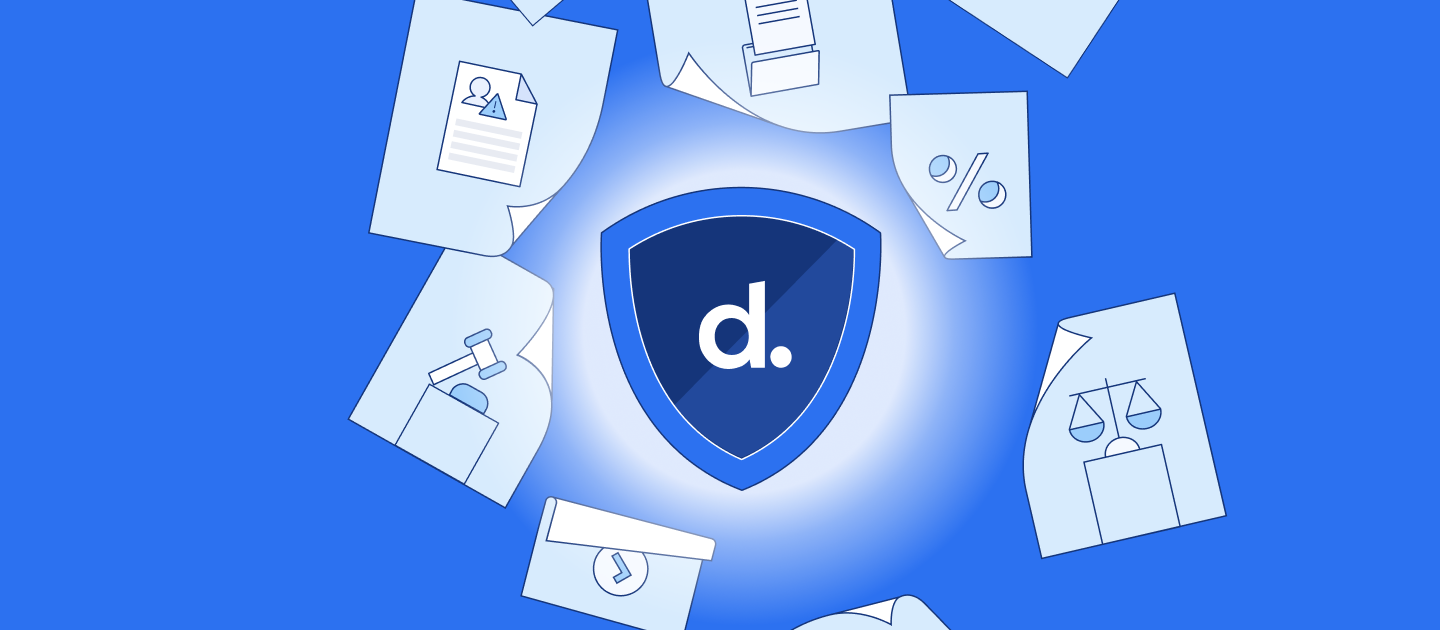 Fend off misclassification risks with our newest solution, Deel Shield
Our new product, Deel Shield, is the most secure level of contractor compliance, allowing you to unlock global hiring with zero misclassification risks and liability.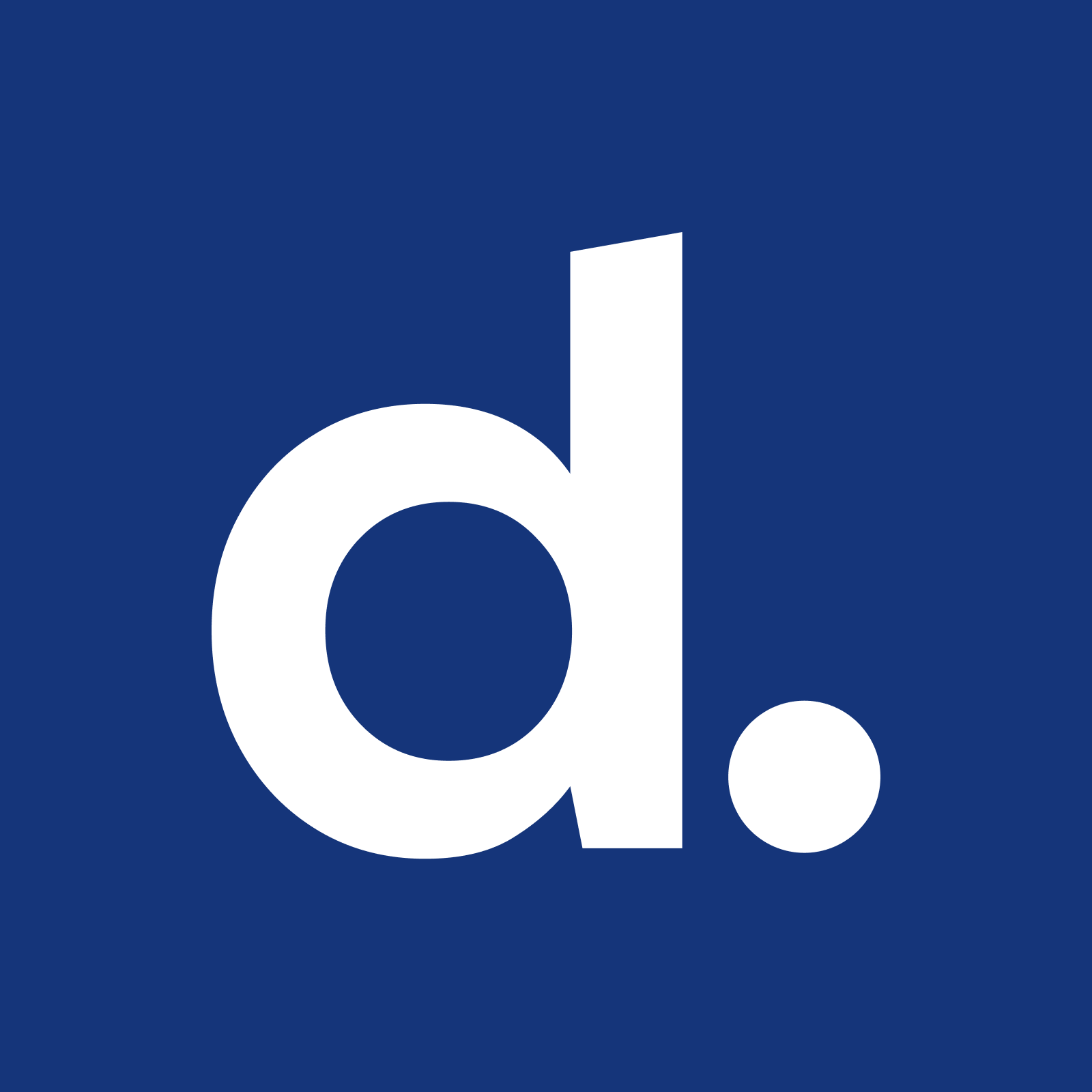 Written by Deel Team
September 8, 2022
Hiring an independent contractor is one of the quickest, easiest, and most cost-effective ways for businesses to start building an international team. But global compliance issues are still a significant barrier to tapping into a truly global talent marketplace.
Our new product, Deel Shield, is the most secure level of contractor compliance, allowing you to unlock global hiring with zero misclassification risks and liability. Deel takes on the complete responsibility by hiring a contractor on your behalf, so your business can:
Scale hiring efforts without any risk of misclassification penalties with full access to a contractor's work, documentation, and invoices
Save hours going through local legislation and classification tests to classify a new hire correctly.
Provide contractors with exceptional remote working experience—advanced payments, multi-currency withdrawals, perks, and more.


What's misclassification?
Misclassifying an employee as an independent contractor is one of the most common employment-related mistakes, let alone international employment. Countries have different definitions of employees and contractors for employment law and taxation purposes. When a business hires a worker, they must classify the worker appropriately, use proper documentation, and follow all applicable laws.

Classification isn't always straightforward. Not only do local laws vary, but these laws also change over time. That means you need up-to-the-minute information to stay compliant.
For most businesses, Deel's airtight contracts and advanced compliance features are all you need to start hiring abroad. But for those looking to eliminate any possibility of misclassification and liability—we've built Deel Shield. It's our most secure level of contractor hiring to protect 100% from misclassification risks.
How does it work?
Deel hires contractors on your behalf, taking on all employment liability.

We use a worker classification questionnaire and the help of local experts to review, correctly classify, and hire a contractor based on location, job description, and work setup.

If the business relationship between your company and contractor is not eligible for Deel Shield, we will suggest our available EOR solutions.

We'll handle all onboarding and HR admin, which includes creating compliant localized contracts and collecting all documentation needed to start working.

Once set up, the client and contractor can access one platform to manage documentation, time off, automatic invoicing, payment approvals, and more.

Is Deel Shield right for my company?
Get in touch, and we'll work to better understand your hiring goals and needs to determine the right fit for you. Here's a quick overview of our contractor compliance products and their differences.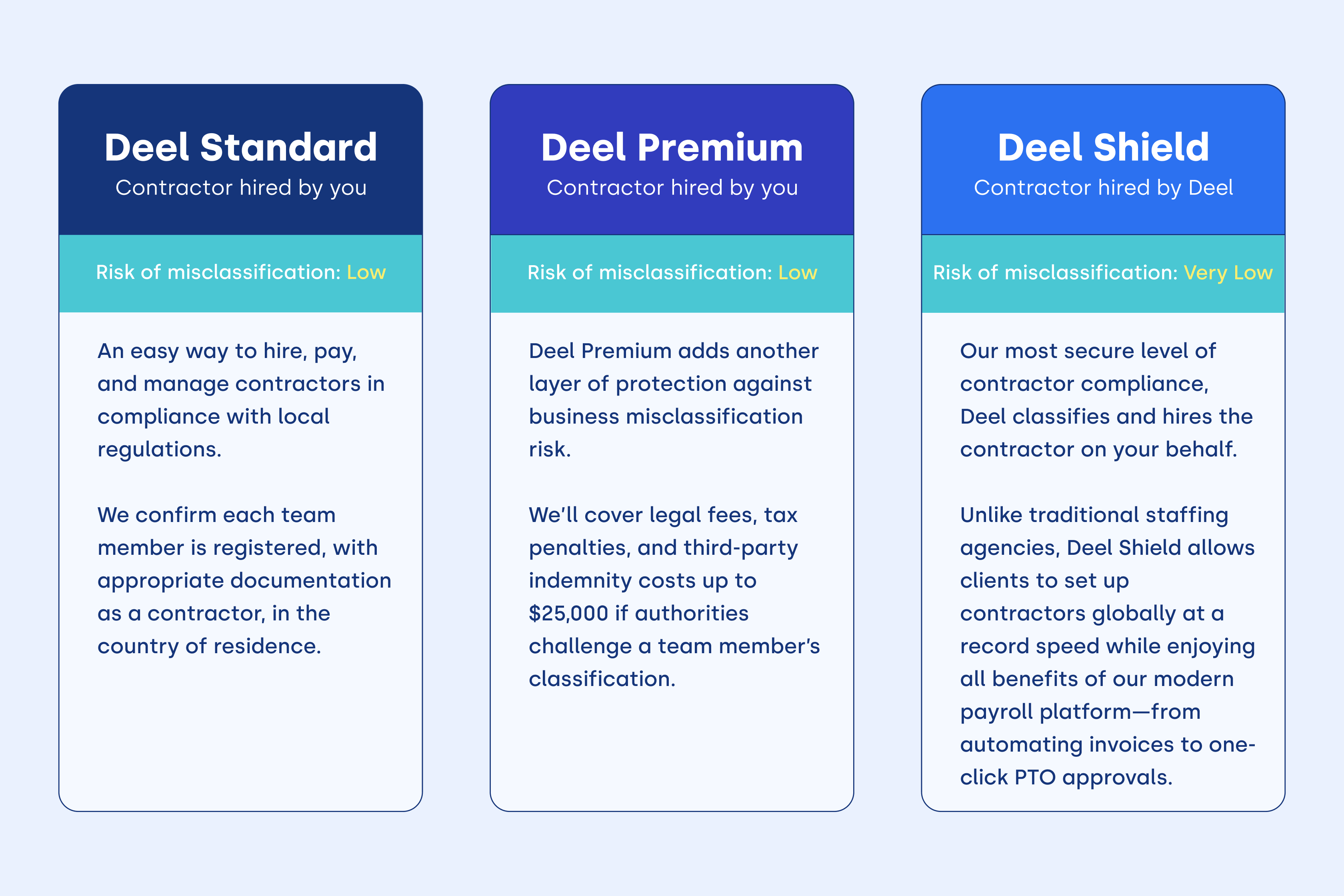 Deel Shield is Deel's most secure level of contractor management. At its core, it's the simple concept of classifying and hiring a contractor using third-party services, also known as Agent of Record (AOR). However, most are traditional staffing agencies, leading to longer setup times, higher fees, and time-intensive management, which often includes manual approvals and inconsistent reporting.

Deel Shield takes traditional contractor hiring to a new level allowing clients to hire and manage contractors globally using Deel entities at record speed (up to 7 days) with zero misclassification risks.
| | | |
| --- | --- | --- |
| | Deel Shield | Agent of Record (AORs) |
| Hiring entity | Deel | Partner network |
| Contractor compliance | ✅ | ✅ |
| Contract customization | ✅ | ❌ |
| Set up speed | up to 7 days | 14+ days |
| Access to the platform | ✅ | ❌ |
| Contractor experience | ✅ | ❌ |
Ready to grow your global team without ever risking misclassification?
Book a meeting with one of our experts to explore if Deel Shield is the right solution for your company.