Global Mobility in 2023: 3 Key Trends and Predictions
Global mobility in 2023 is evolving to become worker-led, fully integrated, and legally reformed. Discover what these changes mean for your organization.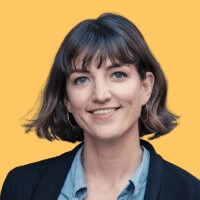 Written by Jemima Owen-Jones
October 12, 2022
Contents
Need help onboarding international talent?

Try Deel
Key takeaways
Global mobility has evolved to mean a company's ability to support a global workforce, fulfill workers' preferences, and win the war on talent.
Organizations must keep pace with innovative ways to attract, retain, employ, and deploy top talent seamlessly in a competitive marketplace.
Deel is everything you need to scale a global team. It's global hiring, HR and payroll rolled into one.
The future of work will not rest on remote work alone. As the international marketplace opens up again following the pandemic, we are seeing a rise in mobility in physical terms.
To ensure companies future-proof their approach to global mobility, they have two options:
Build an internal mobility department: Organizations with sufficient resources can hire global mobility consultants or train existing team members to navigate global mobility policy, immigration legislation, and cross-border compliance in-house.
Partner with a global-first hiring, HR, and payroll platform: Organizations looking for a one-stop shop global mobility solution can partner with Deel and make use of specialist global mobility teams equipped to take care of international employment contracts, visa procurement, relocation logistics, employment law, immigration requirements, global mobility tax, global payroll, mandatory benefits, and global talent management and compliance.

Below we explore some current and future global mobility trends and how you can prepare.
What is global mobility?
Traditionally, global mobility meant a company's efficiency in moving employees to different countries as expatriates or for business trips and assignments. Today, global mobility has evolved to mean a company's ability to support a global workforce, fulfill workers' preferences, and win the war on talent.

Global mobility as a strategy for business success helps to:
Match talent supply to business demand
Tap into new markets and talent pools to close skill gaps
Keep workers engaged and improve retention
Develop workforce agility and the ability to pivot during market volatility and disruption
Drive diversity, equity, and inclusion (DEI) initiatives, promoting new ideas and perspectives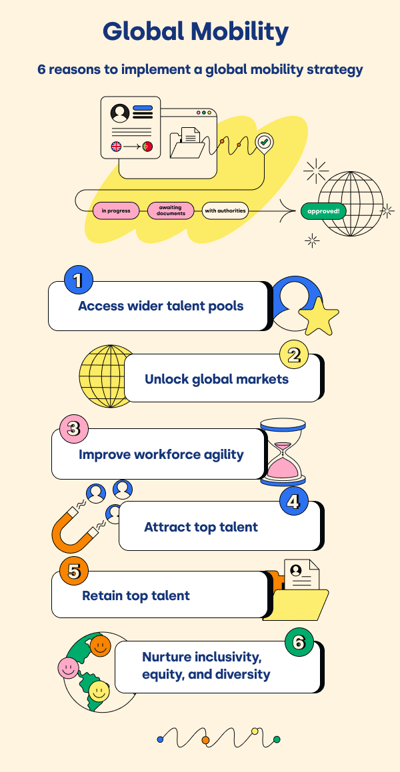 In a very connected world, especially in this post-pandemic world, there is no room anymore not to think globally or at least be directly influenced by global trends. This also means that talents are everywhere, and embracing global mobility means embracing the potential of the world, the opportunity to work from different countries, hire employees everywhere, and not be limited to physical locations anymore.
Masha Sutherlin, Director of Global Corporate Legal and Mobility, Deel
1. The future of global mobility is worker-led and experience-driven
The global mobility industry is redefining the employee experience. Companies must transition from a paternalistic approach to global mobility to a worker-empowered approach to capture and retain the best talent and fulfill international business objectives.

Mobile, tech-savvy, and flexible millennials represent an ever-growing part of the global workforce. This new generation of workers will foster greater global mobility and allow companies to relocate employees more efficiently and at a lower cost than traditional expatriates.

However, millennials have different prerequisites and expectations from the traditional workforce. They typically view their careers as portable and fluid and prioritize lifestyle and personal development opportunities over static roles, linear career progression, and corporate ladders.

A mobile worker might pick a mobility program based on the following factors:
Direct career opportunities
Intensive learning experience
Involvement in location-based operations and critical projects
Financial benefits, e.g., higher pay, saving opportunities, tax obligations
Higher quality of living
Integration into local life
The ability to contribute to local society
Personal family considerations


Long, static mobility programs that offer little cultural exposure, career growth, or work-life balance are likely to be disregarded.
Global mobility used to be for c-suite or leadership-level folks to be sent on assignment or relocated. Over time, it has been democratized and opened up to everyone, including new grads, contractors, and nomads. It is no longer a traditional assignment but more fluid and open. Global mobility has evolved from very standard packaged offerings to a more customized experience based on an individual's needs.
Masha Sutherlin, Director of Global Corporate Legal and Mobility, Deel
Solution: Design a holistic mobility program that prioritizes worker experience
Companies must design holistic global mobility programs that align with workers' career and lifestyle goals and foster excellent employee experiences. When designing your mobility program, you should plan the entire employee journey to ensure employees remain engaged and invested. Consider the following:

Location risk assessments: Before relocating workers, companies should ensure that the destination is safe and appropriate for the worker.

Cultural assimilation and adaptation training: Companies should facilitate a smooth relocation process and transition from one culture and assignment to another.

Financial security: Companies should design and adjust compensation structures to consider exchange rates, cost of living differences, travel compensation, and pay rises.
Check out The Remote Team's Guide to Employee Compensation Strategies.

Flexible benefits: Instead of standardized expatriate packages, companies should provide flexible cafeteria-style benefits and allowances that enable workers to choose what's relevant to maintain their specific lifestyle, help them stay mobile, and support their families.
Learn more: Global Employee Benefits Guide: Offer a Competitive and Compliant Package
24/7 support: To ensure the health, safety, and well-being of mobile workers, companies should provide 24/7 support via mobile apps, chatbots, and self-service solutions.

Monitoring: Companies should monitor their workers' movements to ensure they remain compliant as they move between jurisdictions and arrange repatriation if necessary.

Education: Mobile employees require financial and tax education to help them make informed decisions that can help them remain compliant, save money, and plan for their future.

Data management: Companies should collect, consolidate and disseminate mobility data using real-time reporting systems to flag issues and inform future global mobility strategies.

Policy development: Companies should continue to revise and update their internal policies to support mobile workers, providing greater flexible working arrangements based on the distinction between core, non-negotiable features and items adapted to local circumstances.

Deel can enhance your workers' experience by providing the following:
Smooth remote onboarding
Localized employment benefits and contractor perks
Flexible payment and withdrawal methods
Engagement tools to support productivity, culture, and collaboration
24/7 support from mobility professionals via live chat and web form requests


Discover 5 Ways an EOR Can Improve Your International Employee Experience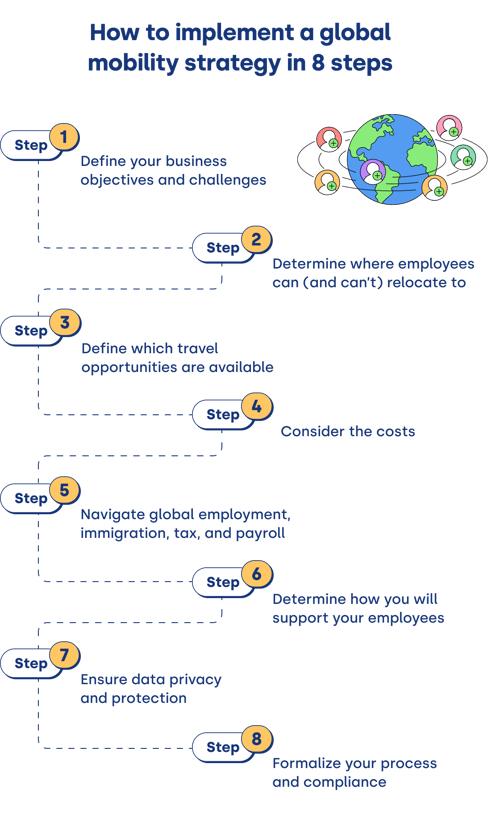 2. The future of global mobility relies on integrated talent management
Companies must develop an integrated approach to global talent management to efficiently hire and deploy talent, uphold a duty of care, and track and improve the progress of their mobility programs.

In the past, talent mobility involved a multinational corporation relocating employees or assignees to new locations for international assignments. Today, talent mobility depends on an ever-expanding group of virtual and remote workers and travelers with different mobility needs.

Modern workforces comprise a variety of mobile workers:
Third-country workers: A worker hired in a country outside the corporate headquarters and their home country
New movers: Employees who want to relocate to a new country of their choosing
Digital nomads: Workers that want to take their work with them as they move from country to country
International gig workers: Independent contractors, contract firm workers, on-call workers, and temporary workers that want to pick up work and fulfill roles in different countries of their choosing
Frequent flyers: Employees that need to complete regular and extended business travel to different countries
Commuters: Employees that want to live in the country of their choice and frequently commute to the host country

These workers add significant value to a company's global mobility, yet few HR teams can track and manage such complex movements. This inexperience can present various company challenges from an employee experience, compliance, and cost perspective.
Solution: Adopt a global-first HR platform built to scale with your business
Companies that can coordinate mobile workers across teams and geographies using a single integrated digital ecosystem will have the best chance of supporting a mobile workforce and avoiding compliance issues and disruptions.

With Deel, you can manage your entire global workforce via one central hub: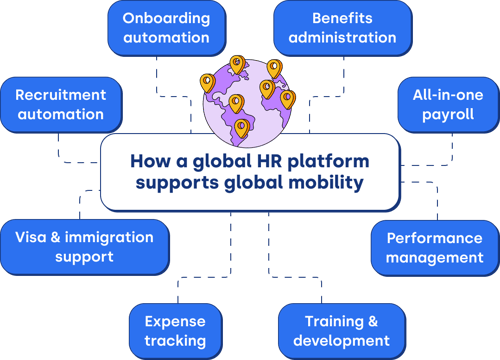 Overall, Deel saves us around two to four months to hire and relocate in any country where we don't own an entity. Through Deel, we've been able to hire more than 150 people so far, and we have also relocated more than 10 employees to countries like the UAE and Switzerland.
Luka Besling, HR Manager, Revolut
3. The future of global mobility is legally reformed
Mobility leaders recommend that companies stay abreast of the latest legal and regulatory developments to remain compliant and efficient in the future of work.

Modern mobility demands the ability to move people and things to places effortlessly. However, the current mobility process is process-heavy, cost-prohibitive, and complicated with unnecessary bureaucracy and inefficient loops with intermediaries.

Fortunately, global mobility is driving a sea change in today's legal and regulatory environment. This change is forcing governments to rapidly create, modify, and enforce new regulations and initiatives to reform visa processing, work permits, international tax compliance, and much more.

Keeping tabs on these developments at a global level requires continuous education, research, and monitoring of regulatory agency websites.
Solution: Partner with a pioneering immigration team, shaping the future of mobility
Organizations like Deel comprise teams of legal experts trained to stay current on the latest international employment laws and regulations to ensure your global workforce can navigate the global mobility landscape with greater confidence and ease.

Whether you'd like to move team members to your office headquarters or empower employees to work anywhere, our immigration experts have a solution. We can help with immigration for employees hired through your own entities or hire and sponsor workers on your behalf through our EOR model.
We are investing in building specifically for immigration and mobility products at Deel. You'll be able to go in and figure out whether or not you are eligible for a visa quite soon on your own. You wouldn't need us. I love automating myself out of a job. That's the whole point. And so I think there's just so much there that we can improve on, automate, make easier, speak a normal human language.
Masha Sutherlin, Director of Global Corporate Legal and Mobility, Deel

Unlock your global potential with Deel
Workplace mobility holds the power to create great international employee experiences and bring you closer to your ideal business outcomes—but it's a complex process to navigate alone.

Deel's global platform combines mobility, talent, and human resources management to attract the best workers, provide the right experience, and help your company remain compliant so your business and workforce can thrive in the future of work.

Learn how Deel makes global mobility simple, and book 30 minutes with a product expert to get your questions answered.