How Telin cut onboarding time and expanded globally with Deel
Industry
Telecommunications
Empowering People Through Technology
Telin is an international telecommunications service provider based in Jakarta, Indonesia. A subsidiary of PT. Telekomunikasi Indonesia, Telin serves over 200 million customers with its extensive suite of premium international carrier voice, data services, and business solutions.

Telin is committed to driving digital transformation and innovation projects in Indonesia, Timor Leste, Singapore, Hong Kong, Australia, Malaysia, Philippines, Taiwan, the United Kingdom, the United States, the United Arab Emirates, and Myanmar.
The Need for Efficiency to Scale Fast
As Telin aimed to continue growing—with a goal of scaling in 15 new international markets—they needed a solution that would help them test new markets quickly without losing the time and money required to open a new entity in each market.

With prior experience in establishing foreign entities, the team at Telin knew the setup and fees would be extensive and require legal and HR diligence. They needed to avoid the months-long processing time for each new market.
The team was also hoping to find a solution that gave them a single overview of their entire international workforce. They needed a solution that handled everything from onboarding documents and benefits to productivity and payroll, all while ensuring compliance. That's where Deel came in.
New markets, low risk, low cost
Since shifting to Deel, Telin has grown its local business development and sales teams to test each new market without compliance risks or the strain of opening its own entity.

With Deel, they've scaled in countries with a small footprint, allowing them to test new markets without betting big. "The cost and time savings for Telin's business have been significant by using Deel" explained Doni Adriansyah, Chief of Finance and Risk Management Officer.

Telin has enjoyed the flexibility of entering various markets, "We have the flexibility to enter various markets, with relevancy risks mitigated and market testing conducted beforehand," said Ariansyah.
A whole global team in one place
With Deel, Telin can view their whole international workforce so they're confident their team gets paid, employed, and serviced correctly and compliantly in their own countries and time zones. Wayan Damayant, Telin's Human Capital Specialist, explained regarding HR and days of leave, "The Deel platform eliminates the need for time-consuming back-and-forth between employees".Their team has been able to cut the onboarding process from weeks to days with Deel.

"The intangible value is using Deel to handle all the compliance aspects of hiring and operating payroll processes around the world," Damayant said, 'It has saved Telin considerable time compared to if we handled it ourselves."
New Products to Reap Greater Benefits
After a year of using Deel's services Telin is exploring new features such as Deel's HRIS system, and is looking to future expansion in new European markets.


Deel features they Love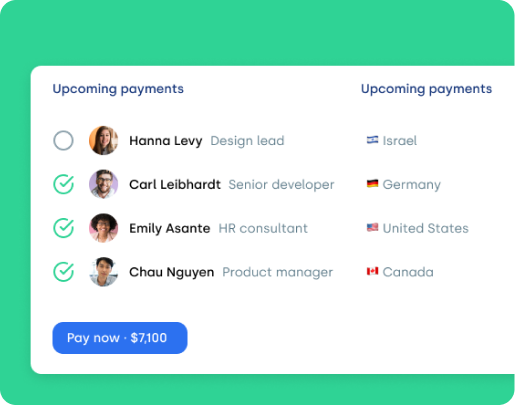 Easily manage payroll
"I'm in finance so I love the billing details and historical reporting. We can now easily manage payroll because I can see exactly when each payment is made. In addition, I can monitor vital metrics like analytics and tax form compliance," said Doni Andriansyah, Chief of Finance and Risk Management Officer, Telin

Learn more
Deel makes growing remote and international teams effortless. Ready to get started?