How Deel enabled Yodo1 to save 100+ hours and spearhead the future of work
40+
Transactions reduction to just one
Meet Yodo1
Mobile game company Yodo1 helps studios to simplify their games' growth—from optimizing in-game economies to publishing and distributing hit indie games worldwide, and connecting developers with some of the biggest brands and IPs in entertainment for exclusive crossover events. They enable creators to build the best possible game experience by making it easy to fuel growth throughout the game's lifecycle.
A trusted partner to iconic brands and games such as Hasbro, Sanrio, Top War, and many of Hollywood's biggest studios, the company has published several popular titles, including Rodeo Stampede, Crossy Road, and Transformers: Earth Wars. In 2023, Yodo1 was named one of the top 30 companies for remote work by Forbes.
From traditional to fully remote, embracing a new world of work
When the pandemic struck and work was disrupted around the world, Yodo1's leadership team chose to double down on this revolutionary new era of remote working.
This required finding innovative methods for hiring, onboarding, and paying people in over 30 countries while remaining true to their core values. Determined not to let a global crisis define them, but instead join the growing movement to open up more opportunities for career growth regardless of location through flexible workplace models, they closed their Beijing headquarters and went fully remote.
For the first year, Yodo1 experimented with a costly EOR solution. But, after discovering how much easier and more cost-effective it was to partner with Deel, they made the switch in year two and haven't looked back. They were even able to simplify payroll with Deel's contractor support—an unexpected feature that has saved them countless hours each month on repetitive paperwork and payroll processing.
"We started out looking for a solution to one specific problem," said Flo Alcasas, Head of People & Remote. "But what we ended up finding in Deel was a partner that was not only able to address our original set of needs but actually helped us address several additional challenges, all within a single platform. It really couldn't have worked out better."
In addition to the cost-savings and efficiencies this partnership has unlocked, as a technology company, Yodo1 was drawn to Deel's modern platform. Compared to alternatives the team evaluated, they said Deel's UI / UX design felt much more intuitive and provided a smoother, more quick-to-use experience, while the company's sustained growth helped them feel confident in their choice to partner together on their shared mission to redefine the way we work.
Saved 100+ hours by eliminating repetitive manual tasks
Today, Yodo1 manages payments for one-third of its people through Deel, spread across 30+ countries. Before Deel, each payment for these workers was handled manually one by one.
"Before making the switch, every single contract had to be typed out in a word processor, exported to pdf, and processed through a third-party e-signature platform. Then all of that data was manually factored into our regular payroll," said Alcasas. "Now, when we sign in to Deel, we can quickly and easily create or sign documents and manage all of our international contracts and payments in just one place. Since launching with Deel, we've easily saved more than 100 work hours by streamlining repetitive or redundant tasks for our HR and Finance teams."
As Yodo1 rapidly scales its global operations and solidifies its spot as one of the leading growth partners for the world's top brands and mobile game developers, Deel's hiring setup will continue to play a key role. "Having an audit-proof payroll setup is incredibly important for us, and it's a relief to know that our growing international payroll doesn't have to rely on one person making bank transfers," said Alcasas.
Keeping a global workforce happy—and paid— from anywhere
It's no secret Deel has garnered high praise from HR and finance teams at Yodo1, but they aren't the only ones singing its praises. These days, a growing number of people hired, onboarded, and paid through the platform are raving about its intuitive interface, hassle-free payment withdrawals, and efficient onboarding process. At Yodo1, you can choose to be in New York City one month and the middle of the Australian outback the next—but, no matter where you choose to be, Deel makes it possible for everyone to get paid on time with unparalleled ease.
"I hear all the time from our people that Deel is hands-down the fastest way they've ever been paid when working remotely," said Alcasas. "One of the comments I hear most often is how easy it is to receive and withdraw funds in so many currencies. We also have people taking advantage of the many perks and other unique offerings such as the Deel debit card and Deel Advance," said Alcasas.
In the future, Yodo1 is eager and excited to continue its partnership with Deel and explore the possibility of Visa support to further enable its global teams to work, play, and live wherever they choose to travel or call home.
Deel features they Love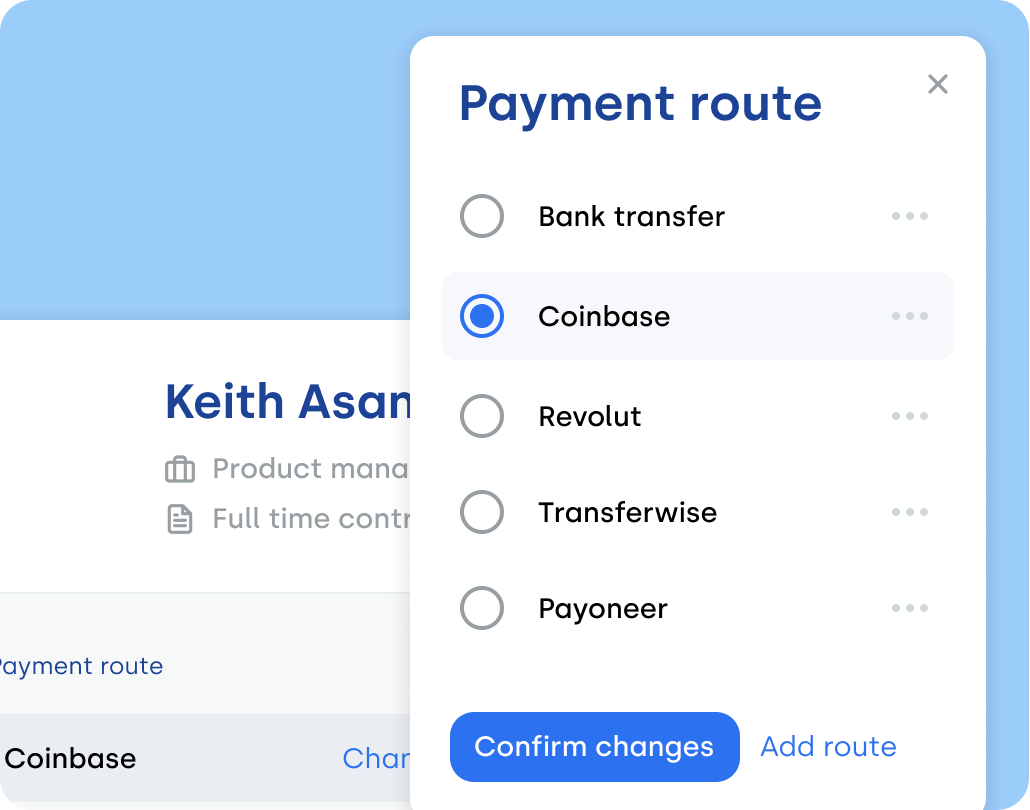 Withdrawal options
Yodo1 teams appreciate the number of withdrawal options they have thanks to Deel
Automation
The possibility of cutting down the human error and handling multiple types of contracts and payment options simultaneously.
Deel makes growing remote and international teams effortless. Ready to get started?