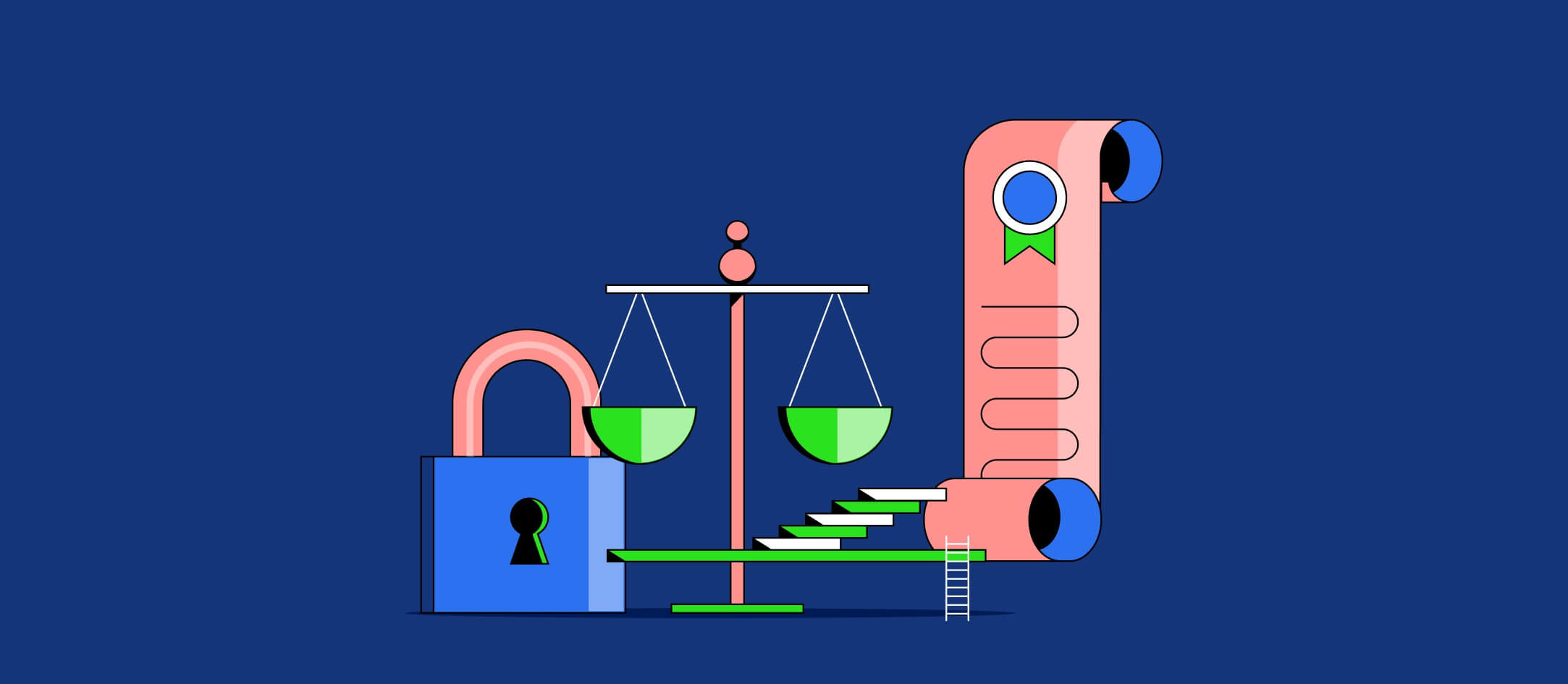 What is IRS Form 1099-NEC: Everything You Need to Know for 2022
The 1099-NEC Form is back. Here's why it's replacing 1099-MISC forms for reporting non-employee payments, and how to file one for the upcoming tax season.

Written by Owen Yin
January 11, 2022
Contents
Need help onboarding international talent?

Try Deel
Lots of things are making a comeback these days. Like Space Jam and oversized accessories. And also... tax forms?
Form 1099-NEC was retired back in 1982, but the IRS has rebooted it with a fresh new look for taxpayers with self-employment income. This form replaces 1099-MISC forms for reporting payments to non-employees. Whether you're an independent contractor or an employer who hired one, grab your circa-1980s Top Gun aviators and read on for what's new.
Essential takeaways
Businesses file a 1099-NEC to report payments

to non-employees like independent contractors

The deadline to mail or e-file 1099s to the IRS for the 2021 tax year is January 31, 2022
Who needs to use IRS Form 1099-NEC?
1099-NEC is used to report any form of nonemployee compensation above $600. This umbrella term stands for every independent contractor, freelancer, and any other self-employed individual who performed any kind of paid service for a client. In other words, any business that paid more than $600 to a particular contractor in a tax year will need to file a 1099-NEC for that contractor.
Just like how employer issues a W-2 form for payments to employees, the 1099-NEC is to report payments to non-employees. It is also used for commissions made to non-employee salespeople. Contractor work is usually contract-based and for projects with a set period of time or a particular, recurring assignment.
As an example, if you own a restaurant, you would provide a form W-2 for each of your cooks, waiters, cleaning staff, and others on your payroll. But if you have an accountant working out of their own firm or if you hired a graphic designer to do your logo, you'll file a 1099-MISC as a payer.
Form 1099-NECs are filed at the beginning of each new year, for payments made in the prior year.
In addition to this, clients are required to fill out this form for any service provider for whom they withheld federal income tax under backup withholding rules of any amount (the $600 threshold does not apply).
New changes for 2022
The IRS made revisions to the 1099-NEC in January 2022.
1099-NECs are now designed for "continuous use", meaning you can use the current template for future years (until revisions are made as needed). Originally the IRS would release a new version each year.
The size of the slip has been shrunk slightly so you can fit three slips onto one sheet of paper.
Businesses reporting cash payments of purchases of fish for resale purposes used Box 1 of the 1099-NEC. Starting in the 2021 tax year, these payments need to be reported in

Box 11

of the 1099-MISC instead.
Business reporting sales of consumer products for resale

use Box 7 of the 1099-MISC. Starting in the 2021 tax year, payments can be reported on a 1099-NEC if they check Box 2.

The box for reporting the FATCA filing requirement (Foreign Account Tax Compliance Act) has been removed.
What was IRS Form 1099-MISC used for?
The "MISC" in 1099-MISC stands for miscellaneous income, so it's used as a place to record various payments such as rent, attorney, medicare, and healthcare payments greater than $600. One of the uses of this form was to report nonemployee compensation, that is, any type of paid work that wasn't performed by an employee.
Nonemployee compensation was recorded under Box 7 of the 1099-MISC. Clients were required to issue one to all of their payees who received $600 or more in a calendar year.
Why did the IRS decide to replace Form 1099-MISC for nonemployee compensation?
Form 1099-MISC ran into issues with due dates. Form 1099-MISC had two due dates - the end of February if filing by mail and March 31st if filing electronically.
However, these dates weren't aligned with another important form, the W-2 form (used to report employee compensation), which had a filing deadline at the end of January. This wide, two-month gap meant that the employee compensation was reported, filled, and taxed on a different schedule than nonemployee compensation. This caused a lot of confusion for filers and also left room for manipulation.
This was especially the case with fraudulent credit claims for the Earned Income Tax Credit (EIRC). So in 2015, the IRS took the first steps in revising the system, with the Protecting Americans from Tax Hikes Act (PATH Act). They moved the reporting deadline for just Box 7 to January, but that meant that the taxpayers had to report the same Form twice with different deadlines.
In the end, the best solution was to separate out 1099-MISC by re-introducing a new Form 1099-NEC in 2020.
Are there any exceptions to 1099-NEC I should know about?
There are a few misconceptions and common errors when it comes to filing Form 1099-NEC.
First of all, if your independent contractor is registered as a C corporation or an S corporation, you do not file a 1099-NEC for them. You can check their filing structure on the W-9 form they should have provided to you.
Second, never file a Form 1099-NEC for employees. The mistake of classifying your employee as an independent contractor is a common one, but a mistake nevertheless. The IRS doesn't take these cases lightly, so make sure you aren't misclassifying anyone that is on your employee payroll.
Third, the 1099-NEC is not used for filing personal payments. For example, if you paid a babysitter, you don't need to give them a 1099-NEC because the babysitting service was a personal expense, not a business expense related to your work.
A common mistake is filling attorney fees and gross proceeds under this form since they are someone who is providing you with a service but they are not your employee. However, they are a special category and they are still filled under Form 1099-MISC.
How to fill in IRS Form 1099-NEC
The 1099-NEC is completed by the business that hired and paid a non-employee. To obtain the necessary personal details of the independent contractor, the business will request a Form W-9 from the contractor, which will state their legal name, business entity, address, and most importantly their taxpayer identification number (ITIN).
Once the client has the W-9 they can complete the 1099-NEC. Each 1099-NEC is filled out with the same information on two copies - Copy A and Copy B.
How do I file Form 1099-NEC?
The business will file Copy A with the IRS and provide Copy B to the independent contractor. It is not the responsibility of the payee to file this form to the IRS, but they will use the copy to report that income on their own tax records.
Many states also require businesses to send a copy of the 1099-NEC to the state tax office as well. Check with your accountant to review the requirements.
You can file completed forms online or by mail.
To file online, the Internal Revenue Service uses the IRS Filing Information Returns Electronically (FIRE) system. You'll need to use a third-party software or filing service to generate the forms because the IRS doesn't accept scanned or manually-completed versions. If you're using Deel, you can generate and file 1099-NECs directly from the Taxes tab in your dashboard (here's how).
To file on paper, you'll need to request special scannable templates from the IRS.
What is the deadline for 1099-NEC?
The Form 1099-NEC due date is January 31st. For the 2021 tax year, that means the 1099-NEC needs to be filed on or before January 31, 2022, either electronically or by mail.
What are the fines for missing the filing deadline for Form 1099-NEC?
If you miss the filing deadline, the IRS may apply a late filing penalty. The fine ranges from $50 to $270 per form, depending on how late the forms are submitted. If you require a filing extension, you can request one by submitting Form 8809 (Application for Extension of Time To File Information Returns) to the IRS by January 31. Form 8809 can't be filed online and must be mailed.
How do I record a 1099-NEC on my return?
The independent contractor needs to report the income recorded on a 1099-NEC on their income tax return.
This self-employment income is generally recorded on Schedule C for sole proprietors, and on Schedule K-1 for partnerships.
You'll pay income tax and self-employment tax on this income, but remember to also claim your tax deductions for your business expenses.
What if I do not receive a 1099-NEC?
If an independent contractor received income from a client, they need to report that income on their tax return, even if a 1099-NEC is not provided. That means income under $600 still needs to be reported, even if it doesn't meet the threshold for a tax slip. For sole proprietors who file a Schedule C, include the income on Line 1 (Gross Receipts and Sales) along with any income that was accompanied with a 1099-NEC.
1099-NEC vs. 1099-MISC: What are the differences?
Beginning in 2020, Form 1099-NEC completely replaces Box 7 on Form 1099-MISC for reporting non-employee compensation.
Box 7 in the Form 1099-MISC will now be used to report direct sales of $5,000 or more.
If you want to get into the nitty-gritty details, we have a separate article on the differences between Form 1099-MISC and Form 1099-NEC.
When do you still need to use IRS Form 1099-MISC?
The renewed Form 1099-NEC only replaces one box on Form 1099-MISC, so everything else you use 1099-MISC for remains the same. That means that rents, attorney fees, crop insurance proceeds, proceeds from a fishing boat, and state-earned income still go under the 1099-MISC.
A note: If you have US contractors working for you from outside of the US, we've got you. From now on, Deel handles forms 1099 for this group of contractors, too! So, if your US independent contractors are living abroad, reach out to Deel to learn more about how you can handle their 1099 tax forms effortlessly.
Further reading: What is Form 1099-MISC and Who Needs It?
Disclaimer: This information is provided for informational purposes and should not be considered tax advice or a substitute for official IRS publications. Consult with an CPA accountant or tax professional for help.