Startup Contract Review Process: Everything You Should Know
A complex contract review process impedes your speed-to-hire and exposes you to compliance risk. Accelerate contract review with a global hiring platform.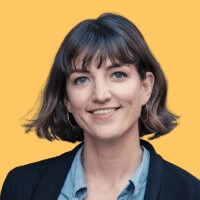 Written by Jemima Owen-Jones
June 8, 2023
Contents
Need help onboarding international talent?

Try Deel
Key takeaways
Contract review is essential to risk management, but it can be time-consuming and costly for startups needing to hire quickly and efficiently.
Startups should refrain from manual contract creation, contract templates, and the involvement of external legal teams, as this can result in errors, delays, and unnecessary expenses.
A global hiring platform with a built-in contract workflow is the most efficient way to streamline your contract review process and benefit from the expertise of legal experts in countries around the world.
There are many types of contracts in the business world, from sales contracts to partnership agreements to non-disclosure agreements. However, the most common contracts that form the foundation of your startup are those that enable you to hire workers.

Employment and contractor agreements are critical to the success of your startup in that they outline the terms of the business relationship and protect the company in case of liability claims, government audits, or disputes.

An error in a work contract could result in court cases, reputation damage, and fines for non-compliance, so reviewing your employment and contractor agreements (particularly if you create them yourself), is extremely important.

The problem with the contract review process is that it's often time-consuming and requires the attention of internal or external legal teams. Depending on the size and efficiency of these teams and the legal complexity of the country you're hiring, reviewing a single work contract could take anywhere from a few days to several weeks and cost you hundreds of dollars.

Throw in some last-minute contract negotiations, an adjustment to your company policy, and some legal and regulatory landscape changes, and you could be facing costly delays that significantly impede your startup's growth.

So how do you review contracts effectively?

Fortunately, startups have a few options to accelerate the contract review process and avoid bottlenecks. Before we explore these, let's cover some quick best practices when it comes to contracts:
Front-load the work during the contract creation stage
The key to streamlining your contract review process is front-loading the work during the contract-creation stage. If you have more confidence in your contracts from the start, they'll require a less in-depth review at the end.
Avoid manual contract creation and templates
To maximize the accuracy of your contracts, avoid manual contract drafting, as this leaves too much room for human error. Contract templates are also risky since every contract will require unique contract terms and conditions depending on where and whom you hire. Get it wrong once, and you'll replicate those errors throughout every contract you create.
Generate localized, compliant contracts in seconds
Our contracts comply with local laws in 150+ countries around the world. Focus on finding the perfect match for your team, we'll take care of the rest.



Option one: Use contract review software
Contract review software uses artificial intelligence to read and review contracts according to your company's legal standards and restrictions. The software flags any regulatory compliance concerns and provides a workflow of contract-related tasks so you can stay on top of the contract approval process as it moves between stages and departments.

The disadvantage of contract review software is:
Your startup must create the contract first
The software relies on your input of search terms and legal standards and restrictions to perform the review
Your internal or external legal department must manually implement any compliance concerns flagged by the software
Option two: Use contract management software
A contract management system helps businesses oversee the contract lifecycle from creation to review, renewal, and termination. You can create contracts based on specific criteria such as region, services, or price terms, collaborate with legal teams during the review process to reduce bottlenecks, use audit trails to track escalations if someone introduces an unapproved clause, and configure risk scores to detect when changing conditions could trigger non-compliance.

The disadvantage of the contract management process is:
It relies on template libraries to create the contracts
If you or your legal team are overrun with contract requests, this will impact the contract review process
It does not specialize in multi-country contracts, so it may not be suitable if you want to hire multiple international workers from different countries
It does not uphold global data security standards
Option three: Use a global-hiring platform with a built-in contract generation workflow
Global hiring platforms like Deel integrate contract generation and review into the hiring process, eradicating the need for external or in-house legal departments.

Unlike contract management software, global hiring platforms do not rely on templates or your input of key terms. When you create a contract on the global hiring platform, the intuitive contract workflow guides you through each aspect of the contract, providing specific directions per country requirements so you get it right from the start every time.

Every new contract you create on the platform is vetted by local legal experts, updated quarterly, and stored in line with the highest global security standards so you remain compliant wherever you hire. The platform will send you notifications if a contract is still awaiting signatures, is nearing contract renewal, or if the worker wants to resign or discontinue the work arrangement.
You can also convert contractors to employees and automate onboarding and offboarding.
Using the global hiring platform, you can:
Create employee or contractor agreements for direct hires:


Create EOR employee contracts to hire employees in countries and jurisdictions where you don't have a legal entity: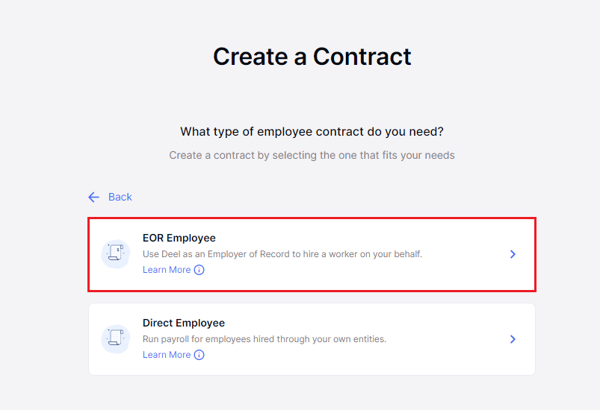 Classify contractors with Deel Shield to avoid misclassification:

View salary insights for different job roles and labor markets:
Request compliance documentation which new hires can upload via their self-serve dashboard:
Include non-disclosure agreements to protect your startup's intellectual property: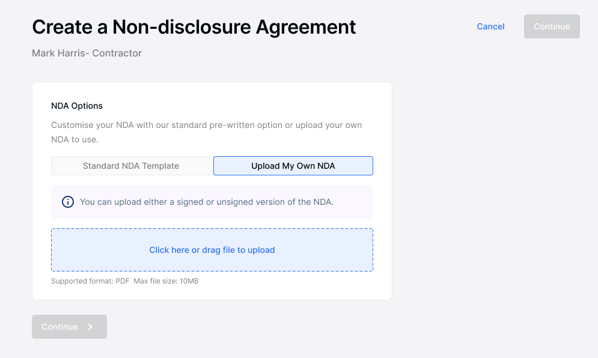 Automatically enroll your new hires into payroll:

Request visa procurement and immigration support:
Grant equity to employees and contractors: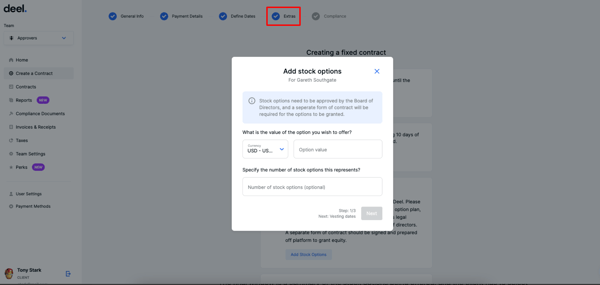 Administer mandatory benefits depending on the country:

Provision equipment and coworking space memberships: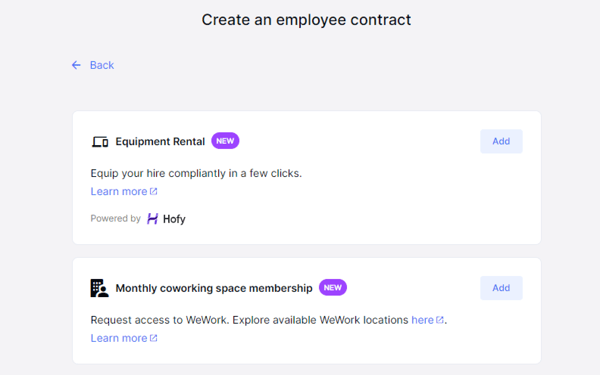 Invite the new hire to provide their e-signature: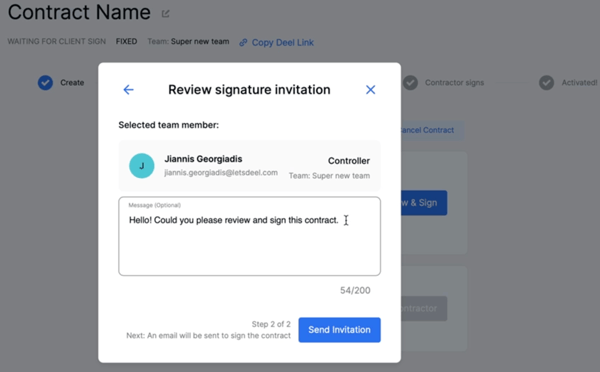 Make quick updates, edits, and revisions to contracts: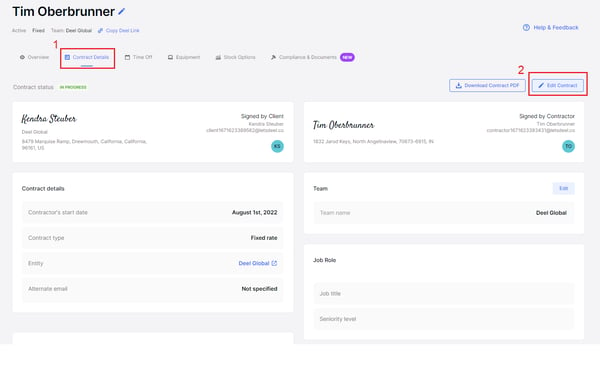 Terminate work contracts: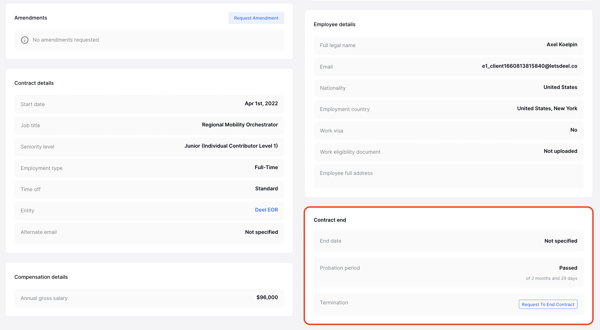 When we came to understand the importance that Deel places on individual country laws and making sure that contracts are structured in the right way, they really stood out.
Sudarshan Sivaraman, Head of Customer Success and Sales, Turing
Create legal contracts in real-time with Deel
Whether you're an early-stage startup dipping your toes into the labor market, or a large company making your 500th hire, compliance is a critical factor to the continued success of your business.

When you create work contracts through Deel, compliance is pre-baked into our intuitive hiring platform, making contract creation straightforward and efficient. With the support of automation and the best legal experts in countries worldwide, startup founders can rest assured knowing every single contract is legitimate, up-to-date, and compliant with local laws and regulations so you can focus on running your business.

Sound like an ideal solution? Learn more about compliance, or book 30 minutes with a product expert to get your questions answered.