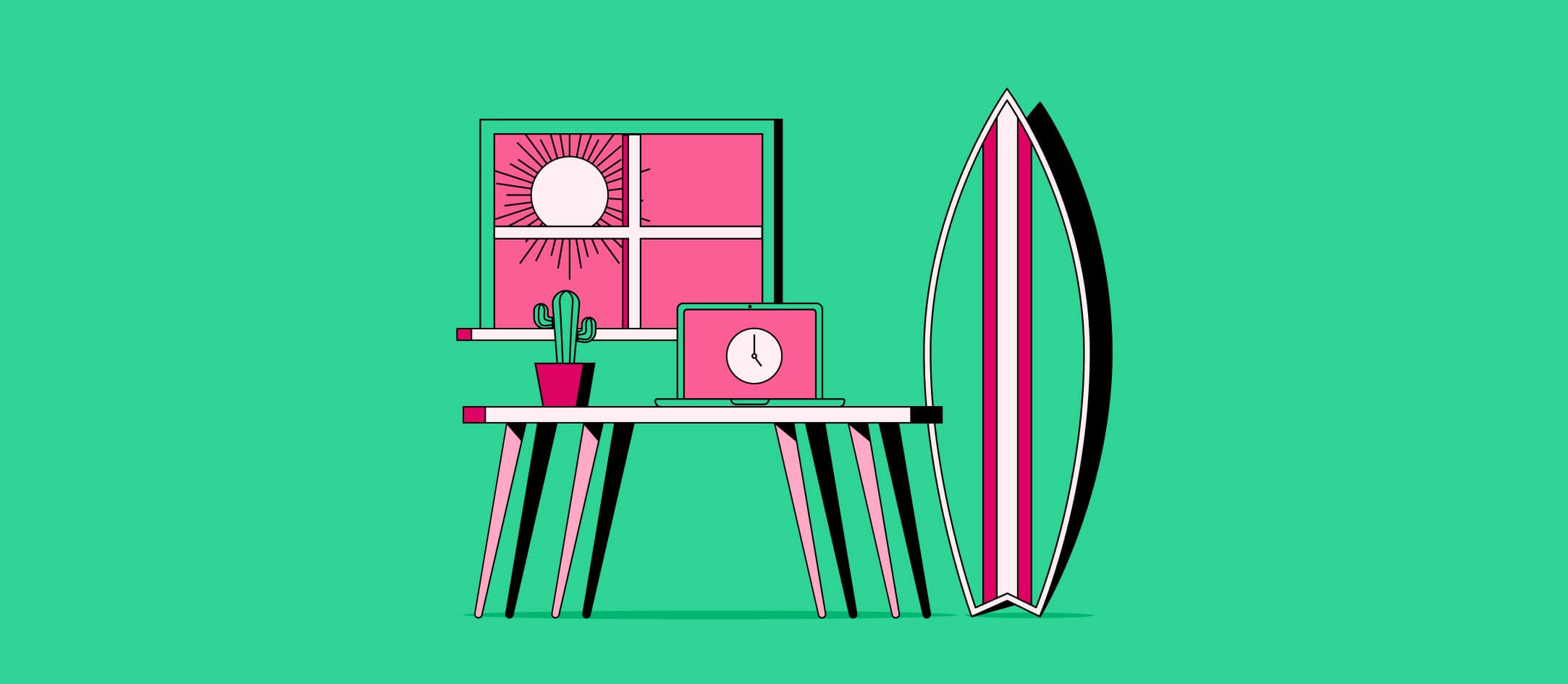 How to Work from Home with a Baby
Are you looking for the perfect work-life balance as a working parent? Below is the complete guide on working from home with a baby.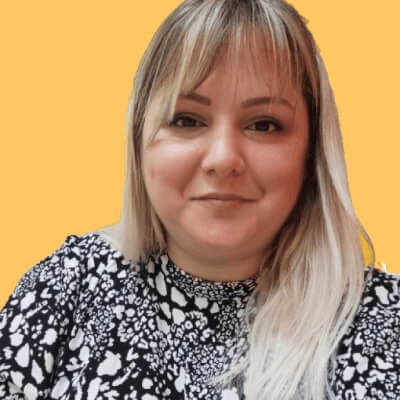 Written by Stefana Zaric
December 27, 2021
Contents
Need help onboarding international talent?

Try Deel
You may not exist in the perfectly curated Instagram world where remote working parents type efficiently on their laptops while their children play quietly.
However, a recent Catalyst survey of 7,487 employees globally discovered that women working remotely with children were 32% less likely to report their intentions of leaving their job than women with children who don't work from home.
Balancing full-time childcare and full-time work can be challenging if you are a work-at-home parent. If you are a new parent working from home with a baby for the first time or working long term and seeking some help, below are seven things to consider when working from home with a baby.
Can you work from home with a baby?
The pandemic has forced many people into the unfamiliar territory of juggling full-time work and working from home with kids.
If you are unsure about whether you can work at home with your baby, then you can look to the wave of popular opinion, which suggests that working from home as a parent is not only possible but preferable to office-based work. A recent survey of remote working parents in America by FlexJobs found that 65% wanted to continue working remotely after pandemic restrictions ended in June 2021.
After receiving permission from your employer to work at home, your first consideration should be whether your profession is suited to distraction. Be prepared to drop your work immediately when the baby needs your full attention. If your job involves constantly focusing on sales calls, you should speak to your department to adapt your role according to your needs.
When starting in a remote role, being honest with your employer about what they can expect from you when working at home and maintaining trust with your employer is essential from the start.
How do I manage work from home with my baby?
Like most modern family units, both partners may be working parents, so arranging a daily schedule where you can share parenting responsibilities is advisable.
If you are the primary caregiver working from home, you should assess daycare options or share responsibilities with a close family member. Keeping a strict schedule with the added burden of childcare is not possible, but you can at least put a structure in place that can benefit your mental health at the end of the workday. This will enable you to prioritize and plan your most important work when free from caregiving obligations.
Having a family routine will look different when working from home, so keep your routine and adjust it rather than discarding it. A routine provides children with a sense of safety and security, and if you manage to get some order into what appears to be a chaotic day, the science says you will sleep better too.
Also, consider that you may have to adjust your strict 9-5 work schedule. Life shouldn't turn into a constant cycle of managing work and kids, so you will need to think ahead to implementing some quality time for yourself, whether that is exercise, reading, or a quick coffee break. Even a 30-minute window each day when your mind is resting from work tasks and family pressures helps you recover from stress and, as a result, boosts your work performance.
If you feel you are starting to experience burnout from work, we have some ways to identify the signs of employee burnout and how you can combat them.
Before starting your workweek, take note of your baby's rhythms of sleep, feeding, and playing in an attempt to plan your days around them effectively. You can then prepare for the chaos that may occur in that little bit of order you have created for your family. Always waiting for an extended period of uninterrupted work time isn't productive. You should take advantage of any short quiet time you get to finish priority work.
Below is an example of a work schedule balancing work and life. This varies, of course, depending on whether you are a single home parent or you have a part-time or full-time job.
Life

Work

Baby's morning sleep

Parents catch up on work emails

Baby's playtime with one parent

The other parent

makes phone call's/project work

Baby's feeding with

one parent

/ The other parent takes a break

Baby's afternoon nap time

Parents take conference calls

Walk with one parent / the other parent takes a break

Dinner time together

Washing and playtime with one parent

The other parent finishes her work project

Baby's bedtime with one parent

The other parent finishes work project

How do I get work done with a baby?
Once you have a loose schedule in place or at least a set of goals or tasks to achieve, the next step is utilizing it. Here are a few tips to follow to maximize your productivity when working at home with your little one.
Know yourself and your baby
Find out how you work best, whether it is in the morning before your children wake up or after they have fallen asleep at night, and keep this time to finish the work where you are going to need the most focus.
Delegate tasks with your partner
Sharing responsibility and taking it in turns to care for your children will take a considerable burden off and create the uninterrupted focus you need to get work done.
If you live with a partner, then get to know when they are most motivated to work. Having an understanding between you when delegating work and home tasks will create a more harmonious and productive environment.
You can always outsource care and responsibility and if paying for a babysitter is not in your budget, an alternative could be organizing a parent-swap. With a parent-swap, you can leave your children with another parent when you need to work, and on another day, you can repay the favor in a cost-effective and straightforward exchange.
Think creatively
It is essential to understand what your children enjoy and what can keep them occupied throughout the day while you work. Whether it's coloring, books, or shapes, find out whatever keeps their focus while you work.
If they are not with a parent or guardian, then make sure you can see them playing in a secure play area.
You are not always going to have a day where you can get away on your own for 30 minutes. Involving your child in the activity can be equally rewarding. Whether it is an at-home exercise or a walk in the park, take every opportunity to leave the house for a change of scenery and relieve any tension.
Create boundaries
Creating a boundary between the play area and the workspace is a great idea for toddlers.
The lines can be easily blurred, and your children will be curious to know what you are doing, but having the patience and consistency for your children to understand that your workspace is not a play area can finally give you precious minutes to finish a work project.
Prepare for distraction
Don't just ignore your children, and don't feel guilty for being away from your work for longer periods. This may cause you to not fully appreciate being with your baby.
Sometimes taking regular breaks can be just what's needed, so it's essential to look at the positives. Setting high expectations of yourself to get uninterrupted work finished will only add too much unnecessary pressure so prepare to work in smaller periods.
For those times when your child is more active, choose shorter tasks that don't require long periods of focus. When answering emails, you can quickly refocus when distracted, whereas you can finish more complex work tasks while your baby is sleeping.
Use a baby carrier
If your baby is small enough, you can carry them and automatically go hands-free. It's an excellent solution for those babies who just need to be close while you are typing.
Use a baby chair
While you secure your baby in a baby chair with their favorite toy or a snack, you can work more effectively when you know your baby is safe and occupied.
Stay positive
You may be the type of person who needs a strict schedule, but you have to adapt to your baby's needs when working at home. So what you need is the patience and the perspective that you can only get done what you can get done and shutting out any comparisons to a super-stay-at-home parent.
Plan ahead
Before your baby arrives, plan and increase your work output with the expectation that it will inevitably dip. After you've adjusted in the first couple of months of your baby's life, you can commit more fully to work by setting aside time in advance.
Paternity and maternity leave are mandatory in nearly every country worldwide. Still, the leave time and percentage of your salary will vary for stay-at-home parents. When working remotely, you may be unsure of what you are legally entitled to, so it is worth checking with your employer and local labor laws.
For more ideas on maximizing your productivity as a remote worker, read our productivity guide.
Once you have figured out how to manage your workload at home with your baby, you need to weigh up the pros and cons. Whether you are working at home for a short period or long term, you should consider the following benefits and challenges of working at home with a baby.
What are the benefits of working from home with a baby?
It's beneficial for a child's early development to be around family, and if balanced correctly, you get to spend quality time with your child when they need you most. In the first three years of a child's life, their brain development is susceptible to nurture and care.
You know your child's specific needs intuitively and react promptly to them in a more effective way than if they attended nursery. This is reassuring as a parent, especially when caring for children in their first year of life.
It can strengthen the bond between parents as they share parental roles and learn more from each other.
You will feel less pressure taking more breaks as the realistic expectation is your day will be broken up with less intensive work hours.
You are not confined to your office. There is more freedom to get outside for longer periods, and with no shortage of cafes with playgrounds and kid-friendly restaurants, you can get work done at the table while your kids have some much-needed playtime.
Working at home provides a unique opportunity to see the light side of things rather than working in a serious office environment.
What are the challenges of working from home with a baby?
You may find it increasingly difficult to remain focused on your work and complete tasks efficiently.
To keep your child occupied while you work takes an increasing amount of creativity and patience. The tendency is to give your child screen time, but this isn't beneficial for the child's development as the

World Health Organization

recommends no screen time for babies under two and no more than one hour of screen time a day for those aged 2-4.
It can put a strain on your family relationships, especially if you feel your roles are not defined and there is difficulty cooperating and implementing your schedule.
Even if you put a schedule in place, no day will be the same, and planning to finish specific tasks may be difficult.
Setting up to work from home with a baby
It is dependent on whether you have a baby or a toddler as to how you will set up your home office. Having a well-thought-out work set up before you begin will save time and energy, and a clean and organized workstation gives you a sense of control over your environment.
When setting up your work area, you must consider the following:
Safe play area
Every baby's instinct is to explore new surroundings, shapes, and materials, which aids development. Try and create a playground at home where your child can play in a safe environment while you work.
A plan B
Keep a list of close family members and local babysitters for arranging childcare to ensure you have a backup plan if you urgently need to finish some work.
Keep things out of reach
When your child starts walking, you will need to ensure your workstation is childproof. Keeping your desk clear of clutter and sharp objects can help you avoid mess and harm. A smartphone or tablet that you can easily maneuver away from your child is an excellent alternative to a laptop if you need to work close to your mobile little ones.
How can employers help?
A World Economic Forum survey said two-thirds of people globally want to work flexibly after the Covid-19 pandemic. With the acceleration of the global trend of remote work, employers need to consider areas where they can assist their employees. The following areas may help you assess what your employer can offer you.
Employee Assistance Program
Check if your employer has an Employee Assistance Program designed to help you with any work-related issues and concerns, such as finding childcare or counseling to support your well-being at work.
Childcare schemes
One of the biggest problems for working parents is access to affordable childcare. It is worth finding out whether your company provides childcare subsidies or perhaps a backup childcare scheme. Companies offer backup childcare through organizations such as American-based company Bright Horizons, delivering a last-minute daycare center if parents need to be in the office.
Hybrid roles
Many employers are open to offering hybrid roles to split your time between the office and home. If you live close to your work, it is worth assessing whether a hybrid role would be more beneficial than a full-time remote role.
Work forums
Through work forums, you can see if your employer provides opportunities for parents to share experiences and support each other. This can be a smart way to deal with the practicalities of working from home with a baby. Co-workers can recommend each other babysitters or daycare facilities, share tips on managing the workload that is specific to your industry or even offer hand-me-down clothing between colleagues.
Your employer may not offer much in the way of support, but you can always suggest ways they can help.
Start a support chat group with your work colleagues or ask your employer to engage you and your colleagues in more peer support programs, leaving you feeling less isolated and more connected to the work you are doing.
You're not alone
It can be an isolating experience when you work at home with a baby. Find like-minded individuals to share your experience and see what help is there for you to succeed.
You may not have the perfectly curated work-from-home experience, but you will find that as more stay-at-home parents choose remote work, your community is growing, and so are the solutions to the everyday challenges you face at work.