How DevBase automated 20+ recruiting and HR processes with Deel API
278+
Hour saved on HR ops and admin tasks monthly
20+
Recruiting and HR Processes automated with Deel API
80%
HR function workload reduction
3x
HR productivity thanks to automation
Meet DevBase
DevBase is a software development company offering customized software solutions to businesses across industries. It's an expert in custom product development, web development, mobile development, and more. With a team of experienced engineers , DevBase has successfully delivered numerous projects for a diverse range of clients.
What sets DevBase apart from competitors is its fully remote working model, so it can provide services to clients all over the world. All of the skilled professionals are hired through Deel, ensuring that every team member's contract is fully compliant, no matter where they live.
Global growth roadblocks
Initially, the DevBase founders manually processed all international payments using international wires, and platforms like Wise, and Payoneer. However, the company began to rapidly expand, and they couldn't keep doing that themselves. But delegating this to their HR team was challenging since each payment platform had its own unique credentials. They needed an all-in-one solution that streamlined the payment process and ensured compliant hiring practices.

At first, the founders opted for one of Deel's competitors. However, it was more expensive and less user-friendly than other platforms on the market. When they found out about Deel's unmatched number of withdrawal options and all-in-one solution, they quickly switched.

Oscar Mastroberti, Head of Recruiting and HR at DevBase explains, "Having one single place for contracts and payments with lots of withdrawal methods was key for us at the time. Then, we discovered Deel has much more power than just that."

Eventually, DevBase migrated all global contracts to Deel, and with the help of Deel's CSM, they made the migration of over 130 workers seamless.
Automating more HR tasks through Deel API
DevBase uses Airtable, a database platform, to manage their budget and store all of their workers' data. The problem was that as they were creating the contracts, adding expenses, and terminating workers in Deel, they had duplicated processes where they needed to manually add the data from Deel to Airtable so everything was synced. They devoted around 5 hours a week to that, and it was getting difficult because the HR team isn't big. They needed automation to keep up with headcount and still do all the tasks they needed.
With Deel API, Mastroberti, together with Javier Maso and Daniel Ballarini, automated and integrated everything in the employee lifecycle they have at Airtable with a middleware application they created. That way, they can send all expense creations, cancellations, contract changes, and more from Airtable to Deel.
Onboarding automation: DevBase sends job offers to candidates over Airtable. After the candidate accepts the job offer, the contract is automatically created in Deel, signed by the Head of HR, and sent to the contractor thanks to Deel's API integration. When the contractor signs the Deel's contract, their status changes both in Deel and Airtable to "Onboarding". Because of the API integration, with just a few clicks, a process that used to take up to 1 hour of manual work is now seamlessly automated.
Expenses: Initially, DevBase workers had to submit their expenses through Airable, where they keep all their accounting and budgeting, and they also had to log them into the Deel platform so the expense was approved and the amount added into their invoices. Once they integrated Deel with Airtable, they could automatically sync the expenses in the two platforms ensuring that every submitted expense will be paid on time through Deel, and correctly reflected in their budget with Airtable, saving a lot of time.
Contract amendments: Thanks to Deel API, DevBase can now make custom amendments to existing contracts in Deel and instantly update them in Airtable. This way, the team can have all the workers' information easily synced across systems.
The DevBase team also customized the automation with the Deel API team, so they can get automatic email notifications in case there's some element in the contract amendment that needs to be manually reviewed.
Contracts terminations: To automate the end-to-end contract lifecycle, DevBase together with Deel's API team, are building a custom integration, so any time a contract is terminated in Deel, it's also terminated in Airtable.
Leveraging Deel API for outstanding HR productivity
Usually, HR staff represents 10-15% of the total headcount. But with Deel API's automation, it's different for DevBase.
"We still are a 5% HR staff company for 130 people right now. That's extremely lean for any company. It's a great KPI that shows us we're extremely productive because of all the integrations we have. Deel played a huge role in this efficiency and productivity we have. All of the validations that the recruiting team used to do, thanks to Deel, are now done automatically." said Mastroberti.
Deel features they Love
Deel API
Deel API's automation helped DevBase increase their HR productivity 3x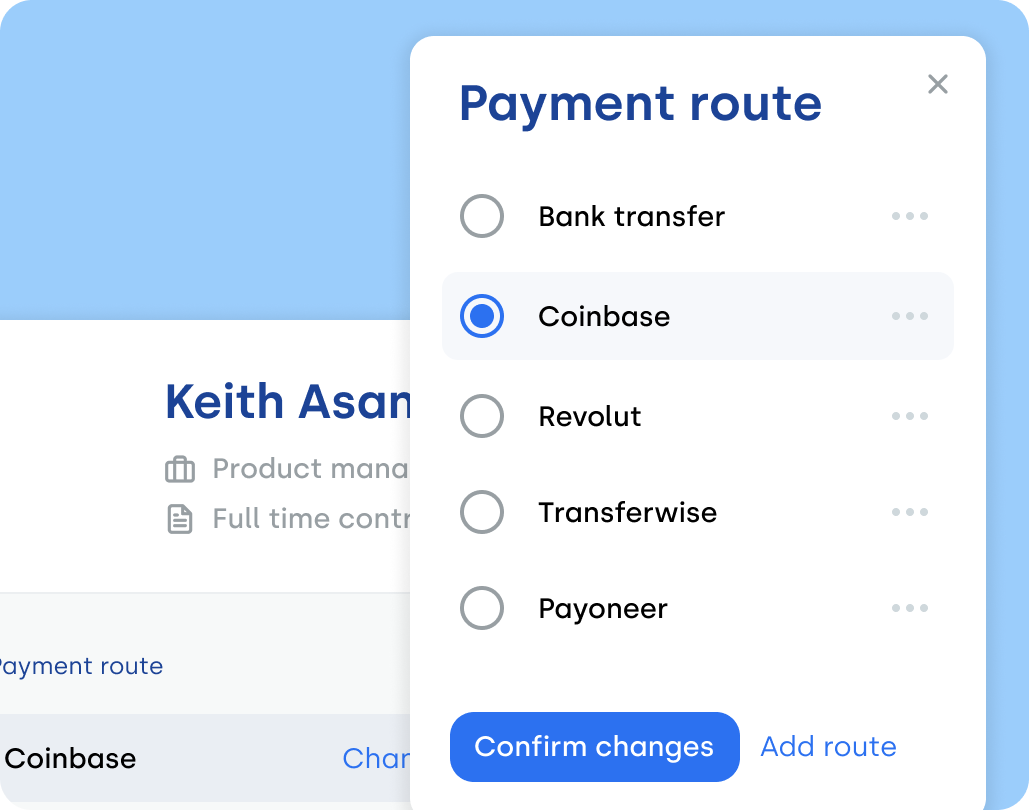 Withdrawal options
DevBase appreciate the number of withdrawal options they can provide to their global workforce thanks to Deel

Deel makes growing remote and international teams effortless. Ready to get started?