 How Taktile sponsored 3 visas thanks to Deel
Location
Berlin, New York and London
3+
Visas provided with Deel
Meet Taktile
Taktile is a B2B SaaS company on a mission to become the world's leading automated decision engine for financial services. As a remote-first company, Taktile focuses on attracting the best talent, wherever they may be.
Hiring the Best Talent from Anywhere
With their first headquarters in Germany, Taktile was finding it difficult to search for talent while being limited by location and finding hires unwilling to relocate. That's when they began to look into the EOR model.
"The best solution was to find an employer of record to help us bring all of that amazing talent to the company without opening an entity in those countries," explains Valeria Rosati, HR Operations Lead at Taktile.
Ultimately this move saved them time and money and allowed people to join their team without moving to Berlin.
Getting visa support from Deel
Before working with Deel, Taktile used another EOR provider but faced issues that led them to look elsewhere. They found Deel delivered a better experience in a number of ways:
Speed and smoothness of the onboarding process

Responsiveness of their customer success manager to their questions and requests

More established immigration product with wider coverage (25+ countries)
In comparison to previous providers, Rosati explains that "Deel Immigration is more mature as a product and has more established processes."
With Deel's in-house Immigration team, all the application processes are handled, saving Taktile time and allowing them to focus on other operational tasks while tracking progress in the in-app tracker.
"We leave everything in Deel's hands ... but it is good to have transparency and a lot of visibility as to how the case is developing."
Since they began working together, Taktile has supported three employees through visa obtainment with Deel successfully sponsoring each visa—whether that's relocations to another country or visa transfers within the same country. Taktile finds the process smooth, requiring little involvement on their end, since Deel's team takes responsibility for their immigration needs.
Why Taktile loves Deel
Deel gives Taktile the ability to expand and hire in countries without having to open an entity, allowing for quicker onboarding. For the team at Taktile, Deel has become a trusted partner. "It has allowed us to hire very fast globally," Rosati explains, "We had one specific case where we extended the offer on a Wednesday, created the contract on Deel on Friday, and on Monday, this person was already starting work for us."
Other notable aspects that have improved Taktile's global hiring experience with Deel are the ease-of-use and self-service tools. Rosati explains that "you don't need to dig too much to understand how [Deel] works—with its quick 5-minute profile setup and other quick, easy-to-use features."
Results and looking forward
In 2022, Taktile expanded its workforce from 12 to 60 employees. Given that it would have been difficult to find all that talent in Germany alone, the company was elated to broaden its search to include all of Europe and the US. This approach enabled Taktile to find the best fit for each position while ensuring a smooth onboarding process through Deel's 100+ owned entities.
Taktile is now expanding their presence in the US and looking to hire local candidates. They'll use Deel to manage contracts and ensure compliance. Deel's expertise in US immigration will also come in handy to hire the best talent and ensure they have the necessary work authorizations.
Deel features they Love
Visas support
Work permit sponsorship in 25+ countries was extremely useful for Taktile to access a bigger talent pool.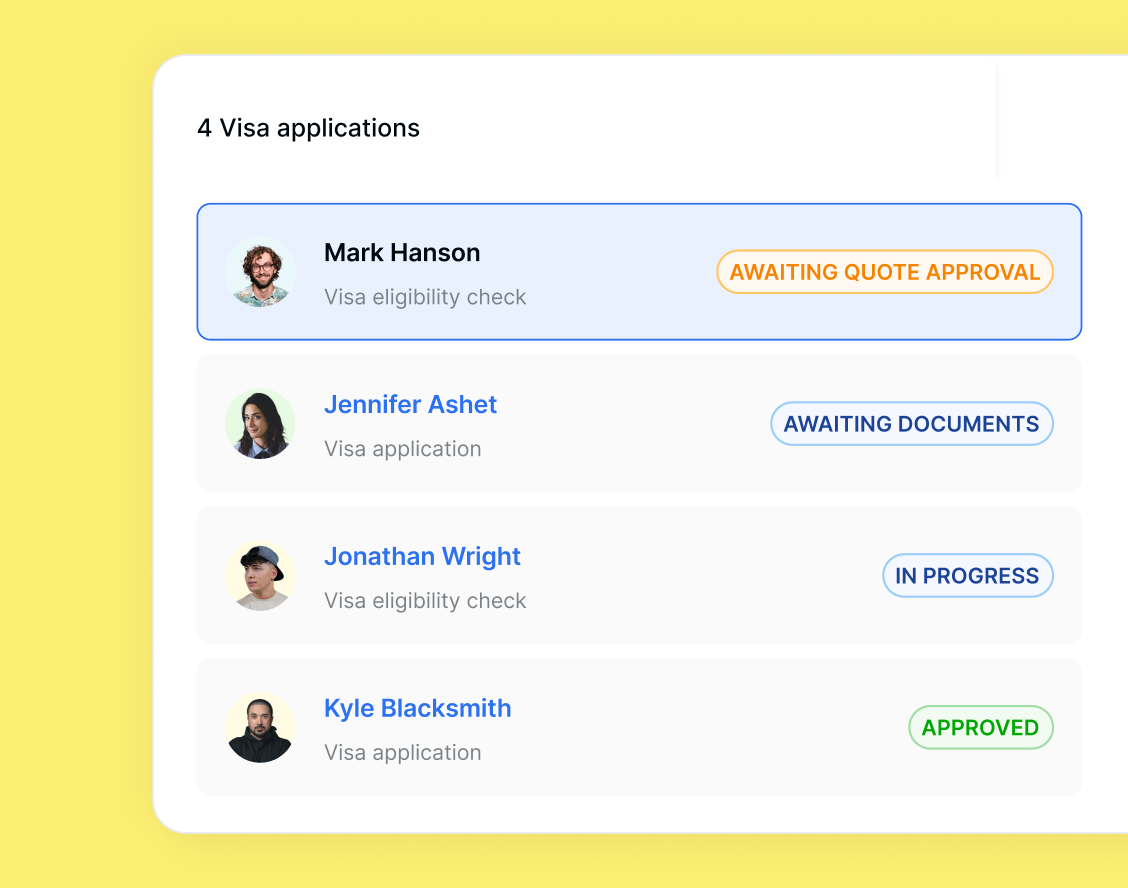 Visa tracker
Having full visibility on new visa applications handled by the Deel Immigration team. The tracker was really helpful to stay in the loop of latest updates.
Deel makes growing remote and international teams effortless. Ready to get started?