What's included
Expert-reviewed content tailored to remote teams

Google Doc format for easy editing

Customizable policy elements

Annotated guidance for additional support and context
As a team leader, you need to maintain positive relationships with your independent contractors to keep the wheels of your business turning—and that includes providing smooth invoicing and time tracking experiences.
With this template, you can clearly define your processes and expectations around invoicing and time tracking. Plus, you can get ahead of headaches by answering questions like:
How, where, and when do independent contractors track their work hours?
What counts as billable work?
What information should contractors include in an invoice?
How do contractors properly submit their invoices to accounts payable?


This free template goes hand-in-hand with the Remote Employee Attendance and Time Tracking Policy Template. Both documents are part of the remote work policy collection, which aims to support growing teams and human resource departments with modern and approachable templates for remote work.
Use this template for free
Download the Independent Contractor Invoicing and Time Tracking Policy Template for free and customize it to fit your needs.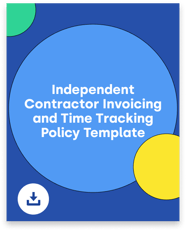 How to use this template
The purpose of this policy is to help remote teams develop policy statements on time tracking and invoicing for non-employees.
Throughout this document, you'll see placeholder text and suggestions you can edit to reflect your local labor laws, tax laws, and your team's unique approach to remote work.
We suggest including this policy in your independent contractor onboarding process to ensure contractors review and understand the details of the policy.