What's included
Expert-reviewed content tailored to remote teams

Google Doc format for easy editing

Customizable policy elements

Annotated guidance for additional support and context
Remote teams are often scattered across regions, countries, or even continents, and rely on clear policies to unify their employees on important topics.
By adding an employee attendance and time tracking policy to your employee handbook, you can reduce absenteeism and help employees develop a healthier work-life balance.
Use this Remote Employee Attendance and Time Tracking Policy Template to align your entire team on your processes and expectations, and answer questions like:
Do employees have to clock in, clock out, or track their hours?
Can tardiness result in disciplinary action?
How do employees properly request time off?
What's the difference between excused absences and unexcused absences?

This free template goes hand-in-hand with the Independent Contractor Invoicing and Time Tracking Policy Template. Both documents are part of our remote work policy collection which aims to support growing teams with modern and approachable templates for remote work.
Use this template for free
Download the Remote Employee Attendance and Time Tracking Policy Template for free and customize it to fit your needs.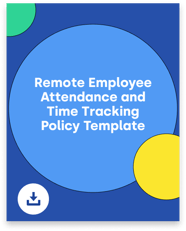 How to use this template
This customizable document was created to help remote teams develop guidelines around good attendance, employee absences, time tracking, and work hours.
Throughout this document, you'll see placeholder text and suggestions you can edit to reflect your local labor laws, tax laws, and your team's unique approach to remote work.
We suggest including this policy in your employee onboarding process to ensure new employees review and understand the details of the policy.