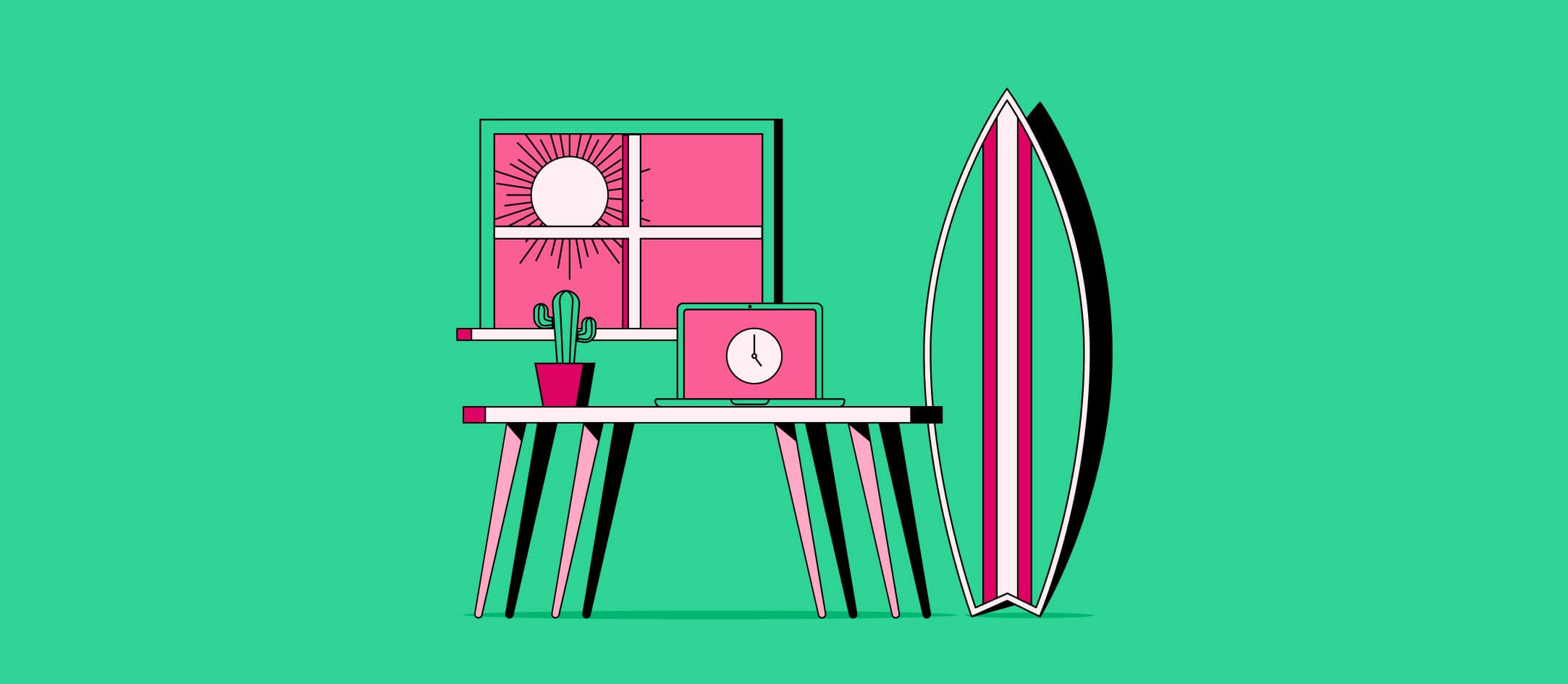 Virtual Meetings: The Ultimate Guide
Were you a part of a meeting that could've been an email? No worries, there are plenty of ways to avoid that in the world of remote work. We present to you the ultimate guide for virtual meetings!
Written by Anja Simic
September 27, 2021
Contents
Need help onboarding international talent?

Try Deel
How to make meetings more efficient is an evergreen question in the world of business. No one wants to listen through a 2-hour long update meeting that, as we all know, could've been an email. But no matter how exhausting this topic might seem, it remains relevant to this day, if not more than before. Why? Well, because now the virtual meetings have taken over the stage.
If you've had the opportunity to have face-to-face meetings with your coworkers in the last year and a half, you can consider yourself lucky. The rest of the world, prepared or not, had to immerse themselves in the world of video conferencing. Some swam, some sank, but for most, the verdict is still - undecided. The business world is dominated by the remote, so make sure that when it comes to virtual meetings you are at the top of your game!
What is a virtual meeting?
A virtual meeting is a real-time interaction with remote coworkers using technology, that can have many purposes, just like in-person ones. However, virtual meetings are much easier to organize, since all participants just need to have a working internet connection and a free schedule. What is important to mention is that the end goal of an online meeting is the same as the in-person one. The only difference is the methods of getting there. But, first, let's see what the different types of virtual meetings are.
What types of virtual meetings exist?
Roughly speaking, there are three types of online meetings.
Teleconference
The first one, teleconference, is the simplest one. In fact, it is basically an audio-only meeting. All of the participants join a conference call by dialing a certain number and being connected with everyone. This type of meeting allowed people to feel connected and appreciated, and their ideas valued even when they were apart, way before COVID-19 hit. Nowadays, it is used rarely, although it is still preferred by some.
Video conferencing
After the teleconference, video conferencing wasn't that far behind! This type of meeting takes us one step closer to the actual face-to-face meeting, but it also requires more than a telephone - a working internet connection, video camera, and a microphone. The biggest benefit is the fact that body language and facial expression are still present in the conversation, making communication that much smoother. This is why video calls are the preferred method of exchanging information for many even outside of the business world.
Web conferencing
However, just talking isn't really enough when you are trying to elaborate complex ideas, collaborate with coworkers, brainstorm, simultaneously create, etc. This is where web conferencing enters the stage. A type of virtual meeting that allows for other options, such as whiteboards, screen sharing, pools, hand raises, discussion chats and so much more. This type of communication allows for remote teams to work even better than many in-person ones. This type of meeting shouldn't be confused with webinars - a popular type of online education, that is one-sided, with a speaker and an audience.
What are the advantages and disadvantages of virtual meetings?
In order to really make the most out of online meetings, you need to know the strengths and weaknesses of this type of communication. This will allow you to create successful virtual meetings that your entire team will enjoy and find useful. So, let's start with the strengths!
Benefits of virtual meetings
Collaborating with people all over the world
Turning on your webcam and being able to discuss every minuscule detail of your project with a team member that is halfway across the world is certainly the biggest benefit of virtual meetings. Different time zones just need to be adjusted, and you can Skype away, bouncing ideas off of each other and contributing to the company's goals by joining various different perspectives into innovative problem-solving capabilities.
Flexibility and adaptability are a must-have
Organizing virtual events is always easier than hosting regular ones. The sheer logistic spectacle of getting everyone to be at the same place at the same time is insurmountable. However, online meetings just require someone to be present in front of a laptop. They don't even need to be fully dressed! In addition to this, participating in important corporate meetings from the comfort of your own home makes people bolder to speak up and express their opinion. And that is, definitely, a step in the right direction.
In addition, setting up a good foundation for the future is extremely beneficial as well. No one knows what the next big thing is going to be, and it's better to be prepared. Having a solid foundation in the digital transformation of the company, tried and tested every Monday during your virtual staff meeting… Well, that is a nice foundation to start from.
Online meetings are cost-effective
Besides purchasing one of the available software solutions for video conferences, there is absolutely no expense related to online meetings! On the other hand, in-person meetings can be quite the opposite - travel expenses, refreshments, renting the space… Perhaps not all of your meetings should suddenly convert to e-mails, but surely at least some of them could've been done on a call. Think about it!
Successful virtual meeting saves time as well!
So not only will you spend less money, but you will also reduce your other resources as well. Since it only takes a few clicks, your employees won't waste time commuting, finding the parking space, locating the conference room, or even making unnecessary small talk. All that time can be used more effectively, and every remote employee will agree. In turn, this will improve their productivity and overall happiness. And that is definitely something that you should take into consideration.
Although we could list even more benefits of virtual meetings, it would be only fair to mention a couple of downsides as well. Let's see what can obstacles you might have on your journey to conduct a perfect online meeting.
Challenges of virtual meetings
Participant's engagement will be more difficult to obtain
Maintaining the focus and interest of someone remotely is a challenging task. Your employees will be distracted by social media, news, e-mails, etc. They will probably be multitasking and eager to get something else done while simultaneously listening to you. The only way to avoid this is to create a very thorough and versatile meeting that will definitely grab everyone's attention. If you want to run effective virtual meetings you will probably experience a lot of different roles - team leader, facilitator, trainer, speaker, moderator… and so much more!
Technology issues
Have you ever been a part of a virtual meeting that didn't start with some of these sentences:
Can you hear me?
My camera isn't working, again.
I don't think I can hear you very well.
Hello… Hello! Something isn't right… Where is the meeting room?
Technology isn't perfect; in fact, it will fail you often. However, it will usually be a pretty small fix, and you can continue where you've left off in no time. It matters that you remain calm, don't transfer your frustration to other participants, and always ask for help.
Easily Hire in 150+ Countries
Hire anywhere without worrying about local laws, complex tax systems, or managing international payroll. Learn about local regulations anywhere in the world.
Learn more
How to run virtual meetings?
No matter how happy you are with your virtual meetings so far, there is always room for improvement. So no matter if this is your first time in this role, or you've been doing this twice a day since the pandemic broke out, here are some helpful tips in order to improve the quality of your online meetings.
Make sure that everyone respects virtual meeting etiquette
This is one of the most, if not the most important aspect of an online meeting everyone will enjoy participating in. Why? Because before you deal with innovation and improvement, you need to take care of the basics. Once that in-person element is missing, many tend to experience worse, less-professional behavior, creating a lassiez-faire culture and impacting other colleagues in a negative way. It is your role, as someone who is in charge of the meeting, to not only prepare yourself and prepare the meeting agenda but also set expectations of other participants as well. This collective dedication to better understanding and respect is what will take your online meetings to a whole new level.
Find the perfect balance - duration, topics, participants
Online meetings are tasked with an impossible goal - to be both short and informative, long enough for chitchat but not to waste time, to focus solely on work but help connect the employees… It would be easier to say that you can only choose one, but you have to achieve all of it. The key is precisely in the balance. Walking that fine delicate line is what turns your online meeting into something to look forward to, and not something your employees dread.
Do your homework and be prepared
In the world of digital transformation, no time can be wasted. That doesn't mean that your online meetings need to be extremely short, but it does mean that they should make sure that no person, not topic and no activity are out of place and that you are maximizing the resources given to you. The best way to achieve this is to be prepared. Learn everything you can about the participants, create an agenda beforehand, come up with a reward and recognition system and slowly start building the culture of your virtual meetings. And don't forget - there is nothing like a virtual icebreaker to relieve the pressure! It might take you some time to establish the flow, but once you do, it's smooth sailing from there.
Bonus tip: Always follow up after the meeting!
As soon as you finish the meeting, you might wish to close the lid of your laptop and head to your homemade bar. However, if you dedicate some time after the call to improving it, you might be doing wonders for your employees' satisfaction level. Make sure that you've followed up on everything that was discussed, send meeting minutes to every participant, and jolt down short feedback, so you know what you can do better next time.
What are the best platforms for online meetings?
The sudden increase in the number of digital meetings has also caused a ripple effect in the software industry, so now there are so many options when it comes to technology for your online meeting. You're probably familiar with a couple of virtual meeting platforms: Zoom, Skype, Google Hangouts, FaceTime, video calls… You've probably also heard about RingCentral and Microsoft Teams, and we should definitely mention Join.Me and GoToMeeting.
No collaboration tool is perfect, and all of the ones we mentioned above can help you have a successful virtual meeting. You should decide what virtual meeting software you want to use based on a few criteria - the number of participants, what your agenda is like, how much engagement you expect (Do you want to be interactive, are there screen sharing, do you need to have more presenters, give tasks...?). Carefully review the pricing options and decide which tool suits your needs best.
What are some of the best practices for virtual meetings?
After almost 18 months of an entirely new way of working, where remote has become the new normal and is likely here to stay, all of us are slowly adjusting, adapting, and coming up with better methods, techniques, and styles. However, learning from other people's mistakes is still the most efficient way to learn. While you are coming up with your own leadership style, read about other people's best practices and see what you can implement in your daily work.
Use every meeting to make your virtual team stronger
Instead of stressing about every meeting and obsessing about ways it can go in the wrong direction, focus on creating meeting agenda, culture, and atmosphere that foster collaboration, act as a check-in for the entire team, and build strong relations. You can't take your team members to a variety of different locations, and your team building needs to happen from the comfort of their own homes, favorite coffee shops, or cabin in the woods. However, it has to happen nevertheless.
Think out-of-the-box, online or offline
Instead of complaining about the background noise, have a portion of the meeting where everyone shares their favorite music to work to. Introduce a happy hour, or better called happy 5 minutes, where your participants can share something that has happened to them and they feel the group might like to hear. Ask your meeting attendees to give their own suggestions and improvement ideas. Treat every online meeting as a team meeting, and with that, your participants will get much more done.