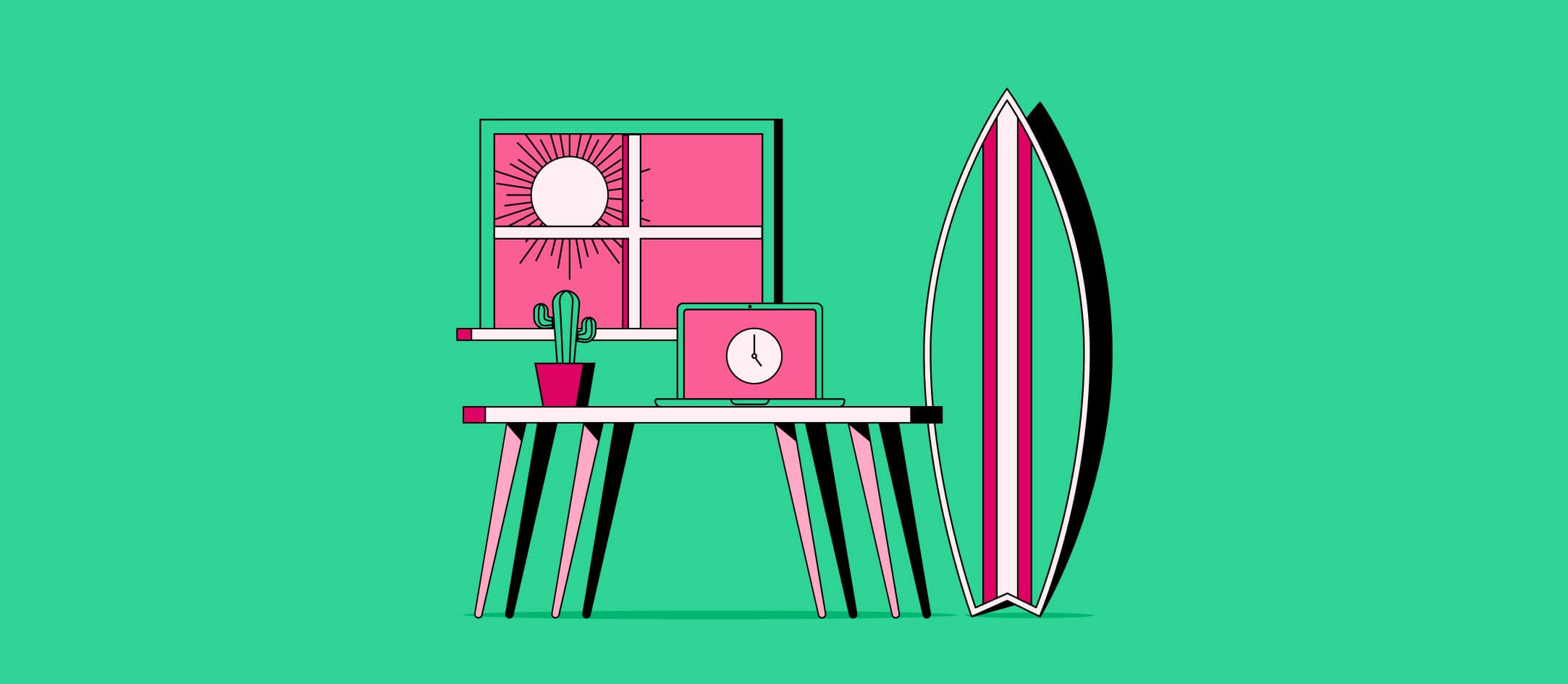 Tips and Best Practices for Managing Virtual Teams Successfully
Virtual teams are becoming the future of work. Managing them requires skill, flexibility, and organization. Read our guide to learn how to get the most out of your virtual team.
Written by Anja Simic
August 16, 2021
Contents
Need help onboarding international talent?

Try Deel
As the entire world tackles the pandemic, everyone has had to make some concessions in both our personal and business lives. One of the most common business challenges in the coronavirus pandemic is managing virtual teams. Since most people are working remotely nowadays there's been a lot of adapting and compromising when it comes to working with remote team members.
Managing a remote team doesn't have to drive you crazy, though. There are a lot of tricks and policies you can implement to ensure your virtual team runs smoothly and completes all the tasks on time. It's important for every team leader to know how to get the most out of their team while looking after the team members. This is also true for a virtual team. Finally, since employers are realizing the benefits of telecommuting, this might be the new normal and it's important to get used to it as soon as possible.
Give your virtual team members the right equipment
To ensure your virtual team functions like a well-oiled machine, you'll need to provide each member with the right tools for the job. Giving your team the right equipment is pretty easy when everyone's working from the office. However, when your team members are working from home, it might be difficult for them to have everything it takes to conduct a normal workday.
Working equipment is essential for remote teams
To ensure your team will be able to deliver the work you expect them to, they'll need the equipment for the job. Team members of successful remote teams have usually been provided with basic office equipment by their employer. A computer, mouse, keyboard, and headphones will not only ensure your virtual team members have the right tools for a normal workday, but it will also help them separate work from their other activities. They'll know that they need to use a specific computer for work, which will reduce distractions. Additionally, giving them some company swag and tech equipment will help with motivating your remote team so they can deliver better results.
Proper communication software makes a virtual team work better
While there are various software solutions that enable video conferences, direct messaging, screen sharing, and a lot of other things, this still doesn't help with good communication and teamwork. Most people find meetings over Zoom or Skype time-consuming and fruitless efforts. This is because most team managers use virtual meeting platforms to monitor their teams instead of communicating with them. While having a face-to-face meeting over a video conferencing tool lets you see people and interact with them in a simpler way, it doesn't mean it's the absolute must for every virtual team. Most employees prefer to be informed about their duties or changes in the workday via email. So, you shouldn't force video meetings just to inform your team members about some recent changes or a priority task. You should use real-time interaction only when you want to receive real-time feedback or opinions from your team members.
All this doesn't mean that you should completely abandon video conferencing. Face-to-face interactions are especially important for effective communication, and there are a lot of things that can only be explained by sharing your screen while communicating directly. This is why each virtual team should organize online meetings regularly and give each team member a chance to speak during them.
For other things, you can use a variety of other communication technologies such as Slack, Hangouts, or Microsoft Teams. Just remember that no matter how good your communication tools are, it's how you communicate with your team that will get the idea across and motivate them.
Provide the right tools for virtual teamwork
Even when the ideas are communicated in the best possible way, teamwork is hard when your team is not in the same place. Luckily, there is a variety of remote work tools that will help you have a productive team. You can use online mind maps for brainstorming sessions or task assigning tools for keeping better team cohesion and a fairer division of labor. They will help with keeping track of who did what and how long it took them.
Tools like Notion, Trello, or Miro will come in handy for managing projects that require a lot of coordination. This is especially true if your team needs to coordinate with other virtual teams or work with freelancers in a virtual environment. Using project management tools will help you delegate tasks properly and diligently.
Have your virtual team track their work hours
With in-office teams, it's easy to see who showed up for work and how long they stayed. You'll need special software to track performance and work hours in remote teams. There are a lot of software solutions for tracking your virtual team's work hours and screens during those hours. You can implement these to ensure your team members don't just sit in front of a screen the entire day doing nothing.
In addition to this, you can ask your team members to make regular check-ins during work hours. They can be something as simple as a progress report on Slack, or you can have a short team meeting.
However, some studies show that virtual team members function better when they're allowed to complete tasks in their own time. Not only do these working conditions boost their productivity, but employees tend to work more when given the benefit of the doubt.
A good system beats constant oversight
Setting up a good system of delegating tasks and reviewing employee check-ins is one of the best tips for managing remote workers and virtual teams. When establishing this system, you should keep a couple of things in mind:
People have different work habits - while some people like to work eight hours in a row, others prefer to work for a few hours then take a break before they do the rest.
Team members might be in different time zones - the workday shouldn't start at the same time for everyone. What is 9 AM for some of your team members can be 1 AM for others.
Everyone should be informed about the system you're using - whether to track time, progress, or success, all team members should know the rules.
Set clear goals
Setting goals is crucial for any team, virtual or in-office. It might be even more important for virtual teams as tracking goals is the most reliable way to track what virtual team members did.
However, establishing clear goals is important for more than just tracking your employees. It is a huge motivating factor. Once the goals have been reached, the entire virtual team will get a sense of achievement. Finally, clear goals allow your team to know where they stand and what is expected of them. This will make everyone more comfortable.
Track everything
While you should always trust your team to deliver, tracking hours worked, meeting attendance, and productivity is still pretty important. You can use this data to get an idea of the dynamics in your virtual team, plan future goals and policies, and ensure that your team is working in a fair environment with equal work division. You don't need to be too strict with working hours, as long as the goals are met. However, you shouldn't be too lenient either, as this could set a dangerous precedent and ruin your team's productivity. Everyone can make it to two meetings a month, and there shouldn't be an acceptable excuse for missing them.
Consistency with a dash of flexibility
A remote team can quickly fall apart if there's no consistency and routine. This is to be expected since there are more distractions when working from outside the office. However, you shouldn't force routines onto your virtual team members.
Of course, there should be some unnegotiable things like having a weekly progress meeting at a specific time and a set day of the week. However, allow your employees to set the team's routines and tailor your consistency towards them.
Finally, allow some concessions and flexibility to ensure the team is functioning properly. Keep in mind that some of your team members will be working from different time zones, and would appreciate not having a meeting or deadlines at 2 AM. Awesome flexibility allows you to overcome these time zone differences and get more work done.
Recognize and reward achievement
For a good system to work, you'll need to reward achievements and discourage slacking. To achieve this, you'll need some way to track success. There are a lot of tools and methods that help with this and you can find one that works the best for you. This is one of the benefits of having remote workers - there's software for tracking everything these days, deliverables included. A good idea is to have a monthly overview of everything that your employees did and to offer stimulation to the most successful ones.
Prepare your team members for the transition
If you're transitioning an in-office team to a full virtual team, you'll need to prepare the team members for what's coming. Some people may need an adjustment period before they can give you the same productivity as they did in office.
If you're making an entirely new virtual team, there are some special qualities you should look for when hiring remote employees. This doesn't mean that you shouldn't prepare your new virtual team for what's coming.
Recognize your team members' needs
To ensure your virtual team functions properly, you'll need to realize and satisfy the needs of your team members. Whether it's professional development or flexible working hours, it's your job as a team manager to figure out how to meet these needs without jeopardizing the bottom line.
Don't tip your team members' work-life balance
Every one of us has a work-life balance we worked hard to set up. This balance is already in a precarious position for many virtual team members so it's counterproductive to tip it further. Do not expect your team members to work more because they are working from home or another remote location. A good team leader respects their employees' personal time as much as their professional time.
Organize team buildings
People are social creatures craving some form of personal interaction. Since the coronavirus pandemic forced most of the world into the confines of their homes, most of us are starved for some type of social interaction (that doesn't include the people we live with).
You shouldn't shy away from organizing both virtual or real-life team events. You can even introduce a coffee hour Friday, where all of your team members get online to drink coffee and talk to their co-workers about whatever they want for an hour, before getting back to business. Take a look at some of the virtual team-building activities you can easily implement.
Don't be all formal
When managing remote teams it's very difficult to get a point across without sounding demanding, mad, or agitated. This is because most of the messaging tools used to communicate cannot transfer the tone of the speaker's voice or their facial expression. This leads to a lot of confusion, and undue stress.
You should use GIFs, emojis, and even recorded messages when talking to your virtual team. Also, encourage your team members to do the same when communicating with your or their co-workers.
Teach your team how to remove distractions
Some people still haven't gotten used to working remotely and overcoming all the challenges that come with it. They have problems with finding the right space to work from or removing distractions available in their homes. You should provide help, advice, or a temporary solution to your virtual team members struggling with this. Help them with setting up a productive home office space to maximize their productivity which will give them more free time.
Don't overload your virtual team
It's easy to send a ton of emails or direct messages on Slack in a short period of time. We usually write things down as we think of them and create a hectic maelstrom of notifications. This can lead to some of the memos passing beneath the team members' notice. You should try to put as much information in a single memo and ask your virtual team to do the same. They should not spam the team's chat by typing 'yes' or 'sure' but reply to the thread or use features like Slack reactions to let you know they've seen the memo.
Conclusion
Virtual teams and telecommuting seem like the future of work in general. They reduce costs for both the employees and the employers and save a ton of time since there's no commuting to the office. Also, remote work affects the environment in a positive way by reducing the carbon footprint. If virtual team management produces the same, or better, results as in-office teams, we might be looking.