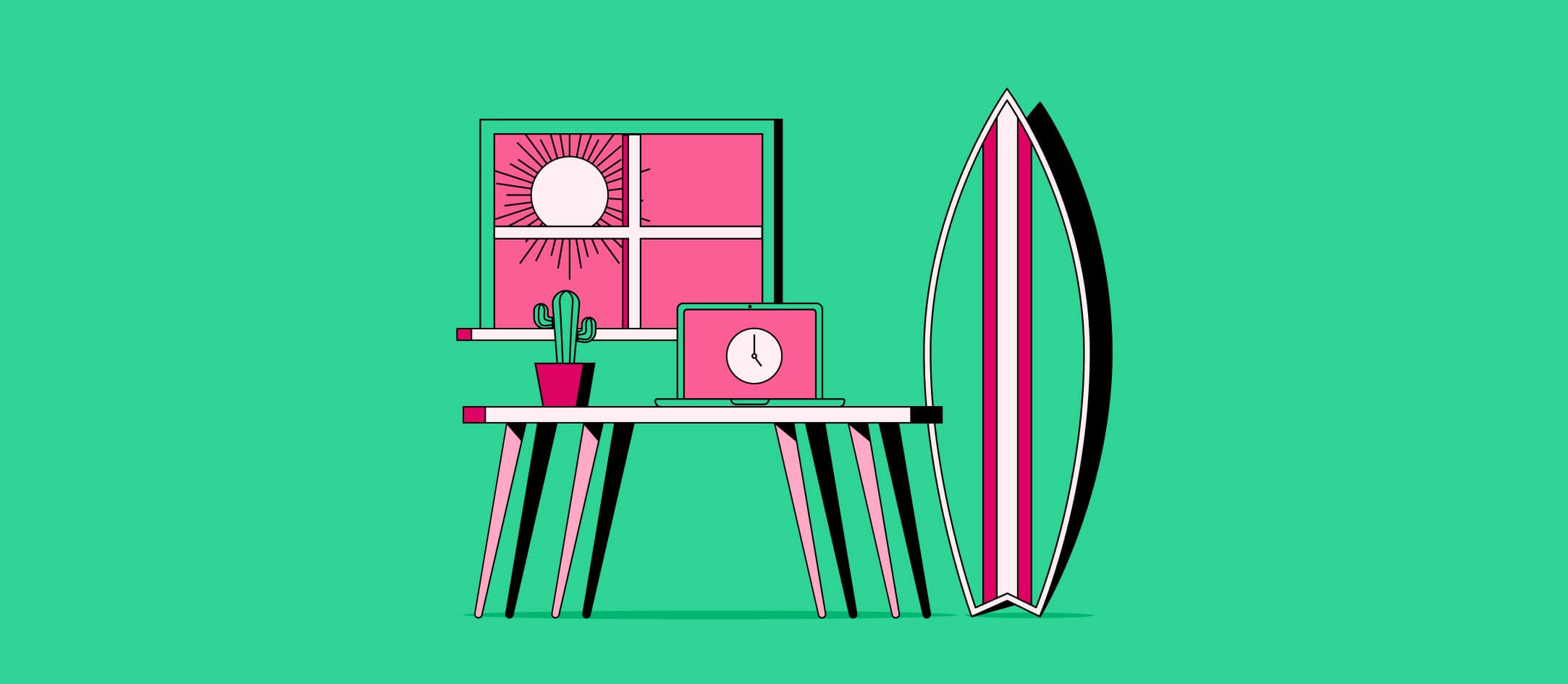 How to Track Performance in Remote Teams
If you're familiar with managing remote workers, then you may already have systems and processes in place for measuring remote employee productivity. In this article we'll cover the best work from home metrics you can use to keep track of your remote staff, which system of setting KPIs will help your team stay focused and much more.
Written by Anja Simic
September 17, 2021
Contents
Need help onboarding international talent?

Try Deel
Within the last 6 months, a large part of the world has been forced to adopt a work from home model. This comes with many challenges, in particular, employers are looking for ways to track the productivity of their employees who are working from home.
If you're familiar with managing remote workers, then you may already have systems and processes in place for measuring remote employee productivity. In this article we'll cover the best work from home metrics you can use to keep track of your remote staff, which system of setting KPIs will help your team stay focused and much more.

The line between keeping track of your employees and micromanaging isn't always clear.
It's important to communicate with your team how you plan to track their performance. Making sure you have visibility over the projects your employees are working on is critical, while also giving them the freedom and space to work. Before setting your performance improvement plan and work from home deliverables, it's vital you establish healthy communication with your team.
Make sure you are clear on the communication style you plan to use and set your team's SMART goals (specific, measurable, attainable, realistic, and time-bound) together. Regardless of if you are working with in-office staff or remote workers, ensuring your team is set up for success begins with setting SMART goals.
Performance management for remote teams
In terms of remote team performance management, there are some key areas you should focus on.
4 pillars of performance management
Setting KPIs for remote workers
Best practices
Performance tracking tools
Effective performance management plans have many benefits which include: reducing costs, boosting productivity, and providing a healthy work/life balance. Before we dive in, let's get clear on what performance management actually means.
What is performance management for remote workers?
Companies often get confused with performance management, thinking that it's all about tracking tasks and monitoring productivity. Yes, that is a large part of it, but what they fail to recognize are the less quantifiable metrics for tracking performance management.

More than tracking tasks, performance management is an ongoing communication process of evaluation and feedback between an employee and an employer. Regular performance evaluations provide employers the opportunity to re-evaluate the progress of an employee and the actions they are taking towards the company-wide objectives.
These appraisals help companies evaluate the performance of their staff to ensure the achievement of the organizations' strategic objectives. They also provide an opportunity for employees and employers to realign.

Simply switching to an organizational tool isn't the only solution for managing employee performance. The way of measuring productivity among remote workers is by following the 4 pillars of performance management, and setting clear and defined OKRs and KPIs for your team to follow. Now, let's get into it!
4 pillars of successful performance management
Four of the most important pillars of managing the performance of a remote team are:
Planning, Prioritizing, and Goal Setting
Monitoring & Feedback
Skills Development & Improvement
Rewards & Compensation
Planning, prioritizing, and goal setting
The best way to set your remote team up for success is by establishing clear priorities. Setting objectives and key results (OKRs) will help break down the priorities for the quarter. Each remote employee should work with their team to decide on 3-5 objectives that fall in line with those of the company.

The next step is making sure you know how to track KPIs for each OKR (we will explore this further in the article).
Monitoring & feedback
Before you track the performance of your remote employees decide which monitoring method and feedback system you will use. Here are some:
Manager feedback - reviews from an employer's superior. Evaluations from higher management are key to ensuring KPIs and OKRs are being met.
Self assessment - an employee self-evaluating their performance.
180 & 360 degree appraisals- one of the most accurate performance measurement methods that is a combination of self-assessment, peer evaluation, subordinate reviews, and evaluations from your superiors.
Skills development & improvement
Thanks to performance reviews, employees are able to see where they need to make improvements. Also, with the information gathered from employee performance, employers can help support them in reaching their full potential. The onus of performance improvement lies both on the employee and the employer. If your company budget allows, offering employees the opportunity to partake in additional courses and/or seminars to improve their skills will allow them to grow in their role even more.
Rewards & compensation
Companies can choose to implement a rewards program based on the level of performance of their remote employees. Some options for rewards and compensation are:
Month-end monetary bonuses
Appreciation gifts
Extra days off
Gift certificates (ie.restaurants, cafes)
KPIs & metrics for remote team performance tracking
Choosing the right KPIs and metrics to track performance for remote teams will ensure you stay on track with meeting your goals and objectives. Your remote team should set weekly KPIs in addition to monthly. It's important to monitor progress more closely. Course correcting often takes a bit longer when your staff is all remote, which is why monitoring progress and acting fast when things take a turn, is key to staying on track.

Setting department-specific KPIs that are in line with company objectives is something that becomes even more important when working with remote teams. Try to set around between 5-10 KPIs.While there will be shared KPIs amongst departments most KPIs should be role-specific. Ie. for sales, tracking call volume, lead to customer conversion rate or the revenue per sales rep. For marketing, the number of marketing qualified leads that are generated, the customer acquisition cost, and the ROI. Each team will have its own set of metrics, on which the performance reviews should also be based.

The best way to keep track of your team's performance and monitor the KPIs that have been set is by using performance management software. Accurately measuring productivity among remote workers and monitoring performance on an ongoing basis is easier when automated.
How to track productivity while working from home: best practices
Managing remote workers isn't easy, but it doesn't have to be painstakingly challenging. With the right expectations, communication, employee monitoring, and check-in periods, tracking productivity, and performance will prove smooth.
Set clear expectations and communicate them- Tracking employee performance starts with clearly defining the expectations of an employee and what aspects of their performance will be monitored. Let your employees know the frequency of these assessments and how they will be carried out.
Ensure a healthy workload- one sure way to see your team succeed is by creating healthy goals and objectives for them to achieve. This doesn't mean setting simple, easy to reach goals, but it does mean, making them realistic.
Support their autonomy- tracking remote workers' performance will seem excessively intrusive if you use GPS trackers on their devices, monitor all their communications, track the sites they visit, etc.
Employee monitoring - using software to track remote employee performance is crucial for understanding the needs and struggles of your team.
Pay attention to both the tangible and intangible indicators of performance- some companies fail to look at the full picture of performance, and only look to numbers. In many positions, things such as customer engagement and client satisfaction are essential performance indicators, yet often overlooked.
Schedule frequent check-ins- making time for regular check-ins are essential to aid in course-correcting when needed. Without periodic check-ins, employees may feel a loss of support, lose motivation which will lead to a loss of productivity.
‍
Although all of the above make up a set of best practices, one of the most important practices for employers, when tracking remote workers, is to focus on deliverables over employee attendance. If an employee is performing well and completing their work on time and to the highest standard, strict attendance practices shouldn't be required. Focusing more on deliverables rather than attendance, not only gives employees the freedom to take control of their day, it also makes them feel a greater sense of ownership. As a result, their performance tends to improve substantially.
Employee performance tracking tools
Once you've decided on a software solution, it's important to educate your remote workers on how to use it. It's wise to introduce a culture of monitoring and time tracking with the software, so employees make a habit of using the system. Encourage accountability with your remote staff by expressing the importance of performance tracking and how it will ultimately benefit them in their role.
Using a performance management software lets you collect feedback in real-time, improves communication with your team, and allows HR managers to analyze feedback and data so they can tailor personal performance improvement plans for each employee. Data gathered from performance reviews allows businesses to identify weak points and provides the opportunity for course-correcting and improvement. With software to manage performance review cycles, your company will be able to stay on track with company-wide goals and reach its full potential.

Factorial HR
With Factorial's HR software for performance management, time tracking, time-off management, storing documents, e-signature, applicant tracking, and more, streamline the way your company manages HR processes. Automate your remote employee performance reviews and so much more with Factorial.