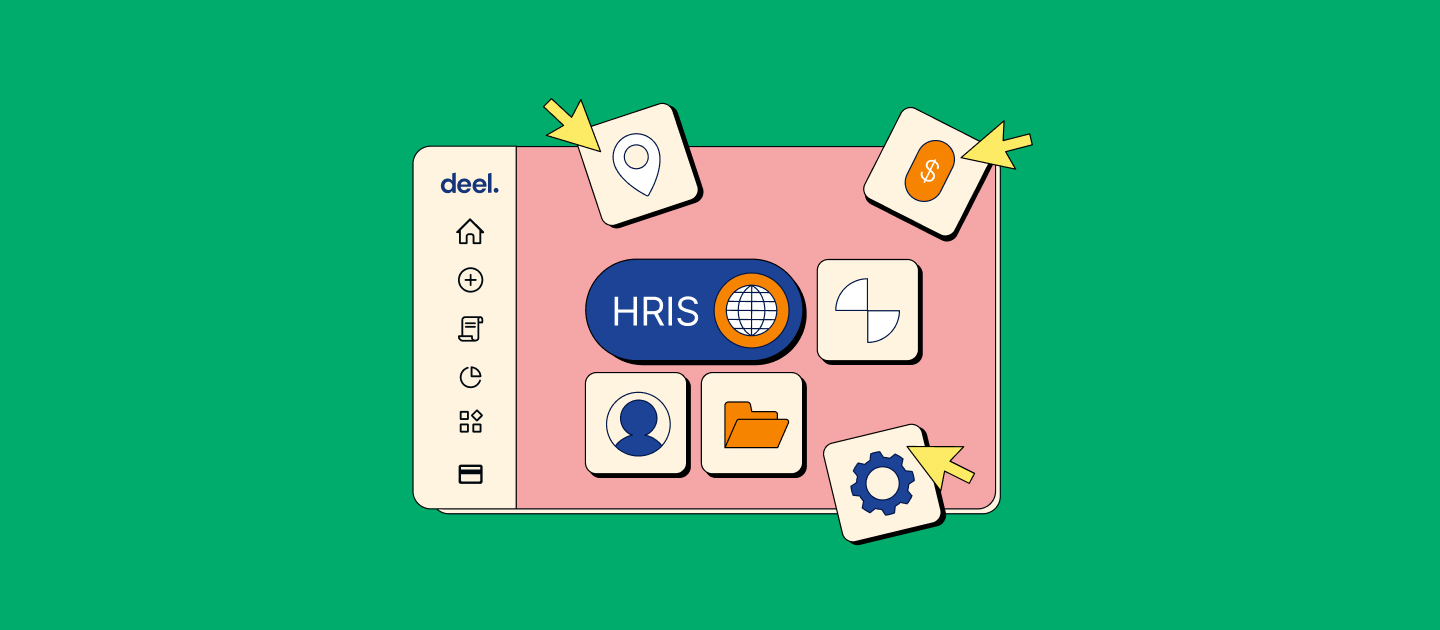 New to HRIS? Use This HRIS Implementation Checklist to Get Started
Learn how to prepare your team for a new HR software, get a look at the setup process, and more.
Written by Shannon Hodgen
January 23, 2023
Contents
Need help onboarding international talent?

Try Deel
Key takeaways
There are six steps to HR software implementation: Data collection, data upload, profile reviews, information edits, setting managers, and continued worker onboarding.
HR teams can prepare for the process by setting clear goals, thoroughly researching their system options, and following a multi-phased approach.
Using Deel HR, a global-first HRIS (human resource information system), you can easily scale your team of international workers in one place.
For most teams, managing HR documents and data across several spreadsheets works fairly well—until it doesn't.
Eventually, the fragmented employee data, disorganized documentation, and manual work will lead to errors, inefficient processes, and frustrated team members. Unless, of course, you find the right HRIS.
Whether you're a small business or a global enterprise, an HRIS can help you streamline hiring processes, minimize errors and manual work, and allow your team to make informed, data-based decisions.
This guide is for teams who are ready to move away from fragmented HR management and set up their first HRIS with Deel. Already familiar with the basics of HRIS? Read our guide on how to migrate HR data to Deel HR.
What is an HRIS?
An HRIS is an HR software solution that helps you improve core HR functions, optimize HR processes, and simplify day-to-day workforce management. This type of HR application generally includes the following modules:
Employee management
Time off requests and approvals
Employee record storage
Attendance tracking
Employee self-service functions
With Deel HR, you can add on localized benefits administration, global payroll systems, equipment provisioning, and more. Deel HR is a global HRIS that enables HR professionals to manage their entire international team in one place. This includes your direct employees, EOR (employer of record) employees, and independent contractors, from all over the world.
HRIS vs. HCM vs. HRMS
HRIS, HCM (human capital management), and HRMS (human resources management system) are all types of HR software that offer different levels of services for talent management and performance management.
How to prepare for your first HRIS
The ideal HRIS is one that can support your team for the long term. To find it, you need to identify your business goals, make an implementation plan, and prepare your HR department for the process.
Evaluations and goal-setting
Make a plan: Establish an implementation timeline, set and approve a budget, and identify stakeholders and team members involved in the process
Audit your current HR information: Gather your current HR documents in one place. Identify accurate vs. inaccurate information sources and determine access controls for teams/individuals
Set your HRIS goals: Is your main objective to consolidate HR data and payroll software data into one platform, better understand and anticipate costs, or run more customizable reports?
Make a system requirements checklist: Identify the features and functions you need in an HRIS, such as creating localized worker profiles or using specific integrations
Align your team
Implementing an HRIS requires many team members to work in tight alignment. Selecting a project manager to act as a liaison between your vendor and your implementation team will help streamline the process. Identify who on your team will be responsible for tasks such as:
Gathering department requirements for an HRIS
Providing system training to team members
Collecting, migrating, and editing HR data
Overseeing configuration and testing
Building and deploying a communications plan for the company-wide rollout


Select the best HR software for your team
Use a request for proposal template to collect product information from vendors and identify the right HRIS for your team. Determine their pricing model, how they support a scaling team, and their available integrations and add-ons.
Complete a trial of your top HRIS options to experience their products and workflows first-hand. For a complete checklist of what to look for when researching HRIS platforms, read our guide to choosing an HRIS for your business.
You go big. We go with you.
6 steps to HR software implementation
Once you've chosen your ideal HR software solution and prepared your team for the process, it's time to implement your new system. At Deel, our goal is to make integrating an HRIS into your tech stack as simple as possible. Here's a look at the process.
1. Collect your data

2. Upload data to Deel HR

3. Review your People List

Gather all of your people data, consolidate it into one document, and export it as a CSV file for easy data migration

We verify and confirm the worker information and our onboarding team helps upload the existing data to Deel HR

Once all worker information has been migrated to Deel HR, review your People List, which provides a full view of all workers in one place, including their role, team, country, and more

4. Edit worker

profiles

5. Set managers and direct reports

6. Add new workers as needed

Edit the worker profile information as required and assign access controls

Set up managers and direct reports to show the reporting structure of your organization




Managers can be set during the onboarding process or via individual profiles

Onboard new workers at any time through the platform—new worker profiles will be localized to their country of residence




To streamline the process, workers can upload documentation, sign employment agreements, and more through the self-service portal
What comes next? A post-HRIS implementation checklist
Follow these steps to maximize your HRIS results and set your team up for success.
Integrate your HRIS with other systems
Reduce manual tasks, streamline workflows, and avoid human error by integrating Deel HR with the tools you use for time tracking, learning management, performance reviews, applicant tracking systems, and more. Deel integrates with 15+ popular HR tools and apps for seamless use, or use Deel API to build custom integrations that fit your team's unique needs.
Thanks to our in-product setup, integration only takes a few minutes and can be completed directly by your team. No extra support from tech specialists is required.
Test your new HRIS
With your team profiles added and your integrations complete, you can test the platform. Gather feedback from testers during this phase and from end-users after launch. Was all worker data added correctly? Can you run a payroll report without issues? Are the automations functioning as expected?
Share product training and resources
Deel HR was built to be simple and user-friendly, so human resources managers and new employees alike can easily navigate the product. Deel's support team will provide helpful video tutorials that walk you through the platform as well as resources to support a smooth implementation.
HRIS rollout and company onboarding
After training is complete, identify a rollout date for your new HR system. Send out company-wide communications to announce your new HRIS, enrollment instructions, and how to request support. This messaging may vary depending on the recipient's role and status in the company.
When you're ready to launch Deel HR company-wide, all workers will receive an invitation to join the platform. Once they log in, they'll be prompted to complete a checklist of simple tasks, such as uploading their banking details (if required).
Securely retire your old files and documentation
Now that your worker and employee information is consolidated into one cloud-based platform, you can securely discard or store previously used spreadsheets and documents. Consider keeping the files for a few weeks post-HRIS launch in case you need to reference the original data. Clearly mark the documents as "not in use" and change the access controls to "view only" to discourage use.
Meet Deel HR: the global HR platform that scales with you
Deel HR is an all-in-one HR software solution that enables you to manage every contractor and employee lifecycle in one place. That includes direct employees in the US, independent contractors in India, and EOR employees in the UK.
With Deel HR, you can:
Save over $20,000 USD per year

by consolidating multiple HR management systems into one
Get full team oversight

with real-time dashboards, headcount metrics, payroll reporting, and API integrations
Boost employee engagement

with Deel Engage plugins that spark connections among top talent and new hires, improving the employee experience for everyone
Gain global visibility

by managing worker/employee onboarding, payroll processing, and compliance in any country from one central location
To support scaling teams, Deel HR is free for companies with up to 200 workers. Learn more about our global HRIS.