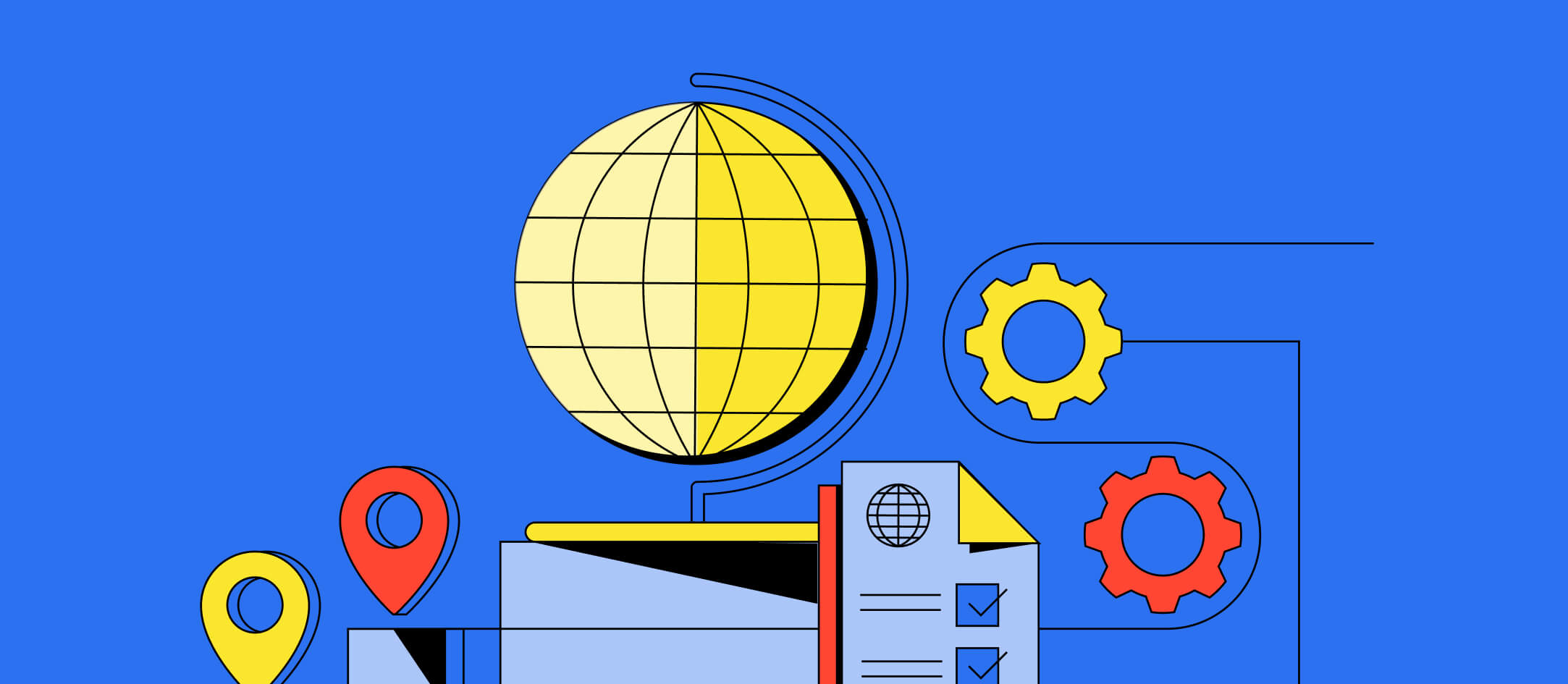 All You Need to Know About HRIS: Human Resources Information System
An HRIS (Human Resource Information System) combines automation, data, and centralization to drive company productivity and growth. Keep reading to see how you can use an HRIS to optimize your workforce management.
Written by Anja Simic
September 17, 2021
Contents
Need help onboarding international talent?

Try Deel
As a member of the HR department, you've had a front-row seat to the growth and development of your workplace. You've helped lead the shift from in-office to remote working. You've built new skills and helped others do the same. And you've kept pace with ever-evolving employee expectations.

You may have also ended up with information and data scattered across different spreadsheets, systems, and platforms. To keep up and keep ahead, HR departments need an all-in-one tool—and they can find it in an HRIS.

By the end of this article, you'll clearly understand what an HRIS is, what it can do for you, and the best available options.
What is HRIS?
An HRIS (Human Resource Information System) is a platform designed to improve workforce management. These systems store, organize, and analyze people data in one centralized space so teams can easily access information and make data-driven decisions.
What's the difference between HRIS, HRMS, and HCM?
HRIS, HRMS, and HCM are used interchangeably due to their shared products and systems. They're all cloud-based HR software that helps HR departments manage their workforce. If you need an HR system, you can search for all three types of tools. You won't ever need an HRIS in addition to any of the other two.

The main difference is the complexity and power of each tool:
HRIS: Human Resource Information System
An HRIS is the most basic system of the three HR technologies. It's a software or platform used to collect employee information, track data, store company policies, and manage HR processes.
HRMS: Human Resource Management System
An HRMS includes the basic features of an HRIS, as well as additional tools or features for time tracking and payroll, suitable for businesses with mostly hourly wage workers. Some companies market themselves as an HRIS, despite having additional features that technically qualify them as an HRMS (and vice versa).
HCM: Human Capital Management
HCM software is considered the most comprehensive option of the three. It builds on the basic functions of an HRIS with an extensive selection of products dedicated to talent management tasks such as learning and development and succession planning.
Features of HRIS software
An HRIS combines the efficiency of digital automation with the convenience of a centralized hub for employee information. Most HRIS options are highly customizable and usually come with desktop and mobile app versions powered by the cloud, perfect for
distributed teams
.
Here's what you can achieve with a typical HRIS:
Organize employee data
A great HRIS makes it easy to store and retrieve employee data, including:
Contact information
Education
Salary
Date of birth
Tax information


HR teams can typically customize access controls to this information so the right employees can search and update information as needed, instead of going through the HR team to access it.
Track attendance
Need to review working hours, absences, sick days, and holidays for every employee? With an HRIS, you can do it all in one dashboard. Once you've collected enough data, you can track individual and company-wide employee engagement trends to improve your internal policies.
Automate payroll
Automated payroll saves teams time and compliance headaches by tracking timesheets, calculating wages and taxes, distributing pay, and maintaining payroll records for you. These automated HR systems reduce the chance of human error and increase data security to keep confidential payroll information safe.

Learn more about small business payroll and taxes.
Manage benefits administration and compensation
Through a more comprehensive HRIS, HR professionals can manage employee benefits and compensation packages. They highlight company perks, gather transparent compensation data for each role in the company, and administer benefits packages to each worker.
Track applicants
A top-shelf HRIS includes an
Applicant Tracking System (ATS)
, which gives you a single source for all of your candidate information. This saves time during hiring and makes talent acquisition about finding great new employees rather than entering data.
You can process applications, manage each selection phase, and gather a variety of metrics throughout the hiring process that can help you answer questions like:
Which talent source supplies the best candidates?
Which hiring manager is the pickiest?
Are all of our new hires from certain universities?
Does our selection process foster diversity?
Is retention higher if the selection process is shorter?


Track employee training
Tracking employee training is simple enough for a small business that regularly gathers its entire team in one room (or Zoom meeting). But the same can't be said for quickly-growing teams—unless, of course, it's automated.

As companies grow, they need a larger, more modular approach to learning management. This is especially important for compliance training, which is mandatory, frequent, and often missed.
When your HRIS has the power to manage and track employee training (or integrate with your training platform), it becomes the ideal training assistant, enabling you to:


Build customized learning journeys for each worker
Manage and distribute training materials in one system
Offer self-led certifications so learners can complete courses when and where they want
Check a trainee's progress and send automatic reminders to keep them on track
Create instant reports on course completion rates and performance

Empower employees with self-service
With the right HRIS, employees can set their own professional goals, keep track of performance reviews, and take ownership over their career development. This employee self-service element empowers workers to take the lead on their own learning and development while freeing up time for HR team members.
Why use HRIS systems?
An HRIS helps minimize common HR department challenges by automating tasks, strengthening compliance, and organizing data. Here's a deeper look into the benefits of using an HRIS:
Stay organized as your company scales
As a company grows, so does the need for a single source of truth—a place where accurate, up-to-date information lives for all employees to access. Instead of separating that information into multiple HR systems and spreadsheets, an HRIS centralizes it into one organized platform.
Spend your time on strategy (not repetitive tasks)
On average, HR managers who don't have fully-automated systems lose 14 hours per week completing time-consuming tasks they could automate.

With an automated HRIS platform, workers can submit and review information independently. HR team members can also produce accurate reports in seconds—which means fewer questions, fewer headaches, and more time available to improve human resources and the employee experience.
Protect your data and maintain compliance
Instead of spreading sensitive employee information across multiple poorly-guarded spreadsheets and documents, you can hold all information securely on one HRIS. Most HRIS providers regularly update their systems to reflect current HR regulations to meet the latest cybersecurity requirements and data security standards.
Win the talent war by focusing on employee experience
According to a McKinsey Global Survey, only 37% of respondents say their organization's HR functions facilitate a positive employee experience. Their functions aren't strategic or agile enough, which can lead to disorganized processes and frustrated workers.

When you've centralized and automated your HR processes in one HRIS, your team can breathe a bit easier knowing every employee inquiry is received and addressed, every step of onboarding is completed, and workers are paid the correct amounts on time.
Eliminate guesswork and improve decision-making
Once you've migrated all of your data to an HRIS, you can start making data-informed decisions inspired by accurate information and real-time insights—not guesswork. Track behaviors, trends, and more to identify cost-saving initiatives, streamline processes, and optimize your workforce.
Best HRIS systems on the market in 2022
Before you shop for an HRIS, identify your company's core business goals and pain points, and focus your search on a solution that can help you unlock your team's potential. It's easy to get distracted by an HRIS solution with plenty of bells and whistles, but if they're not the functions you need, they won't do you any good.

Selecting an HR platform that makes your team more productive, efficient, and compliant can be a game-changer for your company. Here are a few of the best HRIS software solutions on the market today:
Rippling
G2 Rating: 4.8/5
With Rippling's intuitive platform, teams can manage their HR, payroll, benefits, and IT without bouncing between systems. Their HR products cover the basics—such as payroll management, attendance tracking, and benefits enrollment—while their IT services provide secure application and device management. Users can also manage workflow automation, policies, analytics, and customize access controls with their unified workforce management platform.
Monday
G2 Rating: 4.7/5
Monday is an HR software focused on improving every step of the employee experience, from recruitment and onboarding to performance management and project progress. The platform combines an intuitive interface with automations that bring clarity to overwhelming amounts of data. Users can choose from eight visualization tools to view their data, including Kanban, calendar, timeline, Gantt, map, form, and workload.
BambooHR
G2 Rating: 4.5/5
BambooHR's software products help small to midsize businesses collect, maintain, and analyze their people data to improve their hiring, onboarding, and overall company culture. With their people data and analytics feature, users can generate instant detailed reports with custom viewing permissions to protect sensitive information.
Hibob
G2 Rating: 4.3/5
Onsite, remote, and hybrid teams can use Hibob to streamline their processes while they scale. Their modules cover core HR functions—including payroll, onboarding, performance, compensation, and more—but their star function is Your Voice. The anonymous reporting tool provides a safe place for workers to submit concerns, with encryption technology that keeps sensitive information and case management processes secure.
Namely HR
G2 Rating: 3.9./5
For midsize businesses, there's the HR software Namely. This HRIS was designed to help teams of 25 to 1,000 employees track, analyze, and understand their HR data. In addition to payroll services, employee engagement tools, and compliance tools, users can use their visual analytics hub to assess headcount, salary, diversity, attrition, time off, and more.
HRIS FAQs
Have an unanswered question about HRIS? See if we cover it here:
When should I get an HRIS?
Eventually, every growing company moves past the point where spreadsheets, separate systems, and manual reporting are sustainable. You may be at this inflection point if:


Your HR team loses too much time completing menial or repetitive HR tasks
You use multiple systems that aren't integrated, causing confusion and overwhelm for your employees
You lose talented candidates and employees because of disorganized hiring or training processes
You need data-driven insights to improve your team, but don't have the time or resources to run reports manually

What other HR software do I need?
While the HRIS of your choice should cover your core business needs, you may end up with a solution that only fits some of them. On top of an HRIS, you may need software specifically for global payroll, international talent acquisition, or managing employee performance and feedback.
How much does an HRIS cost?
According to Softwarepath's 2022 HRIS report, the average HRIS cost for each user is $210 per month, or $12,625 per user over five years, though the actual cost will depend on the provider you choose.
Is my company too small for an HRIS?
HRIS isn't an option only for big, international companies. Many small businesses tend to drown in paperwork, miss out on some important information because they're overwhelmed, and never seem to get around to sorting out all of the information they've gathered.
Should I use a cloud-based HRIS?
For every HR software you use, you can decide between a cloud-based solution or something stored on your company's infrastructure. A system stored in the cloud is a better option if you want anywhere, anytime access. However, read the fine print and ensure your data is safe.

You can develop your own system from scratch or purchase the license for an external provider. If you're considering building your own system, review some open-source solutions before you start.
What should I look for in an external HRIS vendor?
If you choose to partner up with an external provider, make sure their solution:

Is user-friendly
Covers a wide range of options
Has high-level security
Offers around-the-clock customer support
Integrate with Deel for added organization and security
While an HRIS can optimize HR functions for both on-site and remote organizations, HR managers for globally distributed teams need more support. That's where Deel comes in.

Deel's services allow you to hire and pay employees and independent contractors in seconds. Deel integrates with a number of top HRIS platforms to make sure your people data is always up-to-date, accessible to those who need it, and safe with enterprise-grade data protection.

Read more about how Deel works or book a demo to see how we can help you and your team grow.