7 Deel Withdrawal Methods for Contractors Beyond Wire Transfers
Discover why wire transfers may not be the best option for international contractors. Explore alternatives, costs, and limitations.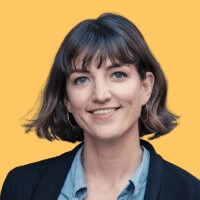 Written by Jemima Owen-Jones
July 6, 2023
Contents
Need help onboarding international talent?

Try Deel
Key takeaways
Wire transfers are a popular method for making international payments due to convenience and speed. However, high transfer fees, exchange rate fluctuations, and compliance and regulatory challenges may make them unsuitable for international contractors.
For a successful business relationship, contractors require flexible payment methods, timely payment, and speedy withdrawals with zero fees.
With Deel, you can pay independent contractors with a variety of online payment methods to meet the diverse needs and wants of international contractors while ensuring compliance and affordability in every region.
As the business world has become increasingly globalized and flexible, many organizations make international payments to employees and foreign contractors, with wire transfers being a popular solution for transferring funds.

However, there are a few reasons why wire transfers for international contractors and freelancers may not be best — and we're here to explore them.
Limitations of wire transfers
While wire transfers offer speed and security, they also come with certain limitations that companies should consider when making an online payment.
1. Higher international wire transfer charges
International wire transfer charges cost much more than domestic transfers and can be a significant expense. Keeping an eye on these charges will prevent the cost from chewing into the company's bottom line, as these wire transfer fees add up if you have to pay contractors frequently.
2. Lack of transparency
Wire transfers don't have real-time payment verification, leaving companies uncertain about the status of their transactions until they receive confirmation from the recipient. In addition, bank fees and questionable exchange rates make it challenging to determine the actual cost of the transaction. These hidden fees increase the expense of paying overseas contractors.
3. Exchange rate fluctuations
Making wire transfers involving multiple currencies over and above a single local currency adds another limitation. Regulatory bodies or banks may impose restrictions or limitations, leading to additional costs when calculating currency conversion. The unpredictable currency exchange rates can lead to unexpected costs and impact profits.
Access your money, when you need it
Contractors paid through Deel can access funds up to 30 days early, and without insane interest rates, confusing terms or late repayment fees.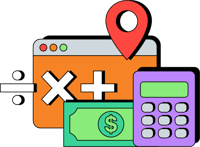 4. Irreversible payments
Once a wire transfer is initiated, it's incredibly difficult to reverse or cancel the transaction. Payroll processing demands particular care when entering details, and the payee should consider additional layers of security to minimize risk. Unfortunately, this increases the risk of irreversible errors or fraudulent activity.
5. Limitation on the maximum number of fund transfers
The cap on the number of international transfers you can make via wire transfer may hinder the company's ability to conduct multiple transactions efficiently. In turn, these limitations may disrupt your business operations (and reduce the satisfaction of contractors).
6. Vulnerable to fraud
International wire transfers leave companies vulnerable to cunning scams and fraudulent activities. With the development of technology, fraudsters have developed sophisticated techniques to exploit loopholes and break through security measures. Companies that fail to safeguard the business against the threat of fraud risk financial stability.
7. Compliance and regulatory challenges
Compliance and regulatory requirements are constantly changing, meaning the financial team must constantly stay updated on compliance requirements to avoid severe penalties and legal issues.

These requirements include updated IRS regulations, anti-money laundering regulations, and data privacy laws, which can be addressed through robust compliance protocols and partnering with reputable financial institutions.
8. Slow processing times
While wire transfers are generally faster than some payment options, they still include a delay of several business days due to intermediary banks, time zone differences, and manual processing requirements. These delays can impact fund availability as well as timely payment for contractors.
9. Time zones and business hours
Wire transfers are subject to the operating hours of financial institutions, which may differ based on the local time zone. These operational hours can lead to further delays in payment, especially when international transfers involve multiple countries.
10. Error-prone
When relying on manual processing, there is always the risk of human error, especially when entering the recipient's account details or bank information. These mistakes can lead to failed or misdirected transfers, causing additional delays and potential complications in recovering the funds.
11. Dependency on financial institutions
The success and efficiency of international wire transfers rely on the infrastructure and systems of both the sender and the recipient's financial institution. As with all technology, there is the risk of vulnerability, technical glitches, or system failures.
What are some alternative payment methods for international contractors?
These limitations can be restrictive and costly, but alternative payment methods and platforms have emerged as better-suited solutions. Below are some of the most popular payment methods for international contractors, adapted to the current world of work.
Local bank transfers
Local bank transfers involve sending funds between bank accounts within the same country, eliminating the complexities and fees associated with cross-border transactions. This option allows businesses to enjoy faster processing times, lower transaction fees, and simplified procedures.

These advantages make handling domestic payments, payroll, and contractor management efficient, with no cost to the contractor and a speedy withdrawal of one to five business days.

Making local bank transfers in various currencies is possible through the Deel platform. The process is similar to sending an international bank transfer: Select payees, choose a payment method, add the transfer details, and review a payment summary.

After that, you can download the invoice and manually send the payment from your bank.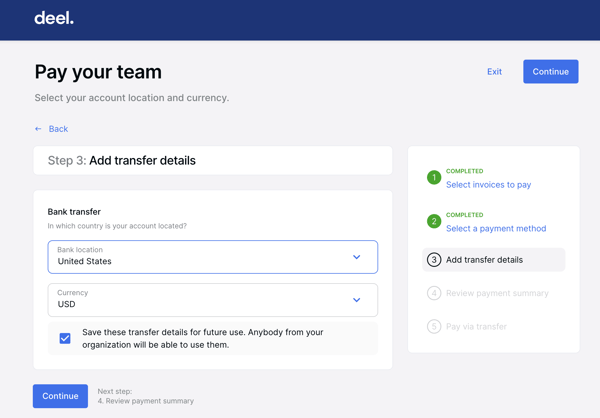 Coinbase account transfer
Coinbase is a popular cryptocurrency exchange provider offering a modern and efficient alternative to international money transfers. Coinbase allows businesses to transfer funds globally using digital currencies like Bitcoin, DASH, ETH, SOL, Ethereum, and USDC.

The method also includes faster transaction processing of up to one business day, lower fees of 1.5% cost to contractors, and the potential for increased security and privacy.

You can pay contractors in USDC through Coinbase on the Deel platform by selecting Coinbase as your chosen payment method.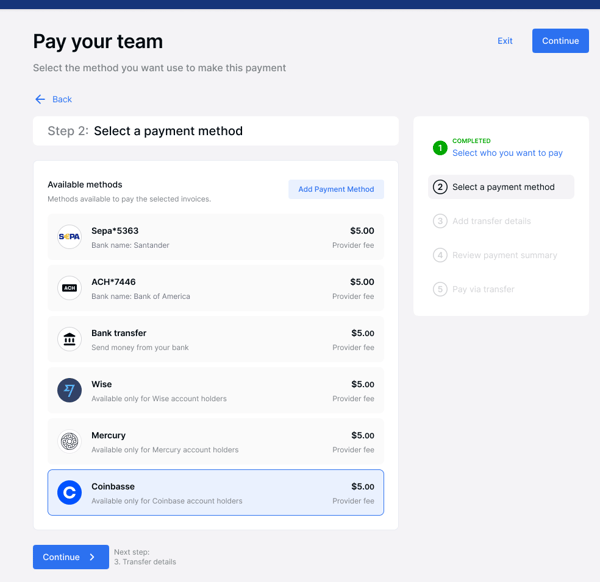 PayPal
PayPal's payment service dates back to 1998 and has since become a popular online platform that allows businesses to send and receive funds globally (at a fee of 2.5% cost to contractors). The platform offers ease of use, fast transaction processing in a single day, and the ability to link various funding sources like bank accounts and credit cards.

As one of the most widely-used transfer services, PayPal also offers buyer and seller protection, enhancing the security of transactions.

With Deel, contractors can withdraw their money from their Deel balance into their PayPal account.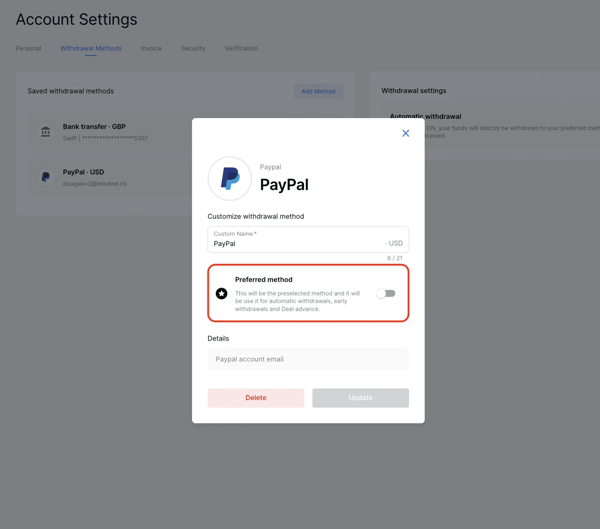 Revolut
Revolut is a digital banking platform that offers fast and cost-effective cross-border transfers with a withdrawal speed of up to one business day, serving as a modern and innovative alternative to international wire transfers. The platform enables the exchange and transfer of funds in multiple currencies with competitive exchange rates (often without any fees).

Adding to the benefits, Revolut provides a user-friendly mobile app, convenient account management features, and additional services such as multi-currency wallets and virtual debit cards. There is no cost to the contractor either!

With Deel, contractors can select Revolut as a withdrawal method within their Deel accounts.
Deel Card
Created specifically for verified and active independent contractors on Deel, the Deel Card allows contractors to spend their Deel account balance via a prepaid Mastercard, anywhere Mastercard debit is available, with instant withdrawal speed.

The balance is held in USD, and the funds can be accessed with a $5 USD cost to the contractor (to access the virtual card). The convenient method can be used as a credit card without the hefty fees usually charged by regular banks.


Deel Instant Card Transfer
Deel Instant Card Transfer enables instant payments to a contractor's eligible debit or credit card at a 2.5% fee. The method allows for immediate access to earnings which improves financial flexibility.

The alternative payment method is available in over 60 countries, with a few limitations.

Deel users can start using Instant Card Transfer by adding a new withdrawal method to their Deel account.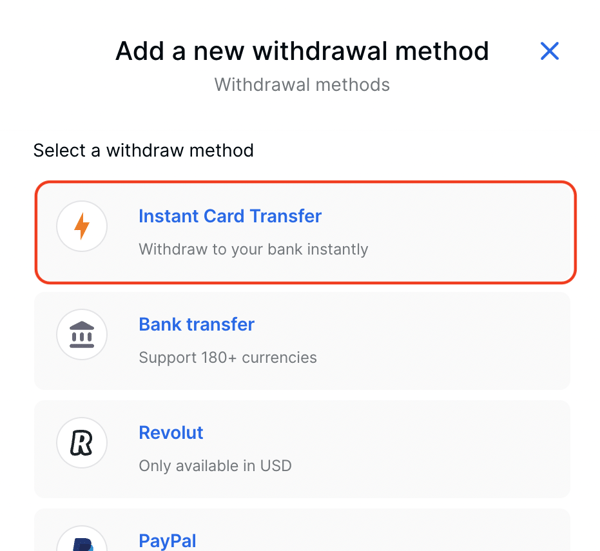 Payoneer
Payoneer is a global payment platform that allows big and small businesses to send and receive funds worldwide, offering the advantages of fast and secure transactions, competitive exchange rates, and a lower fee of 1% cost to contractors.

The platform offers various payment solutions, including virtual accounts, prepaid cards, and e-wallets. These choices make Payoneer a flexible and convenient method of managing international payments.

Using the Deel platform, international contractors can withdraw their funds from their Deel Balance to Payoneer by adding Payoneer as a withdrawal method on their accounts.
International payments made easier with Deel
With all these payment alternatives available, how do you choose the best one for your needs? Deel empowers businesses to simplify international contractor payments, ensuring compliance and efficiency while saving time and money.

Deel's features make it easy to handle tax laws, hire compliantly, and automate invoices — when hiring both full-time employees in the home country and international contractors. Deel also considers labor laws and tax obligations, making flexible payment arrangements worldwide. Get started with Deel today.