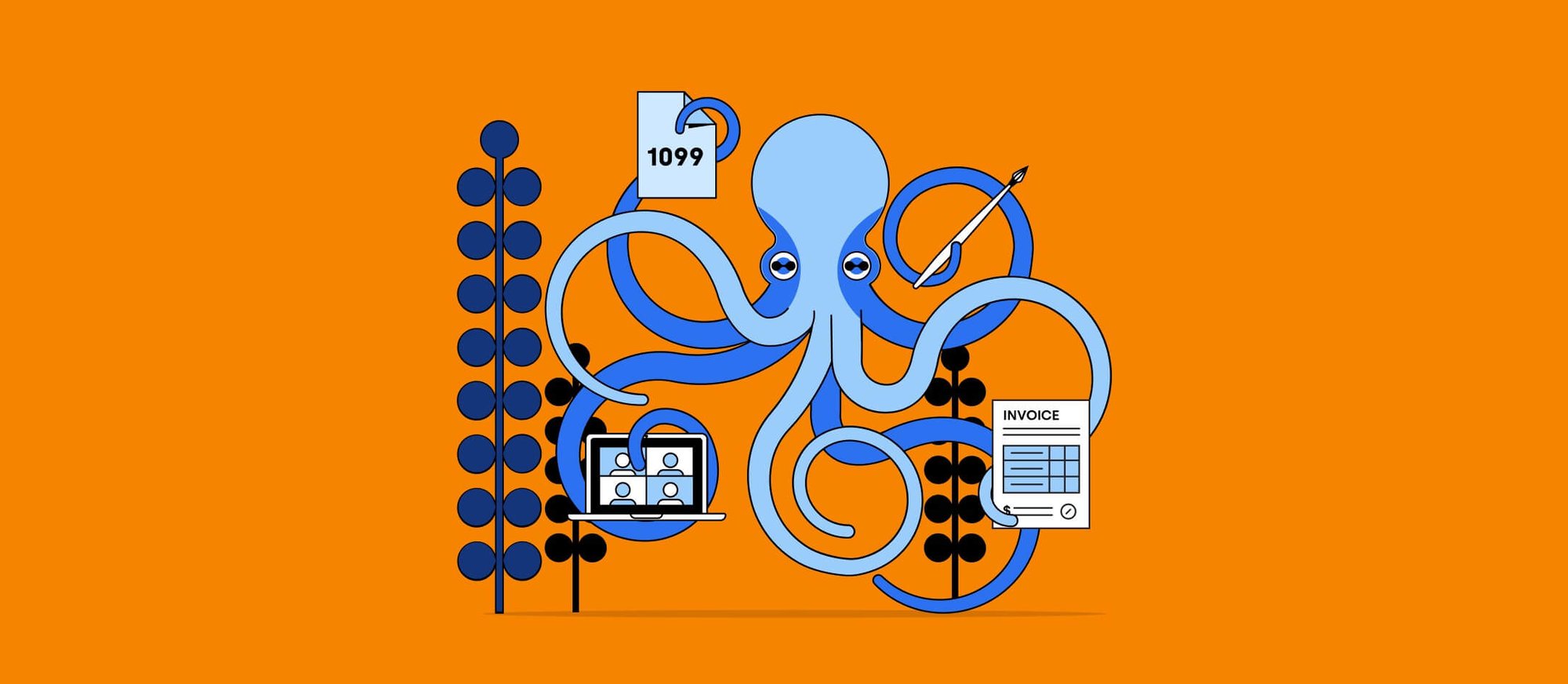 9 of the Best Ways to Pay Independent Contractors Online
Learn how to pay contractors efficiently and compliantly. Explore various payment methods and best practices for managing contractor payments with Deel.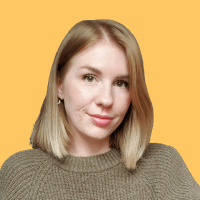 Written by Shannon Hodgen
May 26, 2023
Contents
Need help onboarding international talent?

Try Deel
Key takeaways
If you're sending payments to contractors abroad, you need to be aware of local payment regulations and employment laws to avoid fines and penalties.
Workers prefer to have a variety of payment methods available to them, not just wire transfers or PayPal.
With Deel, you can pay independent contractors in a variety of easy, compliant, and cost-effective ways.
Today's global workforce is looking for diverse and flexible payment methods. For example, research from the Deel Lab's State of Global Hiring Report shows that 4% of withdrawals in 2022 were in crypto, while USD withdrawals rose 2%.
As a growing company, you have to balance workers' payment preferences with the legal requirements in each country. With Deel, you can access a comprehensive range of online payment methods to meet the diverse needs and wants of international contractors while ensuring compliance in every region. In this article, we walk you through the best online payment options and how they work on the Deel platform.
Please note: Payment process may involve validation checks and reviews, depending on the payment method and specific circumstances.
International bank transfers
Withdrawal speed: 5-7 business days
Cost to contractor: $5 USD
Available currencies: 180+ currencies
International bank transfers, commonly facilitated through the Society for Worldwide Interbank Financial Telecommunication (SWIFT) network, allow you to send funds directly to an independent contractor's bank account.
This widely accepted method offers a reliable way to make payments globally. However, international bank transfers can be time-consuming, costly due to transaction fees, and subject to potential delays or currency conversion issues.
With Deel, you can pay international contractors using SWIFT in a few simple steps. Select the invoices to pay, how you want to pay, and the transfer details. Then, you'll receive a payment summary like the one below, which you can review and verify before paying your workers.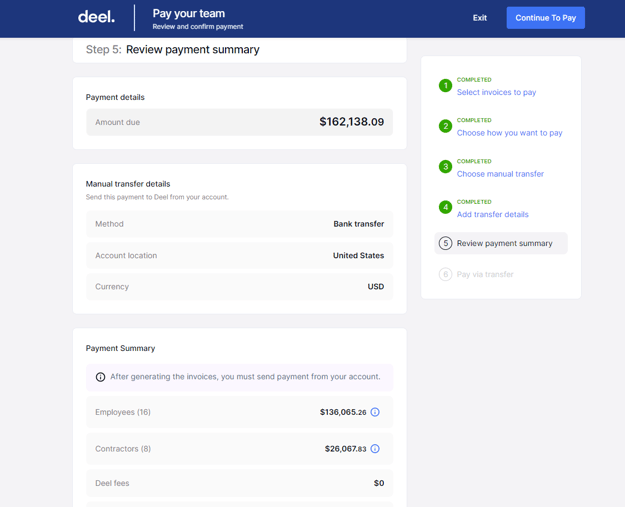 Local bank transfers
Withdrawal speed: 1-5 business days
Cost to contractor: $0 USD
Available currencies: 180+ currencies
Local bank transfers are an efficient way to pay independent contractors in their local currency. With Deel, you can initiate direct deposits into the contractor's bank account in their country (where applicable).
This method involves no cost to the contractor and is available through Deel in various currencies, making it extremely accessible for most contractors and clients. The process is similar to sending an international bank transfer: Select payees, choose a payment method, add the transfer details, and review a payment summary.
After that, you can download the invoice and manually send the payment from your bank.
Coinbase account transfer
Withdrawal speed: Up to 1 business day
Cost to contractor: 1.5% (flat fee of $5 USD for USDC withdrawals under $300)
Available currencies: BTC- Bitcoin, DASH, ETH, Ethereum, SOL- Solana, USDC- USD Coin
Coinbase is a popular cryptocurrency exchange platform that allows you to pay independent contractors using cryptocurrencies such as Bitcoin, Ethereum, or Dash. By leveraging blockchain technology, Coinbase offers fast, secure, and transparent transactions. However, not all contractors may be familiar with cryptocurrencies or have the means to convert them into their preferred fiat currency.
You can pay contractors in USDC through Coinbase on the Deel platform by selecting Coinbase as your chosen payment method.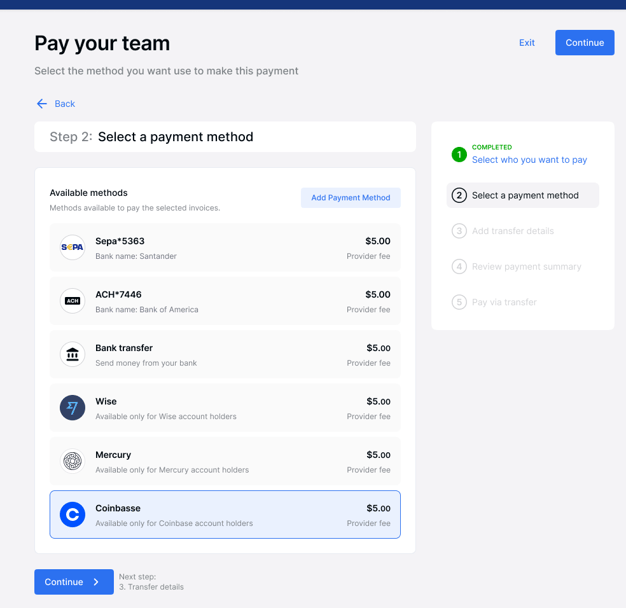 Binance
Withdrawal speed: Up to 1 business day
Cost to contractor: 1.6% (minimum $5 USD)
Available currencies: BUSD
Similar to Coinbase, Binance is a well-known cryptocurrency exchange platform. By setting up Binance withdrawals on Deel, you can pay independent contractors in BUSD.
However, as with Coinbase, contractors may face challenges using Binance to convert cryptocurrencies into their local currency, depending on their local regulations. For example, Binance was previously restricted in Canada, and in May 2023, the company announced they were pulling out of the country.
Contractors in supported countries can withdraw their funds using Binance by adding it as a payment method directly on the Deel platform.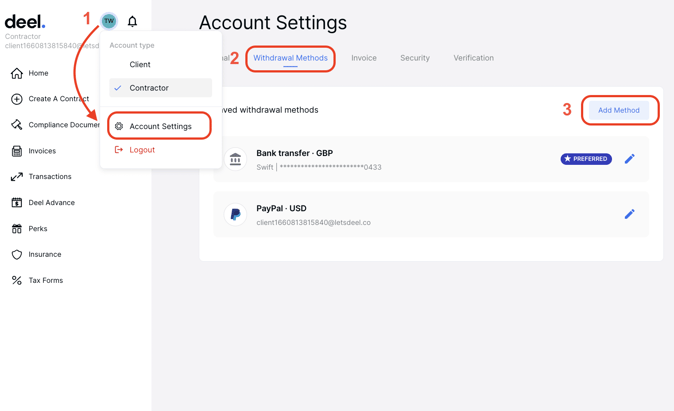 Pay your entire team in one click with mass payments
Click one button and pay your global team instantly. They can withdraw funds via bank transfers, crypto, PayPal, and more. Easy operations for you, easy options for your team.



PayPal
Withdrawal speed: Up to 1 business day
Cost to contractor: 2.5% (minimum $0.25 USD)
Available currencies: USD
PayPal is a widely recognized and accepted payment method for online transactions. It allows you to send funds to independent contractors' PayPal accounts instantly. PayPal offers convenience, flexibility, and broad accessibility.
However, the transaction fees, exchange rates, and potential limitations imposed by PayPal can deter contractors from using the platform, especially those operating in countries with limited PayPal support.
In jurisdictions that allow PayPal withdrawals, your contractors can withdraw their money from their Deel balance into their PayPal account.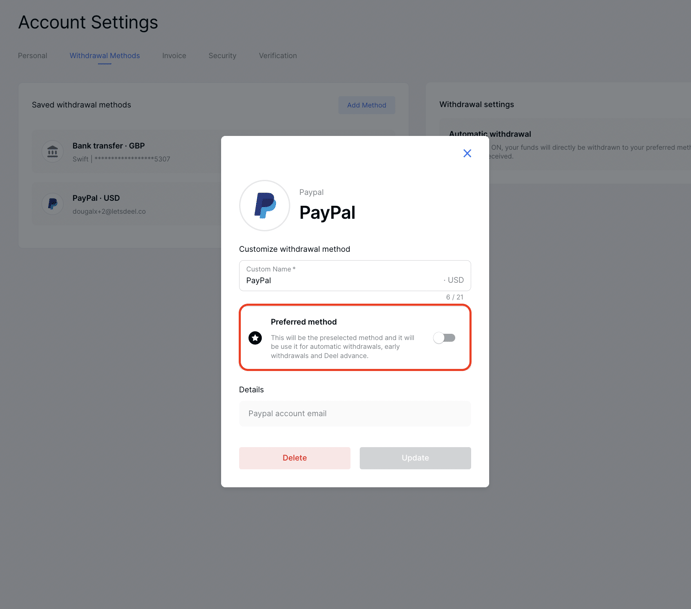 Revolut
Withdrawal speed: Up to 1 business day
Cost to contractor: $0 USD
Available currencies: USD
Revolut is a digital banking and payment platform that enables seamless global transactions. With Revolut, you can pay independent contractors quickly and securely. It offers competitive exchange rates, low fees, and the ability to hold funds in multiple currencies.
Contractors can select Revolut as a withdrawal method within their Deel accounts. Revolut's availability may be limited to certain regions, which could be a barrier for international payments.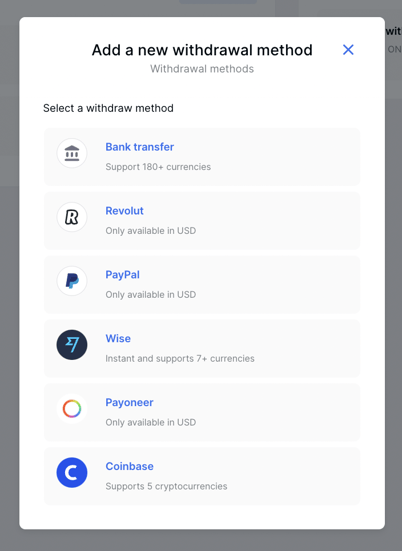 Deel Card
Withdrawal speed: Instant
Cost to contractor: $5 USD fee for a virtual card
Available currencies: USD
The Deel Card allows verified and active independent contractors on Deel to spend their balance directly from their Deel account via a prepaid Mastercard. Right now, Deel Cards are virtual. Contractors can use the card anywhere Mastercard debit is available, but it does not support ATM withdrawals.
The Deel Card is popular with contractors in Latin America, as their balance is held in USD, which enables contractors to get paid in a more stable currency.
This method offers convenience, as contractors can access their earnings immediately and use the card for online and offline purchases. Contractors can use the Deel Card as a credit card and avoid the interest and monthly fees that some banks charge for regular cards. There are no transaction fees for USD transactions and a small 1.25% fee for non-USD transactions.
How contractors can start using Deel Cards
Watch the video below to learn how contractors can order, fund, and receive their Deel Card.
Deel Instant Card Transfer
Withdrawal speed: Instant
Cost to contractor: 2.5% fee (minimum $0.25)
Available currencies: 48+ currencies
Deel Instant Card Transfer is a unique feature that enables instant payment transfers to contractors' debit or credit cards (the card must be a Mastercard linked to a bank account). With this method, contractors can receive their earnings immediately, providing greater financial flexibility.
This payment method is currently available in 60+ countries but is not supported by some banks in Dominican Republic, Philippines, and Ukraine. See the list of available countries and currencies for more information. Deel is working on expanding Instant Card Transfers to additional countries and currencies.
How contractors can start using Instant Card Transfer
Add a new withdrawal method to the account.

Select 'Instant Card Transfer.'





Input card and banking details and withdraw the balance.
Payoneer
Withdrawal speed: Up to 1 business day
Cost to contractor: 1% (minimum $12 USD)
Available currencies: USD
Payoneer is a widely used global payment platform that facilitates cross-border transactions. It allows you to pay independent contractors in their local currency, providing them with flexible withdrawal options, such as local bank transfers or prepaid cards. Payoneer offers competitive fees and broad coverage in various countries.
Your international contractors can withdraw their funds from their Deel Balance to Payoneer by adding Payoneer as a withdrawal method on their accounts.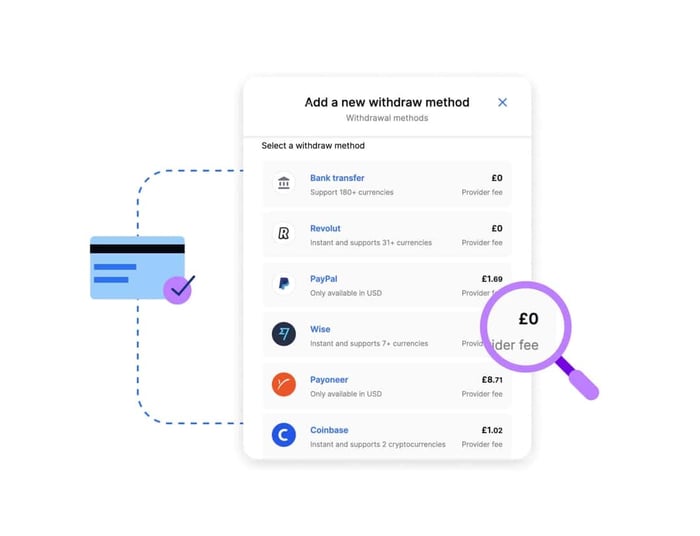 Simplify international contractor payments with Deel
Whether you need to pay contractors through traditional bank transfers or explore the possibilities of digital currencies, Deel provides the necessary infrastructure and tools to support your international workforce.
Hire compliantly, every time
Want to protect your company from worker misclassification? Use Deel Shield. Deel will assess the correct classification of your worker and create compliant contracts in line with their local employment laws. Once their classification is confirmed and their account is set up, you and your self-employed worker can manage tax documents, time off, payments, and more in one user-friendly platform.
Let us handle taxes
With Deel, you can instantly generate tax forms for any US-based team members, including Form W9 and Form W8. You can also file Form 1099-NEC/Form 1099-MISC to the IRS with one click from your dashboard. You'll have a clear record of your withholding taxes, payments, invoices, and filings, all in one place.
Save time with automated invoices
Whether you're a small business or enterprise company, you can sync all of your invoice data on Deel with your favorite accounting software, including Xero, Netsuite, and Quickbooks. Plus, Deel will create instant digital invoices after each payment for you to download directly from the platform.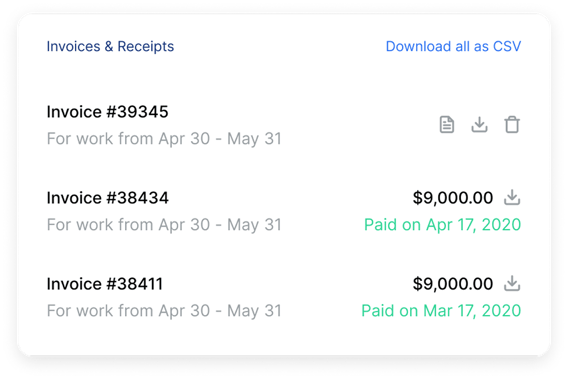 Pick from flexible payment terms
Create written contracts for freelancers that match your business needs. Pick from a fixed, milestone, or pay-as-you-go payment schedule:
Fixed payments: Pay full-time team members a fixed monthly or bi-monthly payment
Milestone payments: Pay on a one-time or per-project-basis with as many payment milestones as you need
Pay-as-you-go: Workers submit their hours through Deel for approval and payment
To get a closer look at how Deel can help you streamline contractor payments, schedule a 30-minute product demo with an expert today.