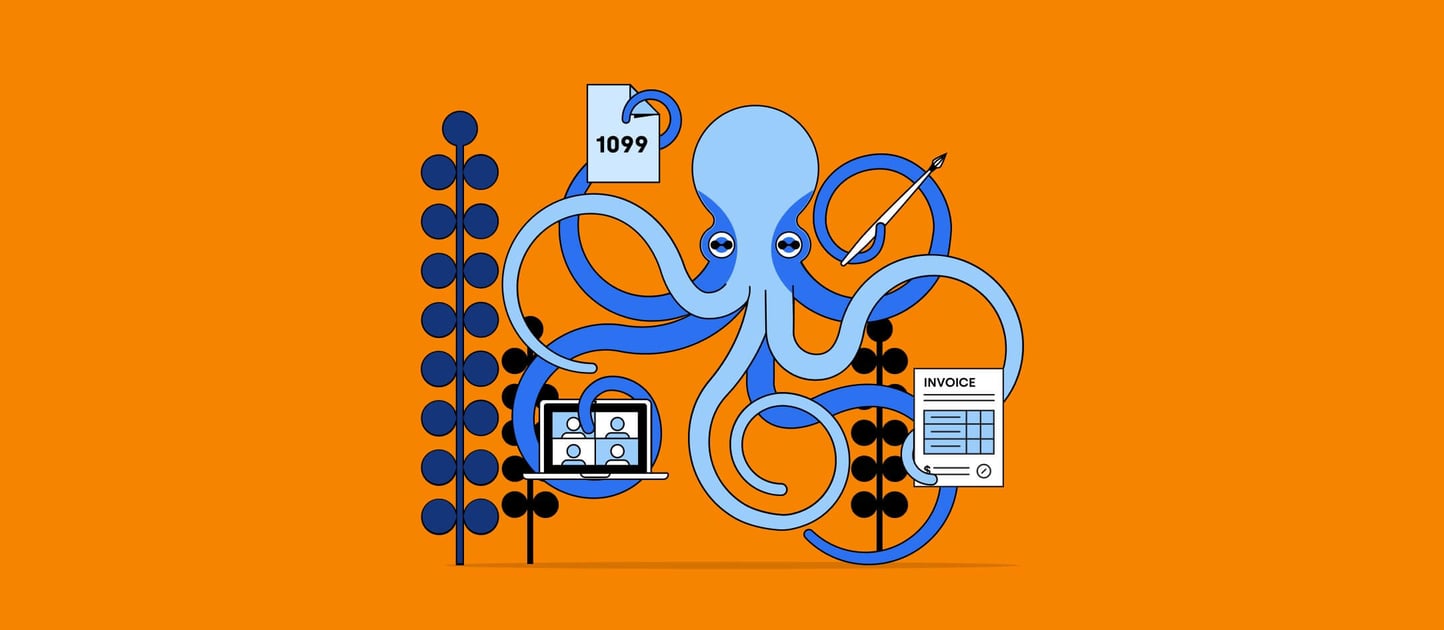 How to Set up as an Independent Contractor in California, USA
If you want to offer services to clients as an independent contractor, you will essentially be self-employed. In this article, you will learn about the basics of setting up as a California independent contractor.
Written by Anja Simic
August 16, 2021
Contents
Need help onboarding international talent?

Try Deel
Aspiring entrepreneurs around the world recognize California as a startup and business hub where innovation and ideas flourish. It's no wonder California is also a fertile ground for independent contractors. According to a study of the UC Berkeley Labor Center, "the rate of independent contracting as the worker's main job was 8.5% of the workforce in California in 2016, higher than for the U.S. as a whole".
If you are considering joining them, here are the basics of setting up as a California independent contractor.
Disclaimer: This article is not a substitute for legal advice. Please always check official websites or seek legal advice before you take action.
Sole Proprietor vs Independent Contractor
If you want to offer services to clients as an independent contractor, you will essentially be self-employed. It's a good idea to start a business entity to minimize your tax bills by deducting business expenses. That's where sole proprietors come in. Sole proprietorships are one-person businesses that are easy to start and run. We'll be taking you through the process of setting one up in California.
Business Registration in California - Assembly Bill 5
In September 2019, Governor Newsom of California signed Assembly Bill (AB) 5 into law. The new law addresses workers' "employment status" when they claim to be independent contractors and not employees. AB5, which requires a three-part test to determine whether a worker is allowed to be an independent contractor, took effect in January 2020.
AB5 requires the ABC test application to determine whether California workers are employees or independent contractors for purposes of the Labor Code, the Unemployment Insurance Code, and the Industrial Welfare Commission (IWC) wage orders.
What is the ABC Test?
This test aims to distinguish employees from independent contractors.
Under the ABC test, for a worker to be considered an independent contractor and not an employee, the hiring entity must satisfy all three of these conditions:
The worker is free from the control and direction of the hiring entity in connection with the performance of the work, both under the contract for the performance of the work and in fact;
The worker performs work that is outside the usual course of the hiring entity's business; and
The worker is customarily engaged in an independently established trade, occupation, or business of the same nature as that involved in the work performed.
The ABC test is very similar to the 20-Factor Test, which we've covered in a previous article.
Other legal tests
California uses several legal tests to determine whether a person is an employee or an independent contractor. Some of them are:
The ABC test
The "manner and means" test, which is used as a fallback under California wage and hour laws where the ABC test does not apply
The "control" test used by the IRS for federal tax purposes
Make sure to read up on all of these before registering your business.
If you're not looking to become an independent contractor, but hire one - learn how you can do it compliantly in the US.
Sole proprietorship in California: Definition
So what does it mean to be a sole proprietor in California? Here are some essential facts you should know.
As a sole proprietor in California, you are self-employed: you run your own business as an individual. Your income as the business owner falls under the individual income tax return with Form 540. As the owner of the sole proprietorship, you are personally liable for all debts of the business. You can establish a sole proprietorship without registering with the California Secretary of State.
Registering a sole proprietorship in California
Choosing a business name
You can use any name that isn't the same or too similar to another registered business and is not misleading to the public. We recommend running a search in the following government databases to ensure your desired business name is available:
Once you pick the business name, you need to file a Fictitious Business Name Statement with the county recorder.
Licensing and permitting
You may need to obtain various licenses and permits, depending on your business activities. California provides a comprehensive database of every license and permit that may be required. You can access this information on the California Governor's Office of Business and Economic Development CalGold website. Type in your county and city to get a list of the required permits and licenses for your business, and information about required filings and laws you may be subject to, such as minimum wage laws and inspections.
Employer identification number
The Employer Identification Number (EIN) is mainly for sole proprietors who want to have employees. Those without employees are not required to have an EIN - they can use their Social Security number to report taxes. Nevertheless, you may want to obtain one for your business. Some banks require an EIN to open a bank account, and it can reduce the risk of identity theft.
Obtaining General liability insurance
Because sole proprietors are personally liable for all business debts and obligations, think about a business liability insurance policy. It is useful to get one since it may be the only form of financial protection against unforeseen events.
Taxes
When it comes to reporting and paying taxes, it is crucial to know that your sole proprietorship operates as an individual for tax purposes. The steps you need to take are:
There you go - you are now ready for the adventure of registering a sole proprietorship in California and offering your services to clients!
If you want to work with clients around the world...consider using Deel!
Deel has a team of experts that stay on top of compliance requirements for 160+ countries. Each country has its regulations regarding labor law, contractor status, and documents, and Deel implements them on the platform. When clients create contracts, they can request the contractor to submit compliance documentation as per their country's regulations. Find out all the benefits of using Deel by scheduling a demo.