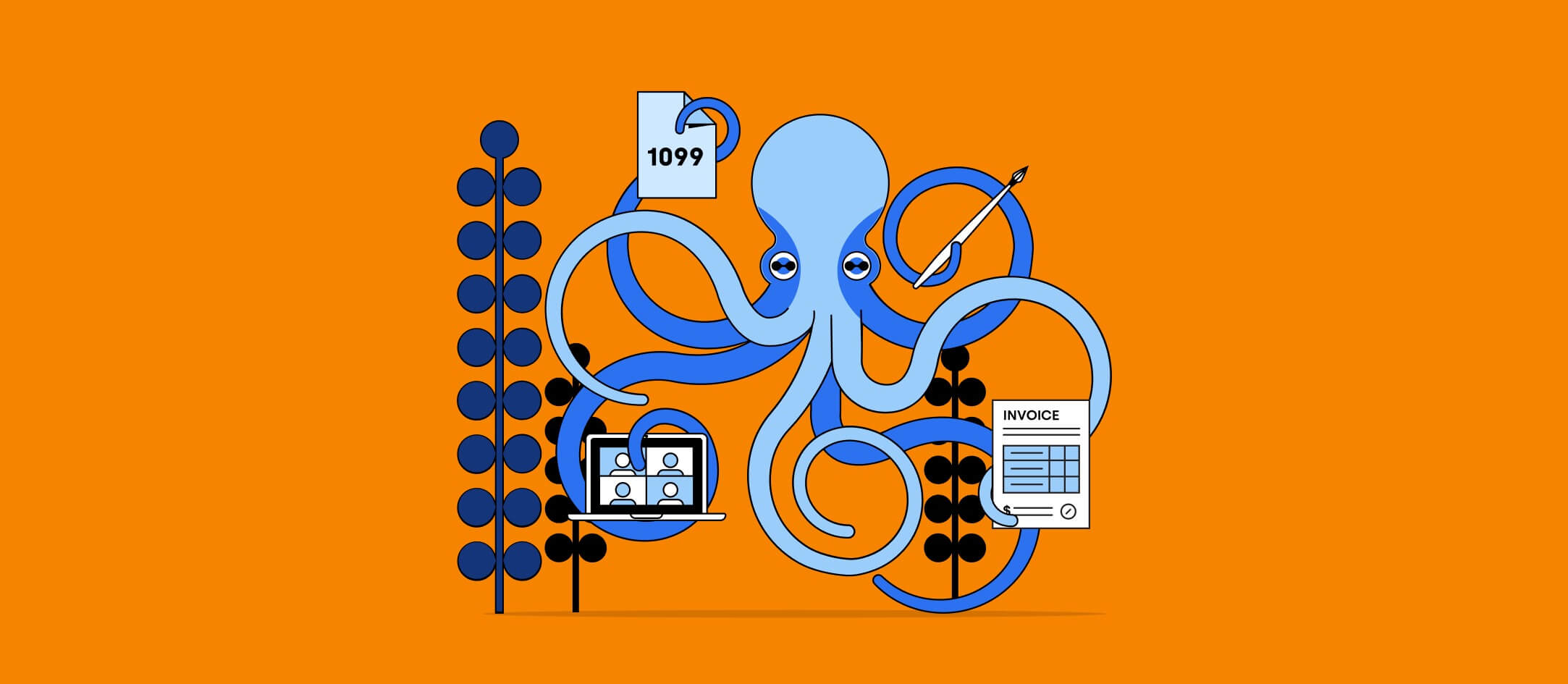 How to Professionally Ask for Payment From Clients (Template)
Invoicing clients professionally can feel awkward for many people. Check out our tips and templates to ask for payment from clients and get paid on time.
Written by Anja Simic
September 28, 2021
Contents
Need help onboarding international talent?

Try Deel
Getting paid for your services should be the universal rule of doing business. However, some clients need an extra nudge to remind them. Not because of ill intent, but because they are preoccupied running their business. With proper communication on both sides, freelancers can make invoicing a piece of cake and late or overdue invoices a thing of history! Check out our templates and see how you should ask for payment from your clients without sounding demanding and keeping things professional.
When to ask for payment from clients
You should send your clients two emails about your payment before the due date. Hopefully, there won't be any need for more than that, but, should there be, we've got you covered.
The payment request email
Once you are done with whatever you were contracted for, you should send them a payment request email with the invoice. Payment should be due no sooner than two weeks and no later than a month from the completion date. This is the first time you will ask for payment from a client.
After that, you should remind your client on the day the payment is due. This is just a follow-up email and it shouldn't be too long.
Hopefully, this will be it and soon after the second email, you will receive the confirmation from your client and the funds on your account.
However, sometimes things don't go as smoothly. In case your client still hasn't paid you a week after the due date, you should send them another payment reminder email. Make sure you remain polite and professional. For all you know, there may have been some unforeseen complication, so make this more of a friendly reminder.
Finally, it is not considered improper to contact your client once each week after the invoice's due date.
The best thing to do, though, is to clearly define your payment terms and the time frame allowed for clients to make payments, before you start doing business with someone. This should be stated in a contractual agreement you sign with your client. This way you won't have to worry about any misunderstandings or delays when it is time to make the payment.
How to ask for payment from clients
Some people find it uncomfortable to ask to be paid. Part of the problem could lay in the fact that "asking" sometimes feels like requesting something that requires the other party to approve or agree with. You and your client already agreed to "exchange values." You provide the service, and the client should provide payment for it. Getting paid as an independent contractor shouldn't feel intimidating.
This, however, doesn't mean that you should blatantly demand to get what you're due from them. Communicating the right way can not only ensure you'll get paid on time, but also that you'll get more work in the future. When asking your clients to pay you, remember the three golden Ps. You should be:
Professional - go straight to the point, don't waste time, and be firm when discussing overdue payments
Polite - remain calm, do not yell or accuse your client
Persistent - continue reminding your client in a calm manner, and don't be pushy or aggressive
Asking for payment from clients by email
The email is the most commonly used medium for professional communication. It is also the best way to request payment for your services. Be polite but direct. The more concise, the better - make your emails wells of relevant information.
Before sending the first email, though, you'll need to make sure:
You are not contacting the wrong person - you should be writing to the person responsible for making the payment or the person with whom you agreed on the payment in the first place.
The invoice number is correct- make sure it's the right invoice for the right client
The total amount due is right - double-check that the numbers in the invoice and email match
The project details are correct - what services you provided for the client
Once you are done, go over everything again because mistakes in invoices can cause delays and take days to fix. Ultimately, that's just more time without cashflow on your account.
Email template to ask the client for payment
Here is a template you can use to reach out to your client and request payment for the completed work:
Subject: Payment request for [project details/invoice number]
Hello [client's name],
[Brief intro about what you did for them]
I am attaching the invoice for my services to this email. As we discussed, the total bill is [total amount], payable via [your preferred payment method: PayPal, credit card, or other] by [due date].
Thank you, and I am looking forward to working with you again in the future.
[Your preferred signoff],
[Your name/signature]
Empower a fully remote team

Asking for payment from clients over the phone
Unfortunately, emails don't always work when asking clients for payment, and sometimes business owners must turn to more direct means of communication. This usually means calling your clients.
Most people resort to a phone call only after sending a couple of reminder emails. This is partially due to the fact that it is more personal to talk over the phone than it is to communicate by email.
This is probably the fastest way to reach someone and can come in handy when your clients are giving you the runaround over email. We suggest you have a script ready, so you don't get confused. There are a couple of things to keep in mind:
Make sure you're talking to the right person
Introduce yourself
Have a good idea of what you want
Get straight to the point
Speak calmly and clearly
Do not let the emotions get the better of you
Summarize everything at the end of the call
It should look something like this:
"Hi, [Client's Name]. This is [your name] speaking. I worked on the [project name] with you about two weeks ago. I've sent a couple of emails about payment for [your services/invoice #], and it may be that you've missed them. Have you received them?"
Before starting the conversation, you should have all the information regarding the payment (such as the amount due, payment deadline, invoice number, etc.) and the project close to hand. The client might reference some of it and you'll want to see if there are any discrepancies causing the payment to be late.
Additionally, to avoid losing your train of thought, you can have a notebook ready to take or read notes during the conversation. Give your client the benefit of the doubt, and in case something really did go wrong with the emails, you can work together to fix it.
Software that can help you get paid
If you need to write too many emails to remind your clients about overdue payments, and you don't like talking about it over the phone, you can ask your clients for payments by using online tools.
Paypal, Payoneer, and Google Pay let you automatically send reminders for unpaid invoices on a daily or weekly basis.
Ensuring you get paid is important, but it should not be as time-consuming. When using Deel to work with your clients, all you need to do is click a button. Choose the type of agreement that works for both of the parties, get paid in one of the 100+ currencies (including crypto), and stay compliant.
Getting overdue payments from clients
In some cases, unfortunately, nothing will work. No amount of persistence, emails, or phone calls can force your clients to pay you. In case you experience these unfortunate circumstances, there are a couple of ways you can go about it.
You can rely on a collection agency to get the payment for you. You will have to send them all the documentation regarding the invoice and the services you provided and, in return for a percent, they can collect overdue payments for you.
Taking legal action is the other option. You can hire an attorney to take legal action against your clients or their company. Even though the process can be long, in the end, it will be worth it, at least to ensure your clients don't do something similar again. If you are planning on suing your clients, make sure you inform them beforehand. Sometimes the long court process can be avoided and you can get your payment with just a mention of pressing charges.
Future jobs and future payments
If a client is often late with payments or just takes a lot of reminding every time, you might want to consider cutting off future work for them. Getting paid shouldn't have to be more difficult than the job itself.
Another thing you can do is to request a deposit beforehand or even the whole payment upfront. This might make it harder to attract new clients, but once they see you deliver, they shouldn't have a problem with it.
Email examples for asking for payment from clients
Here is a basic email script with a few explanations.
The first invoice email
Polite
Concise
All the necessary information provided
Subject: Payment for invoice #1234 for Project WEB PAGE DESIGN
Hello John Doe,
Thank you for all the creative feedback for the web page design. It made the final product that much better. It has been a pleasure working with you and I am looking forward to working together again.
I am sending you the invoice #1234 attached to this email. As agreed, the total bill for my services is 5,678 USD. The invoice is payable via PayPal (name@email.com) or via direct transfer to the bank account (12345667890), by Monday, February 1st.
Feel free to contact me if you have any questions.
Regards,
John Smith
Email on the due date
Reminder
Direct
Short
Polite
Professional
Subject: Payment for invoice #1234 due date
Hello John Doe,
Hope you are doing well. This is just a reminder that invoice #1234 for $5,678 is due today.
The bill is payable by PayPal (name@email.com) or direct deposit to the bank account (12345667890).
Kind regards,
John Smith
One to three weeks overdue
Direct
Unambiguously ask them to make the payment
Ask for confirmation that they've received the email
Mention potential late payment fees
Subject: Payment for invoice #1234 is two weeks overdue
Hello John Doe,
I am contacting you again to remind you about your outstanding payment on invoice #1234 for my services on Project WEB PAGE DESIGN. The invoice is now two weeks overdue. I understand that this is a busy time for you, but I wanted to remind you that there is a late fee for all invoices after 30 days.
If you have any questions, please inform me, if not, kindly send the payment as soon as possible. I am attaching another copy of the invoice to this email in case you missed the original one.
Please reply to this email to let me know you have received it. Thank you.
Kind regards,
John Smith
A month overdue
Concise
Firm
Polite
Ask for response
Subject: Payment for invoice #1234 is 30 days overdue
Hello John Doe,
Invoice #1234 is now 30 days overdue. As per my business terms, a late payment fee of $90/day will start from tomorrow.
Let me know if you have any questions regarding the original invoice or the late fees. If not, please make the payment immediately by PayPal (name@email.com) or direct deposit (12345667890). You can find another copy of the invoice attached to the email.
Please reply to this email to let me know that you have seen it. Thank you.
Regards,
John Smith
How NOT to ask for payment from clients
To make sure you don't make any mistakes when asking for payment from your clients, here are some bad examples and exactly why they would not have the desired effect.
Email before due date
Subject: Payment for services
Hi John Doe,
How are you doing today? I hope you're doing well, and not tired like myself. Anyway, I finished the design for that web page you wanted, it was really hard work and it kept me up late last night.
I am sending you the invoice #1234 for the job, so make sure you pay it by February.
Thanks,
John Smith
Mistakes:
The subject isn't clear
No payment information
No invoice information
No due date
Too informal
Too much unnecessary information
One to three weeks past due
Subject: A slight problem with the payment
Hello John Doe,
I was just wondering whether you have seen my emails about invoice #1234 and the total bill of $5,678. The payment was due on Monday, February 1st, and that was about two weeks ago. I was hoping to already have the funds by now and, if it wouldn't be too much trouble, could you make the payment soon?
I hate to be bothering you in such an exciting time for your business. So, if you don't have the time to reply now it is alright. Just make sure to notify me when you make the payment, please.
I hope you have a nice day and that I'll hear from you soon!
John Smith
Mistakes:
Long and inconsequential
Not direct
No clear call to action
Not asking for a confirmation email
A month overdue
Subject: Late payment fee on Invoice #1234
John,
It has been a month and you still haven't paid me. I do not understand it! I was not late when I designed that web page for you.

Because you are 30 days late, there will be additional fees added to the bill. For every day, the bill will increase by $90. Pay me what you owe me via PayPal (name@email.com) or direct deposit (12345667890).
If you still do not make the payment in a week, I will be forced to hire a collection agency and sue you.
John Smith
Mistakes:
Final tips and things to consider
Payment collection doesn't need to be dreadful whether you're a small business owner or freelancing. Being smart and polite about it and having a set process in place can make things a lot easier and more efficient.
Make sure you have all the information about your total accounts receivable as well as anything else you're owed for freelance work.
Don't let emotions get the better of you, just stay professional and focused on the task.
Have a contingency for the worst possible scenario, and change your future business terms to accommodate those clients who take a lot of reminding to pay for your services.
Streamline international payments with Deel
If you're the one that needs to make a payment, we can help you do it the easy way.
With Deel, you can fund payroll with just a click and automatically calculate taxes without lifting a finger. Our multiple currency options and various withdrawal methods make it even easier for your team to get paid on time, every time, so that you can have one happy team.
Sound like something your business could use? Reach out, learn more about Global Payroll, and book a demo to see Deel in action.