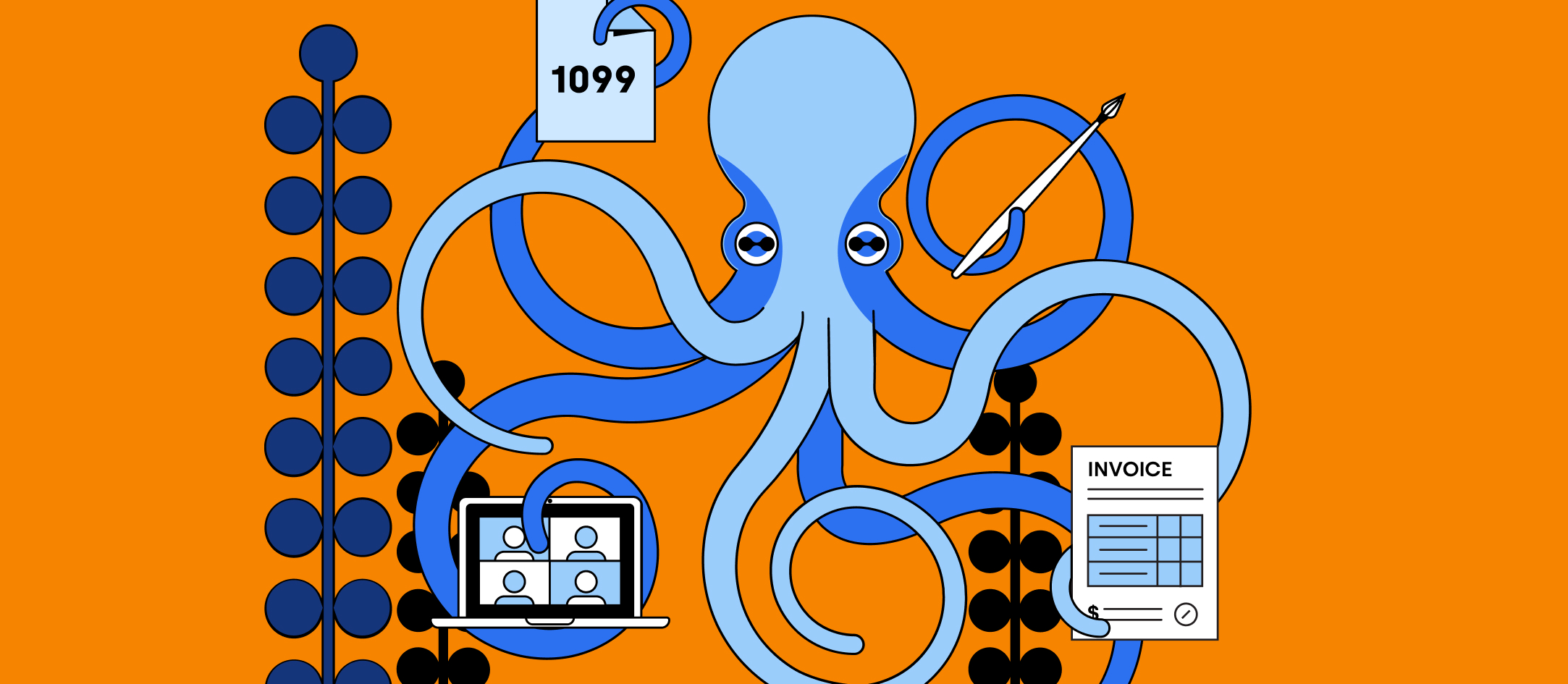 How to Invoice a Client - Independent Contractor Guide
Everything there is about composing a professional invoice, explained! Learn what information to include and what mistakes to avoid.
Written by Anja Simic
April 7, 2022
Contents
Need help onboarding international talent?

Try Deel
As a freelancer or a small business owner, you're obliged to take care of each aspect of your business on your own. Not having a dedicated team to take care of bureaucratic tasks and administration means that it's easier for mistakes to creep in. This can result in fees and penalties piling up, as well as late invoices that delay the payments.
It's not the end of the world, though—at least when it comes to creating an invoice. Provided that you have worked out a reliable system and know what to include on each invoice, it won't be too hard for you as an independent contractor.
In this article, we will explain to you everything there is about composing a professional invoice!
How to invoice as a contractor?
This chapter contains broad advice on creating contractor invoices, and how it applies to different aspects of being self-employed (professionalism, taxes, time management, etc). If you wish to get to the more concrete information, you can find it below this part.
Three things are highly important for self-employed and independent contractors managing their own invoices:
Time tracking
Good organization
Consistency
While this may apply to all working people in general, it's especially important for independent contractor invoices.
Time tracking is obviously a priority if you charge the clients by the hour.
However, knowing the exact number of hours different tasks take from your working days is also important if you charge by the word, by product/service/unit, or in a different way. Not only this is an essential part of effective time management — it will help you be more precise when calculating the income for certain time periods.
On the invoice form you send to the clients, the price per service/ item is the most important part. Including the time it took you to complete them adds a more professional touch, and explains the cost of your work better (especially for seemingly simple tasks that actually take hours).
As there are more than a few elements needed to create a valid invoice, good organization is a must. Develop a logical system that encompasses every part of the work, and you'll never have an issue related to invoicing! Add consistency to this equation, and you'll have all the bases covered.
Tax filing is a major reason to cover all of these points above. Independent contractors are required to pay their taxes on their own, as clients don't withhold anything for tax purposes.
To fill the self-employment tax properly and have your social security, healthcare, and income taxes in check, you need to monitor your income, business expenses, and tax deductions at all times.
Clients, on the other hand, need to file IRS Form 1099-NEC (formerly known as IRS Form 1099-MISC) for non-employee compensation that exceeds $600 within a year. Having orderly, complete invoice documentation is the best safeguard to keep tax penalties at bay.
Our Independent Contractor Guide contains all the information about taxes for independent contractors!
What to include in the invoice?
To avoid any errors, legal troubles, and misunderstandings with your clients, as well as to maintain a good professional image, put the following items in your invoice:
Document name — it sounds obvious, but make sure to correctly label the invoice document as such, ideally in the heather, with bold letters
Your company logo — to add a touch of personalization and trustworthiness
Invoice number/ code — assign dedicated numbers to each invoice to make record keeping easier; simple multi-digit numbers will do, but you can also create a special code system that contains invoice date and client name. This system is more elaborate, but it can help you find the exact invoice you need quickly if there's a lot of them
Invoice date — include the sending date to prevent payment date (and other) miscalculations
Your business details — logo, business name, your name, and contact information (email, phone number, and maybe address)
Client's contact information — the same information as in the previous step, but include billing contact or billing department of larger enterprises
List of services — here, you'll need to list each service you provided individually, along with a brief description of your work, amount of hours spent working (or word numbers, for writers), hourly rate (or price per word), and subtotal for each service
Total amount due — total cost for services listed above; you can also add applicable tax and flat rate if needed
Payment terms — state the payment method you accept (PayPal, Payoneer, bank account, crypto address or something else)
Payment due date — include a specific payment deadline to avoid confusion that may occur if you write something vague, such as "15 days from the invoice reception date"
Late payments policy — if you have such a policy, write down the details and what happens in case of late fees
You can customize the invoice document as you wish, as long as it contains the key elements.
Free invoice templates
Get a head start on your freelancer invoice design with one of our editable templates. These templates can be customized to reflect your own brand and personality while ensuring that it's got the important details you need to get paid on time.
Editable Google Sheets
invoice template
Use built-in formulas to quickly customize your invoice, all with the convenience of easy cloud access from your Google account.
Contractor invoicing mistakes to avoid
These are the biggest mistakes new (and sometimes even experienced) contractors make regarding their invoices:
Forgetting to track time — tracking time can be as simple as writing the start and the end in your notebook. However, using time-tracking software will do so much more for you: in addition to simple start/end features, they can collect the data that helps you learn what takes you more time than it should, when are you most productive, etc. As far as invoices are concerned — using software is far more transparent and reliable.
Not having a ready invoice — prepare your invoice in advance; if you start putting it together the day you need to send it, you may omit something in a rush, or postpone the payment of you send it a day or two later. It's best to prep a template early on, and simply fill it in each time you complete a task, following your working procedures.
Creating inconvenient invoices — keep your invoices tidy, with clean and simple design — no tiny letters and elaborate fonts. Otherwise, clients may miss out on important information.

Hesitating to request payment

— honest mistakes can happen, and sometimes people simply forget to pay what's due, when it's due. Sending reminders doesn't have to be awkward and unpleasant: create a brief note and follow up as soon as the payment becomes overdue.
Additional tips for contractor invoicing
Below you'll find some more tips for professional contractor invoicing — to make the whole process easier, safer, and overall streamlined.
Use Google Drive to keep detailed track of everything
Google Docs and Google Sheets are far better alternatives to Microsoft Word and Excel. Cloud systems are generally safer and keep your files accessible on multiple devices, at all times. They are also easier to share and make quick edits. You can easily download them to your computer for another layer of safety — Docs/Word and Sheets/Excel are almost identical in functionalities.
Create an adjustable independent contractor invoice template
A blank invoice template will save you a lot of time. When you're formatting it, save a version with repeating information (your contact information, business details, preferred payment methods, rules, and policies); the rest you will need to add according to each client, month, and task list.
There are free printable invoice templates on the web, but don't copy them as they are. They're better to use as examples and guides when you tailor an invoice template that works just for you.
Use client-friendly language
To avoid sounding shady, make the language you use as transparent and understandable as possible. Leave out the specific industry jargon — you can explain everything upon the client's request.
Use Deel for automatic invoicing
All of the above isn't hard, but takes time and undivided attention each time you create an invoice. With Deel — you can get online invoicing done automatically for you.
To ensure compliance, every Deel invoice includes the name, address, company details, payment method, transaction details, and amount issued.