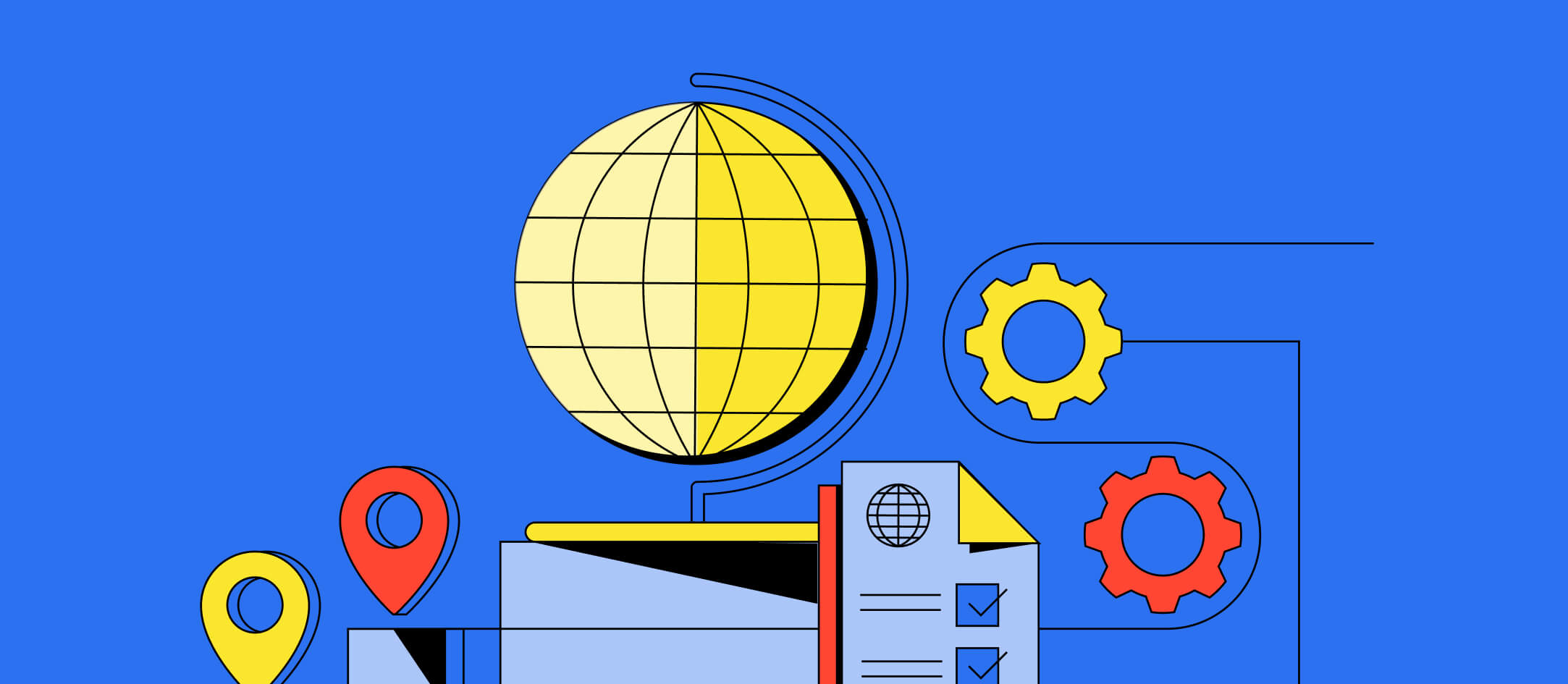 What Is an Employer of Record (EOR)?
An employer of record (EOR) helps you hire from foreign countries without opening a local entity, while staying compliant with local employment laws.
Written by Anja Simic
September 17, 2021
Contents
Need help onboarding international talent?

Try Deel
In the past, the best way to hire internationally was to open a local entity in another country, but today, many companies choose a faster and more affordable method for global hiring: an employer of record (EOR). EOR services help companies sidestep the bureaucratic obstacles of global employment, comply with local labor laws, and reduce the strain on HR and legal–all while providing an improved employee experience. This guide will help you understand why, when, and how to hire international employees with an employer of record.
What is an employer of record?
An employer of record is a company that legally hires employees in foreign countries on your behalf and manages your payroll and taxes, while you manage the employees' performance.
Global EORs allow you to quickly hire remote employees anywhere in the world without setting up a foreign subsidiary, sponsoring visas and relocating employees, or worrying about compliance with local tax and employment laws.
Employer of record services:
Act as the legal employer of your workers in foreign countries
Generate contracts compliant with local employment laws
Run background checks
Register and file payroll taxes
Completes payroll processing and distribution tasks
Administer employee benefits and perks for global employees
Onboard new hires
Terminate employment contracts on your behalf
What does an employer of record do?
Most companies turn to EORs for the ultimate goal of international expansion. Let's break down the employer of record services that make expansion possible.
Acts as the legal employer of your workers in foreign countries
An EOR enables you to hire full-time employees around the world when you don't want to hire independent contractors or open a subsidiary. Employers of record have legal entities in foreign countries through which they can hire employees on your behalf without you running any financial or compliance risks.
You still manage the employees and oversee their day-to-day work, but the EOR takes full legal responsibility and handles their contracts, payments, employee benefits, time off, taxes, etc.
Sidenote: while EORs help you hire employees, some EORs (like Deel) also help you hire independent contractors and easily switch between employee and contractor status.
Generates contracts compliant with local employment laws
Hiring from different countries means you need to create employment contracts that comply with a country's tax and labor laws. Understanding and ensuring compliance in another country takes a lot of time and admin work–doing so in multiple countries worldwide is an even bigger challenge.
EORs take this task off your plate. Every time you hire an employee in another country, the employer of record creates a contract ensuring full compliance with all local requirements: taxes, social security, workers' compensation, minimum wage, termination requirements, employee benefits, etc.
Runs background checks
It takes around 27 weeks to replace a bad hire, and it may cost you up to 3.5 times the employee's annual salary to do so. EORs also run background checks on your international hires to ensure they have no criminal record or other red flags that could cost your company.
Registers and files payroll taxes
Tax laws vary by country and companies can easily make small mistakes that lead to big financial and compliance issues. An EOR can generate and file your tax documentation, saving you time, ensuring accuracy and compliance, and keeping your records neat and organized.
Completes payroll processing and distribution tasks
International payments involve complex payroll processing due to different payment methods, bank charges, and currency exchanges for your global team. An EOR manages employee payments according to your payroll schedule. EORs handle payroll taxes, deductions, and returns, and send pay stubs to your employees.
Administers employee benefits and perks for global employees
Foreign employees require different employee benefits based on their location. EORs partner with benefits providers around the globe to administer mandatory and non-mandatory employee benefits like health insurance, social security, unemployment insurance, sick leave, wellness programs, pension plans, work-from-home stipends, and more.
Onboards new hires
EORs also offer employee onboarding as part of their HR services. They help employees get up and running by creating contracts and acquiring signatures, collecting all the necessary paperwork and tax forms, and adding the new employee to your payroll.
Terminates employment contracts on your behalf
An employer of record can terminate employment contracts with your workers or switch them from one type of contract to another. Each country has unique employment termination guidelines and termination clauses, which an EOR navigates on your behalf. You decide when you need to terminate an employee and the EOR handles the paperwork and legal process.
Build the best team, wherever they are.
Hire the right talent for the job based on their skills, not location. See how an EOR makes it possible with this free guide.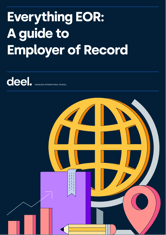 How does an employer of record work?
EORs unlock global expansion by helping you hire and pay international employees. Let's take a look at what happens under the hood to make this possible.
The EOR sets up local entities around the world
Employers of record can use two infrastructure models to establish local entities in countries across the globe: aggregator or wholly owned.
The aggregator model refers to an umbrella company having sub-contractors in foreign countries. This model may indicate the EOR doesn't have the legal expertise or local presence to handle your hiring and employment. An employer of record with the wholly owned infrastructure model is a more reliable choice: they have complete control over the local entities you'll use to hire employees in those countries.
EORs integrate with (or build) support for benefits and payroll
Many EORs offer integrations that can punch up your employee benefits package. Deel partners with companies from all over the globe to provide top-tier healthcare and perks for its clients' teams. That means you could gain access to benefits you might not afford or be eligible for otherwise.
When it comes to payroll, EORs may partner with world-class payroll processing providers or even build a native platform, like Deel, that lets you run payroll for a global team with one click.
You partner with the EOR, gaining access to its reach
Once an EOR establishes local entities, client companies can use EORs to hire and pay their workers. Signing a contract with an EOR gives this organization the right to hire on your behalf. Your talent pool is now as broad as the EOR's reach–wherever they have a subsidiary, you can hire employees.
The EOR legally hires employees on your behalf
The EOR staffs teams of legal and financial experts, payroll specialists, and human resource professionals to help you carry out a world-class hiring process.
The EOR's team writes locally compliant contracts and ensures proper employee classification. They add the new hire to your payroll and set up their mandatory and voluntary employee benefits to ensure that the employee has proper health insurance, social security rights, and other benefits from day one.
You manage the employee's day-to-day duties and experience
Although the EOR is legally responsible for your employees, you're the one who manages the employee, their work schedule, daily tasks, etc. The EOR tracks employees' hours, though, so they can properly pay wages and benefits.
The EOR handles legal and administrative responsibilities (like taxes and payroll)
If you have employees from various countries, you don't need to know your employer obligations for each country like tax withholdings and employee benefits.
The EOR is in charge of processing your international payroll timely and accurately and collecting the necessary tax documentation. Your EOR can also provide technical and legal support to you and your employees at all times.
Business expansion to new markets introduces legal challenges, specifically when it comes to international employment. Partnering with an EOR to solve these challenges has several advantages over opening a local entity in a foreign country.o, why use an EOR?
Save time and costs on global employment responsibilities
Hire from a pool of global talent
Reduce compliance risks
Protect your employee data
Improve your employee experience
Adapt to the future of work
Save time and costs on global employment responsibilities
An EOR is the most cost-effective and time-saving option for international hiring, compliance, and payroll. If you don't spend your time managing all the tasks that you can easily outsource to an EOR, you can spend more time fostering a positive employee experience and catering to other business needs.
An EOR can also save your company a lot of money that would usually go into back-office operations, such as training your HR and recruiter team on legal matters, outsourcing legal counsel, and obtaining legal permits to hire employees from foreign countries.
Hire from a pool of global talent
Running your payroll, benefits, and contracts through an EOR allows you to truly leverage the power of a global workforce. You gain fresh perspectives, unmatched diversity, and dynamic company culture. You also unlock the ability to offer local support in new markets, languages, and time zones.
Getting access to the global talent pool through an EOR is also a significant benefit for small businesses with limited budgets, as it allows them to hire more affordable tech talent. On the other hand, enterprises can hire local talent in host countries very fast and gain better insight into the new market, while provide exceptional customer service in local languages and multiple time zones.
Reduce compliance risks
Instead of learning a new set of rules each time you hire people from a new country, you can rely on EOR. By outsourcing hiring, you effectively don't have to worry about local regulatory tax laws, employee benefits, or work permits–the employer of record will take care of it on your behalf. If a legal issue should arise, you are protected: the EOR takes full responsibility for non-compliance penalties as the employee's legal employer.
Protect your employee data
An EOR processes employee data and therefore must sign a Data Processing Agreement (DPA) with every client. DPAs require employers to hand employee data securely and privately at all times. Most EORs ensure General Data Protection Regulation (GDPR) compliance, encrypt and back up data, and secure network communication to prevent leaks.
Deel also provides regular security and privacy training for all team members and has proactive security protocols in place to identify potential gaps or interruptions before they become an issue.
Improve your employee experience
Apart from following employment laws and managing local payroll, employers of record can help you prepare new recruits for the job. As the legal employer, EORs support the onboarding process for all new employees.
Learn about five ways EOR services improve employee experience.
Adapt to the future of work
Employers and employees are on the same page regarding flexible work options: 73% of employees want to have remote work as an option after the pandemic, and nine out of ten company leaders say the hybrid work model will be a part of their future strategy. Hiring through an EOR helps you keep up with the new era of employment while reducing the stress, costs, and time necessary to hire an international team.‍‍
How to choose an employer of record?
The best way to choose an employer of record is to measure your options against the following categories:
User interface: How easy is the platform to use?
Features: How powerful is the tool? Consider features like access management, customizability, notifications, etc.
Expertise: Does the EOR have in-house legal experts to create employment contracts and provide support to customers?
Integrations: Does the EOR integrate with tools your HR team already uses?
Data protection: Does the EOR have a public and comprehensive privacy policy? How does the EOR protect employee data?
Security: What tests and systems does the EOR use to secure data stored on the platform?
Compliance: Is the EOR SOC compliant? Does it regularly conduct internal audits?
Implementation: Does the EOR have customer success agents to help onboard your team?
Customer support: Does the EOR have global customer support with strong online reviews?
Employer of Record RFP Template
If you are evaluating multiple vendors, get a free Request for Proposal template with comprehensive questions to help you guide your decision.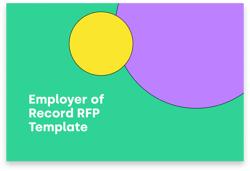 What's the difference between an EOR and...?
EOR vs. PEO (Professional employment organization)
PEOs or professional employment organizations provide co-employment services, which means that both the client company and the PEO share the management of the employees and legal liabilities. PEOs handle some employment tasks but do not allow you to hire internationally.
On the other hand, an EOR legally employs a worker on behalf of the client company, ensuring compliance according to the local laws and international labor regulations. The employment relationship exists between the employee and the EOR, but day-to-day management of the workers is the responsibility of the client company.
EOR vs. GEO (Global employment organization)
Global Employment Organization is basically a synonym for EOR, with a slight distinction. Global Employer of Record (GEO) hires international employees on behalf of their clients and assumes complete legal responsibility for them, like EORs. The difference is that an EOR can technically employ people within your country. The second they hire someone from another country on your behalf, the EOR also becomes a GEO.
EOR vs. staffing agency
A staffing agency acts as a "middleman" between hiring companies and talent. Sometimes, people refer to them as head hunters or recruiting agencies. Their responsibility is to find the right candidate to match it to the job vacancy.
Depending on the staffing agency, the services can include anything from advertising the job to filing paperwork and running background checks. Staffing agencies also often specialize in recruiting within one or two sectors, such as IT or healthcare.
EOR services do not include talent search and vetting but come into play when the right candidate has been selected.
Frequently asked questions about EORs
You will find a few more relevant questions answered in the section below.
Are EORs legal?
Yes, EOR organizations are legal. Most employers of record have robust legal teams on their staff to ensure they handle contracts, benefits, payments, and taxes in accordance with local employment and tax laws. When you hire through an EOR, you reduce legal risk compared to hiring on your own because local contracts can be complex and confusing.
Do EORs hire independent contractors?
Employers of record only hire full-time employees on your direct payroll. However, some companies that offer EOR services also help you hire independent contractors, including Deel. These dual services are useful because they help you manage worker misclassification, paying international contractors, and switching employment types.
How else can I hire international employees?
You can hire international employees in two other ways:
Open a local subsidiary wherever you want to hire international workers
Sponsor an international employee to obtain a US visa
These two options are far less cost-effective and more time-consuming than hiring through an EOR since processes take longer and require a lot of paperwork.
Without an EOR, you'd need to initiate separate processes for opening a subsidiary each time you want to hire from a new country. You'd also need to collect documentation, go through an application process, and pay fees for every employee you want to sponsor.
Read more in detail about how you can hire international employees.
Build your global team with Deel
Building an international team can be time-consuming, especially when compliance is involved. Luckily, with Deel, you can hire anyone, anywhere in the world within minutes.
Deel lets you hire international employees in over 150 countries without having to set up a local business entity. You can count on:
An all-in-one platform to hire and manage global employees
Contracts compliant with local employment laws, including minimum wages, taxes, and contributions
Fast and secure global payroll without additional admin work
Sound like something your business could use? Reach out, learn more about Global Payroll, and book a demo to see Deel in action.