How to Create a Compliant Contractor Agreement
There are five ways to create contractor agreements, but startups should consider their options carefully when hiring contractors in different countries.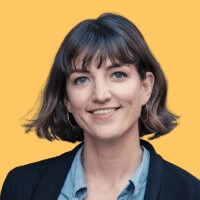 Written by Jemima Owen-Jones
June 2, 2023
Contents
Need help onboarding international talent?

Try Deel
Key takeaways
An independent contractor agreement outlines the business relationship between a hiring company and a self-employed contractor. These legally binding written contracts establish clear expectations, protect both parties and avoid misclassification.
To create a contractor agreement, startups have five options: Create your own, use a contract template, use contract generation software, use a legal company, or use a global hiring platform. Each option has pros and cons, so choose wisely to ensure compliance.
A global hiring platform is the most comprehensive and convenient way to create contractor agreements worldwide. It enables you to hire, pay, manage, and terminate on a single platform.
Hiring independent contractors is an excellent option for startups seeking flexible, experienced talent.
Creating a contractor agreement compliant with the laws and regulations of the contractor's country of tax residency is essential.
A contract ensures local compliance, avoids misclassification, protects your startup from legal and financial risk, and sets clear expectations between the parties involved.
What is an independent contractor agreement?
An independent contractor (IC) agreement, or service contract agreement, is a legal document that outlines the terms and conditions of a working relationship between a business and an independent contractor.

Why do I need a contractor agreement?
A contractor agreement outlines the work's scope, obligations, deadlines, project duration, and payment terms. It is a useful point of reference should either party need to refresh themselves on the arrangement.

Why are contracts important?
They are a legal requirement in many jurisdictions
They affirm the contractor and client aren't in an employee-employer relationship which is important for disproving misclassification in case of claims or audits
They often include non-disclosure and confidentiality agreements to protect the startup's intellectual property and confidential information
How to create an independent contractor agreement
To create a contractor agreement, business owners have a few options that we explore below.
1. Create your own
Can you create your own contract? The short answer is yes, you can. There are no requirements that a legal professional must write a contract or use a certain format or font, so if you have the time and knowledge, you could create a contract using Google Docs or another word processor.

However, you must research the local laws, regulations, and terminology where the contractor is a tax resident and, ideally, have the contract vetted by a legal expert to ensure it is compliant and you're not legally vulnerable
What to include in a contractor agreement
What to include depends on the unique arrangements negotiated between you and the contractor at the start of the relationship and any country-specific requirements.

In general, a contractor agreement should contain the following components:
General information about the contractor and client
Services, deliverables, and scope of work
Permissions to hire subcontractors
Equipment and facilities
Compensation for the services provided
Expenses, travel, and reimbursement policies
The effective date of the agreement
Benefits and liability exclusion
Termination of the agreement
Indemnification clause
Severability
The governing law
Waivers
Liability insurance
Warranties and professional capacity
Intellectual property and ownership
Confidentiality clause
Non-compete agreement


Read What Is an Independent Contractor Agreement: A Complete Guide for a comprehensive overview of each component.
Confused about how to hire and classify contractors compliantly?

2. Use a template
Many legal service providers have created online contractor agreement templates that are often free to download and customize. Be aware that many of these templates are not country-specific and will require the oversight of a legal expert to ensure compliance.
3. Use a contract generation software
Contract generation software can help you build contracts using drag-and-drop functionality. Some software has AI-powered technology to help you identify key terms and clauses to help you to align your contracts with country-specific regulations. However, it requires you to input search terms and review search results to identify and include the necessary clauses, so it can still take a lot of time and effort, and the contracts aren't necessarily full-proof.
4. Use a legal company
A comprehensive way to create a contractor agreement is to have a law firm create a contract for you. Many licensed professionals bill their time hourly, which can get expensive, especially if you need to draft multiple contractor agreements for contractors based in different countries or jurisdictions.

The average hourly rate for a contract lawyer ranges from $200 - $350 per hour, according to ContractsCounsel's marketplace data.
5. Use a global hiring platform
A global hiring platform is one of the most convenient and safest ways to create a compliant contractor agreement. The intuitive contract workflow guides you through each aspect of the contract, providing helpful insights and suggestions per country requirements.

In addition, every contract you create is vetted by local legal experts and updated quarterly so you remain compliant.
Step 1 – Select the worker type
You can click the mass import option to create a contractor agreement for a large group of workers.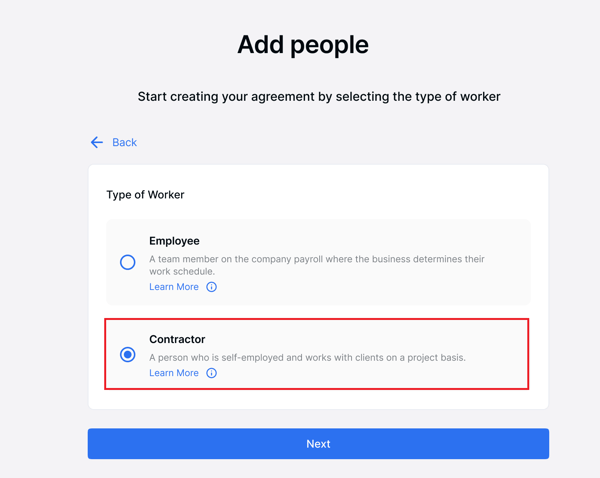 Step 2 – Select the contract type
Choose between a fixed rate, pay-as-you-go, or milestone payment.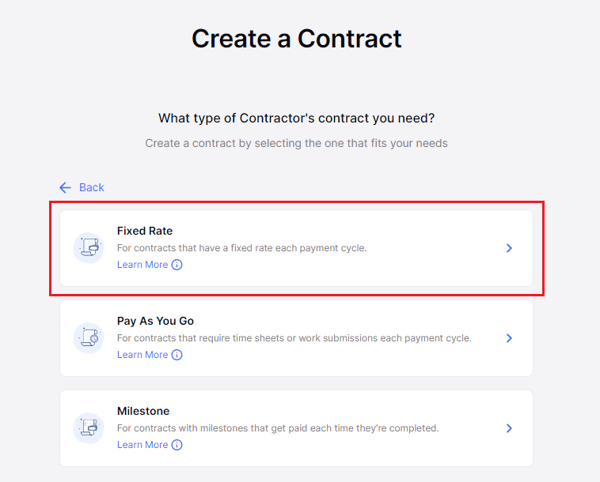 Step 3 – Enter the contract details
Choose the team and entity, and complete details like the contractor's tax residence and job title. If useful, you can use one of our saved prompts for the scope of work.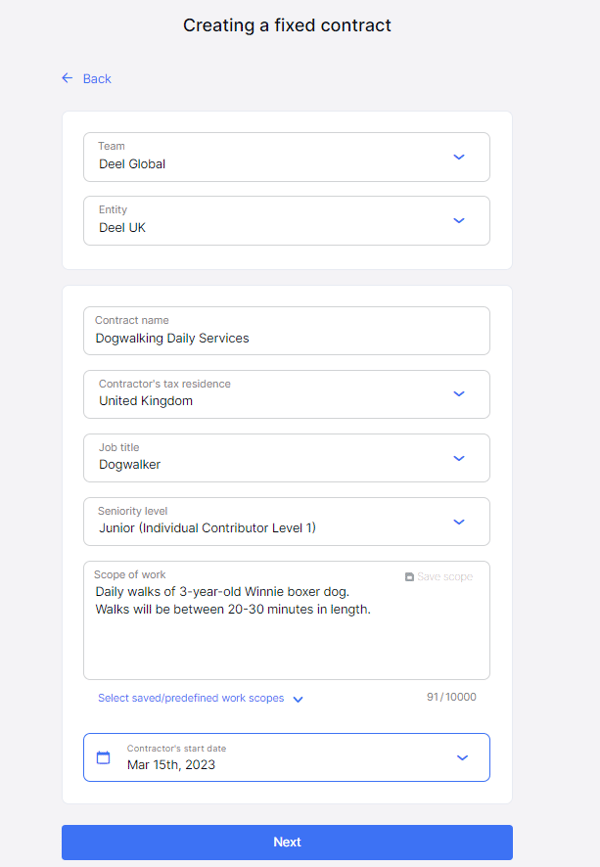 Step 4 – Define the payment rate
The platform will provide market rate insights and prompt you to pay the contractor in their local currency, a legal requirement.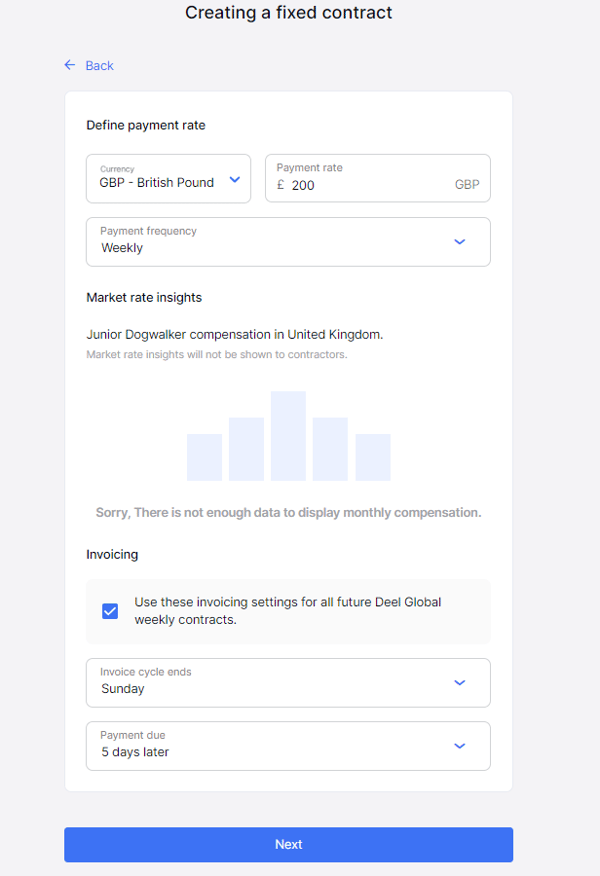 Step 5 – Add the first payment date
Choose the date when the contractor will receive their first payment and how you will calculate the first payment amount.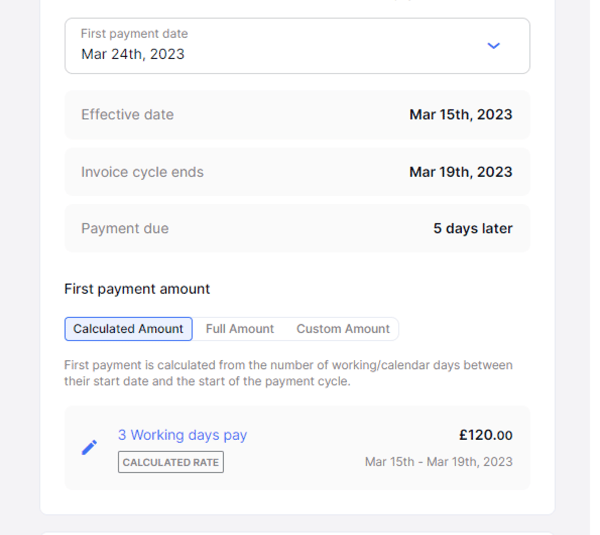 Step 6 – Add a notice period and termination date
You can add a notice period where either party can terminate the contract after the designated notice period, and you can choose a date to terminate the contract. This means you will pay the contractor after completing each milestone until the termination of this agreement.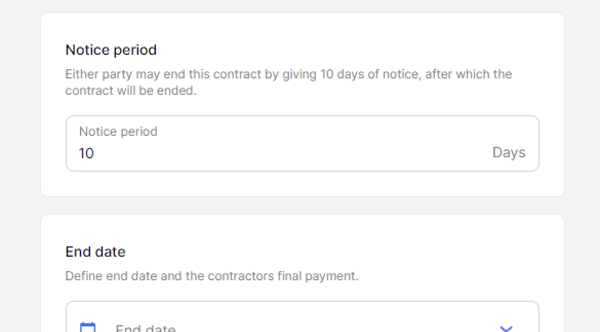 Step 7 - Add any contract extras
You can request a background check and identity verification and provide stock options, coworking membership, and equipment.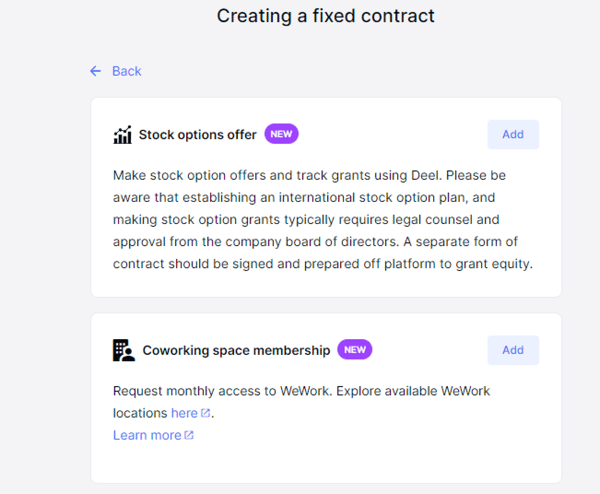 Step 8 - Add additional compliance documents
You will be prompted to request that the contractor upload standard identification and compliance documents, as per applicable laws, and have the option to have them sign a non-disclosure agreement to protect your intellectual property and trade secrets.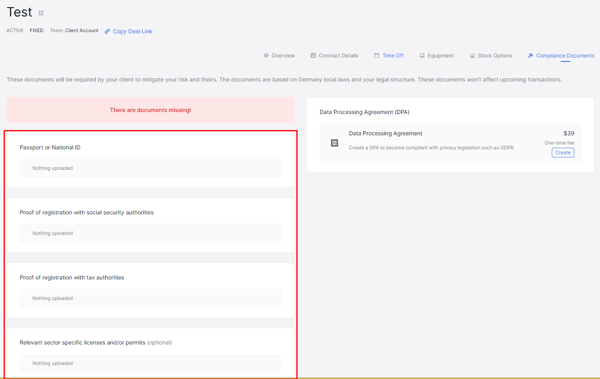 Step 9: Add any special clauses
You can also add unique contract terms to guide the contractor relationship, such as expectations regarding the quality of work, any specific industry standards they must follow, any specific licenses or certifications, and any reporting or communication requirements.



Step 10 – Confirm details and sign the contract
The final step is to review the contract details, sign the contract, and invite the contractor to sign along with a personalized message. Alternatively, you can copy the Deel contract link and share it with the contractor directly.

The terms of this agreement will only be activated when both parties have signed.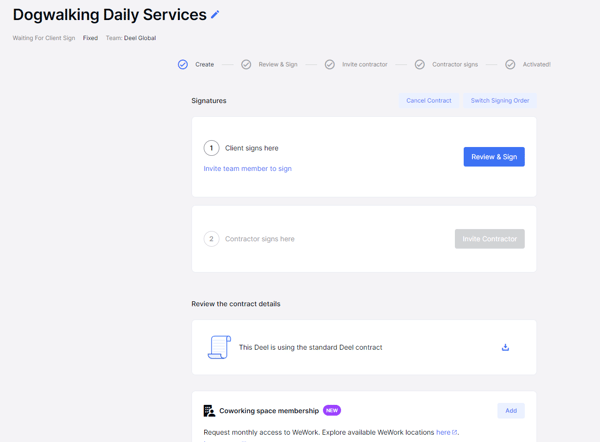 The benefit I'm getting from Deel is regulatory compliance in every country I'm hiring contractors.
Mark Hanson, CTO, Decoderd Health
Option to upgrade to Deel Shield
For most businesses, the global hiring platform's airtight contracts and advanced compliance features are all you need to start hiring contractors locally and abroad. But for those looking to eliminate any possibility of misclassification and liability, you have the option to add an extra level of protection with Deel Shield.
With Deel Shield, we legally hire contractors on your behalf and assume total liability in case of misclassification claims in 150 countries.
Existing Deel customers can quickly upgrade existing contracts to be covered by Deel Shield via their Deel dashboard.


Deel Shield gave us peace of mind when hiring people as contractors in any part of the world. I don't have to worry anymore about compliance. It feels much safer.
Chloe Riesenberg, People Specialist, Project 44
Create compliant contractor agreements with Deel
With Deel, international compliance is pre-baked into our intuitive hiring platform, which means your startup can remain compliant wherever you wish to hire. We have the best legal teams in countries worldwide to keep every contract up-to-date, fund every payment on time, and terminate contractors with the utmost care and respect, so you can focus on running your business.

With Deel's all-in-one global hiring platform, you can:
Hire contractors and EOR employees
Classify contractors
Onboard, pay, and manage contractors, direct employees, and EOR employees
Run background checks
Provide visa and immigration support for relocating workers
Run global payroll in over 100 countries
Grant equity to your international team
Provide flexible benefits and perks
Provision equipment and flexible workspace memberships worldwide
Convert contractors to employees
Receive 24/7 legal advice and support
By ensuring documentation is tight and paired with a platform like Deel, new hires and contractors can be onboarded quickly and seamlessly into their functions to start having a real, tangible impact almost from the time they get their email access. This has enabled us to launch new markets fast while maintaining a high level of quality onboarding experiences.
Chris Withers, Founder and CEO, klikit
Sound like an ideal solution for your growing business? Learn more about Deel for startups, or book 30 minutes with a product expert to get your questions answered.