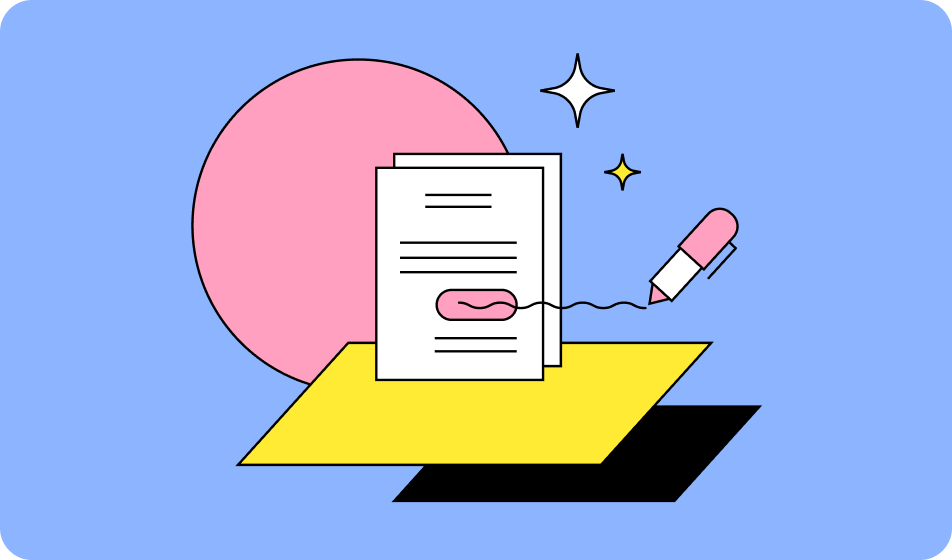 9 Tips: How To Optimize Your LinkedIn Profile For Job Search
Want to leave a good first impression on recruiters using LinkedIn to find job candidates? Learn the nine steps you can take to make your profile stand out.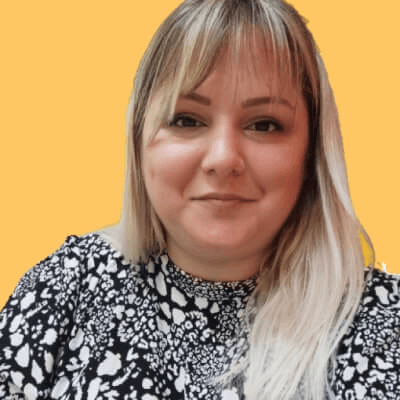 Written by Stefana Zaric
March 30, 2023
Contents
Need help onboarding international talent?

Try Deel
Key takeaways
1. Optimize every section in your profile with relevant information about your work experience and skills.
2. Test different content formats and styles to find which can best demonstrate your knowledge and represent your personality.
3. Keep your profile up-to-date with new skills and knowledge you acquire.
According to LinkedIn's own research, this platform is the number one source of quality hires who stay with companies for at least six months. There are 90 job applications submitted via LinkedIn every second, but don't let this number discourage you from using LinkedIn for job search. This network is also a land of new opportunities as recruiters use LinkedIn to source candidates for their companies daily.
"We search for prospective employees on this platform daily. The LinkedIn network is one of our main tools to identify talent," says Camila Sanchez, Deel's talent acquisition specialist.
However, only 30% of global LinkedIn users are making the most out of this social media platform, and you can be one of them. With a well-organized profile and relevant content, you have a chance to become visible to potential employers and stand out among candidates.
In this article, we'll tell you how to have an optimized LinkedIn profile page.
Use a professional profile picture
While your ID photo may require a serious demeanor, your LinkedIn photo should be more approachable. However, given that you're using LinkedIn to find a job or make professional connections, refrain from displaying unprofessional elements in your photo.
Consider these tips for an appropriate LinkedIn profile photo:
| | |
| --- | --- |
| DOs | DON'Ts |
| Show your smile | Don't use filters |
| Use a clean, solid background | Don't wear sunglasses |
| Take the photo in natural light | Don't use a picture with other people in it |
| Use a headshot | Don't use a full-body picture |
| Use a high-quality image | Don't use old photos |
Fill out the entire profile
Every section in your LinkedIn profile has a purpose. Headlines help increase your discoverability and provide other users at-glance information about what you do. Your contact information makes it easy for a recruiter to reach out. The About me section helps you stand out from other candidates, and so on.
Leverage these sections to make your profile grab the attention of recruiters by highlighting your skills and personality. Approach it as you would your resume: don't leave any section empty because every component of your profile is an opportunity to showcase your achievements, experience, and knowledge.
Avoid writing a generic "about" summary
"I would stay away from bland descriptions that bring no value and can be copy/pasted onto anyone's profile. Your task here is to paint a picture and tell a story about yourself, so that once someone reads that paragraph they know who you are," explains Danica Ristic, Deel's senior people development program manager.
It may be challenging to write about yourself, but the About section is where you can show your authentic personality. You may feel tempted to repeat your work history or talk about your education, but a generic LinkedIn summary won't help you stand out among other candidates.
Instead, try to write a few paragraphs that no one else could write about themselves. Your summary should be a brief overview of your career highlights, achievements, and aspirations. Keep it concise, but also informative and engaging, without overusing buzzwords and industry jargon.
If you don't feel inspired, write the summary based on the answers to these questions:
What is my purpose when working? What part of my work makes me passionate about it?
What are some specific results I've achieved so far?
What are some unique experiences or skills I bring to the table?

The following example is from the About summary of an HR specialist, where the author communicates immediately what her values and purpose in the world of work are.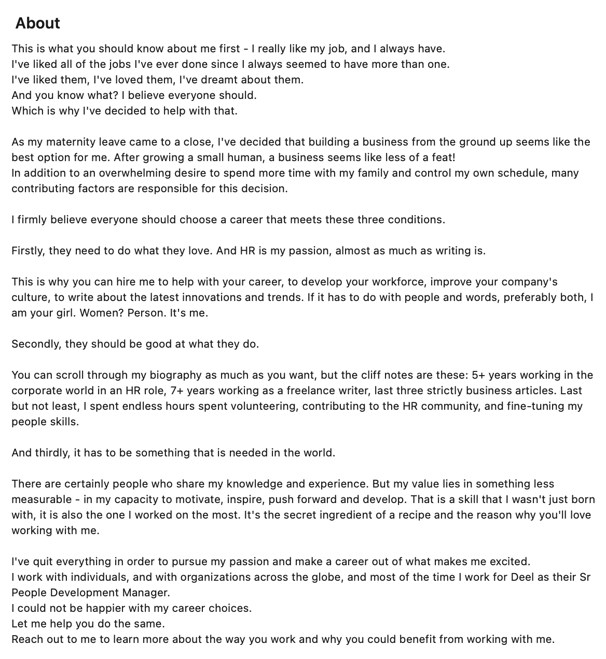 Also, don't be afraid to inject a touch of humor into your description, if that's who you are. Remember, the entire point of the About summary is to showcase your authentic self.
Here's an example of the About summary from a profile of a LinkedIn business strategist. It's unique, catchy, and speaks to the audience's pain point, which makes it relatable.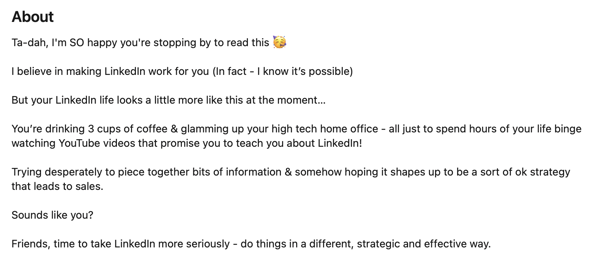 "I love profiles that have a brief introduction to the person's experience, interests and even better those with a personal touch that allows you to have an idea of their personality," says Laura Cortes, talent acquisition specialist at Deel.
Top tip: Include a call to action in this section of your profile to encourage recruiters to message you if they deem you a suitable candidate—it will make you look approachable.
Include relevant keywords
The LinkedIn search function is similar to Google's search engines—recruiters type in some phrases and words to find a specific group, person, or company, so apply basic principles of search engine optimization (SEO) to make your profile more discoverable.
Include keywords from job descriptions posted by prospective employers to increase the chance of your profile appearing in relevant searches. And since recruiters often search for candidates using specific job titles, make sure to include your position in your headline.
"The best advice I can share is to make the keywords appear. For example : "backend developer" isn't relevant, but "backend node.js developer" is for us. Including 4 or 5 bullet points to explain the stack, product or project you build makes a huge difference," shares Julien Ciftci, tech talent acquisition specialist for EMEA region at Deel.
It's also useful to sprinkle the keywords in other sections in your profile:
Summary

Experience

Skills

Hashtags

Recommendations
Showcase results you're proud of
Identify up to three biggest achievements in your career so far. Describe them in a few sentences and add them to your summary or experience section, or highlight them as a featured item on your profile. These successes can be anything from bylines in a reputable publication, a track record of exceeding your sales quota, or an outstanding product launch.
Quantify these results to make your accomplishments clear and specific and give people an accurate idea of what you've achieved.
Instead of saying, I increased organic traffic to our website, providing an accurate percentage: I increased our organic website traffic by X% in X months. If in doubt regarding how to quantify your accomplishments, think about setting SMART goals.
Use charts and tables to showcase these achievements in a beautiful, visually appealing way. Tools like Google Slides, Piktochart, and Canva offer free plans and hundreds of wonderful charts and graphs templates for you to use.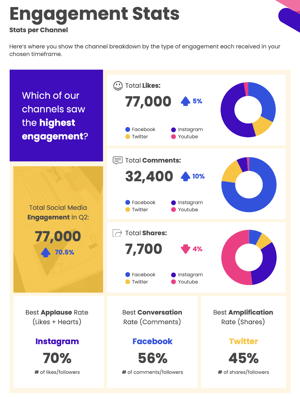 An example from Piktochart
Use multimedia content
Over the last few years, we've seen an increasing trend of employers asking for short video introductions before the first interview instead of a cover letter. Some candidates even like to send a resume in video format instead of the traditional one. Almost 80% of hiring managers say videos allow them to assess the candidate better.
Videos and images are a great way to diversify your LinkedIn content and grab the attention of recruiters. Not only can these formats almost guarantee your application will stand out among others, but they can also help you create an attractive and interesting LinkedIn profile. Instead of just writing about your accomplishments or career trajectory, you can present them visually through slides, or record a video showcasing your skills.
Get recommendations
Your LinkedIn profile has a recommendation section where people you worked for or with can leave recommendations. These testimonials can serve as references in your future job applications and tell potential employers about your personality, work ethic, and more.
"Achievements are always a plus and also, the profiles that have recommendations by former colleagues are definitely the most catchy," confirms Laura Cortes.
Ask your previous employers, mentors, managers, and coworkers to leave a recommendation and talk about the projects you've worked on together. You can send them a few orientation questions or notes to help them structure their recommendation and get back to you faster. For example, ask them to summarize your responsibilities, main achievements, and soft skills that stood out during your work together.
Do you dream of working
from anywhere?

Update profile regularly
Recruiters review numerous LinkedIn profiles each day. To make sure yours stands out, prioritize having up-to-date profile information.
For example, if you used to work in economics, but transitioned to development, your profile should reflect your new field or else recruiters may overlook you despite being an ideal candidate.
Don't forget to update your skills section if you gain a new certification. You can also showcase recent positions and volunteer experiences that demonstrate your expertise in your current field. But don't simply add anything you want—focus on tailoring your profile for a specific job or industry instead of trying to appeal to multiple industries at once.
Post actively
When you post on LinkedIn, your connections and followers can see your content. If they engage with it by liking or commenting, it can increase the visibility of your post to their connections, and so on, which can help you reach recruiters you're not connected with.
Posting regularly can also help you demonstrate your expertise and show passion for your industry or projects you're working on. If you're unsure about writing for LinkedIn, don't worry. You don't need to start by crafting impressive thought leadership pieces. You can start step by step with a gradual approach. Consider sharing:
News from your field: add a personal take on new updates and trends

Interviews with industry experts: conversations with professionals in the industry

Case studies: showcase success stories or analyze something you admire

Tips from your mentors: valuable advice you received from mentors or other experienced individuals
Skip posting negative comments about your current job even if you're unhappy with it, things that are inappropriate for a professional network, and don't go overboard by posting dozens of posts per day.
Leverage LinkedIn to make the right connections
Social networks play a crucial role in the search for new job opportunities., To stay visible and active, don't hesitate to showcase your skills and successes, and make sure your profile is always optimized with the latest and most relevant information. Along the way, you'll also build a positive personal brand and facilitate networking, whether you're looking for full-time employment or potential clients.
Implement these nine LinkedIn profile optimization tips today and you'll dramatically improve your chances of landing the job you've been dreaming of.
Deel helps connect the best workers with the best talent worldwide. Whether you're a direct employee, EOR employee, or independent contractor, we make working from wherever easy.
This article is part of a content series meant to help you find a job and grow your career. Read more articles: