Mastering Global Employment Laws with Deel: Startups Guide
Employment law compliance is complex. Discover how startups can get it right every time with Deel's all-in-one international hiring platform.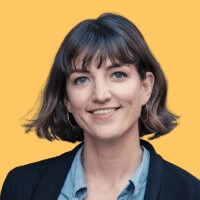 Written by Jemima Owen-Jones
May 25, 2023
Contents
Need help onboarding international talent?

Try Deel
Key takeaways
Employment laws can vary between country, state, province, and territory.
Failure to comply with employment laws can result in court cases, fines, loss of talent, and reputation damage.
Startups can master international employment laws with Deel's all-in-one hiring platform that combines compliant contract generation with payroll, offboarding, and much more.
The most efficient way for a startup to expand globally is to build a local presence in multiple countries worldwide. However, complex international employment laws can complicate global hiring, deterring entrepreneurs from exploring more lucrative and talent-rich markets.

Fortunately, thanks to innovative hiring methods, founders no longer have to navigate the maze of international labor laws alone. Instead, they can become a master of global hiring with Deel. This article shows you in three steps.
What are international employment laws?
International employment laws, or labor laws, govern the relationship between an employer and employees residing in different countries. Local governments implement them to protect fundamental employee rights, promote job security, and improve employment terms globally.

Each country has its own employment laws. For example, the employment laws in Dubai differ from those in Australia. However, employment laws vary between states, provinces, and territories. For example, state laws in the US state of Oregon differ from the employment laws in Carolina.

The primary employment laws present throughout the world govern the following:
Minimum wage
Overtime pay
Work hours
Rest breaks
Employment contracts
Benefit entitlements such as PTO, parental leave, and pensions
Probationary periods
Background checks
Payment methods
Payment periods
Payment frequency
Payroll taxes
Payroll records
Termination
Check out our
Global Hiring Guide
for a high-level overview of each country's local laws related to pay, tax, paid leave, terminations, time off, and more.
Step one: Generate localized contracts using Deel's contract workflow
The first and arguably most crucial step of mastering international employment laws is creating the new hires' employment contract, a legal requirement in many countries.

Creating an employment contract helps to lay out the terms and conditions of employment and can be used as a guide to ensure that the company treats its employees in alignment with local employment laws.

Creating employment contracts from scratch can be time-consuming, particularly when hiring employees from multiple countries. Startups can do their own country-specific research to include all the necessary employment requirements or use a template.

The disadvantage of templates is that you must ensure you're using the latest versions and that they're constantly updated and vetted by local legal experts. They can be difficult to customize if you want to add non-standard benefits or clauses, and you'll need to download, send, and store a new contract every time you want to make an update which is a lot of work for your human resources team - if you have one!

Alternatively, startups can create localized employment contracts on the Deel platform using our contract workflow. The intuitive platform guides you through each aspect of the contract, providing helpful insights and suggestions per country requirements. In addition, every contract you create will be vetted by local legal experts and updated quarterly so you remain compliant.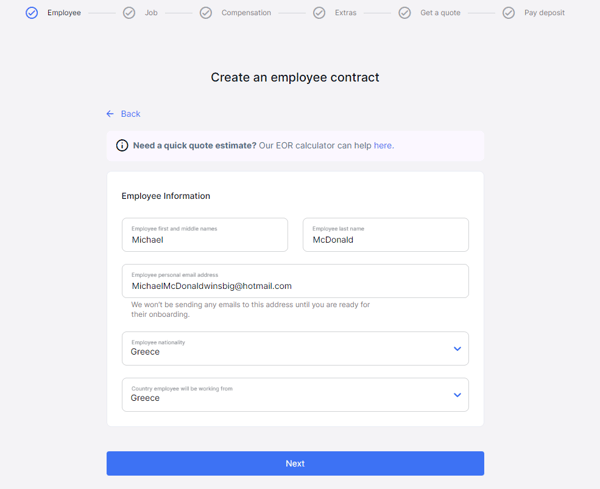 The Deel platform will advise you on the following:
Compensations rates
When you add the employee's job title, seniority level, and job duties from the pre-defined list, the platform will then prompt you to enter the compensation details, such as gross annual or monthly base salary, which will always be set in the employees' local currency since this is a legal requirement.
The platform will also present you with market rate insights on salary data based on the job level and title you enter to ensure you offer a fair and competitive wage that complies with minimum wage requirements.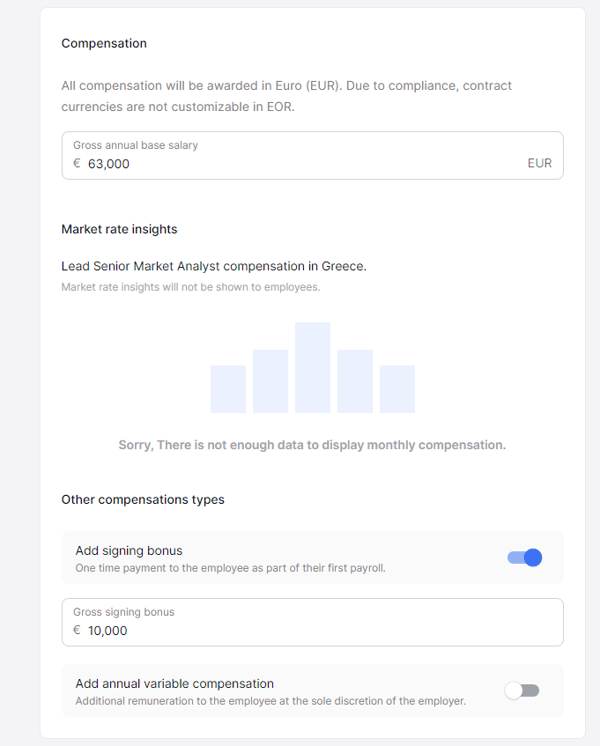 The contract type
The platform will help you set the appropriate contract term (indefinite or definite) and ask you to enter the necessary probation period.
Start date
You'll be advised of the earliest possible contract start date that suits regulatory requirements and asked to factor in some time for onboarding which also varies by country.
Work hours per week
Upon selecting the employment type: Full-time or part-time, you'll be prompted to specify work hours per week. The platform will provide the standard full-time work hours per week for the specific country so you comply with hour laws.
Time off allowances
The platform allows you to select the local standard or specify a customized number of days off. We recommend using the standard time off to follow local best practices. You can add more than the standard should your workplace policy, employee handbook, or offer letter specify this.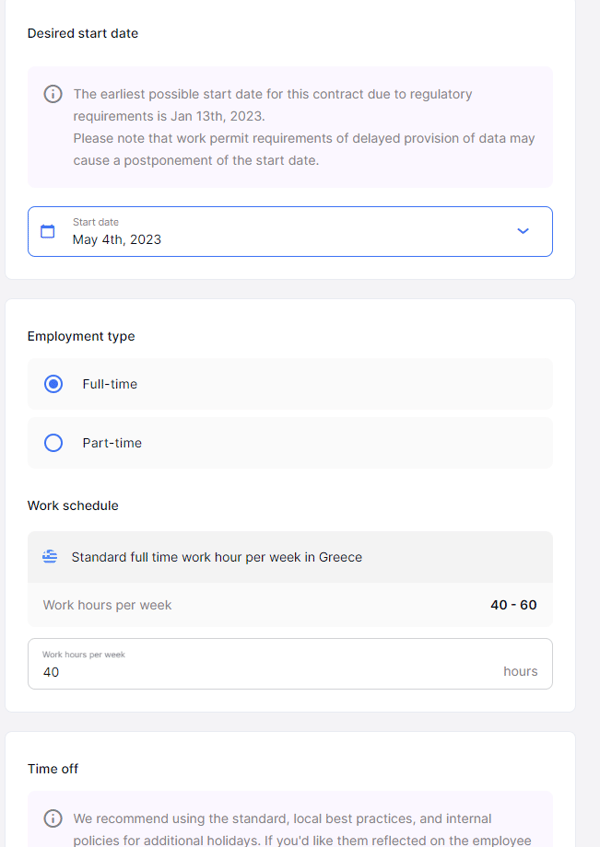 Benefits and perks
The platform provides access to our benefits tool to view the benefits relevant to the employee's country. You'll see explanations for statutory, common, and competitive benefits. When you add these benefits to the contract, the platform will display the available plans and provide a pricing and coverage breakdown.

Deel is partnered with top benefits providers worldwide to offer your startup exclusive discounts, rewards, and perks to support your international hires.
Equity compensation
You also have the option to add equity incentives. Depending on the given county's requirements, you'll be asked to specify the currency, option value, and the number of options this represents. You can choose when the vesting starts and the monthly investing schedule.

Our on-platform equity experts can guide you on the best type of equity for your startup and handle the reporting at taxable events based on the type of equity you grant and where you grant it.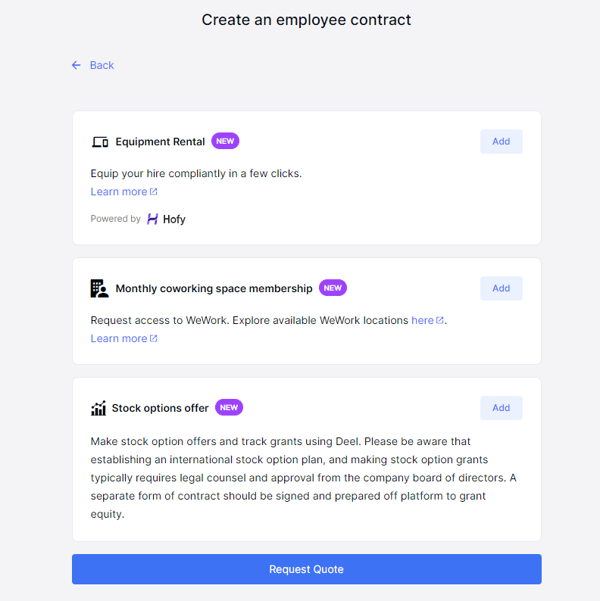 Mandatory documentation
The platform also ensures you obtain the legal documentation required to hire. For example, suppose the employee's nationality and the country they're working from are different. In that case, you'll be prompted to provide proof of work eligibility, such as a work permit to show that the employee can work in that country. When you invite the employee to sign the contract, they can upload the compliance documents via their self-serve dashboard.

You'll also have the functionality to request the signing of the following agreements to protect employee's sensitive information and prevent them from sharing your startup's confidential information with competitors or starting a competing business:
Intellectual property agreement
Confidentiality agreement
Non-compete agreement
Data privacy agreement (DPA)
If the employee requires
visa and immigration support
, or a
background check
, you'll be prompted to request this here. Our team will get to work procuring the right visa and running the necessary screenings in line with country requirements to streamline the hiring process.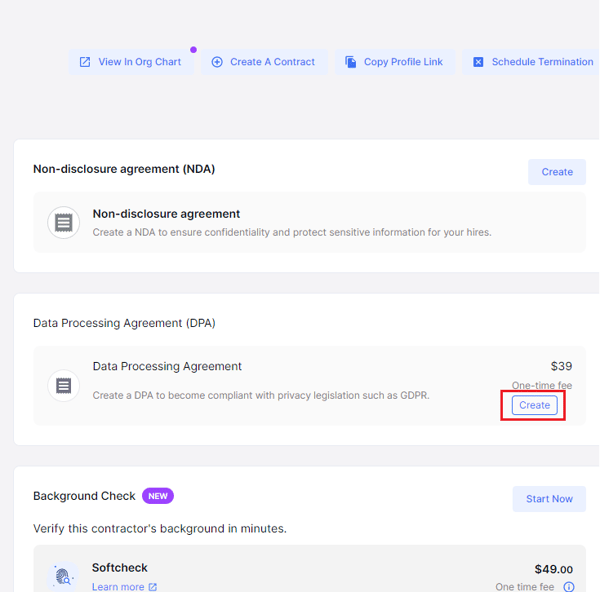 Once you've reviewed and signed the contract on your end, you can send an email invite to the employee, enabling them to log in to the platform to sign their contract and commence their onboarding.
The added advantage of creating a contract through Deel is that you have the option to create an EOR employee contract. An EOR employee differs from a direct employee in that you have hired them through an employer of record (EOR).

An EOR enables companies to legally work with employees in another country without setting up an office in that country or region, which is ideal for early-stage startups looking to test a particular market without taking on such a costly investment.

Hiring through an EOR has many other advantages:
You avoid all legal liability if any disputes arise
You can pay your global team in one click
You get access to the best benefits packages, discounts, and perks
Step two: Automate global payroll
Local employment laws govern your payroll obligations to ensure you pay your employees in line with local currencies, payment schedules, and payday requirements stipulated by country-specific employment laws.

For example, an employee in France requires payment once a month in euros (EUR). French labour law does not permit employers to pay wages exceeding €1,500 (EUR) per month in cash. The alternative is direct deposit.

The Netherlands requires payment to be made to the employee monthly or weekly in EUR. Employers should not make weekly payments later than one month after they're due and should make monthly payments within three months after the due.

Once new hires have signed their employment contract and completed the onboarding process through Deel, they're automatically enrolled in your global payroll cycle. On the Deel platform, click 'pay funding,' select a payment method, and review the payment summary before confirming payment for all your employees.
When calculating payroll, the Deel platform considers local currencies, exchange rates, country-specific benefit deductions and contributions, and time off. It also allows you to add bonuses and last-minute expenses and automate payslip distribution.

Both employees and independent contractors can receive payment through the Deel platform, with contractors benefitting from multiple withdrawal and currency options.
Step three: Streamline termination and resignations
Finally, local employment laws will dictate how you can terminate your employees. For example, in the EU, employers and employees must notify each other in advance and establish a notice period before terminating an employment relationship. In the Philippines, It's illegal to terminate an employee without a statutory cause, and employers are first required to follow a multi-step disciplinary process.

Many jurisdictions impose a high legal threshold on terminations, and employees are entitled to seek legal remedies through courts or local tribunals.

To terminate an employee in line with local employment laws, you can initiate a termination or resignation on the Deel platform, which will begin the offboarding process.

Deel typically requires 30 days' notice when initiating termination; however, we will expedite the process if the employee is within their probationary period.

Select the employee's name, request to end the contract, and share details of your termination request, such as the reason for termination, supporting documentation, desired offboarding dates, and severance.



Deel will carefully review all the facts and circumstances. In certain situations, Deel may advise you to adjust your request, including your desired termination date, to comply with local legal requirements to ensure a lawful termination.

Due to local compliance and privacy laws, Deel will take the lead on all communication with the employee about their offboarding. You do not need to notify the employee of your intention to terminate their employment agreement.

A local HR expert will guide you through the process and act as your primary point of contact. Deel's Legal Team and your assigned Customer Success Manager will manage the process in the event of complex terminations.
Master international employment laws with Deel
Your startup is uniquely positioned to grow with a global mindset, mainly due to low-overhead costs and greater agility; however, we know that international employment laws can really slow you down.

With Deel, international employment laws are pre-baked into our intuitive hiring platform, which means your startup can remain compliant wherever you wish to hire. We have the best legal teams in countries worldwide to keep every contract up-to-date, fund every payment on time, and terminate employees with the utmost care and respect, so you can focus on running your business.

Sound like an ideal solution for your growing business? Learn more about Deel for startups, or book 30 minutes with a product expert to get your questions answered.