What's included
Expert-reviewed building blocks for you to work with

Google Doc, Word, and Notion template formats for easy editing

Annotated guidance for customizing to your company culture

Tailored components for remote and international workforces
Contractors are excellent resources for a growing company, but if you've been building up your workforce, it's time to consider implementing a contractor conversion policy.
Having procedures in place will improve your compliance footing and reduce uncertainty among your team when you start to consider bringing on talent full-time as an employee.
Whether your contractors are starting to resemble employees, you're looking to protect your intellectual property, or you're keen to avoid misclassification, start with Deel's free contractor to employee conversion template to keep your contractor workforce in steady shape.
This template is specially tailored for international teams who may have contractors in more than one country. It's part of our remote work policy collection which aims to support growing teams with modern and approachable templates for remote work.
Use this template for free
Download the Contractor to Employee Conversion Policy Template for free and customize it to fit your needs.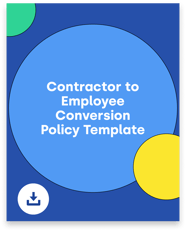 Conversion policy overview
A contractor conversion policy determines:
The company's method of classifying contractor and employee classification
The requirements a role needs to meet to qualify for conversion
The process of conversion
The legal considerations to assess
How to use this template
This template is a customizable document. You'll see placeholder text and prompts to guide your policy to reflect your local labor and tax laws and your team's unique approach to remote work.
We suggest sharing your policy widely among team leaders to ensure your entire organization is successfully equipped to work with contractors.