What's included
Expert-reviewed agreement in Google Doc format for easy editing

Customizable policy elements

Tailored components for remote and international workforces
Providing proper equipment for your employees can have benefits both for your workers and your organization in terms of employee productivity and increased quality of your team's work.
An equipment provisioning policy may come in handy for any company, especially for businesses hiring worldwide, as local laws regarding providing equipment for your team may differ dramatically. A policy that adheres to every jurisdiction can be tricky.
That's why Deel has created a free equipment provisioning policy that enables you to adjust it to any state or country you hire from instead of producing a new policy every time.
This policy template will help you:
Develop and enforce more robust guidelines around equipment provisioning for your workers
Improve your compliance footing
Ensure the safety of your equipment and data within a distributed team
Use this template for free
Download the Equipment Provisioning Policy template for free and customize it to fit your needs.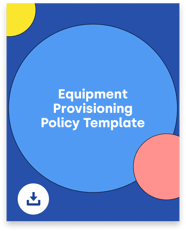 Equipment provisioning policy template overview
An equipment provisioning policy is a document that outlines a company's conditions for providing equipment for new hires and the guidelines that employees need to follow to receive the equipment, use it properly, and protect the company data during their employment contract.
The policy includes:
General guidelines regarding employee eligibility
Equipment specifications for different roles
Processes of ordering, buying, and delivering equipment
Tracking equipment via serial numbers
Equipment ownership guidelines
Employee responsibilities and disciplinary actions regarding equipment use
Guidelines regarding personal use of equipment
Data protection procedures
How to use this template
This template is a customizable document. You'll see placeholder text and prompts to guide your policy to reflect your local labor laws and your team's unique approach to remote work.
We suggest including this policy in your remote workers' onboarding process to ensure they review and understand all details.