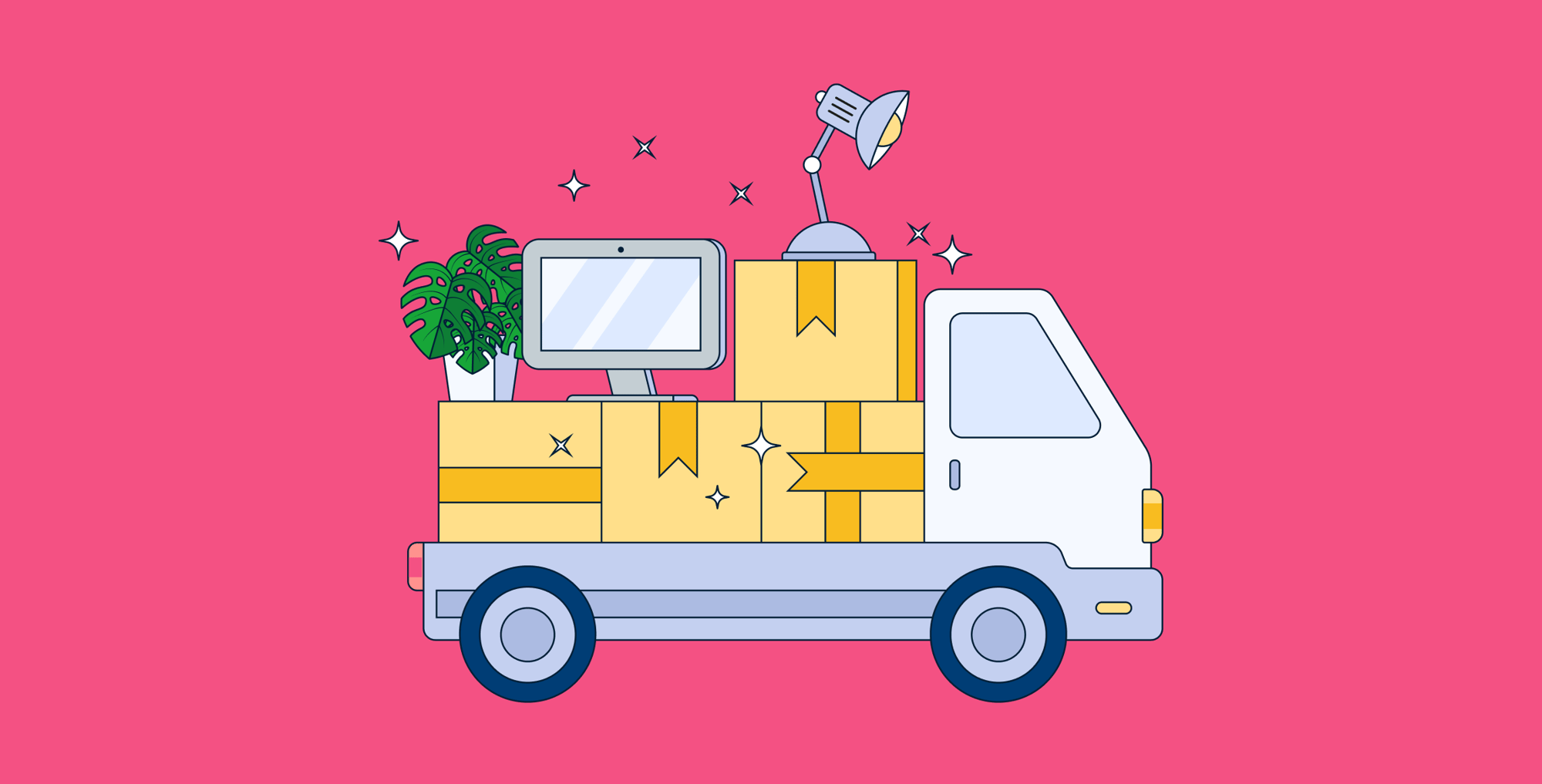 How to Handle Worker-Led Relocation Requests in Your Enterprise Business
Enterprises must accommodate worker-led relocation requests to attract and retain talent. Discover a step-by-step process to handle relocation requests.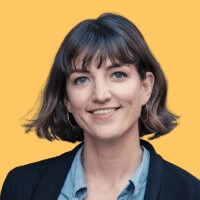 Written by Jemima Owen-Jones
August 18, 2023
Contents
Need help onboarding international talent?

Try Deel
Key takeaways
Worker-led relocation requests are rising due to several factors, including the rise of remote work, the desire for a better work-life balance, and the need to be closer to family members and friends.
Companies must be willing to accommodate worker-led relocation requests to attract and retain top talent. Employees considering relocation are more likely to choose a company ready to support their relocation needs.
There are several steps that companies can take to handle worker-led relocation requests effectively. These steps include creating a relocation policy, choosing a human resources (HR) platform with built-in visa and immigration support, and using EOR visa sponsorship for faster and more convenient visa procurement.
Worker-led relocation requests on the rise
In recent years, there has been a significant increase in the number of worker-led relocation requests. This increase is due to several factors, including the rise of remote work, the desire for a better work-life balance, and the need to be closer to family members and friends.
Why companies must acknowledge worker-led relocation requests
In today's competitive job market, companies must be willing to acknowledge and accommodate worker-led relocation requests to attract and retain top talent.

Employees considering relocation are likely to choose a company willing to support their relocation needs. This is because they know that the company is invested in their success and that they can continue their career development even if they move.

In addition, companies that accommodate worker-led relocation requests can improve employee morale and productivity. Employees who feel supported by their employer are likely to be happy and productive at work.

Finally, relocating employees benefits the company's success, as illustrated below.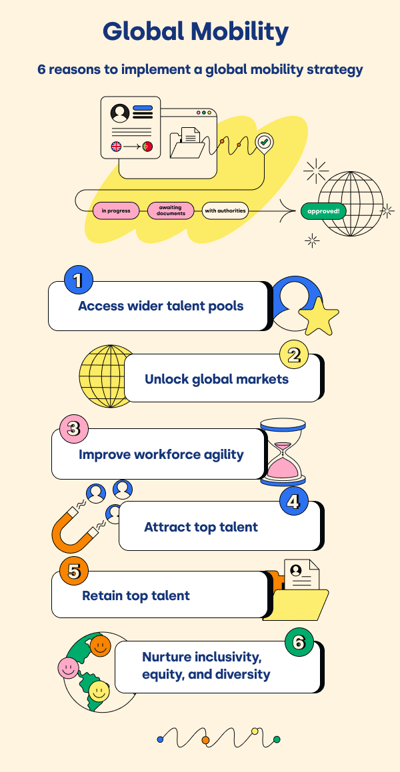 This guide will provide a step-by-step process that enterprise organizations can follow to ensure they handle international relocation requests smoothly and efficiently.
Step 1. Support workers in requesting relocation
The first step in handling worker-led relocation requests is helping workers to feel comfortable making them.

Create a company brand and culture that embraces and encourages location flexibility. Consider building an inclusive relocation benefits package that provides relocation expense reimbursement or skill workshops and cultural training to help support employee moves and remove barriers to relocation.
Global mobility used to be for c-suite or leadership-level folks to be sent on assignment or relocated. Over time, it has been democratized and opened up to everyone, including new grads, contractors, and nomads. It is no longer a traditional assignment but more fluid and open. Global mobility has evolved from very standard packaged offerings to a more customized experience based on an individual's needs.
Masha Sutherlin, Director of Global Corporate Legal and Mobility, Deel
Step 2. Prepare for two scenarios
Workers may request relocation at the start of a new job or during their tenure at a company, so prepare for both scenarios.

Existing team members should follow a specific procedure outlined in your relocation policy. If you're yet to create a policy, download our free customizable relocation policy template to get started.

When hiring new workers, companies supporting relocation should proactively ask the new hire if they wish to relocate as early in the recruitment process to allow time to procure the necessary legal documentation.
An employee may want to return to their home country to take care of a sick or aging parent while working remotely or someone who decides that they want to embrace that "work anywhere" lifestyle...
Steve Hoffman, Strategic Partnerships, Deel
Relocation for contractors
Because contractors are self-employed, they are responsible for arranging their own work visas and permits before international relocation. However, contractors should still abide by any relocation policies set by the company before organizing their relocation to ensure they can deliver on the terms outlined in their contractor agreement.

Contractors will also need to inform the company of any permanent or long-term relocations so that the company can update the contractor's contract, tax residency, and payment currency.
Contractors should check out 37 Digital Nomad and Remote Work Visas for 2023. Deel can support digital nomad visas in the UAE, Spain, and Portugal.
Avoid misclassification with Deel Shield
Are you worried about misclassification? To avoid any liability caused by a contractor misclassification, you can hire a contractor through Deel Shield. We will classify the contractor on your behalf and handle contract localization and payments.

Note that we can only hire someone under Deel Shield if they acquire proper work authorization in the country they are being hired in. For example, many Shield contractors are on spousal or freelance visas. We cannot support these.
Step 3. Review the requests
For existing employees, the next step is to check that the worker meets the eligibility requirements outlined in your policy. For example, have they been with the company long enough to qualify, have they had consistent performance, and can they fulfil certain obligations to work successfully from their new location, e.g., time zone commitments, appropriate work environments, etc.

If dealing with a new hire, ensure they can fulfill their new role in their desired location. Again, evaluate whether they can meet the position's obligations from their desired location and consider whether they have seniority of the role or specialty of skillset.
Step 4. Choose your support approach
If the employee meets the eligibility and requirements outlined in the policy, it's time to start supporting the employee in procuring the necessary visa and permit. The type of visa and permit will depend on the country and length of relocation.
Option 1: Organizations with robust HR departments can manually start the visa application process by filing applications directly with the relevant bodies. However, note that you may need to sponsor the worker's visa, which is only possible if you have a legal entity in the destination country. Suppose you do not have a legal entity in the worker's desired country. In that case, you must establish a foreign entity before you're able to provide sponsorship, which is a lengthy and expensive process.
Option 2: Alternatively, enterprise organizations looking for a streamlined relocation process can opt for an HR platform with built-in employer of record (EOR) and visa and immigration support. Below we will go over the process of handling worker-led relocation requests using an all-in-one HR platform like Deel's.


Step 5. Start the visa assessment process through Deel
When using Deel's HR platform to initiate the visa assessment, the procedure will vary depending on whether they are a new or existing worker, already have work authorization, and whether your organization has a legal entity in the chosen country.
Hiring
a new employee

without work authorization in a country where you don't have a legal entity

If the employee does not have the right to work in the desired country or proof of right to work, and you don't have a legal entity in the new country or jurisdiction, Deel will need to sponsor the work visa. You can indicate this as part of the contract creation workflow or request a pre-contract eligibility check by selecting the immigration tab in the Deel dashboard and clicking 'check visa eligibility.'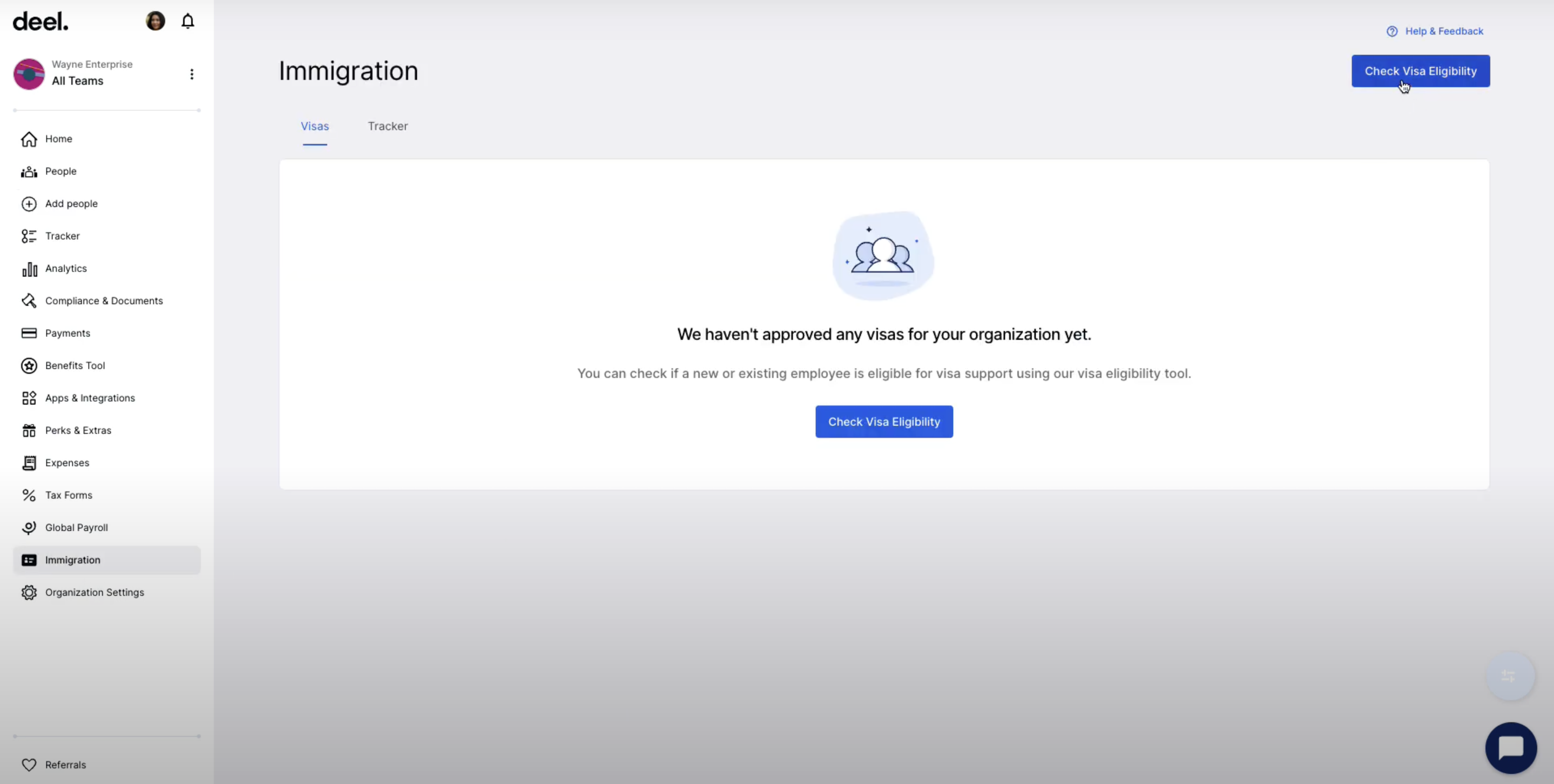 The platform will ask for additional information to support the eligibility assessment for the new employee. Choose the country where you wish to hire the employee and select 'new employee.'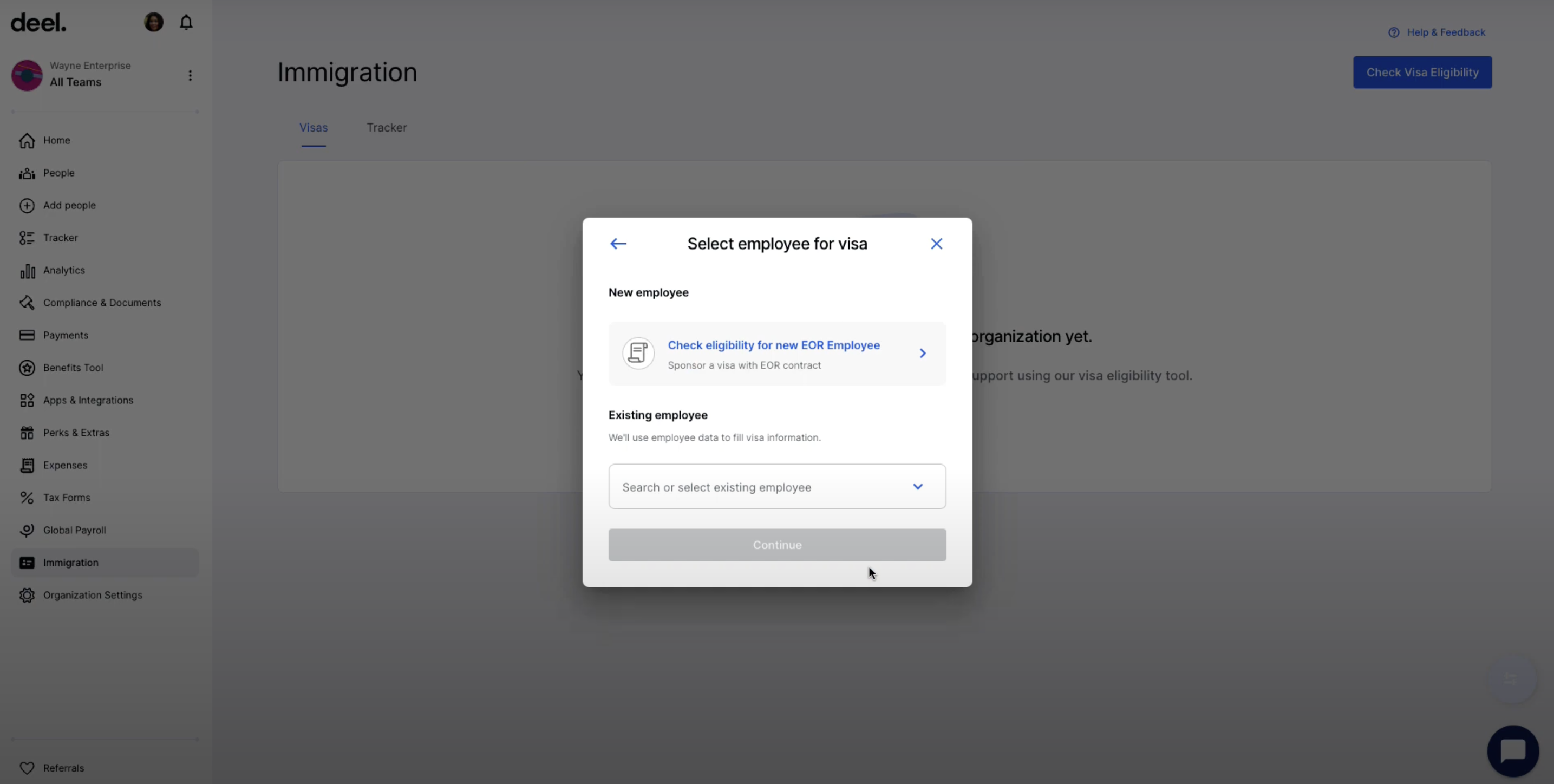 The platform will prompt you to input the employee's current citizenship status, the role you're hiring them for, their compensation, desired start date, and how many dependents would need a visa. The immigration team will return to you with an eligibility decision as soon as possible.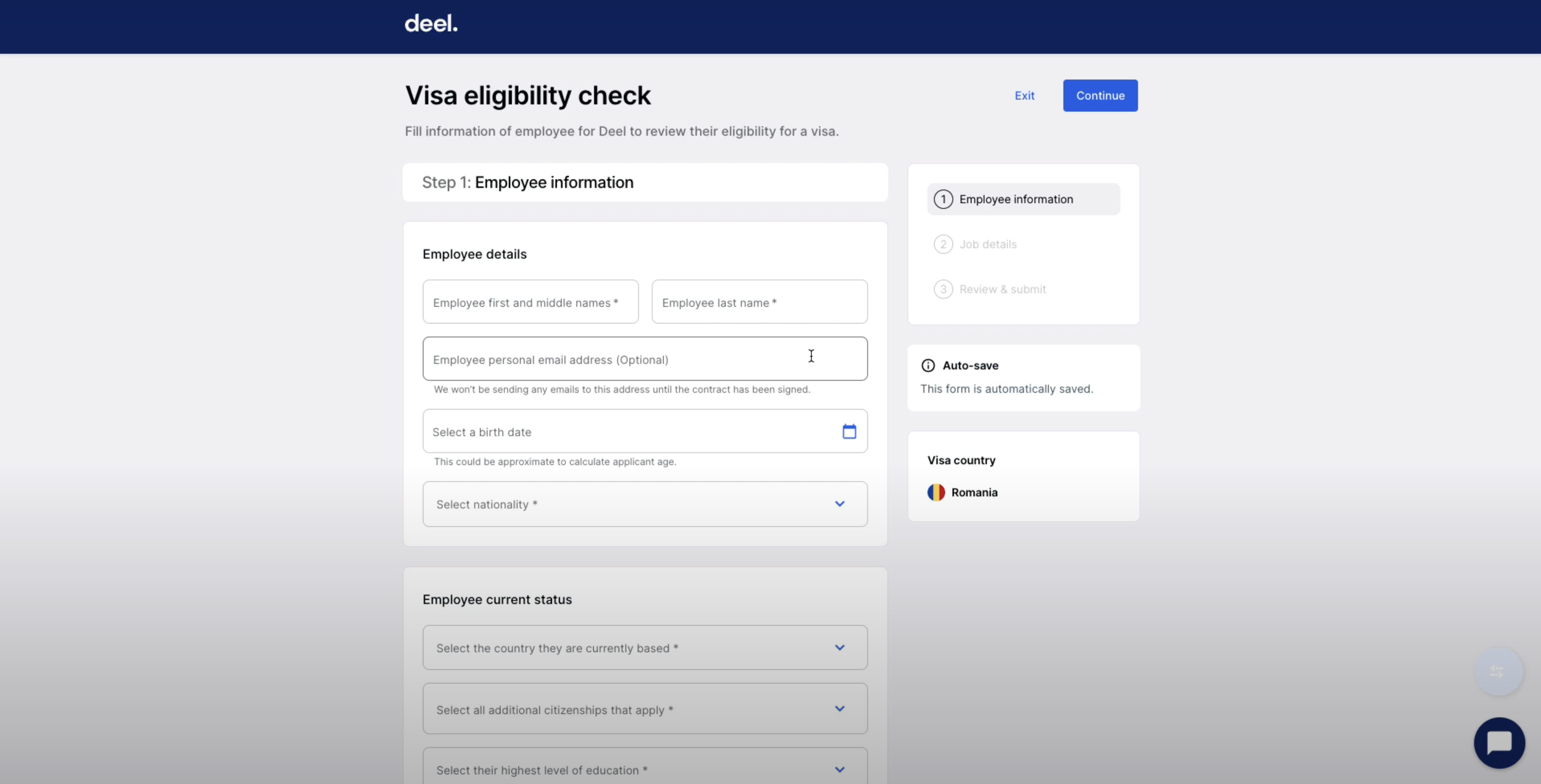 If the employee is eligible, you can view a cost breakdown. There is often a cost for acquiring the work permit and additional fees for obtaining a particular visa type. You will also see a timeline for acquiring the visa to check if it is within your and the employee's desired timeline.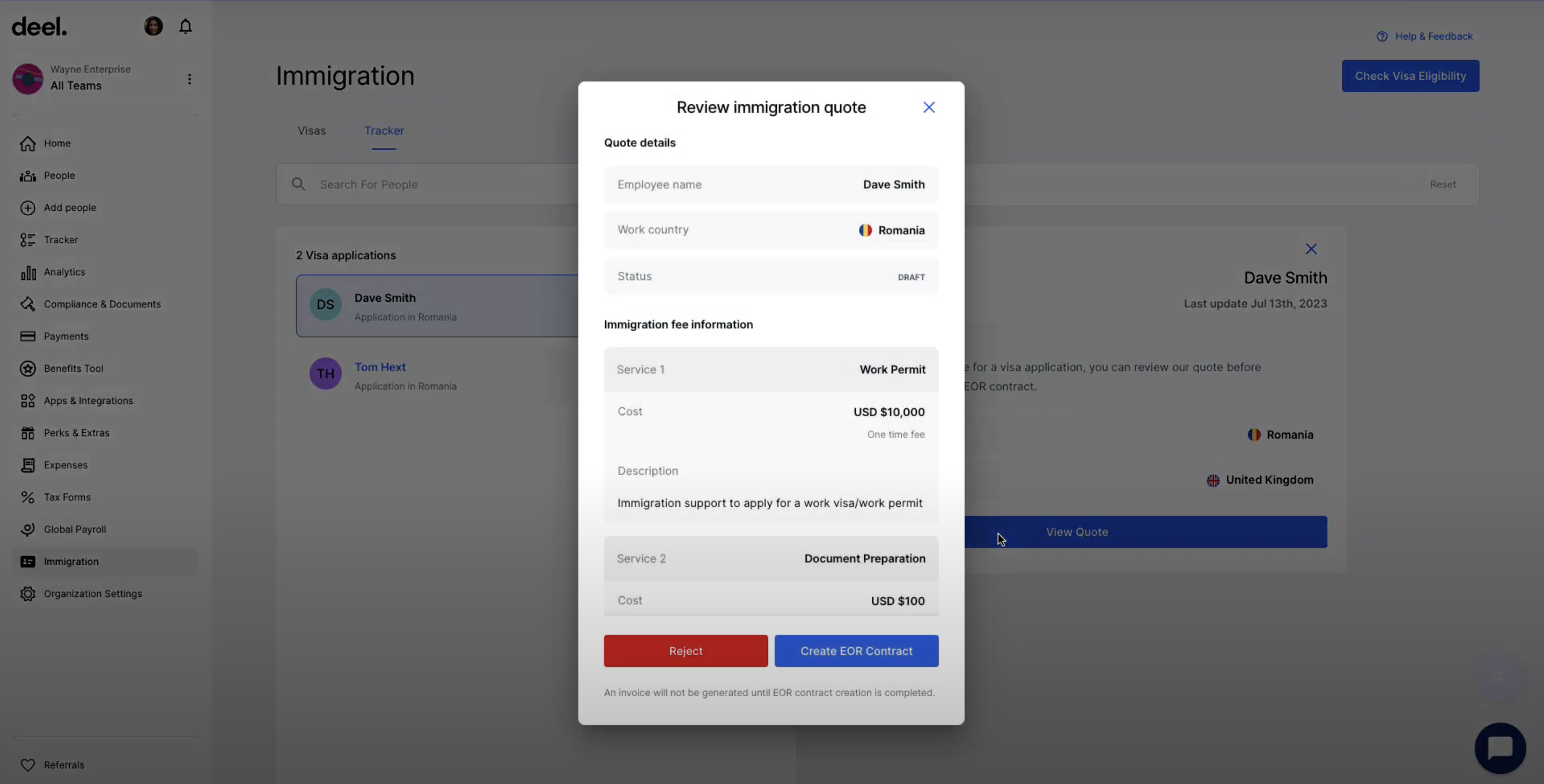 If you're happy with the cost and timeframe, you can continue to create the EOR contract. This contract will enable you to hire the employee within their desired country, even if you don't have a legal entity in that country.

The contract will pre-populate with the information you provided earlier in the assessment process.
What is an EOR contract?
An EOR contract is an official document you sign with an EOR organization. It enables you to hire full-time employees abroad without setting up their own legal entity in the new country, which can take many months and cost thousands.
An EOR is an organization that assumes all legal responsibilities regarding employment (contracts, salaries, benefits, taxes), ensuring your organization can hire from different countries in full compliance with local labor laws.
Today, Deel is the largest EOR provider globally, with over 20,000 active employees under our 100+ entities. Each of these 100+ entities is solely owned and managed by Deel. No outsourcing to 3rd party providers.
When you create an EOR contract on the Deel platform, our EOR team will provide a cost breakdown for hiring that employee. Once the EOR team sends back a copy of the contract, you must review and sign it for it to become active.
Typically [companies] don't have an entity in the country [where they want to hire], so that's why they usually leverage our entity…you need to have the right sponsorship infrastructure to sponsor a visa…you don't want to set up an entity because it's expensive. You need to be audited, you need to keep up with HR and compliance, there's quite a burden to it, and you need to report taxes on it at the end of the year (if you're a US company), so the ability to just being able to hire anyone anywhere without having to set up infrastructure is a game changer for our companies.
Alex Bouaziz, Co-founder and CEO, Deel
Hiring a new employee with work authorization in a country where you don't have a legal entity
Suppose you already have the employee's work permit. In that case, you can go ahead and create an EOR contract.

If you indicate that the employee's nationality differs from the hiring country, the platform will prompt you to upload the employee's work permit. If you don't have the document, we will ask the employee to upload the form as part of their onboarding checklist.
Deel gives us access to hiring people in a compliant way, anywhere. Those are people that we wouldn't have been able to hire without Deel, as we wouldn't be able to open an entity in every country where we wanted to hire someone. It also enables us to be close to our customers, they are all over the world, so we need to be there too.
Sanna Westman, Head of People, Planhat
Supporting a new or existing employee with work authorization in a country where you have a legal entity
Suppose you already have a legal entity in the destination country and want Deel to support you in obtaining a work visa. We are currently piloting immigration support for your employees hired through your own entities in the following countries:
The US
Portugal
the Netherlands
Germany
The UAE


You can schedule a free consultation with our team here.

Step 6: Track the application process and manage compliance
You and the employee can track the progress of any ongoing application or assessments from within the 'immigration tab' in the 'tracker tab'. Once the immigration team has completed the assessment, we'll inform you via email, and you'll receive an update within the tracker.

You'll also be able to view all other active visas, visas that have expired or are due to expire from within the immigration tab, and much more.


Step 7. Update employment documents and adjust benefits
Once the governing country has issued the final approval on the visa, it's time to update the employees' employment documents to reflect any changes to their responsibilities, conditions, compensation, benefits, and currency.

It's easy to update the employment documentation and upload all necessary tax, permit, and compliance documents using the Deel platform. Our legal experts will vet any amendments to ensure the employment contract is airtight.

If you requested immigration support while creating the EOR contract, you can skip this step. You will have already completed this stage.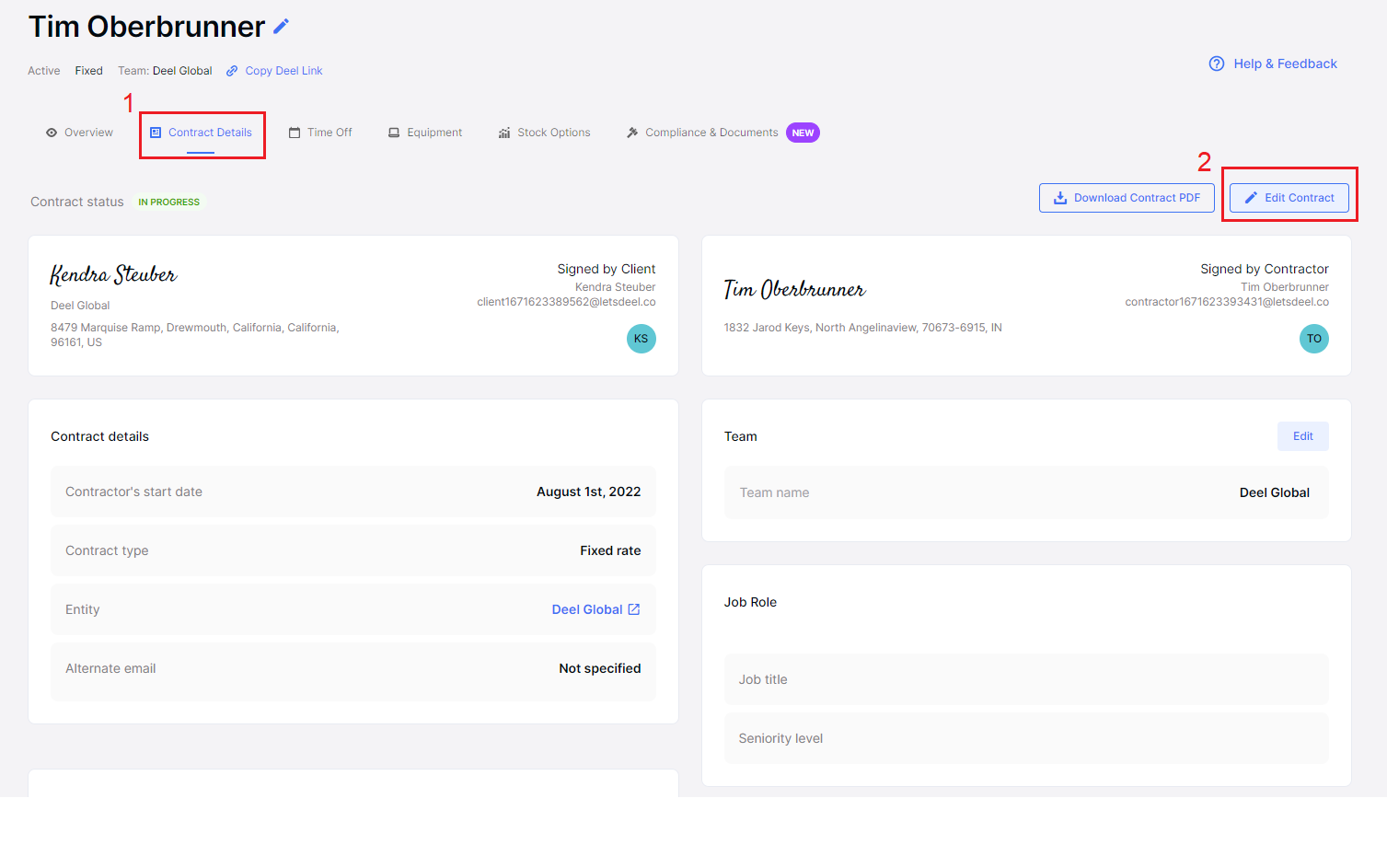 Step 8: Adjust payroll and taxes
You will need to update your payroll so that your employee's pay and taxes are calculated and distributed in line with their new countries' payroll and income tax requirements.

If you created the contract through Deel, the information you entered will automatically update the global payroll system. Our multiple currency options and various withdrawal methods make it even easier for your team to get paid wherever they relocate.
With Deel, you can easily hire people from all over the world. You have all your international employees in one system, and you can easily hire people in a new country without finding a new payroller or even setting up a whole salary admin. In some countries, there are a lot of additional arrangements that come with an employment contract. Deel handles all of that.
Marieke Sneep, Head of People, Solar Monkey
Master employee relocation requests with Deel
Deel provides end-to-end service for clients hoping to give their workforce location flexibility, going beyond visa procurement to provide a streamlined experience for your employees.

Under our EOR model, we sponsor employee visas, take on the risk, compliance, and maintenance of the worker's visa, provide corporate backing, and complete audits required by governing bodies.

Sound like the ideal solution? Book 30 minutes with a product expert to get your questions answered.