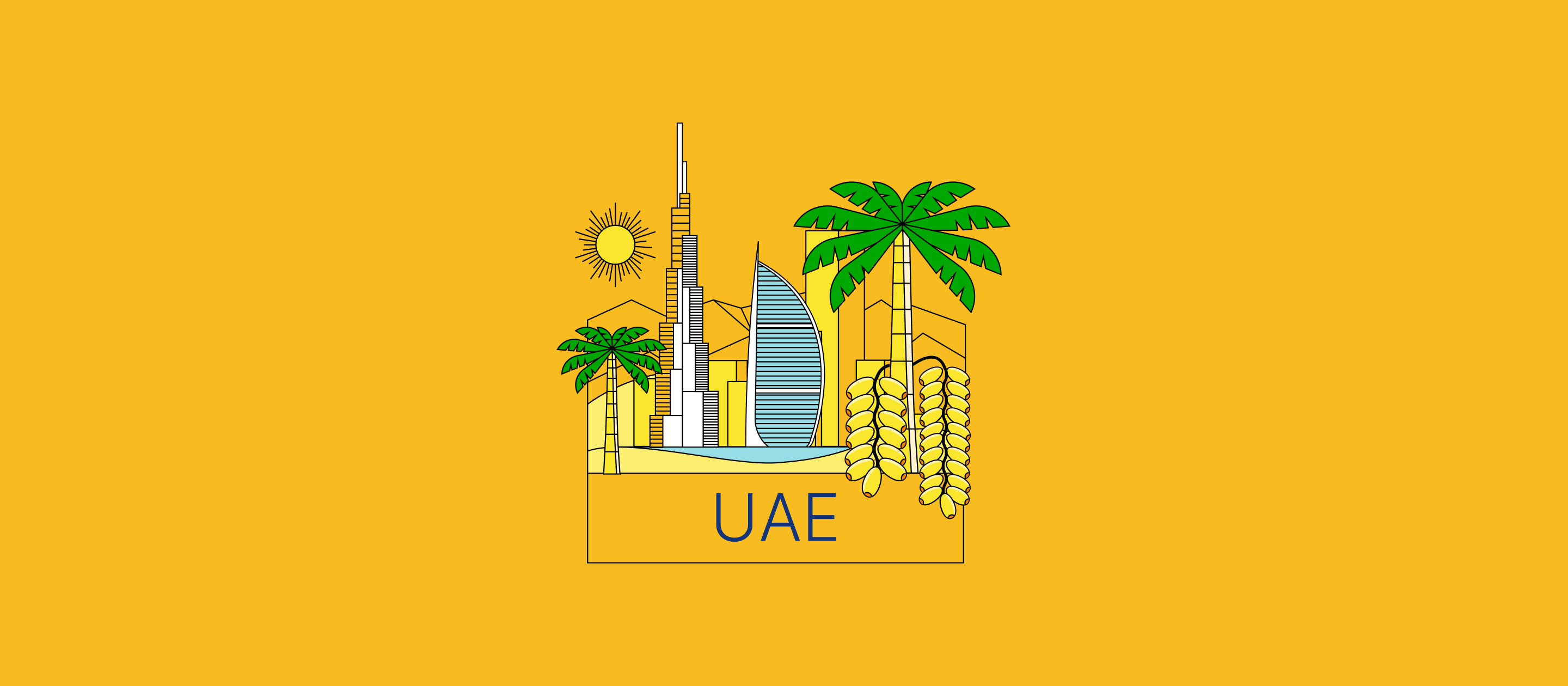 Moving to Dubai: A Comprehensive Guide to the UAE for Expats
Considering moving to Dubai? Here's everything expats need to know about visa requirements, career opportunities, and getting set up in the UAE.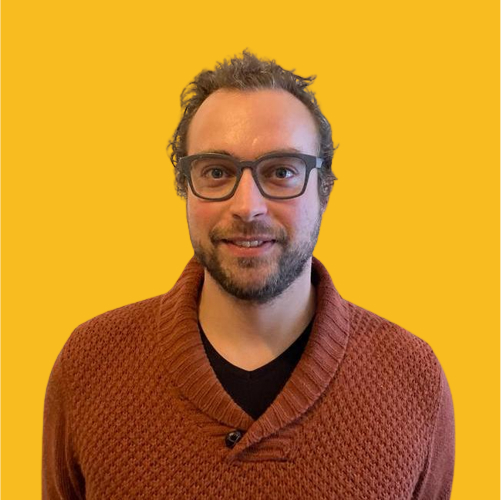 Written by Gabriele Culot
October 16, 2023
Contents
Need help onboarding international talent?

Try Deel
Key takeaways
Dubai has become a popular location for expats and nomads due to its career prospects and favorable tax system.
A successful move to the UAE requires thorough research and careful planning.
Using Deel's step-by-step guide will ensure you're prepared for life in Dubai and avoid common pitfalls.
Dubai has become a top destination for expats and digital nomads. They rate the United Arab Emirates highly for its quality of life, career prospects, and local culture, not to mention its considerable tax advantages.
Relocating to the UAE requires thorough planning and research. While the country has relatively simple visa processes, there are pitfalls to avoid. Read our step-by-step to understand all the requirements and potential setbacks to ensure a successful move to the UAE.
Step 1: Ensure your paperwork checks out
The first item on your expat checklist is ensuring you meet all the UAE's eligibility criteria. Thoroughly review all the required paperwork to guarantee your relocation isn't just possible but also seamless. Here are the key areas you need to consider:
Visa types
The UAE government offers several types of visas to cater to the diverse needs of its expats:
Job seeker visa: Use this entry permit for up to five years to look for work or finalize your UAE residency
Green work visa: Sponsor yourself as a

sole proprietor

or skilled worker indefinitely. You must meet minimum income requirements—360,000 Dirham ($100,000 USD) per year for freelancers and 180,000 Dirham ($65,000) for employees
Virtual work visa: Get a one-year visa as a

digital nomad

working for a foreign organization. You need to have proof of employment and earn no less than $3,500 (USD) a month
Golden visa: If you're a specialist, see if you're eligible for a long-term, renewable visa with no sponsorship required
Aside from job seeker visas, all the work permits above let you bring family members with you. You have to meet a higher earning threshold and provide accommodation though.
Visa sponsorship
If you're applying for a standard work residence visa, you need an Emirati employer to sponsor you. The good news is they'll handle most of this process on your behalf.
Ensure a smooth sponsorship process by providing all the required documents timely and keeping yourself updated.
A checklist of essential documents
The exact paperwork you need depends on the type of visa you apply for and your nationality. For example, there are special exemptions for citizens of countries from the Middle East like Kuwait and Saudi Arabia. However, the following documents are likely to end up on your checklist:
✅ Passport (plus photocopies): Your passport should be machine readable (not handwritten), valid for at least six months from the point of entry, and have two free pages. Four color photocopies of the original document are also required
✅ Passport-sized photos: The exact measurements are 4.3 by 5.5 centimeters and 300 by 369 pixels
✅ Visa application form: Access visa forms via one of the UAE's online channels and track your application progress
✅ Proof of employment: You can provide either a signed job offer letter or a valid employment contract
✅ Freelance permit: If you're self-employed, apply for a freelance permit from the Ministry of Human Resources and Emirisation (MOHRE) website
✅ Educational certificates: For work visas, you may need to provide attested copies of your certificates and qualifications
✅ Medical records: Most visas require expats over the age of 18 to prove they have a clean bill of health, meaning no communicable diseases like TB and malaria
✅ Police clearance certificate: You can apply for a criminal record check via the Emirati government website and get your fingerprint card from your country's UAE embassy
✅ Marriage and birth certificates: If you're relocating with family members, you'll need authenticated marriage and birth certificates. Unmarried couples aren't eligible for a dependent visa, as with many other countries
✅ Financial records: For certain visa applications, you need to show proof of sufficient funds. This may include bank or credit card statements or a letter from your employer
✅ Insurance documents: You must have proof of adequate travel insurance and medical coverage to enter the UAE
Authentications and translations
UAE authorities require you to attest most documents originating from other countries. You can usually verify them through your own government services or your nearest UAE embassy. Sometimes you may need to authenticate documents in both countries as in the case of degree certificates.
You may also need to translate documents into Arabic. Even if you speak both languages fluently, you should use a professional service for this step.
Failure to provide authenticated and translated documents could lead to delays and complications in your visa application process. In the worst-case scenario, the authorities might reject your application and cause you to start over from scratch.
Step 2: Consider finances
Moving to Dubai can be a smart financial move, offering you the opportunity to fast-track your career and benefit from generous tax breaks. However, it's essential to budget effectively for your move and new life abroad.
Cost of living
Dubai is famous for its luxurious lifestyle and business opportunities but these features make it one of the most expensive cities in the world after New York and London. Before you move there, it's important to understand the costs you'll have to manage. Here are some of your main considerations:
Housing costs: The cost of accommodation starts at around $1,200 per month for a one-bedroom apartment in the suburbs
Utilities: Basic electricity, cooling, and water for an apartment come to around $200 per month
Retail: Most of Dubai's commercial goods come from abroad meaning they carry a hefty import tax
Daily expenses: Food and drink prices are comparable to US supermarkets but there's an

excise tax

on unhealthy products like carbonated drinks and tobacco
Transportation: Dubai has an extensive public transport system with tickets costing as little as 3 Dirham (around $1)
Banking and currency exchange
The UAE has a robust, modern financial system that supports online and international banking. Opening an Emirati bank account is a straightforward process that only requires your passport, visa, and proof of address. You can choose between one of the UAE's national banks or global ones like HSBC and Barclays.
Exchanging currencies is also relatively simple. As the Arab Emirati Dirham is pegged to the US dollar, the rate remains fixed at $1 USD to 3.67 Dirham. Use reputable services to exchange currencies to avoid the risk of scams.
Taxes
One of the main attractions of the UAE is the favorable tax system. There's no income tax on individuals and VAT rates are low. When you're living tax-free, you also have less paperwork to take care of every year.
While you can enjoy tax advantages in the UAE, check whether you have any financial obligations to your home country. You'll need to see whether there's a double taxation agreement between the two jurisdictions. The Emirati Ministry of Finance (MOF) lists all the UAE's current tax treaties on its website.
Step 3: Secure housing and accommodation
Although some employers provide expats with accommodation, you may need to arrange housing. The UAE has many options from luxury apartments in skyscrapers to budget-friendly shared houses so what you choose mostly depends on your budget.
Renting vs. buying
The main consideration is whether to rent or buy your accommodation. Renting provides flexibility as Emirati leaseholders usually only require a year's commitment. On the other hand, buying property can be a wise investment, albeit one with substantial upfront costs.
Note that the UAE restricts foreigners from buying property in some areas. You can look at real estate in freehold zones like Business Bay and Dubai Marina for expat accommodation.
Finding suitable housing
There are numerous ways to look for accommodation in the UAE's dynamic property market. You can hire an estate agent or browse websites like Bayut or Dubizzle. Expats on job-seeker visas might explore different locations when they arrive.
When you've found the right place, ensure the owner registers your rental agreement with the correct authorities. Dubai calls this document the 'Ejari' and Abu Dhabi the 'Tawtheeq'. You'll get protection from unlawful practices like unjustified rent increases and sudden evictions.
Most housing should support remote workers. The UAE has some of the fastest internet speeds in the world in the world and many apartments have office spaces.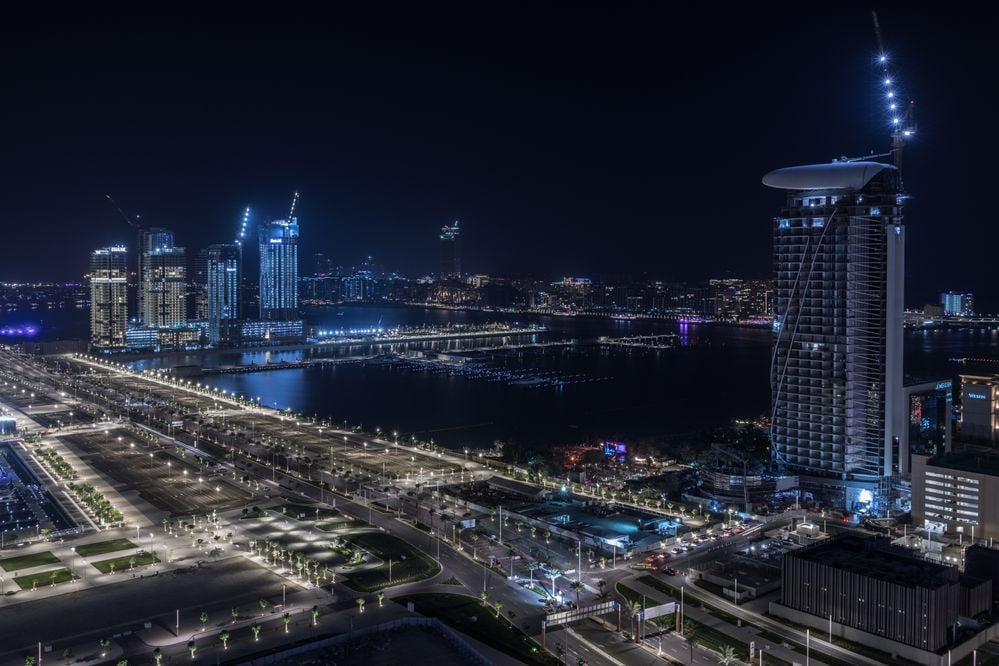 Dubai Marina by night, photo by Masha Sutherlin, Deel's Director of Mobility & Corporate Legal
Step 4: Seek employment and career opportunities
Expats recently voted the UAE the second-best country for career prospects. The country's diverse economy and strong international presence make it an excellent place to find work and grow professionally. Let's explore the opportunities for job seekers here.
Job market overview
As the UAE has a diverse job market, you can find demand for talent in various industries. Top international companies like IBM, Google, and Amazon are often hiring there. In fact, we at Deel have recently partnered with the UAE to offer more roles for remote workers.
Research to find jobs that align with your skills and interests. There's no need to know Arabic—familiar job sites like Indeed and LinkedIn let you look for opportunities in all the Emirates. You can also check the government job portals for open positions.
Professional networking is vital in securing job opportunities in the UAE. Attend in-person events such as conferences and expos to build as many professional connections as possible.
Work culture
Dubai's work culture is a blend of modernity and tradition. There's a heavy emphasis on respect for older, more experienced members of organizations. However, businesses are becoming more interested in their social responsibility as the UAE becomes more and more international.
As with many Gulf countries, the standard work week in the UAE is Sunday to Thursday. The working day is eight hours, except during Ramadan—the government sets the maximum at six hours to protect Islamic employees who fast.
Step 5: Arrange healthcare and education
The UAE has made health insurance mandatory for all residents, including expatriates. If you have children aged 18 or under, the same applies to their education.
Fortunately, Dubai has modern, well-funded hospitals, healthcare facilities, and schools. All you have to do is research the options and pick the ones that suit you best.
Healthcare system
Medical costs shouldn't be a major concern when moving to Dubai. While healthcare in the UAE isn't free, it's heavily subsidized by the state. The government also passed a set of laws requiring employers to cover most of their foreign workers' medical insurance premiums.
However, employers aren't responsible for covering dependents and work-based policies may have gaps. Research different insurance providers before you arrive and consider whether you need additional policies to the one provided by your organization.
For instance, Deel partners with multiple local providers so our EOR in Dubai can offer employees the most comprehensive coverage. We also have a benefits tool so you can see what employers should offer.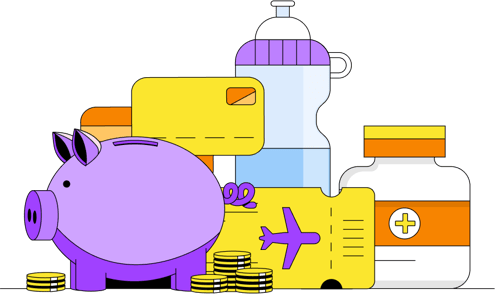 Education options
Due to the UAE's large expat population, it has a wide variety of schools for foreigners. You're likely to find a center that teaches your home country's curriculum whether that's American, British, or Indian.
To enroll your children in school, you'll have to complete some paperwork. Prepare copies of their birth certificate, visa, and school records. You may need a transfer certificate to prove your child studied at their previous school and had permission to leave their home country's education system.
Step 6: Blend into the culture
While Dubai is a cosmopolitan city, the culture is still pervasive and distinct. It's important to educate yourself about the customs and norms to integrate more quickly into society and make the most of your new home. Here are some key pointers about the Emirati way of life to familiarize yourself with:
Multiculturalism: Dubai is a melting pot with nationalities from Asia, Africa, and beyond so move to the UAE with an open mind
Religion: The UAE is predominantly a Muslim country so learn about Islamic practices and be sure to follow rules about not eating, drinking, or smoking outdoors during Ramadan
Conservative dress: You should cover your shoulders, arms, and legs when entering religious or government buildings in the UAE
Dining etiquette: Familiarize yourself with rules such as eating with your right hand only and following the host's lead at meal times
Brunch: As the mid-morning meal is the most popular of the day, attending brunches will help you connect with locals and make friends
Language: Although English is the primary language in Dubai, Arabic is widely spoken and locals will appreciate you making an effort to learn basic phrases and expressions
Dubai metro: Public transport has its own set of rules like not eating, drinking, or selling goods on the trains
Read more first-hand tips on living in the UAE in the Deel Community!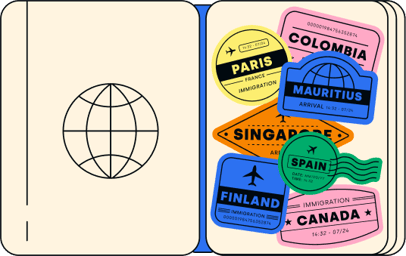 Step 7: Stay safe and secure
The UAE has a low crime rate due to its high-tech security, strong emergency response system, and community policing.
I was based in Abu Dhabi, but did plenty of exploration of other cities in my nearly 3 years of living there. Dubai, in particular, with one of the world's best connecting airports, was a really cool hub to take off from to explore other countries. The UAE is both a safe and family-friendly country – Dubai metro even features carriages that are designated for women and children.
Masha Sutherlin, Director of Mobility and Corporate Legal, Deel
In case you encounter problems, learn the phone numbers for different emergencies. The UAE government website has a list that includes contacts for all the emergency services plus electricity and water failure.
Investing in relocation services can help you navigate all the risks and dangers with ease. They provide guidance on everything from housing and work to local laws so you can avoid common pitfalls. Consider enlisting a top service like Helpxpat, Movguru, or AGS Relocation to plan your move.
Step into your new life in Dubai
If you're prepared to embrace the Emirati lifestyle, Dubai offers a rewarding expat experience. By focusing on key areas like healthcare, education, and cultural integration, you can make the most of your move abroad.
Deel supports employers and employees alike with the visa and relocation process. Our team of experts can handle the paperwork and any compliance issues with the Emirati government.
Learn more about moving to new countries and how we can help with the relocation process on the Deel blog.