An employer of record (EOR) is an organization that acts as the legal employer for their clients' foreign employees. The EOR is the middleman that assumes all legal responsibilities regarding employment (contracts, salaries, benefits, taxes) and ensures that their clients can hire from different countries in full compliance with local employment laws.
An employer of record allows companies to hire full-time employees abroad without setting up their own legal entity in the new country, which usually takes months and requires a lot of money. Hiring through an EOR is cost-effective and removes the regulatory obstacles in the process of international employment.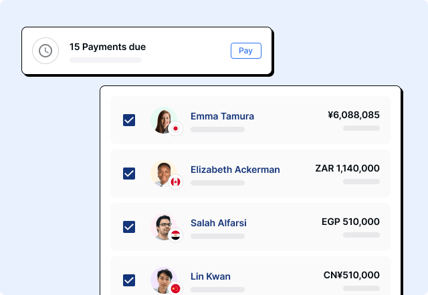 Employer of record services include:
Legal employment of your global and remote workers
Creation of locally compliant employment contracts
International payroll

processing
Collecting tax documentation and filing it in accordance with local tax laws
Employee benefits

and perks
Intellectual property protection
New

employee onboarding

process
Contract termination
How does hiring through an employer of record work?
Employers of record process global employment and payments through several steps:
The EOR hires subcontractors or sets up their own local entities in countries around the world
The EOR partners with companies that provide benefits and perks for employees in different sectors: health insurance, pension, learning and development budgets, and more
Partnering with an EOR means you can hire employees from countries the EOR is present in
The EOR handles employees on your behalf: their contracts, background checks, payroll, taxes, statutory rights and benefits, terminations, and more
You manage your global workforce's day-to-day responsibilities and schedule, while the EOR tracks their working hours to be able to calculate their wages
🌎 Did you know? Deel has 100+ owned entities around the world.
Why hire through an employer of record?
Hiring through an employer of record facilitates international expansion in several ways. By outsourcing global hiring to an EOR, you can:
Save time and money on hiring international employees
Avoid employee misclassification and non-compliance penalties and fines
Increase access to the best candidates when hiring from the global talent pool
Human Resources department reduces repetitive, labor-intensive manual tasks
Enhance employee data security by working with a reliable partner
Improve employee experience with diverse, localized perks
Adapt to the future of work and hiring trends
Streamline post-merger talent integration
"Take a country like France. If you establish an entity there, the people you hire—you're going to have to pay pensions to them for the rest of their lives. It's a huge liability. EOR is a great opportunity to test out new markets and make sure it works before you do invest and actually establish an entity."
— Steve Hoffman, Senior Strategic Partnerships Manager at Deel
How to choose the right employer of record solution for your company?
The right global employment service provider offers features that cater to all your needs during global expansion. Some of these include the following:
An easy-to-use, intuitive platform with self-service options for employees so your team can seamlessly integrate the new tool into their workflow
Customization and access management features so you can tailor the platform and processes to your needs
In-house legal and payroll support so any questions or concerns can be resolved efficiently
Integrations with HR, accounting, data security, and other tools you already use
High data security standards and protocols to protect your data, no matter where you hire
A well-organized help center that answers FAQs so you can resolve simple issues on your own
Customer support specialists available around the clock (or at least in your time zone) and in your language
💡 See also: Everything EOR: A Guide to Employer of Record
Employer of record vs. Professional employment organization (PEO)
Employer of record and Professional employment organizations both help you hire employees but in different ways.
Unlike EORs, who are the sole legal employer of your workers, PEOs provide co-employment services. A co-employment relationship means you and the PEO share legal liabilities and management responsibilities related to your employees. Another crucial difference is that PEOs operate locally, which means you can't hire international employees through a PEO.
Employer of record vs. Global employer of record (GEO)
Global employer of record is essentially a synonym for an employer of record. EORs can technically employ people from the same country where you are, but when you start hiring globally, the EOR assumes the role of a global employer of record.
💡 See how SiteMinder hired 50+ employees from 11+ countries and stayed compliant thanks to Deel.
Can you hire independent contractors through an employer of record?
EORs usually focus on allowing client companies to hire full-time (and part-time) employees compliantly. As you can work with independent contractors directly and local labor laws don't require you to pay payroll taxes or benefits for them, you usually don't need a middleman to hire a contractor.
All-in-one global workforce management
Some EORs, like Deel, offer the possibility of managing independent contractors through their platform in addition to employees.

It's easier to manage your whole workforce in one place, regardless of their employment status, especially if the platform offers advanced features such as various payment and withdrawal methods (including cryptocurrencies), debit cards, automatic invoicing, and more.
💡 Learn more about how Deel unifies all aspects of managing an international workforce.