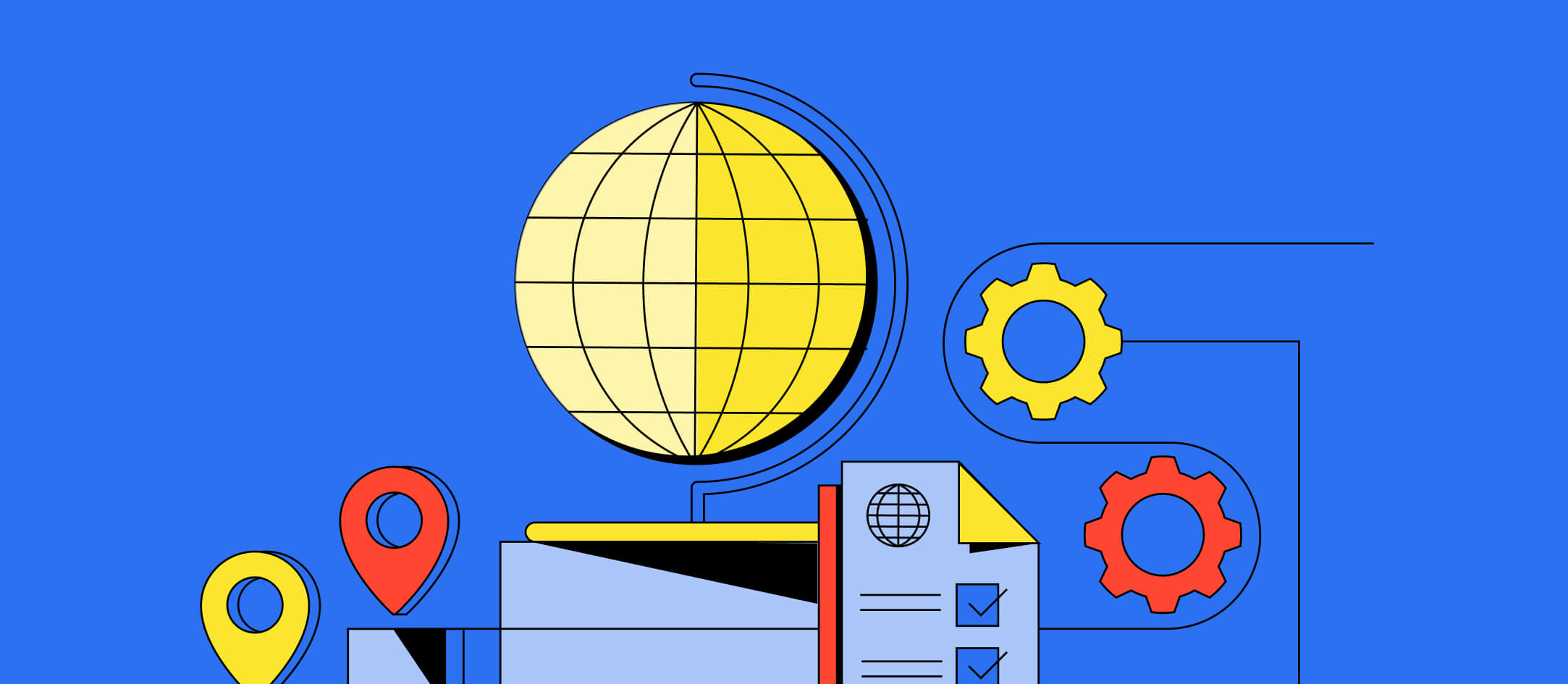 EOR vs. PEO: The Difference (And Why It Matters)
EORs and PEOs help companies expand their HR offerings, including hiring, onboarding, and employee benefits. Read on to understand the key differences between the two and which is best for you.
Written by Anja Simic
June 7, 2023
Contents
Need help onboarding international talent?

Try Deel
Key takeaways
When hiring with an Employer of Record (EOR), you don't enter into a co-employment relationship like with a Professional Employment Organization (PEO).
PEOs are designed to tackle HR tasks for an existing local workforce. EORs manage end-to-end hiring tasks for a global workforce.
You need to have a registered business entity wherever you want to hire employees with a PEO. An EOR doesn't require you to have your own entity.
Employer of record (EOR) and professional employer organization (PEO) are third-party entities that partner with your company to handle your HR needs.
Both models offer robust HR functions to help grow your team and improve your employee experience while you focus on more core aspects of your business. EORs provide full-scale hiring services, handling everything related to hiring, onboarding, and HR admin. PEOs play more of a supporting role, like an outsourced HR department that operates under your business.
An EOR is a total employment solution while a PEO is a co-employment solution, meaning you will need an entity to use a PEO.
Steve Hoffman, Senior Strategic Partnerships Manager, Deel
EOR vs. PEO: The main difference
The most prominent difference between the EOR and PEO models is which entity legally employs the people who work for you.
With a PEO, you enter into a co-employment relationship, which means the people you hire are your company's employees. You are legally responsible for your employees and the PEO is just there to support your HR functions such as managing biweekly payroll and employee health benefits.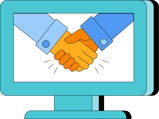 When you engage with an EOR however, the EOR is the legal employer of anyone you hire through them: employees sign employment contracts with the EOR, not with your business. You still get determine the employee's wages and evaluate their performance, but since the EOR is the legal employer, you can work with anyone wherever the EOR has a business registration. Many EORs also offer HR services similar to PEOs.
Below, we'll explain how this core difference breaks down and impacts:
How much of the hiring process you have to handle
Whether you get support for health insurance
Whether you need to acquire business registrations
Who's responsible for employee contracts and compliance
How many workers you need to have
EORs handle hiring and employment for you
Think of a PEO as an outsourced HR department with limitations on matters of employment (like hiring and contracts). They handle tasks like employee onboarding, employee reviews, contract termination, and most other day-to-day HR services. Good PEOs also help improve your hiring process and develop employee handbooks. But in the end, you are primarily responsible for managing employment at your company.
EORs serve as the legal employer of people who work for you. If you engage a remote worker from Germany, for example, the EOR's legal entity in Germany will serve as the employer. The EOR will become fully responsible for local taxes, payroll details, and labor laws, which makes EORs a great solution for companies looking to expand globally.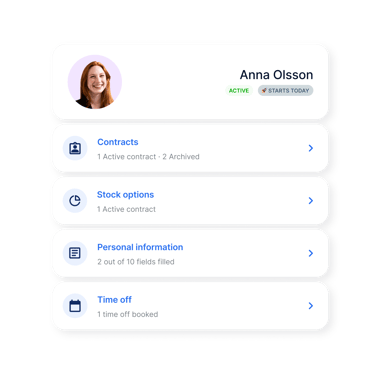 Both PEOs and EORs offer health benefits for workers
PEOs leverage their scale and network to negotiate comprehensive benefit packages for workers from top insurance providers. These health plans are more accessible to smaller companies and lets you offer competitive and attractive benefits that attract and retain top talent. PEOs may offer plans that include health insurance, dental and vision care, 401(k) retirement plans, short-term and long-term disability coverage, life insurance, and accident insurance.
EORs also offer comprehensive benefit plans. They provide full-suite insurance coverage, including general liability, workers' compensation, and other types of insurance required by each employee's country of residence. EORs take on the full liability of the employment arrangement for the client company.
PEOs require you to have business registrations
PEOs are co-employers, which means you still need a business registration wherever your employees reside. This isn't a significant issue if you hire locally. But if you plan to hire outside of your state or country, you'll first need to get a business registration or set up a local entity wherever you want to hire.
EORs employ the people who work for you, so partnering with an EOR lets you hire workers wherever the EOR has established a local entity. Deel, for example, has local entities across the US and in
over 100 other countries
. With Deel as your EOR, you don't have to set up a branch office in a new state or country to hire a resident there. Global hiring is a huge benefit for companies looking to break into new markets or hire the best (and not just the nearest) talent.
📈 How Deel is helping Veriff become one of the fastest-growing startups around
Veriff enables organizations to build trust with their customers through their online identity verification service.
Opening local entities everywhere they found great talent wasn't the best option for Veriff because of their rapid growth. Setting up subsidiaries would take a lot of time and financial resources, so the tech startup turned to Deel.
"[Before Deel,] setting up a legal entity in a new location took a lot of paperwork, bureaucracy, and time. [Since using Deel] we've saved a lot of time and money but also reduced the team's administrative load for a quicker turnaround," says Veriff.
EORs handle international compliance and legal responsibilities
PEOs handle some compliance tasks, but as a co-employer, you remain legally responsible for your team. US PEOs handle local and state payroll taxes and reporting, and can advise on domestic issues like Workers' Compensation, OSHA compliance, and COBRA administration. They're not designed to assist with hiring internationally.
On the other hand, EORs take on the complete responsibility for legal compliance, along with payroll processing, benefits administration, and employment contracts. This enables you to hire talent globally without the need to worry about local labor laws, tax filings, or compliance matters. Since the EOR acts as the legal employer, they assume full liability for any compliance issues or concerns that may arise.
PEOs may require a minimum number of employees
Most PEOs have certain thresholds regarding the number of employees you must reach. The minimum number is usually between five and ten. This makes PEOs suitable for companies with an existing team, but may not be feasible for a new startup.
EORs, on the other hand, don't have minimum employee requirements. You can hire just a single person in an entirely different country without worrying about legal entity paperwork or local licenses. EORs also tend to have more flexible offerings: you can partner with them for a comprehensive employer solution or just for select HR services.
Save at least $20,000 per year on your tech stack
For companies with under 200 people, Deel HR is free: no set-up fees, monthly costs, or hidden extras.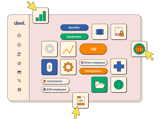 Choose the solution that meets your longterm needs
Forward-thinking companies recognize the advantages of using PEOs and EORs for global expansion. Select a solution that not only aligns with your present circumstances but also anticipates the needs of your future.
If you want to open the door to growth and expansion, choose an EOR. EORs enable you to expand across borders without worrying about local compliance or establishing local entities. This is especially important in the era of remote work: partnering with an EOR unlocks access to the best talent in the world, not just the best talent in your area.
If you plan to stay grounded in a local framework and value full legal responsibility of your existing local workforce, a PEO can be a great fit. PEOs let you enhance your existing HR team and focus resources on your core capabilities.
Finally, if you're both looking to bolster your existing HR capacity and hire globally at the same time, Deel stands as your partner of choice, offering EOR solutions for your global ambitions and a US PEO model to oversee your local payroll with minimal impact to your existing team.
Book a demo with a Deel hiring expert today for actionable help with expanding your global workforce.
This post is for informational purposes and should not be considered legal advice. Talk to a legal professional such as an employment lawyer for more info.