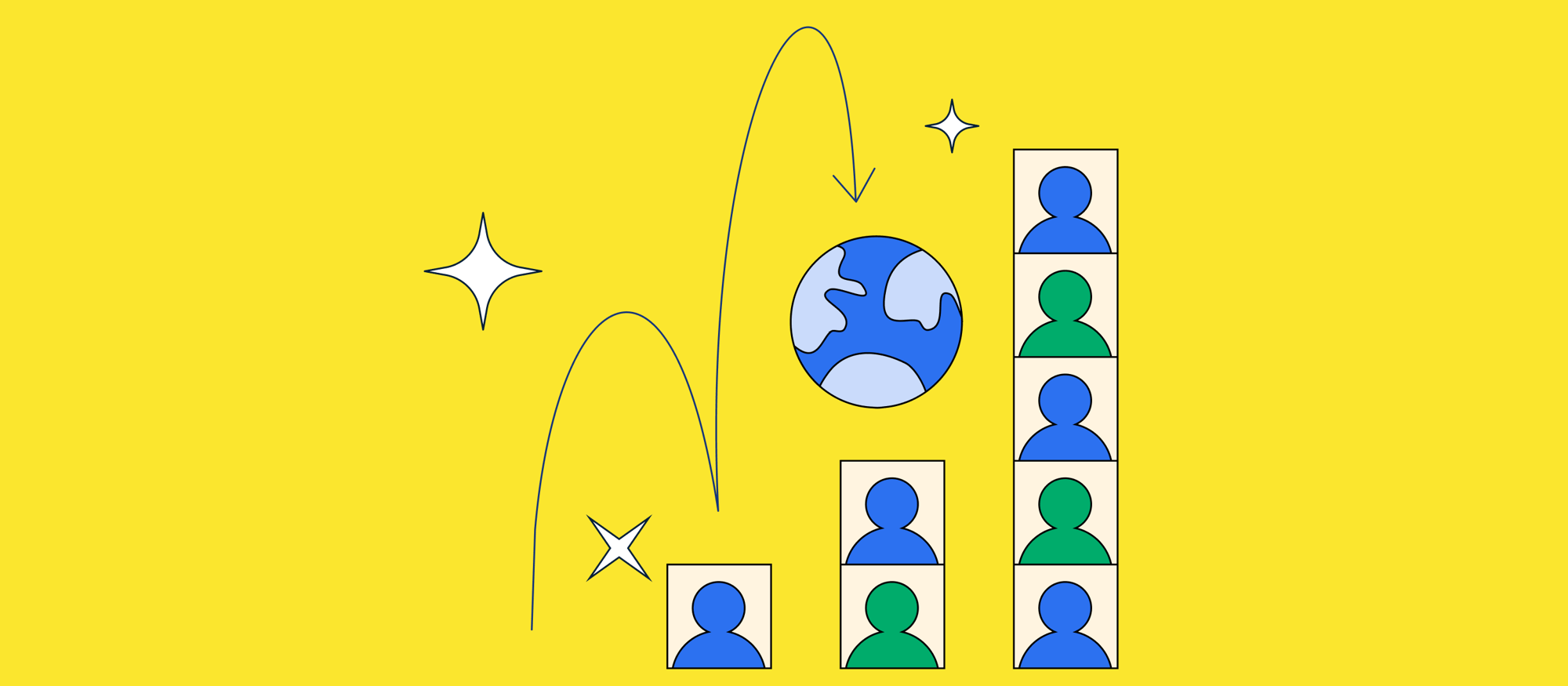 The Benefits of Hiring International Contractors with Deel
Hiring international contractors offers many benefits, maximized when using Deel. Discover the benefits of the platform for both businesses and contractors.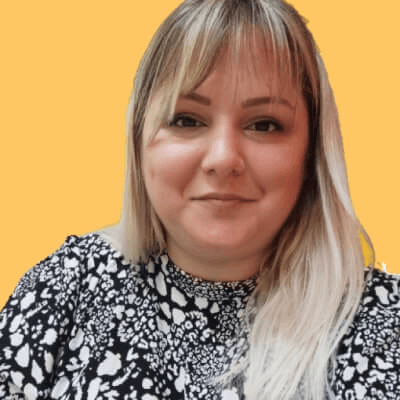 Written by Stefana Zaric
July 27, 2023
Contents
Need help onboarding international talent?

Try Deel
Key takeaways
Businesses hire international contractors to speed up global expansion and de-risk testing new markets.
Deel helps companies navigate the various legal and compliance requirements when hiring abroad, offering a seamless and efficient experience.
Deel's contractor tools, such as automated invoicing or Deel card, offer convenience and flexibility to contractors, elevating their overall platform experience.
Hiring international contractors offers numerous advantages for organizations wanting to expand their business and improve operational efficiency, especially because they can be onboarded fast as you may not need to own a local entity to hire them.
To make the most of the flexibility and scalability of global contractors, it's important to streamline the hiring and management process.
That's where Deel comes in. Our robust and centralized platform provides an elevated experience for both the business and contractor, whether you work for a small business or a global franchise.
In this guide, we'll explore the different benefits of working with Deel when hiring international contractors.
Save time and money on admin
When working with various contractors, it's important to create thorough agreements, ensure all documents are signed, and maintain accurate invoicing records. These admin tasks are often time-consuming and laborious, but also essential for the compliant running of a business.
These tasks are further complicated when hiring international contractors, as they may involve different languages, payment methods and currencies, and compliance clauses.
Deel helps streamline admin and save time (and money) on the platform—an efficient and concise space to manage all payment and contractual responsibilities.
For example, Deel allows businesses to create different independent contractor agreements, such as:
Fixed rates contracts
Pay-as-you-go contracts
Milestone contracts
You can have various contractor agreements with workers, with the contractual stipulations programmed into their profile.
From amending contracts, conducting mass payments, terminating contracts, and setting up auto-payments, Deel removes the time and energy needed to differentiate between different working relationships with self-employed contractors, ensuring that talent is paid accurately and timely, every time.
Speedy market testing
Entering a new market is always a risk, no matter how thorough your previous research is. Registering your own local entity requires a significant investment in terms of money and time, sometimes taking up to a year and tens and even hundreds of thousands of dollars, if we count ongoing payroll administration costs.
If you're not willing or able to invest so many resources into a risky market, hiring international independent contractors allows for speedy market testing with fewer risks.
Contractors are:
onboarded quickly without needing extensive training or tools to do the job
in charge of covering their own benefits and taxes
flexibly hired based on your (fluctuating) business needs
Deel helps companies hire and onboard contractors in minutes thanks to the intuitive platform and automated compliance documentation collecting.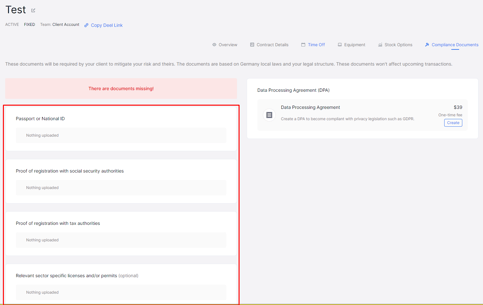 Once your contractors are enrolled in the system, you can streamline invoicing with auto-generated invoices and make one-click bulk payments to pay everyone in their preferred currency.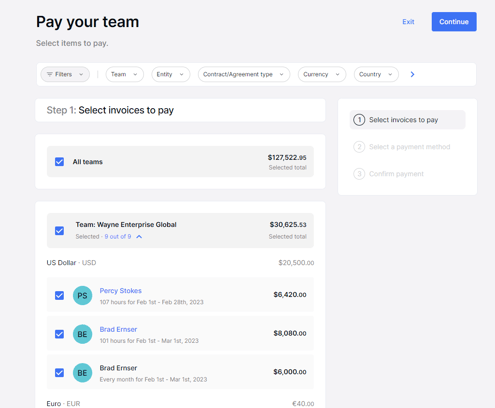 You can also make any necessary edits after your contractors are all set up. Quickly add hours, bonuses, and expenses using our CSV upload feature, submitting work for multiple contractors at once.
💡 Seel also: US Company Guide to Hiring Foreign Independent Contractors
By ensuring documentation is tight and paired with a platform like Deel, new hires and contractors can be onboarded quickly and seamlessly into their functions to start having a real, tangible impact almost from the time they get their email access. This has enabled us to launch new markets fast while maintaining a high level of quality onboarding experiences.
Chris Withers, Founder and CEO, Klikit
Compliance and risk mitigation
The definition of an independent contractor varies by country. A person can be considered a contractor in one, but an employee in another, exposing the client to misclassification risks and multiple financial and legal penalties. When hiring abroad, consequences may even prevent you from expanding your business to that specific market.
Staying on top of legal and compliance requirements on a global scale is a daunting task, but Deel removes the burden by ensuring compliance with local labor and tax laws.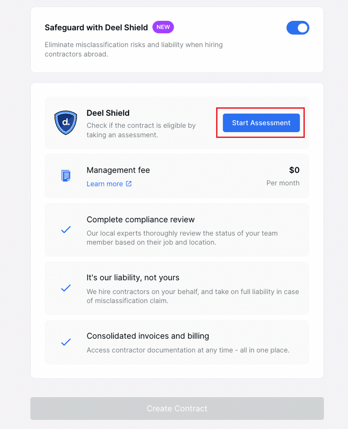 You don't need to be familiar with employment laws in every country you hire from—our in-house legal experts regularly review and update all contracts signed through the platform, alerting clients if the nature of their business relationship with a contractor changes and starts resembling employment.
In addition to taking over the liability of hiring contractors, Deel offers the convenience of a built-in e-signature feature, eliminating the need for manual paperwork. The result is a streamlined and efficient contractual process that is quick to implement and easy to use.
🛡️ Deel Shield provides ready-to-use, tailored contracts that comply with local labor laws in 150+ countries.
By providing airtight contracts and advanced compliance features, businesses can confidently hire a contractor without risking misclassification and liability.
Deel Shield ensures even higher protection than our standard plan while letting you enjoy the same flexible benefits of hiring a contractor.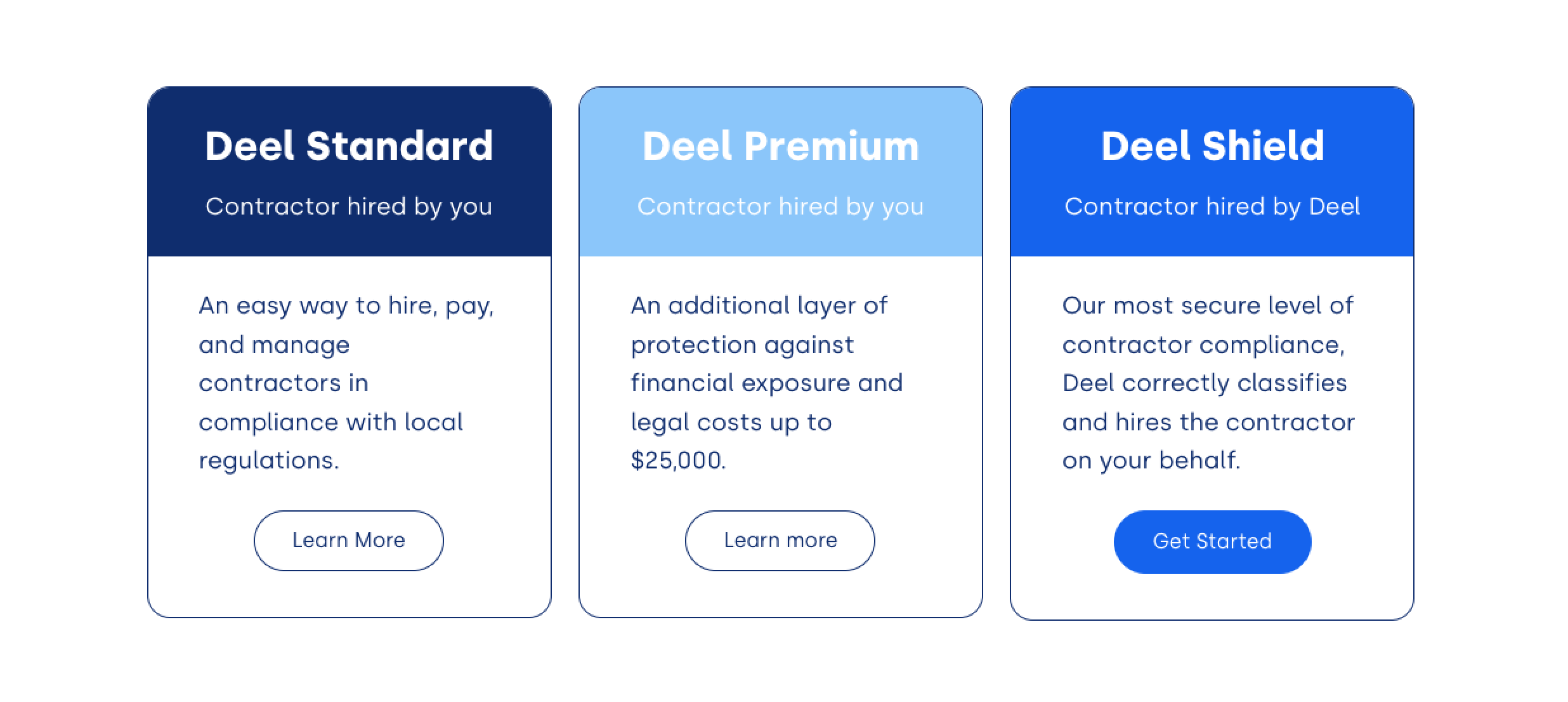 📝 Top tip:

When hiring a US citizen as a cross-state contractor, ensure they are registered with the Internal Revenue Service (IRS) to avoid implications for payroll taxes and other tax requirements.
Automated invoicing
Accurate and timely invoicing not only strengthens the trust and credibility between a company and its clients but also fosters a positive professional image, which is essential when working with a global network of contractors.
Deel simplifies the invoicing process by auto-generating professional invoices and facilitating secure online payments.
Our free invoice generator is available for contractors and freelancers worldwide, helping to quickly create invoices from stored client information, saving time and effort for billing. Automated invoicing sends an accurate invoice in a payment request email a week before the payment due date, ensuring timely payment and helping you maintain a professional relationship.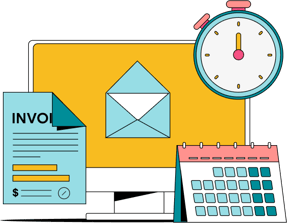 Deel also offers an expense tracker for managing work expenses and provides contractors with access to professional tax advice (for now in selected countries only). These features remove the complexity of navigating a global working environment and help to manage payments in seconds.
Simplified payments and flexible payment methods
Working with an international team of non-US contractors can get complicated, especially when determining the best payment methods for a dispersed team. Deel easily manages payments across different countries and currencies, considering the various exchange rates and payment method options.
The contractor's country of origin may influence their choice of payment or currency. For example, foreign independent contractors from France or Spain may prefer to be paid in euros, and an international independent contractor from Canada may prefer dollars.
💡 See also: 9 of the Best Ways to Pay Independent Contractors Online
Deel's simplified payment system supports different currencies and handles exchange rates. With 15 payment methods and over 20 currencies to choose from, Deel makes it easy for both clients and contractors to agree on payment terms.
Consider the following convenient and preferred methods of sending payments to contractors abroad:
International bank transfers
Local bank transfers
Coinbase account transfer
Binance
PayPal
Revolut
Deel card
Payoneer
🌏 Learn how Cloud9 hired 223 contractors across 21 different countries through Deel!
Cloud9 Esports is a famous competitive gaming organization with unique products and championships all around the world.
Cloud9 was looking for solutions for global scaling and improving their payroll experience.
Enter Deel, with simplified global hiring and insightful reporting features, helping Cloud9 hire 223 contractors across 21 countries.
Access to a global talent pool
With a globalized and remote working world, businesses can tap into a diverse pool of international talent and hire skilled individuals at an affordable rate.
However, choosing contractors abroad can be overwhelming without the right assistance.
Deel helps companies expand their options for hiring skilled professionals, prioritizing compliance, invoicing, and team experience. Whether you need assistance for a short-term project or you're looking for an alternative to hiring employees permanently from your home country.
Elevated contractor experience
Working with a contractor is a partnership, and it's important to look out for the best interests of all parties when hiring a contractor. As experts in global hiring, we offer multiple functionalities that benefit both contractors and organizations.
These talent attraction strategies create an elevated experience for the customer and improve the working relationship and job satisfaction.
Consider the following features which play a pivotal role in improving the contractor experience:
Deel Advance

provides early access to a paycheck for eligible individuals with no credit checks, interest rates, or applications
Deel Card

is a physical card for personal spending, offering contractors global purchasing power and the flexibility to spend funds as needed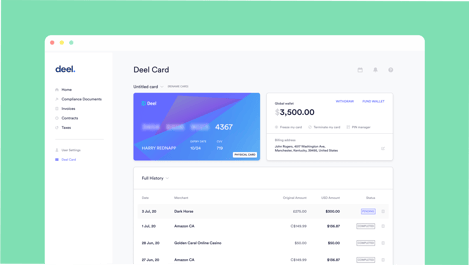 Contractor Perks

which include discounts and vouchers to optimize a contractor's work and lifestyle, helping to boost fitness, optimize work efficiency, enhance personal growth, and navigate the world of remote work

Expert tax advice

feature offers professional tax advice for independent contractors
By offering these advantages and features, Deel improves the contractor experience, making the working arrangement more productive and positive.
Streamline contractor relationships with Deel
There are various rules and regulations when working with international contractors and clients, which must be considered to remain compliant and maintain healthy business relationships around the world.
With Deel, contractor management processes are streamlined, allowing businesses to maximize the advantages of working with international talent—both contractors and through the employer of record (EOR).
Book a 30-minute demo with one of our experts and find out more in detail how Deel works.